I participated in this sponsored campaign on behalf of One 2 One Network. All opinions stated are my own.
I've really been looking forward to being at home and welcoming family and friends over this holiday season since we did absolutely zero holiday entertaining last year. Long story if you're not familiar with it. I don't know what it is about the holidays, but people don't seemed satisfied with just a meal. It's like they expect non stop access to food. So I like to have a few make ahead appetizers ready to go in my refrigerator that I can pull out at any time. These two dips that I'm sharing today actually taste better if made in advance. They need a little time for the flavors to mingle.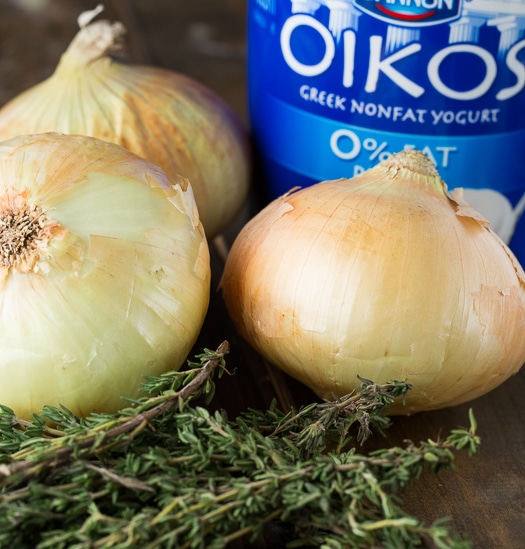 This Holiday Season cater to your family and friends dietary needs by having some food choices for those who are lactose intolerant. Approximately 1 in 10 adults report having lactose intolerance so there's a good chance someone attending your holiday party or meal will have an issue with lactose. People with lactose intolerance don't have enough of the enzyme that breaks down lactose, which is simply a sugar found in milk. People who experience lactose intolerance, in contrast to people with a milk allergy, do not typically need to avoid dairy products altogether. Different people can handle different amounts of lactose. A little experimenting can help determine which foods and what quantities can be consumed to get the benefit of all the nutrients (calcium, protein, potassium, Vitamins A and D) dairy products contain.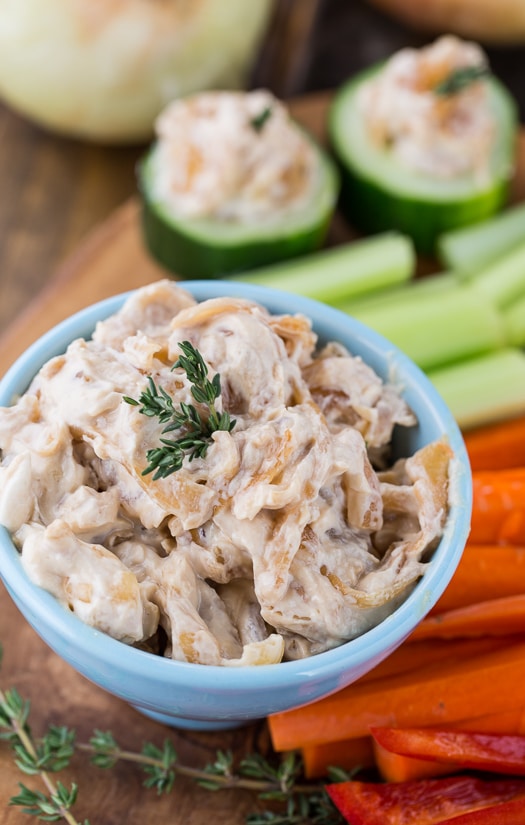 Here are a few tips for making foods that are lactose intolerance friendly:
Use lactose-free dairy to make your Holiday eggnog. It can also be used to make creamy and delicious mashed potatoes. Lactose free milk has the same essential nutrients as regular milk and the same great taste. The only thing it is lacking is lactose.
Use low-fat cheeses that are low in lactose and are less likely to cause an issue. These include mozzarella, Colby, cheddar, Jack, swiss, and Parmesan.
Utilize yogurt, either regular or greek. The live actives cultures in yogurt help to digest lactose.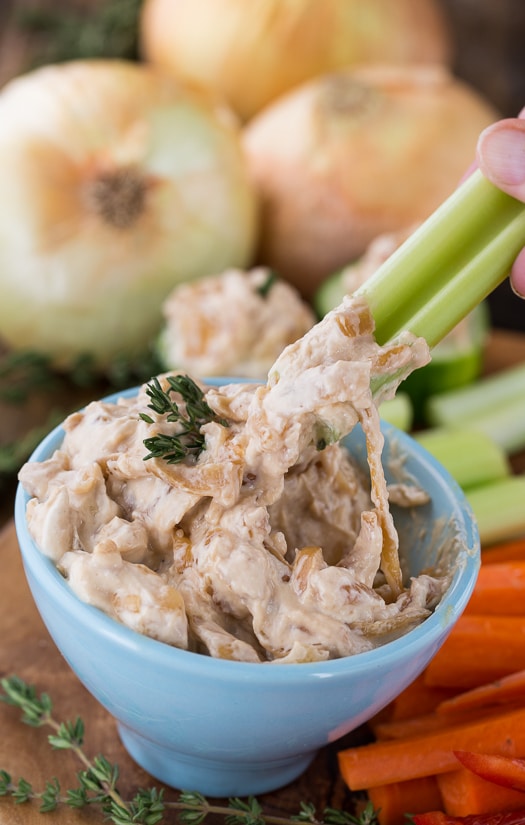 Both French Onion Dip and Muffaletta Dip include dairy products that are less likely to cause issues for people who have a lactose sensitivity.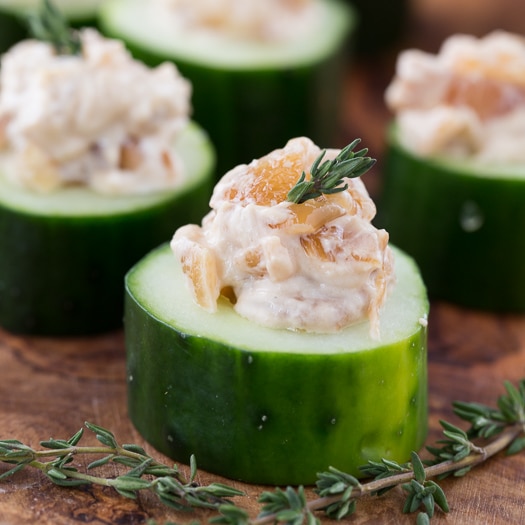 The French Onion Dip is made with just a few ingredients and is low in fat, but high in flavor. I've used nonfat Greek yogurt to keep it healthy, we don't want to pack on too many pounds during the holiday season! I've caramelized some onions in olive oil and they are almost as sweet as brown sugar!. The sweetness of the onions contrast really well with the tanginess of the yogurt.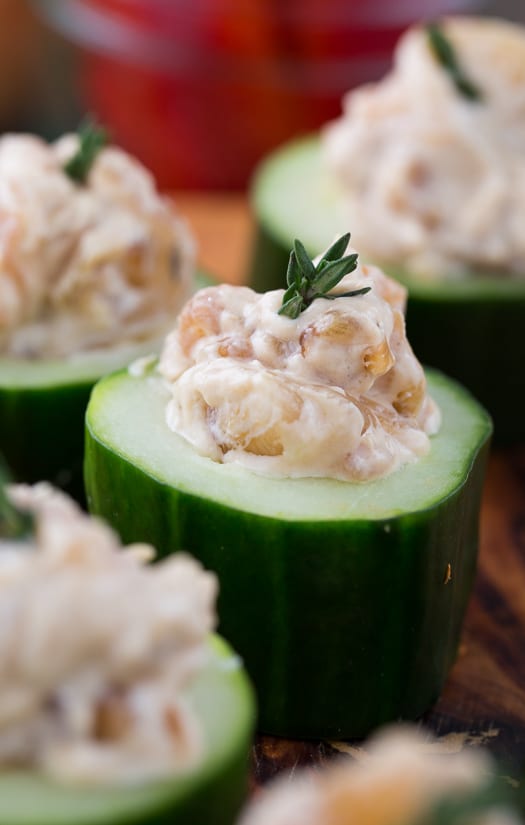 This dip actually tastes better if you make it a day, or even two days in advance. If you're planning a holiday party, make ahead foods can really help reduce stress the day of the party. I love taking a melon ball scooper and scooping out the middle of a cucumber slice to make pretty appetizers.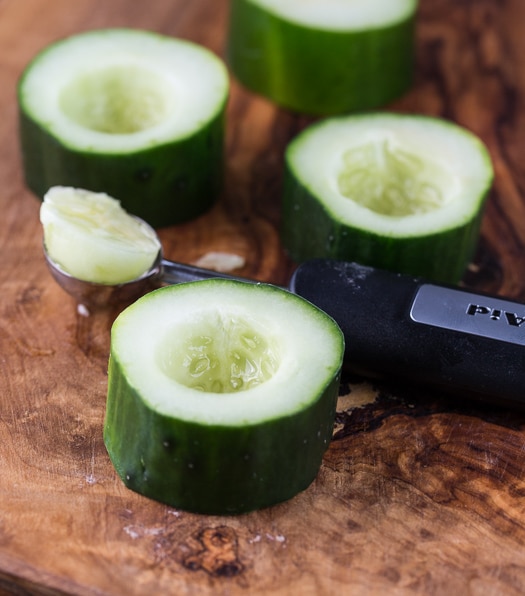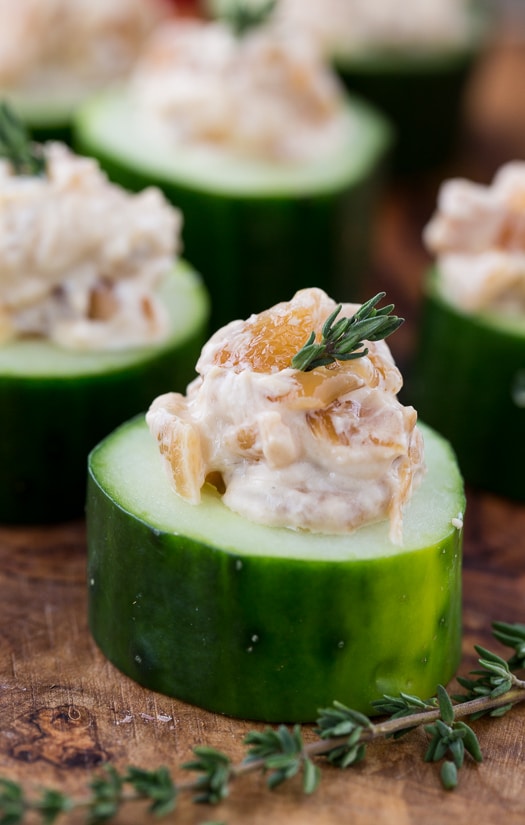 My second dip, Muffaletta Dip, is also best if made in advance. It has all the flavors of a Muffaletta sandwich in dip form. This is a recipe you'll want to make again and again. It's also perfect for game day and of course Mardi Gras.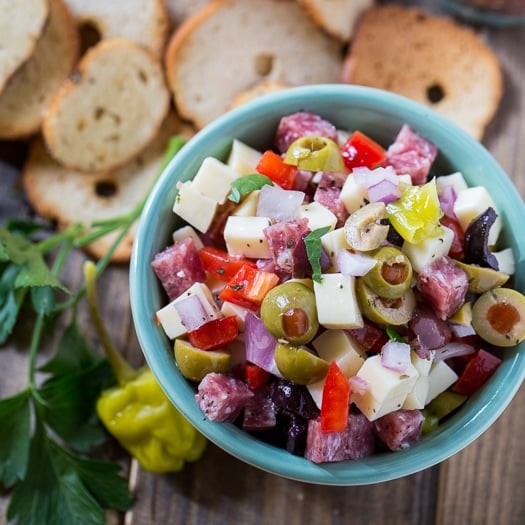 I've used low fat Jack cheese, cut into a fairly small dice. The smooth, creamy, and mild cheese goes well with the saltiness and strong flavor of the salami and olives.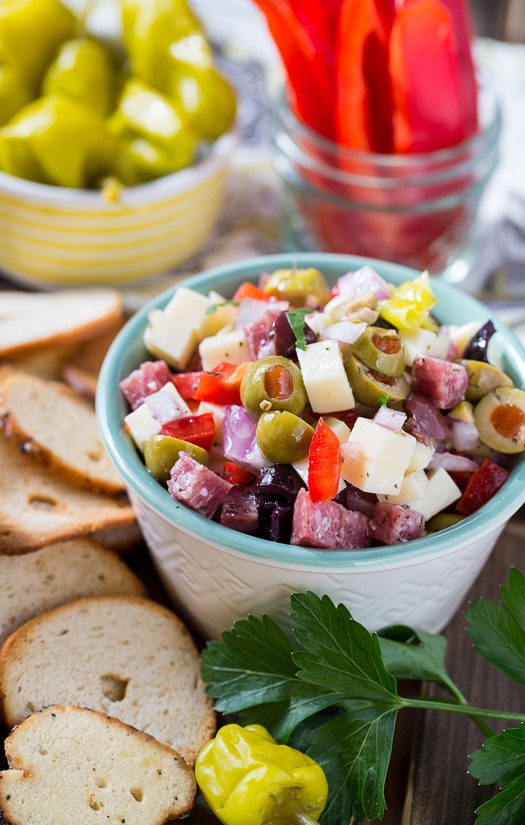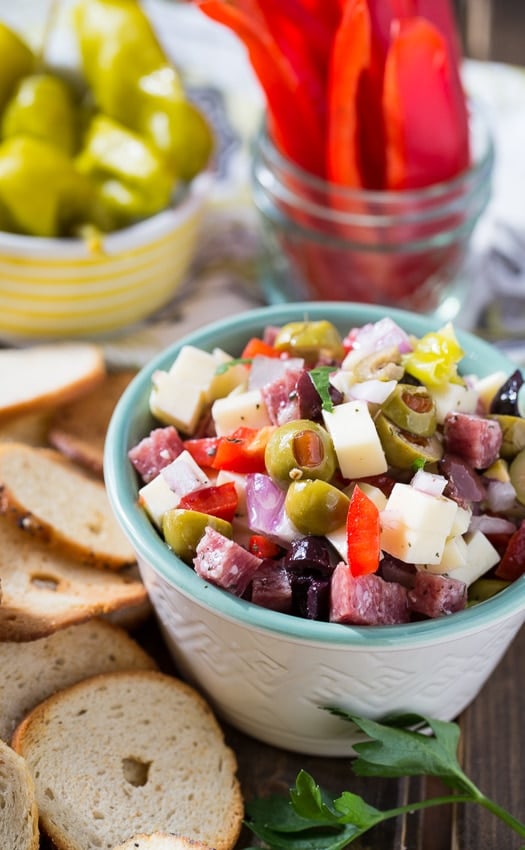 If you have leftovers of this Muffaletta Dip, just put them on top of a bed of lettuce and you have a wonderful Muffaletta salad. Find more delicious recipes great for lactose intolerance at Eat Confidently with LI.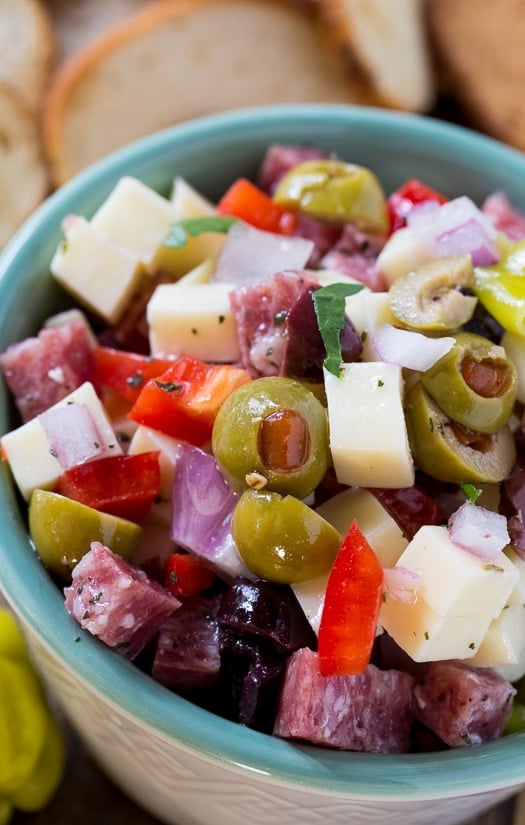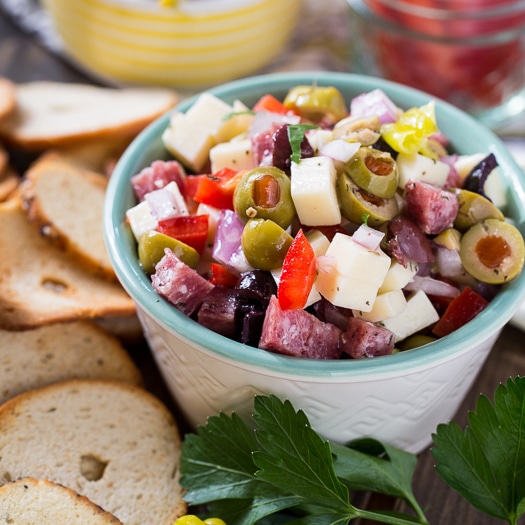 Lightened Up French Onion Dip and Muffaletta Dip
Prep time:
Cook time:
Total time:
Ingredients
2 tablespoons olive oil
3 medium onions, cut in half and thinly sliced into half moon shapes
1 teaspoon sugar
1/2 teaspoon salt
1/4 teaspoon pepper
1 1/2 teaspoons chopped fresh thyme or 1/4 teaspoon dried
1 cup nonfat Greek yogurt
1 teaspoon Worcestershire sauce
Instructions
Heat oil over medium-low in a large pan. Add onions and cook, stirring occasionally for 10 minutes.
Add sugar and salt and continue to cook, stirring every now and then, until golden brown, about 30 to 35 minutes. Turn up heat a little if necessary.
Add pepper and thyme and remove from heat. Let cool.
In a medium bowl, stir onions and greek yogurt together.
Mix in Worcestershire sauce.
Refrigerate for at least a few hours before serving.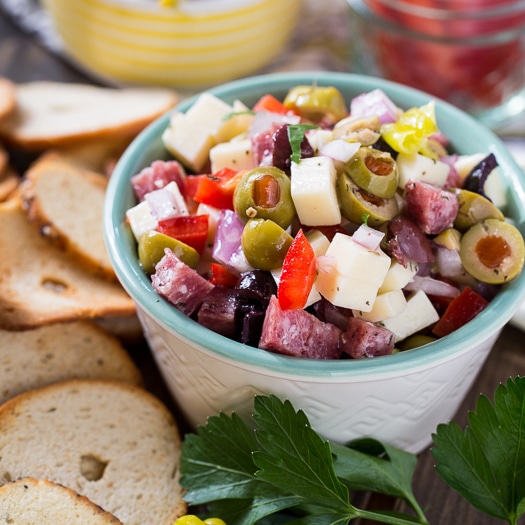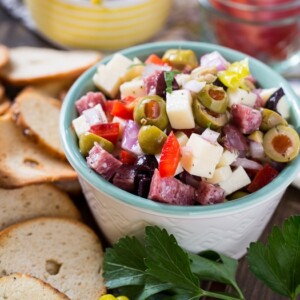 Muffaletta Dip
Ingredients
1

(8-ounce)

block lowfat Jack cheese,

cut into a small dice

1

(8-ounce)

log salami,

cut into a small dice

1/2

red onion,

diced

1/2

cup

diced roasted red pepper or fresh red bell pepper

1

cup

chopped olives,

I use a mixture of green and black

1/4

cup

chopped pepperoncini

1/4

cup

olive oil

2

tablespoons

red wine vinegar

1

tablespoon

liquid from pepperoncini

1

garlic clove,

minced

1/2

teaspoon

dried basil

1/4

teaspoon

dried thyme

or 1 teaspoon fresh

1/4

teaspoon

red pepper flakes

1

tablespoon

chopped fresh parsley
Instructions
Combine cheese, salami, onion, red pepper, olives, and pepperoncini in a large bowl.

In a small bowl, whisk together oil, vinegar, pepperoncini liquid, garlic, basil, thyme, and red pepper flakes.

Pour on top of cheese, salami mixture and mix in.

Sprinkle parsley on top. Refrigerate for at least 1 hour before serving.
Want to Save This Recipe?