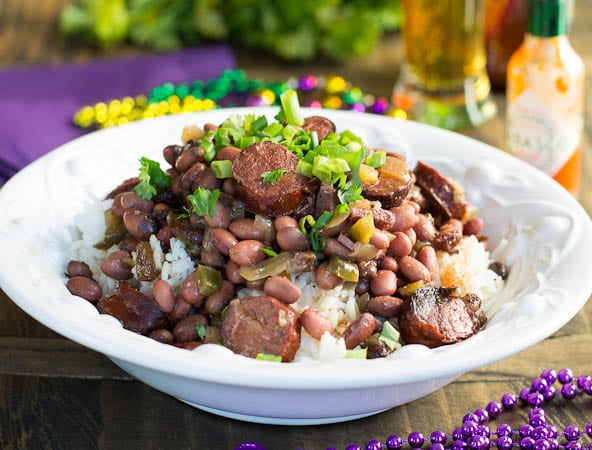 In New Orleans, cooking Red Beans and Rice on Mondays is a long-standing tradition. Way back when, Mondays were "wash days" and women stayed home and did laundry. Red Beans were often put on the stove in the morning because they need all day to cook, but little attention. Focus could be put on getting the wash done, with just a check here and there on the red beans.
Can we just stop right here and say Hallelujah! for the fact that it doesn't take a full day out of the week to do laundry anymore?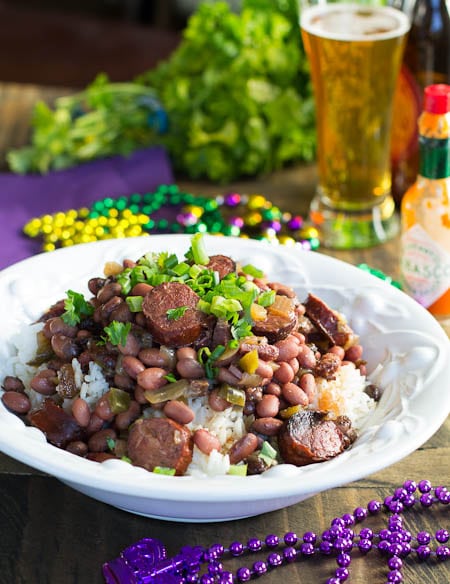 Typically the red beans were seasoned with lots of spice and a leftover ham bone from Sunday's supper. Even though Mondays no longer need to be dedicated entirely to "wash day", eating Red Beans and Rice on Mondays has remained a tradition in New Orleans.
Thanks to Slow Cooker Red Beans and Rice, you don't even have to be at home to have home cooked Red Beans and Rice for dinner.
This Red Beans and Rice gets its flavor from two Cajun meats- Andouille sausage and Tasso ham. Tasso ham is a spicy smoked pork made from the shoulder butt, which technically means it is not a ham at all since ham comes from the hind leg of the pig. It can be used in other Cajun/Creole dishes including gumbo and jambalaya. It also tastes great as an omelet filling.
You'll have a hard time locating it if you don't live in Louisiana, but you can order Savoie's Tasso
online.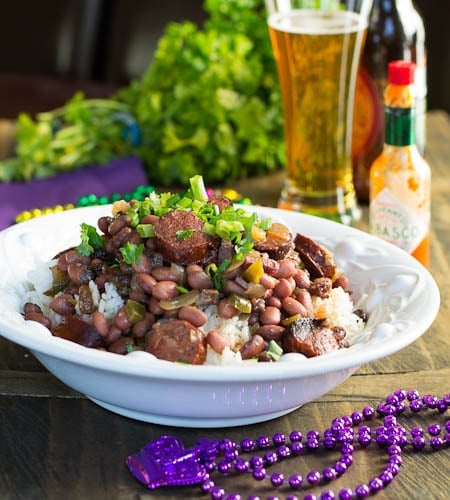 Unfortunately you'll have to do a little prep work before putting everything in the crockpot and you'll even have to dirty a skillet. But it's all worth it. The rich flavors developed when sautéing the Andouille sausage and vegetables just can't be replicated in the crockpot alone. And since beans have so little flavor on their own, they need all the help they can get.
And plan ahead because you'll want to soak your beans overnight.
Whether it's for a cold winter night or a festive Mardi Gras party, you'll definitely want to cook up some of these red beans and rice.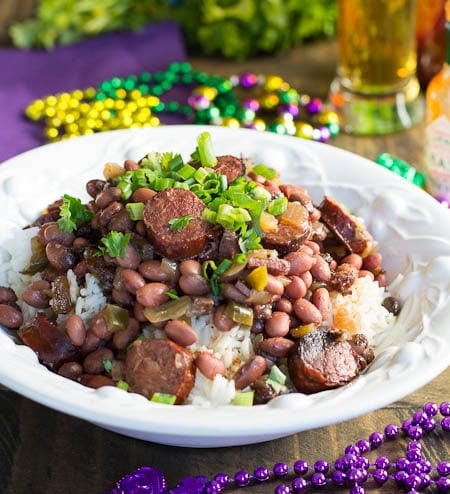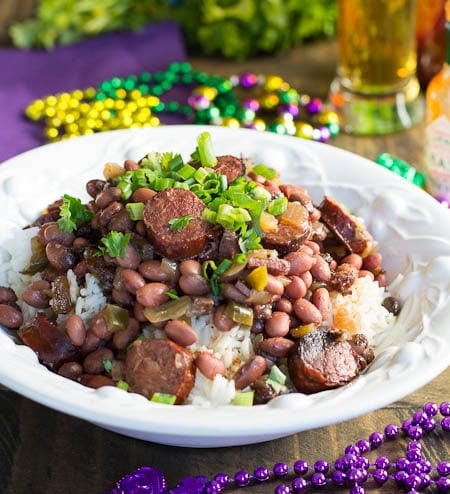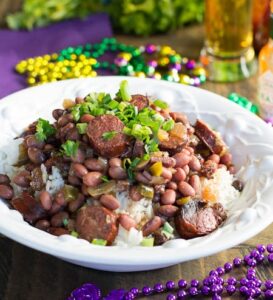 Red Beans and Rice
Super flavorful Red Beans and Rice made in the crockpot and flavored with Andouille sausage and tasso ham.
Ingredients
1

pound

dry red kidney beans

12

cups

water

1

tablespoon

vegetable oil

1

pound

Andouille sausage,

sliced into 1/4-inch rounds

3

cups

diced yellow onion

2

cups

diced celery

1

cup

diced green pepper

1

cup

diced red bell pepper

5

cloves

garlic,

minced

5

cups

chicken broth

1

pound

tasso ham,

sliced into 1x1/4-inch strips

1

tablespoon

firmly packed brown sugar

3

bay leaves

2

teaspoon

salt

1

teaspoon

hot sauce

1

teaspoon

freshly ground black pepper

1

teaspoon

Cajun seasoning

1

teaspoon

rubbed sage

1/4

teaspoon

Chipotle chili powder

1/4

teaspoon

cayenne pepper

1/2

cup

chopped fresh parsley

1/4

cup

chopped green pepper

Hot cooked rice
Instructions
Place beans in a large bowl and add 12 cups of water to cover. Leave uncovered on the counter overnight.

Discard soaking water and rinse beans with fresh water. Drain well and place in crockpot.

In a large skillet, heat oil over medium-high heat. Add Andouille sausage and cook until browned, 8 to 10 minutes. Remove sausage with a slotted spoon and place in crockpot.

Add onion to skillet and cook until softened and beginning to brown, about 7 to 9 minutes.

Add celery and bell peppers and cook for about 3 minutes.

Add garlic and cook one more minute. Transfer mixture to the crockpot.

Add about 1/2 cup of the chicken broth to the skillet and heat over medium heat. Use a wooden spoon to scrape up all the browned bits from the bottom of the skillet. Transfer to crockpot along with remaining chicken broth.

Add remaining ingredients to crockpot and give everything a stir. Cover and cook on HIGH for 3 to 4 hours, until beans are softened.

Add parsley and green onion to red bean mixture and serve over rice.
Want to Save This Recipe?
Recipe Source: slightly adapted from Louisiana Cookin'
Magazine
More Recipes Perfect for Mardi Gras
Disclosure: Spicy Southern Kitchen is an amazon.com affiliate.