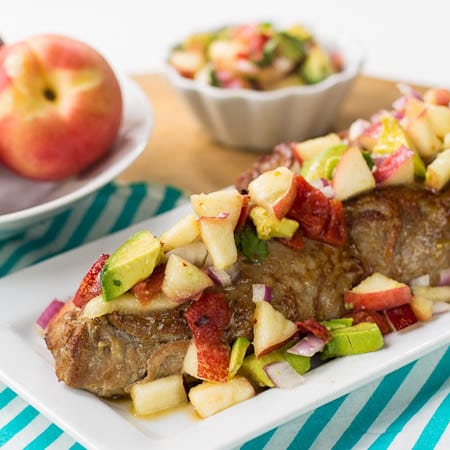 We are already getting into back to school mode and I hate that. Seems like the summer just started. School doesn't start for another few weeks, but my daughter has already begun her high school swim practice, which makes it seem like the school year has started.
Being a parent is of course always a challenge. But it's interesting how the challenges change so much with the age of your children. Now that my kids are both teenagers, I have so many more freedoms, but at the same time they have more freedoms too, which makes planning things ahead of time extremely difficult. I am no longer completely in charge of their schedules making it especially hard to plan meals ahead of time. There's just no telling who is going to be around for dinner.
A nicely marinated pork tenderloin paired with a flavorful fruit salsa is one of my favorite weeknight meals. It's healthy, appealing to a wide range of tastes, and super easy to make. Even better, it can be saved and reheated for those times you thought your kids would be home for dinner, but it turns out they had plans. I especially love this salsa with super sweet nectarines paired with silky, smooth avocado. Nectarines and avocados are 2 of my very favorite ingredients.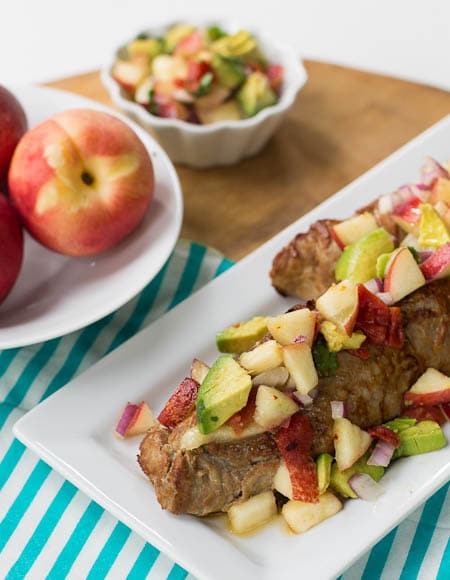 Pork tenderloin, if cooked correctly, can be a wonderfully tender, juicy cut of meat. The trick is cooking it correctly. The number one mistake when it comes to cooking pork tenderloin is overcooking. A couple of years ago, the US Department of Agriculture lowered the safe cooking temperature for pork from 160º to 145º.  That means the pork should still be a little pink in the middle when it is cooked.
To ensure you cook the pork properly, use a kitchen thermometer. Note: Ground pork should still be cooked to 160º.  No one likes overcooked, dry, chewy pork tenderloin. Today's pork is so much leaner which means you have little margin for error when it comes to pork doneness.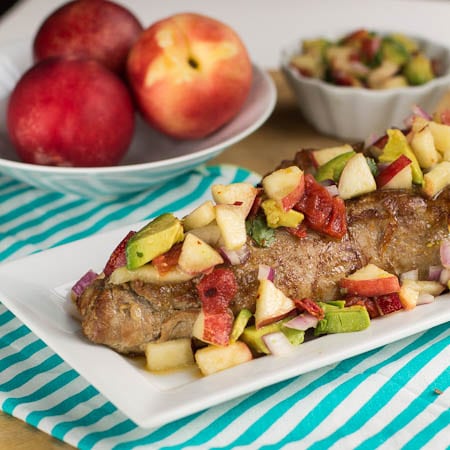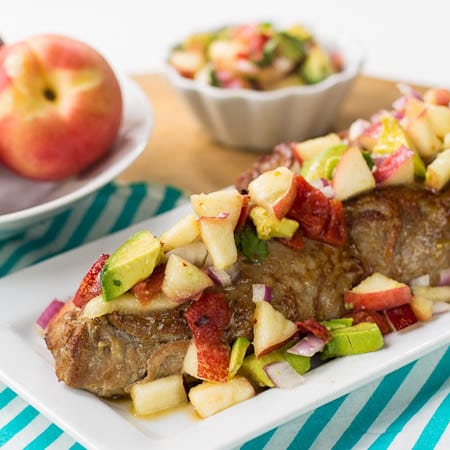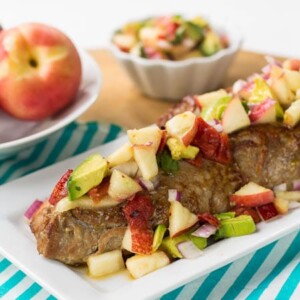 Pork Tenderloin with Nectarine Avocado Salsa
Ingredients
1

pork tenderloin

¼

cup

soy sauce

1

tablespoon

brown sugar

1

tablespoon

vegetable oil

1

tablespoon

Worcestershire sauce

1

tablespoon

Dijon mustard

1

teaspoon

sugar

½

teaspoon

garlic powder

1

tablespoon

olive oil

2

nectarines,

pitted and diced

1

avocado,

pitted and diced

½

red onion,

finely diced

1/3

cup

canned fire-roasted diced tomatoes

2-3

teaspoons

fresh lime juice

1

tablespoon

olive oil

2

tablespoons

cilantro

¼

teaspoon

red pepper flakes

pinch of salt
Instructions
Place soy sauce through garlic powder in a medium bowl and whisk together. Place in a large zip top bag along with tenderloin. Marinate in refrigerator for 6 to 8 hours.

Preheat oven to 400º.

Heat 1 tablespoon of olive oil in a large skillet over medium-high heat. Add pork tenderloin, discarding marinade, and sear on all sides. Place in oven for 12 to 15 minutes.

Combine nectarines through pinch of salt in a medium bowl.

Let pork rest for 10 minutes and then cut into slices and serve with salsa.
Want to Save This Recipe?
More Pork Tenderloin Recipes
Pork Tenderloin with Balsamic Strawberry
Slow Cooker Five Spice Pork with Sugar Snap Peas