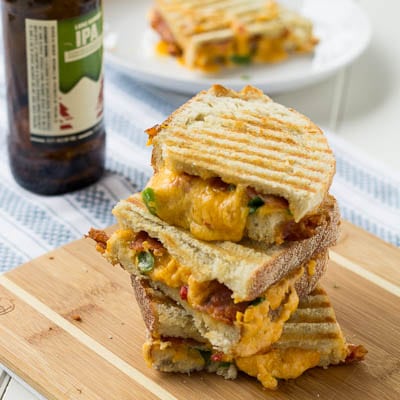 If you've never made pimiento cheese before, quite likely if you live outside of the South, it's very simple and in its most basic form consists of only 3 ingredients: grated cheddar, mayonnaise, and pimientos. Normally a pimiento cheese sandwich is served with the pimiento cheese chilled between 2 slices of squishy white bread. In some parts of the South, this type of sandwich is eaten as often as a peanut butter and jelly sandwich.
But this sandwich is quite very unlike the sandwiches grandmama may have served to her bridge club.
A gooey, creamy, and sharp pimiento cheese paired with salty bacon pieces, all between two buttery, crisp slices of bread. It doesn't get much better than a pimiento cheese panini.
During the cooler months, this sandwich pairs well with tomato soup. In the warmer months, a salad is a nice compliment.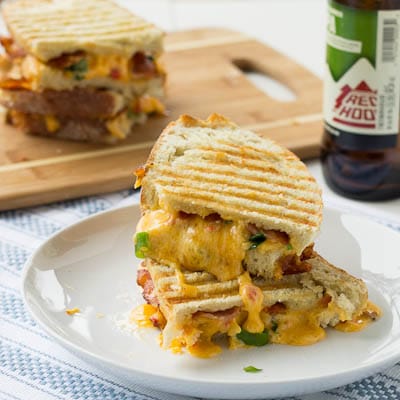 Use your favorite pimiento cheese, or this is a good, basic recipe for Pimiento Cheese. It's easiest to make Pimiento Cheese Paninis in a Panini Grill. I have Breville BSG520XL Panini Duo 1500-Watt Nonstick Panini Press
and love it. Or you can just cook it the old-fashioned way in a skillet or on a griddle pan.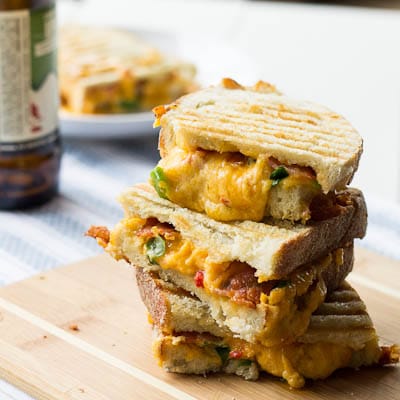 Pimiento Cheese Panini
1 1/3 to 1 1/2 cup Pimiento Cheese
4 to 6 slices of bacon, cooked and crumbled
2 green onions, sliced, green parts only
8 slices ciabatta or Italian bread
butter of cooking spray
For each sandwich, spread a fairly thick layer of pimiento cheese on 1 slice of bread. Sprinkle with bacon and green onions and place a second piece of bread on top.
Heat a panini grill or skillet on medium-high heat. Before placing sandwich in panini grill (or in pan) coat grill with a little butter or spray top and bottom of sandwich with cooking spray.
Cook until cheese is melted and warm and bread is crisp. If using a pan, flip sandwich over after a few minutes. Serve warm.
Yield: 4 sandwiches
More Pimiento Cheese Recipes
Fried Pimiento Cheese Balls with Ranch Dipping Sauce
Southern Cobb Salad with Pimeinto Cheese Dressing
Disclaimer: Spicy Southern Kitchen is an amazon.com affiliate.