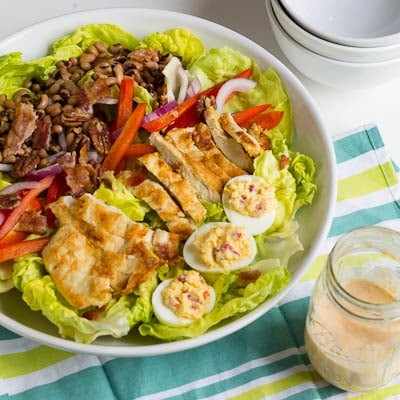 This down home southern cobb salad will put a smile on your face and get you coming back for seconds. It's like a blue-plate special in salad form.
Traditional Cobb Salad is made with chicken, blue cheese, hard-boiled eggs, avocado, and bacon. But who wants traditional when you can have the untraditional? This fun, southern version of a Cobb Salad has tons of personality. A creamy Pimiento-Cheese Dressing replaces the blue cheese. Deviled Eggs made with a little of the Pimiento-Cheese Dressing are much more interesting and yummy than plain old hard boiled eggs. Black-eyed peas, fried chicken breast, and pecans round out the southern ingredients.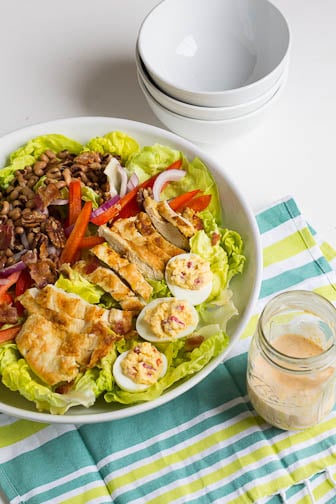 Ok, so maybe it isn't very Cobb Salad like. But it is delicious.
More Southern-Style Salad Recipes

MY LATEST VIDEOS
Black-Eyed Pea Salad with Roasted Butternut Squash and Goat Cheese
Heirloom Tomato Salad with Feta
Peachy Grilled Chicken Salad with Pecan Vinaigrette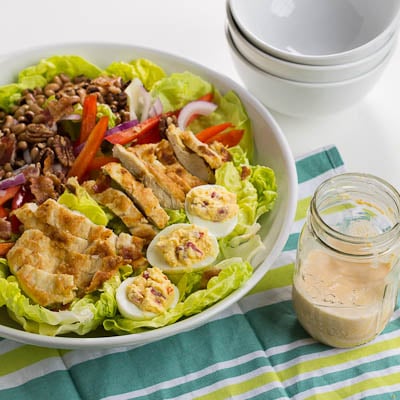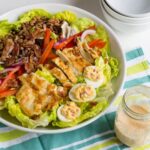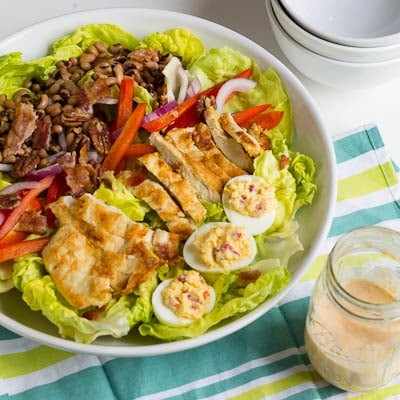 Southern Cobb Salad
Ingredients
1

cup

finely shredded Cheddar cheese

1/2

cup

light mayonnaise

1/2

cup

milk

1

(2-ounce)

jar diced pimientos,

drained

1/8

teaspoon

cayenne pepper

1/8

teaspoon

salt

1/8

teaspoon

black pepper

4

hard-boiled eggs

2

skinless,

boneless chicken breast halves

1

egg

1

tablespoon

milk

1

teaspoon

tabasco sauce

1/3

cup

all-purpose flour

3

tablespoons

vegetable oil

1

tablespoon

cider vinegar

1

(15-ounce)

can black-eyed peas,

rinsed and drained

1

large head or 2 small heads of Bibb lettuce

1

red sweet pepper,

cut into strips

1/2

red onion,

thinly sliced

4

bacon slices,

cooked and crumbled

1/3

cup

pecan halves,

toasted
Instructions
To make Pimiento-Cheese Dressing, let cheddar cheese stand at room temperature for 30 minutes. In a medium bowl, using a wooden spoon, stir cheese and mayonnaise together until cheese is incorporated into mayonnaise. Gradually add in milk, stirring well to combine. Add in drained pimientos and cayenne pepper, salt, and black pepper.

Halve eggs lengthwise and scoop out yolk. Place yolk in a small bowl and add in 1 to 2 tablespoons of the Pimiento Dressing. Mash and mix together using a fork, until smooth. Spoon into egg halves and refrigerate.

Place chicken a in large plastic bag and pound until 1/2-inch thick. (Or you can butterfly the chicken.) Season to taste with salt and pepper.

In a shallow bowl or pie plate, whisk together the egg, milk, and Tabasco sauce. Place flour in another shallow dish. Dip chicken in egg mixture and then dredge in flour.

Heat 2 tablespoons oil in a large nonstick skillet. Cook chicken 3-4 minutes per side, or until cooked through. Let chicken cool 5 minutes and slice into strips.

In a medium bowl, combine black-eyed peas with 1 tablespoon of oil and cider vinegar.

To serve, place lettuce leaves on a platter, top with chicken, red peppers, red onion, black-eyed peas, deviled eggs, bacon, and pecans. Drizzle with Pimiento-Cheese Dressing.
Recipe Source: adapted from Better Homes and Gardens