Double Stuffed Taco Potatoes are hearty and filling enough to eat as a main course. They are loaded with ground beef taco filling, onion, sour cream, and cheese. A sprinkling of chopped green onions and salsa finishes them off.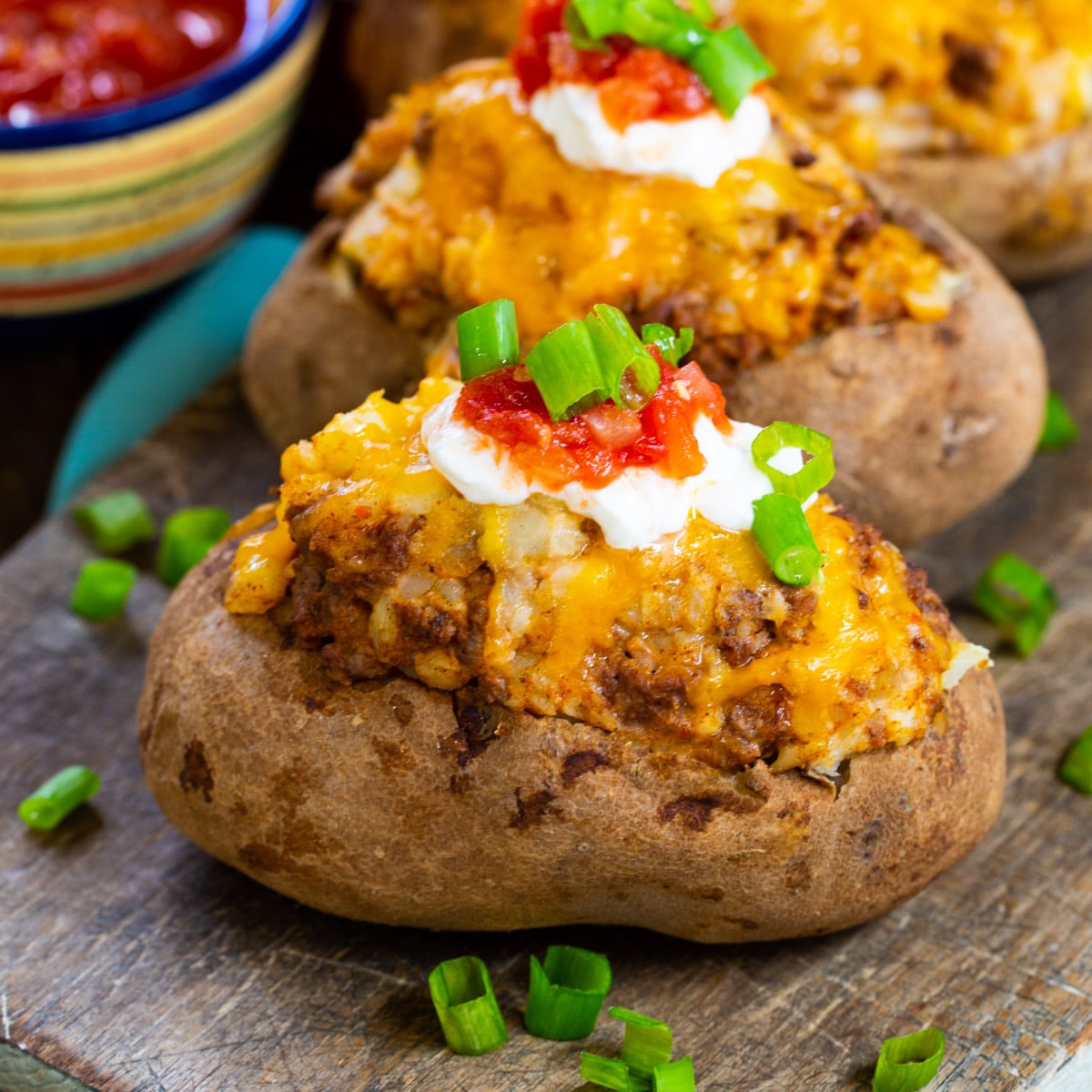 Taco Seasoning
I used a packet of taco seasoning to make these Double Stuffed Taco Potatoes easy to prepare and the seasoning gives the potatoes tons of Mexican flavor. You can vary the heat by choosing either mild or spicy taco seasoning, or you could use a homemade seasoning if you have a recipe you like.
Ground Beef Filling
I used a pound of ground beef since that is typically how it comes packaged. I added only about 3/4 of the cooked ground beef to the potatoes. I felt the ground beef/potato ratio would be off if I added all of it. But you can decide how much of the taco meat you want to stir in and if you have any leftover, save it to make a quesadilla or tortilla pizza for lunch. Or you could make more than 4 potatoes and increase the amount of sour cream and milk you use.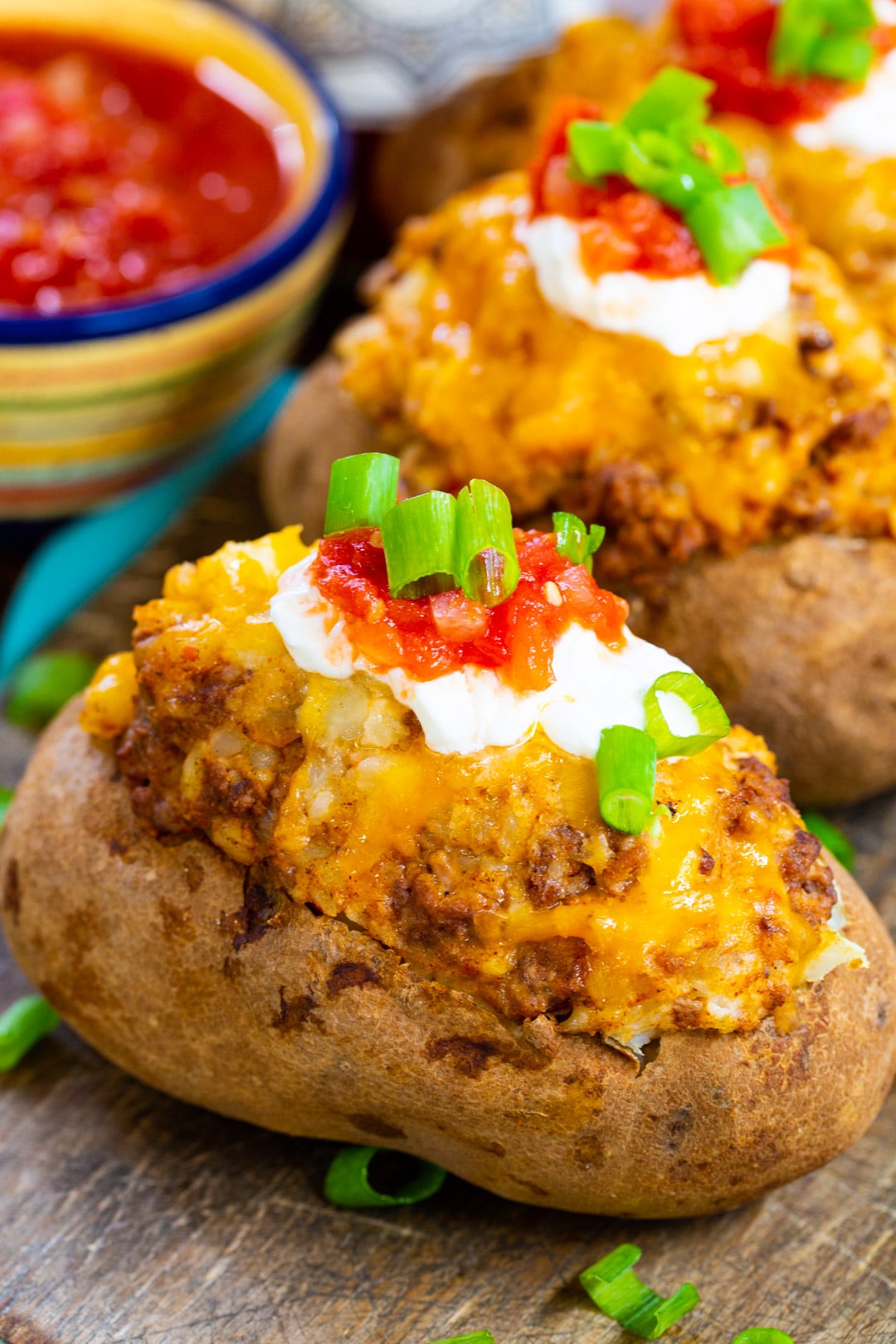 Finish With Salsa
To finish these potatoes off and give them even more spice, I put some Del Viejo Salsa on top. This is a fresh-tasting, spicy salsa produced by a small business in St Augustine Florida. They claim to make the world's most unique salsa. What makes it unique? They use Datil Peppers, which are very rare but can be found in St. Augustine. They are small, yellow peppers about 1 to 4 inches long and are similar in heat to the habenero pepper but also have some sweetness to them. They even have a Datil Pepper Festival in St. Augustine to celebrate the uniqueness of this pepper.
I love the heat the peppers give Del Viejo Salsa. It's strong, but doesn't burn and doesn't camouflage the other flavors.
More Awesome Potato Recipes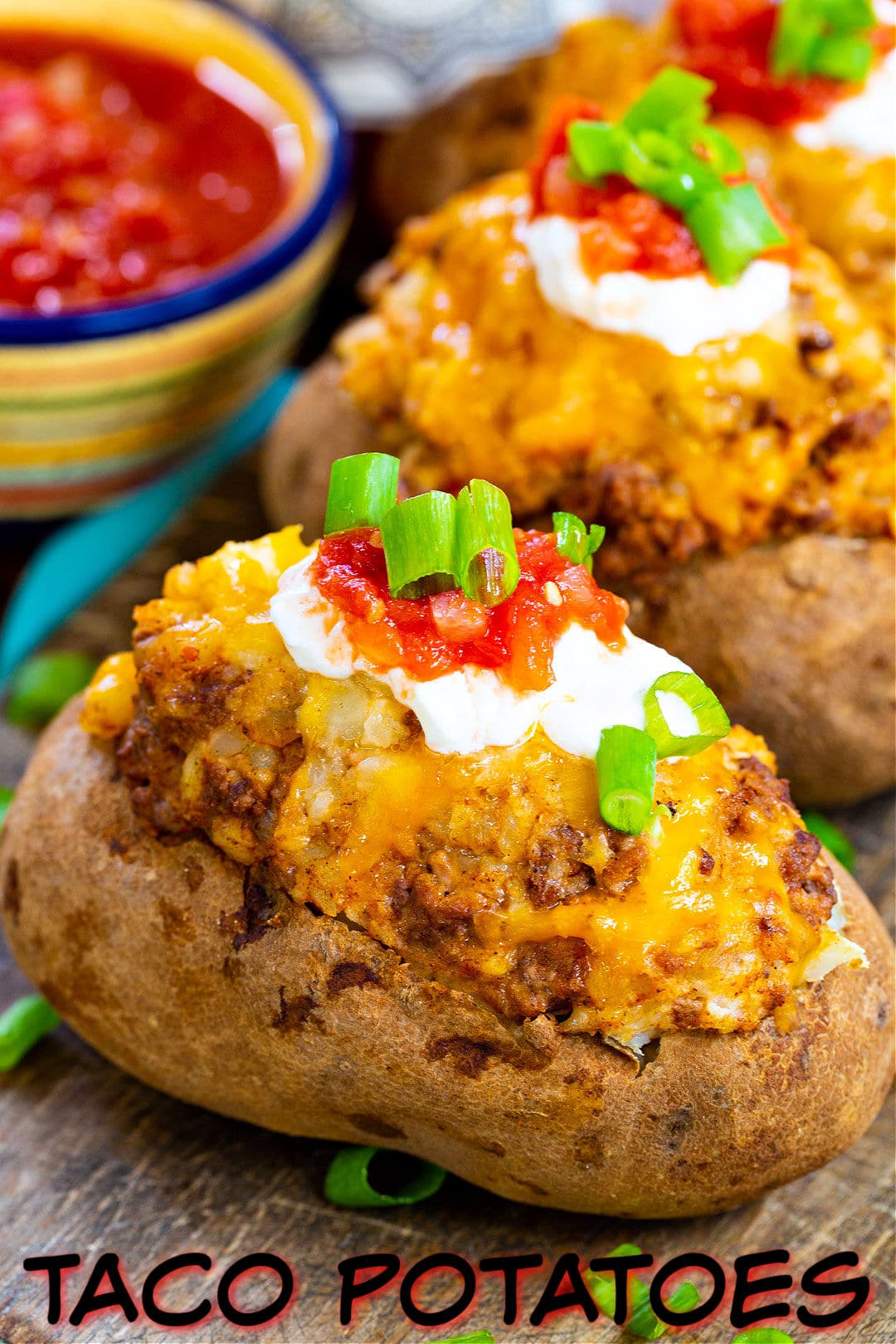 Watch the video below to see how easy this recipe is!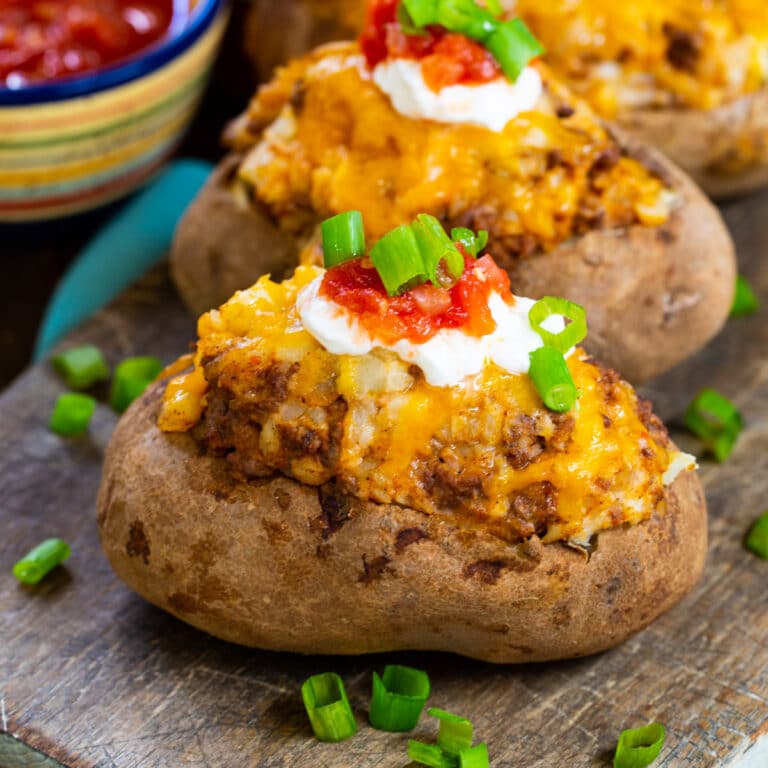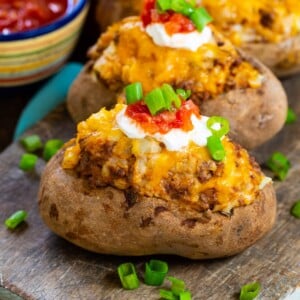 Double Stuffed Taco Potatoes
Double Stuffed Taco Potatoes are loaded with ground beef taco filling, onion, sour cream, and cheese. A sprinkling of chopped green onions and salsa finishes them off.
Ingredients
4

large baking potatoes

1

pound

lean ground beef

1

small onion,

chopped

1

packet taco seasoning

1/4

cup

water

1/2

cup

sour cream,

plus extra for serving

1/4

cup

milk

1

cup

shredded cheddar cheese

2

green onions,

sliced

1/2

cup

salsa
Instructions
Preheat oven to 475 degrees. Scrub potatoes and prick several times with a fork. Bake for 60 to 75 minutes, until soft.

Meanwhile, cook ground beef and onion in a nonstick pan until beef is cooked through. Break it into small pieces with a wooden spoon as it cooks.

Add taco seasoning and 1/4 cup water. Cook for 1 minute. Remove from heat.

Once potatoes are baked, let cool 10-15 minutes and then remove a sliver of skin from the top of each potato. Scoop potato pulp out and place in a large bowl. Add sour cream and milk and mash until smooth. Stir in about 3/4 of taco mixture. If you feel like there will be too much meat mixed in if you add the remaining 1/4, save it to make a quick quesadilla or tortilla pizza for lunch. Or go ahead and mix it in. Fold in 3/4 cup of cheddar cheese.

Taste for seasoning. Taco seasoning tends to be salty so you may not need to add much, if any salt.

Stuff the potato mixture back into the skins. Place in a baking dish. Sprinkle remaining cheese on top and bake at 350 for 20 to 25 minutes.

To serve top with green onions, salsa, and sour cream.
Notes
To make this dish spicy, use a packet of "Hot" taco seasoning and spicy salsa. You can also serve them with Cholulu hot sauce.
Want to Save This Recipe?
Originally published October 27, 2015.
Disclosure: This post contains affiliate links.
I provided with free product, but this is not a sponsored post. I love the opportunity to share exciting new food products with you.