Creamed Cauliflower is a wonderfully creamy and cheesy side dish with a Parmesan/bread crumb topping. So rich and delicious!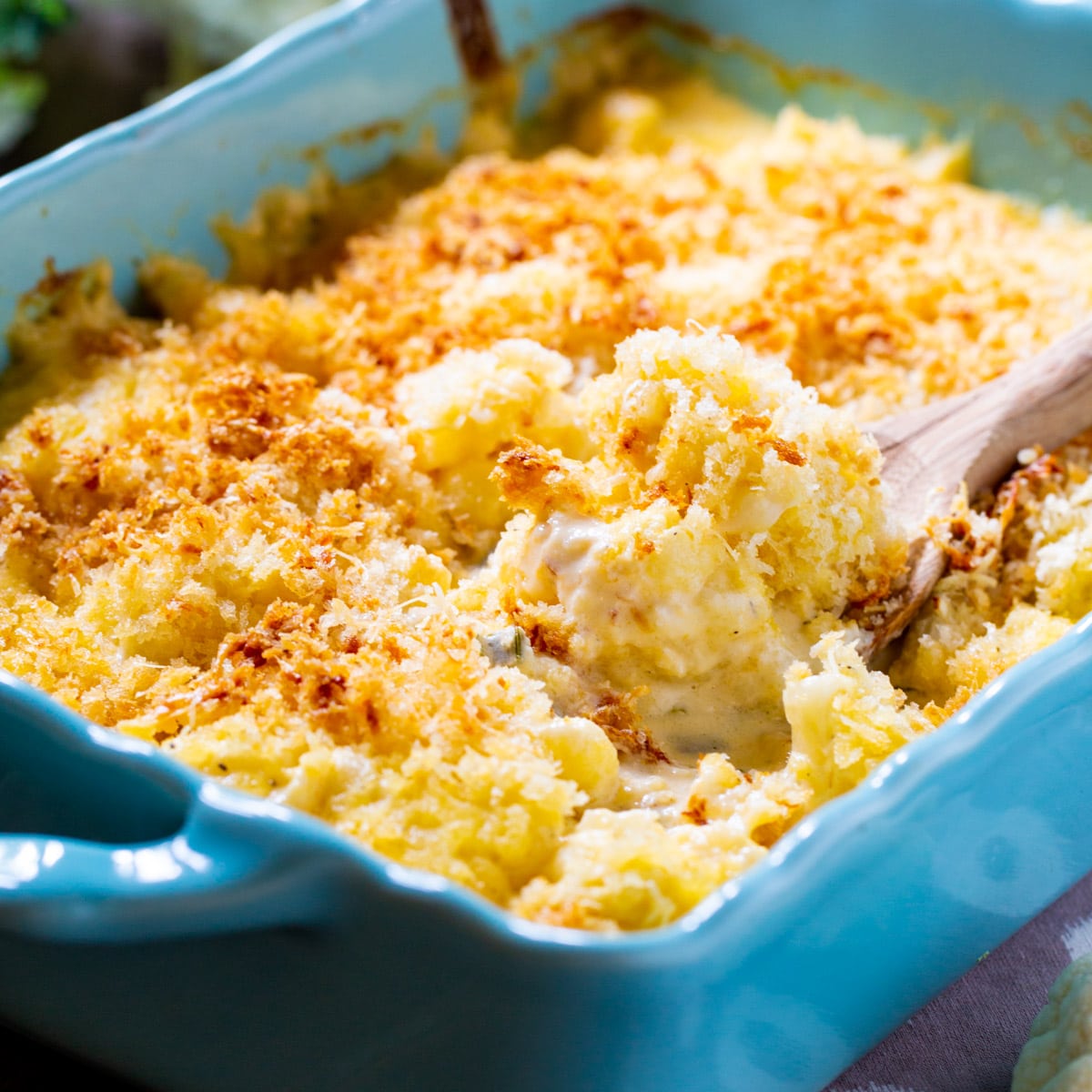 Cauliflower is my vegetarian daughter's favorite vegetable so I buy a head of it pretty much every time I go to the grocery store. She usually eats it raw or steams it and puts it in a stir-fry but I've been dying to make a hearty, creamy casserole-type dish with a crispy bread crumb topping.
This Creamed Cauliflower is really rich and decadent. Like the name suggests, it contains a lot of cream, but boy does cauliflower taste good in cream. Of course, it's not likely that anything cooked in cream is going to taste bad, but I think cauliflower and cream are made for each other.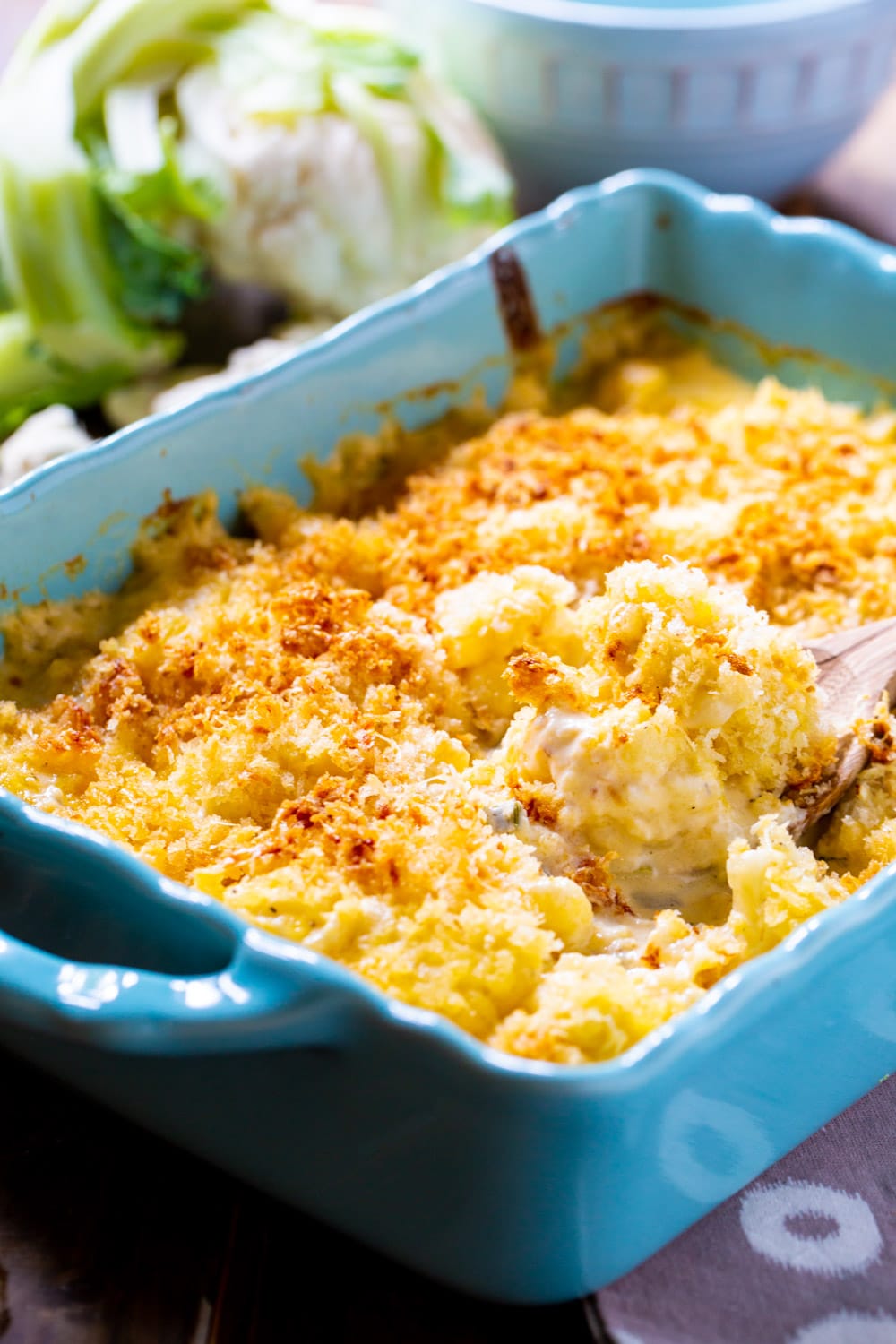 I added a cup of shredded cheddar cheese which I thought was just the right amount to give it some cheese flavor, but not make it the predominant flavor.
On top, some buttery bread crumbs and Parmesan cheese for more flavor and a little texture contrast. And everyone wants to dig in when they see buttery breadcrumbs no matter what's underneath them.
Since this casserole is so heavy, it's a good one to serve for the holidays when you're going all out anyways. Or serve it with something very light for a weeknight meal. I personally like a small little bowl of this with a big green salad.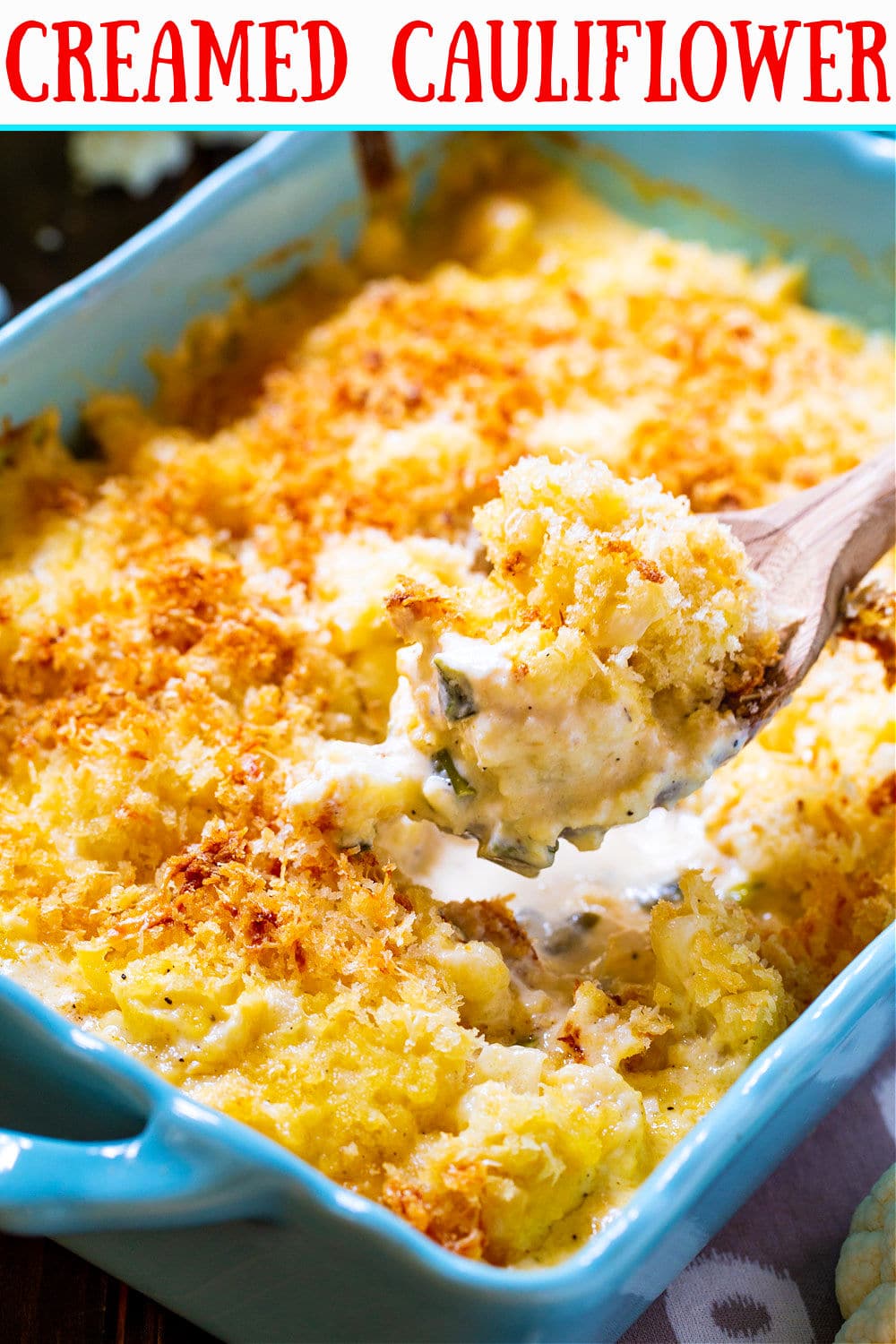 Never miss a recipe. Follow Spicy Southern Kitchen on Pinterest and Instagram.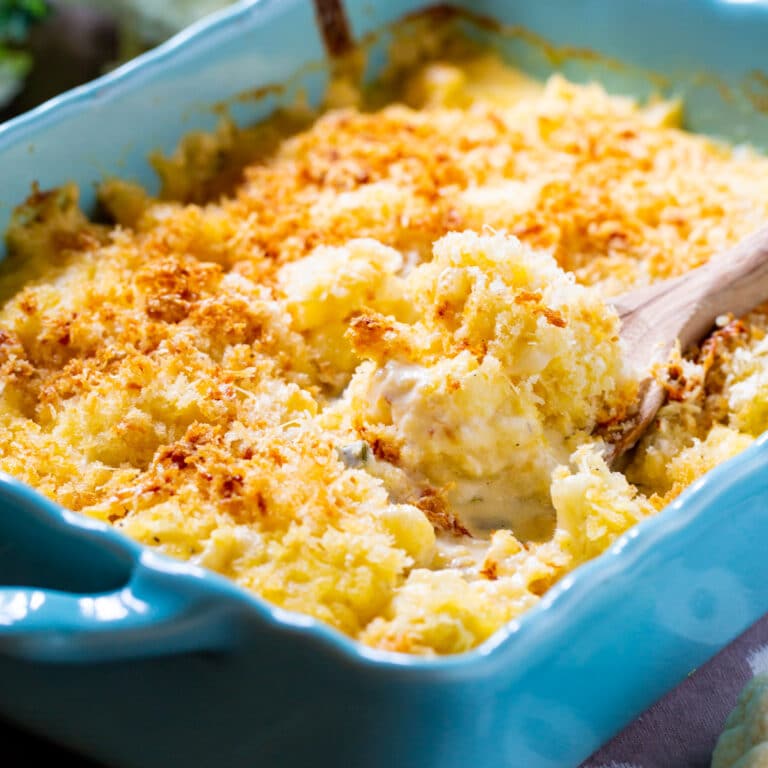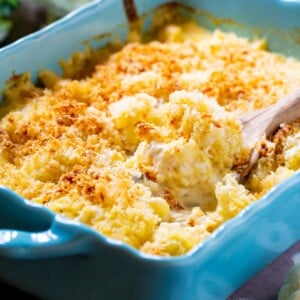 Creamed Cauliflower
Creamed Cauliflower is hearty, creamy casserole-type dish with a crispy bread crumb topping.
SERVINGS:
8
to 10 servings
Ingredients
2

medium heads cauliflower,

cut into florets

2

tablespoons

butter

3

green onions,

chopped

2

cloves

garlic,

minced

2

tablespoons

all-purpose flour

2

cups

heavy cream

1

cup

milk

1/2

teaspoon

salt

1/4

teaspoon

black pepper

1/4

teaspoon

dried sage

1/8

teaspoon

cayenne pepper

1

cup

shredded cheddar cheese

1

cup

Panko bread crumbs

1/4

cup

freshly grated Parmesan cheese

2

tablespoons

butter,

melted
Instructions
Steam cauliflower until crisp-tender.

Preheat oven to 400 degrees and grease a casserole dish. I use one slightly smaller than a 9X13-inch pan.

In a large skillet melt butter over medium heat. Add green onions and garlic and cook 1 minute.

Add flour and cook, stirring constantly for 1 minute.

Gradually whisk in heavy cream and milk. Cook until bubbly and thickened.

Stir in salt, black pepper, dried sage, and red pepper.

Add cheddar cheese and remove from heat. Stir until melted. Check for seasoning and add more salt if desired.

Add cauliflower to cheese mixture and then pour entire mixture into prepared casserole dish.

In a small bowl, combine Panko crumbs, Parmesan cheese and melted butter. Scatter over top of cauliflower. Bake uncovered for 30 minutes.
Want to Save This Recipe?
Originally published September 28, 2015.
More Cauliflower Recipes