If you love cobb salad, this potato salad is a must try. It is full of blue cheese, avocado, hard-boiled eggs, and bacon. A mixture of Italian Vinaigrette and Blue Cheese dressing really gives the potatoes some zing.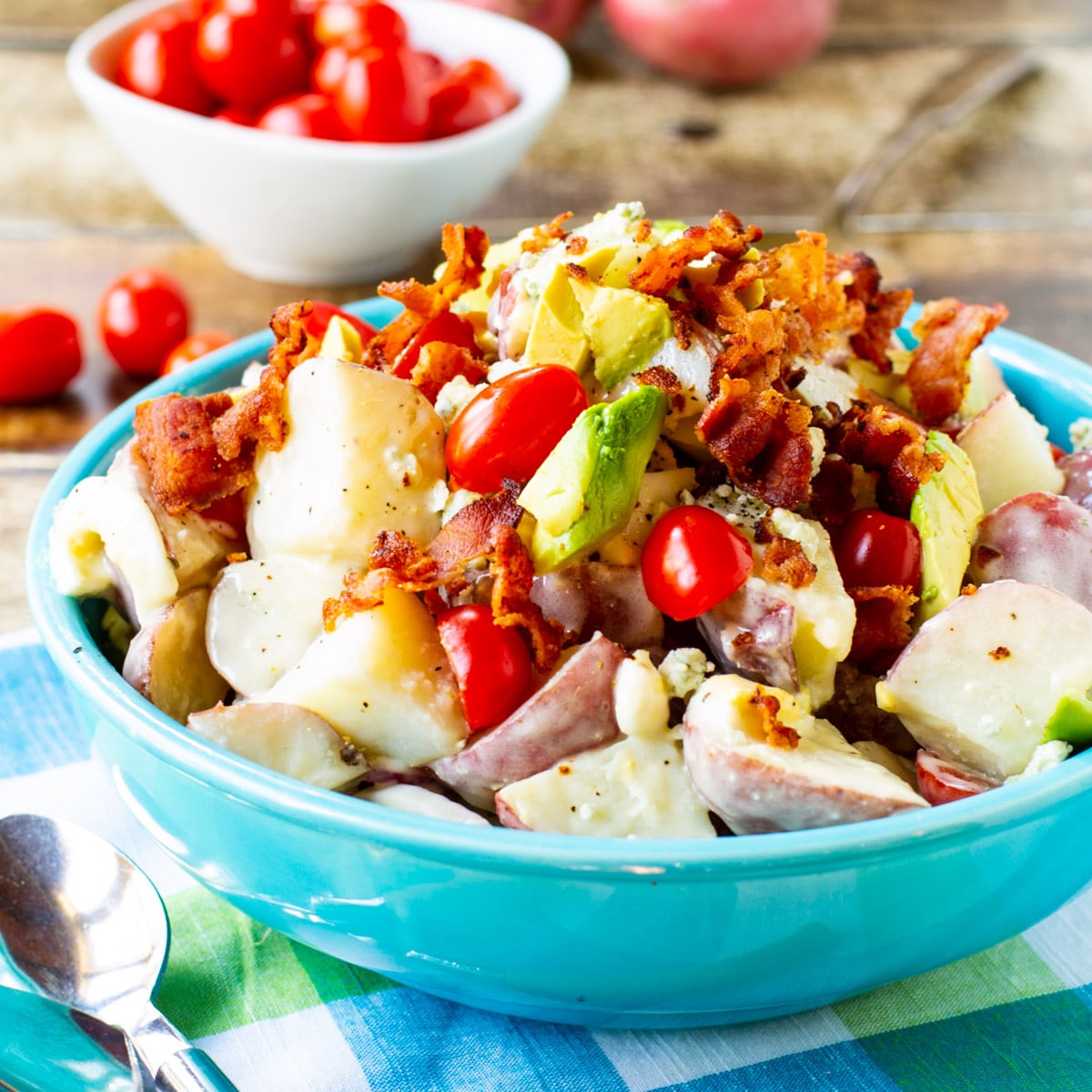 I like to toss the warm potatoes with half the mixture of dressing and let it marinate together for a while. The potatoes will really soak up the dressing and be nicely flavored by it. Then, just before serving, add the rest of the dressing and the potatoes will have a creamy coating.
I really wanted to use my daughter's favorite dressing (Marie Calender's Blue Cheese Vinaigrette) for this Cobb Potato Salad, but I couldn't find any at the store. She first had it about 2 1/2 years ago at her grandmother's house in Virginia.
Up until that point, she didn't like a single salad dressing. Not one. For a salad she would eat plain lettuce.
As soon as we got home, I rushed to the store to get this wonderful salad dressing that made my beyond picky daughter want to eat salad. I didn't find it at my regular store so I went to another. And another. No luck anywhere. Each store had multiple Marie Calender dressings, but not the Blue Cheese Vinaigrette.
I could not give up.
I went to the Marie Calender website and emailed them asking where I could find it in my area. No response.
I was probably willing to drive up to 60 miles to get this dressing. (Yes, I was quite smitten with it too.)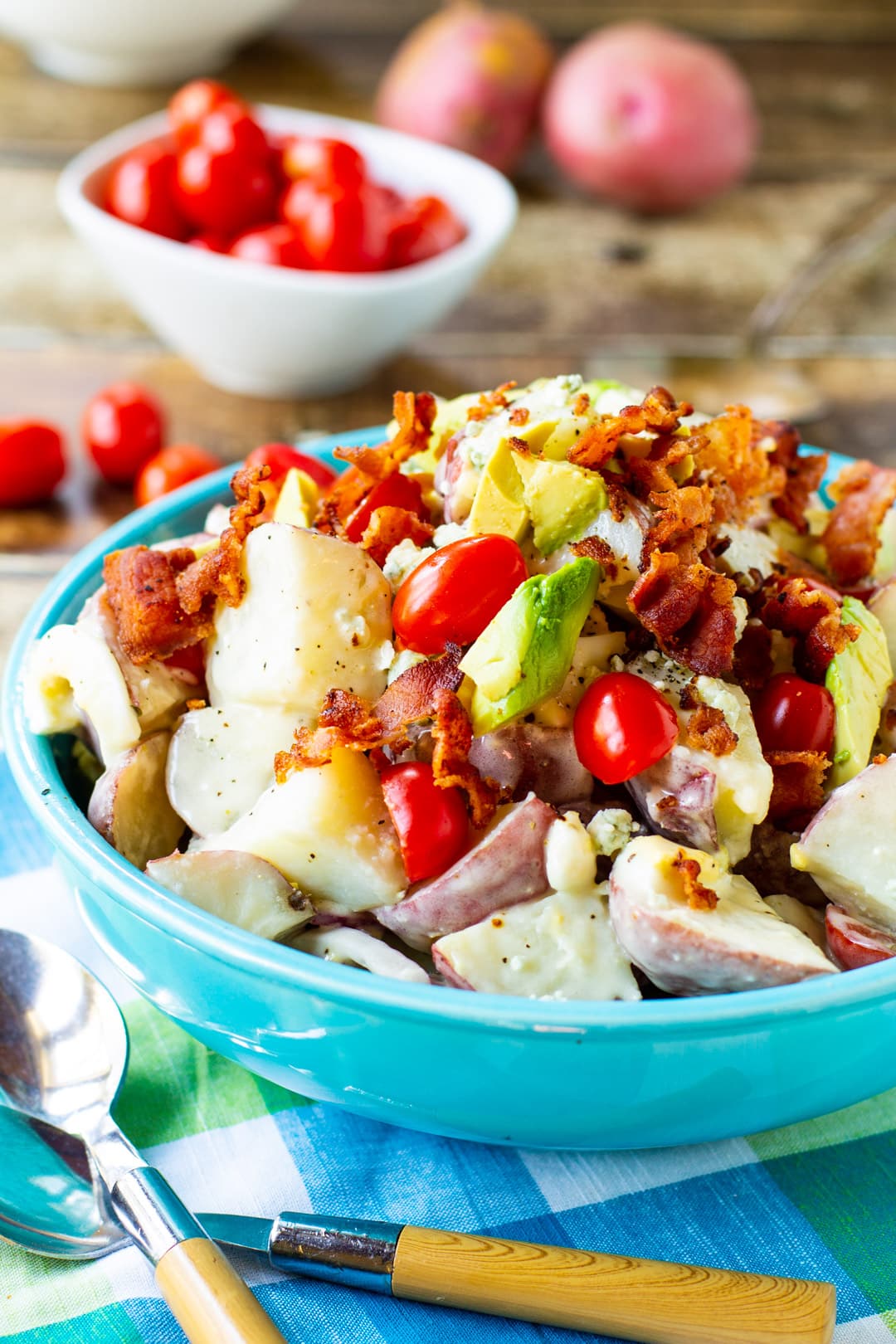 About a month later, I stopped at Food Lion (which is actually the closest store to my house, but I never shop there unless I only need 1 or 2 things and I need them fast) and lo and behold, there it was. At the store where I'm least likely to find what I'm looking for. Go figure.
Well, anyways. Back to the Cobb Salad. I swung by Food Lion last week to pick up a new bottle for this potato salad, and there was none to be found.
Oh no. Panic.
The produce man eyed me frantically reading the bottles of Marie Calender dressing, hoping that my eyes were just playing tricks on me. He insisted on checking in the back for some even though I knew his efforts would be futile- I'd read all the tags and there wasn't one that said "Blue Cheese Vinaigrette". When he came back and let me know he couldn't find any, he suggested I make my own by combining Italian dressing with Blue cheese dressing.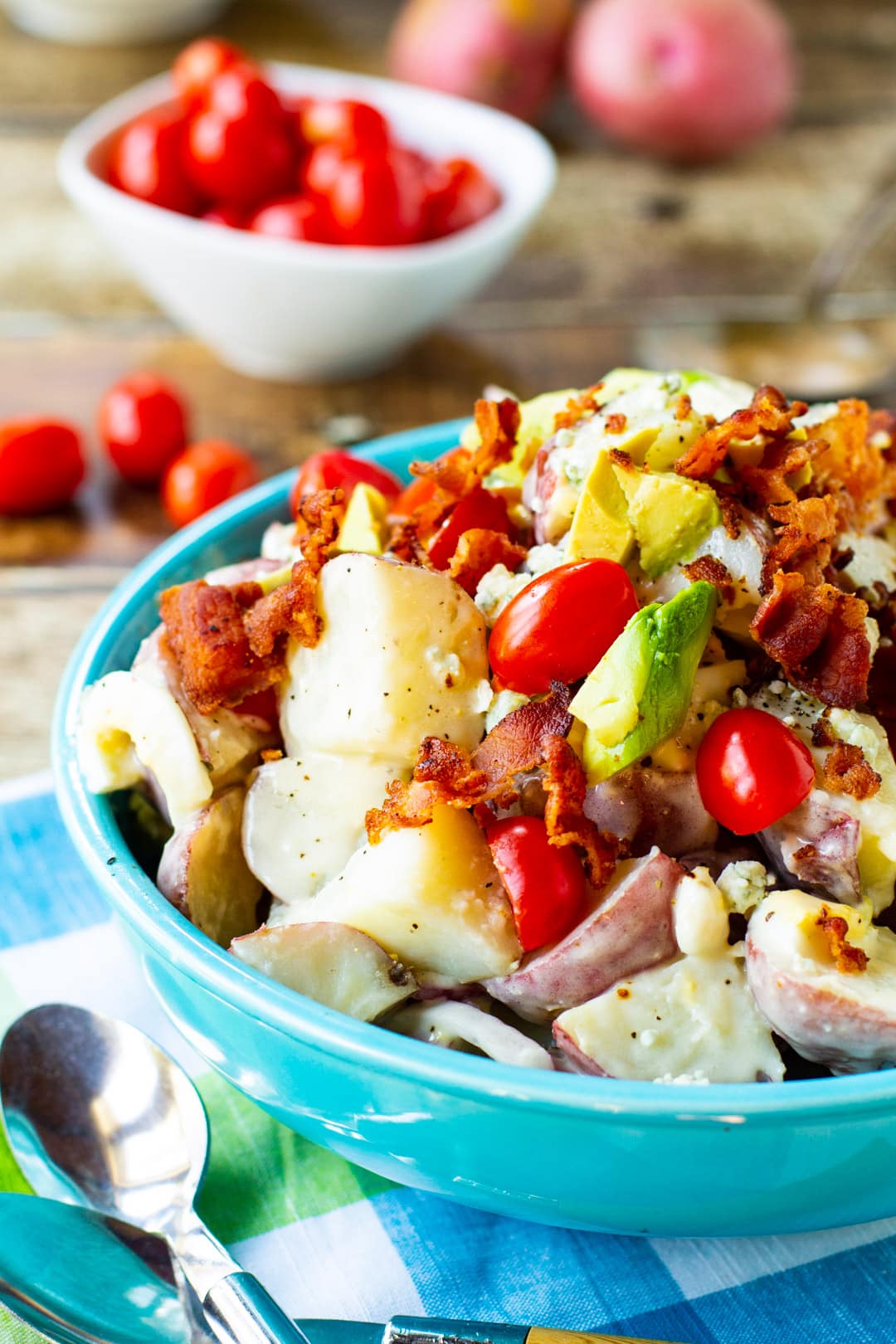 Why yes! That would work. At least for this potato salad. It still wouldn't work well as a salad dressing, because there is no other salad dressing on this earth that tastes like Marie Calender's Blue Cheese Vinaigrette. It's got that perfect balance of chunks of blue cheese, with a little tang, but also some sweetness.
So the hunt for Blue Cheese Vinaigrette resumes. 🙁
At least it is still listed on their website, so I don't think it has been discontinued.
Have you ever had one of your favorite go to foods vanish from the grocery store shelf?
Cobb Salad Ingredients
This yummy potato salad has all the standard Cobb Salad ingredients. There are blue cheese crumbles, crispy bacon, diced avocado, red onion, hard-boiled eggs, and grape tomatoes.
Salt The Water
It's so, so important to salt the water when you cook the potatoes so be sure to add it. It seasons the potatoes all the way through and prevents the potato salad from being bland.
Storage
Leftovers will keep for 3 days in an airtight container in the refrigerator. Keep in mind, the avocado will turn brown over time.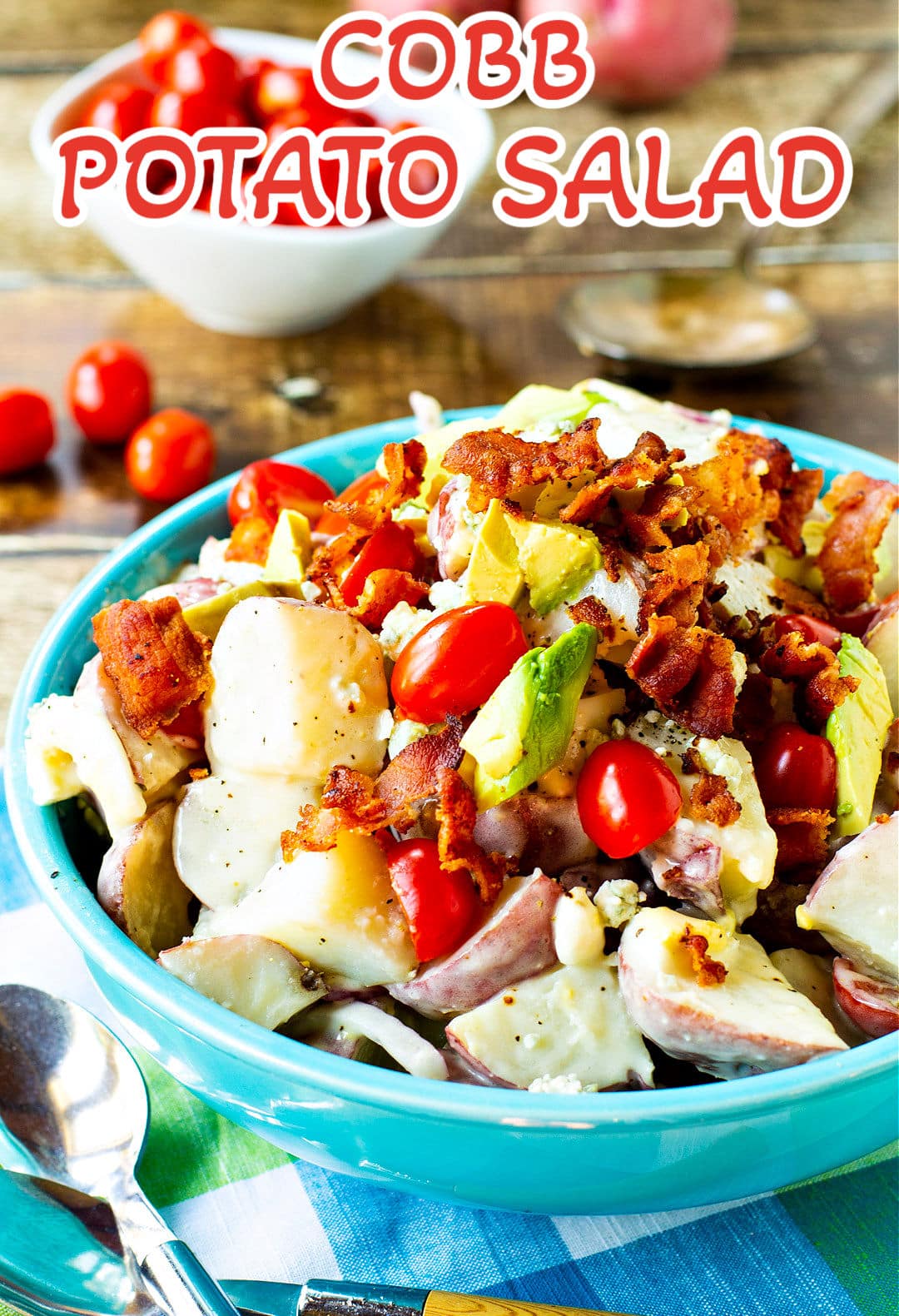 More Potato Salad Recipes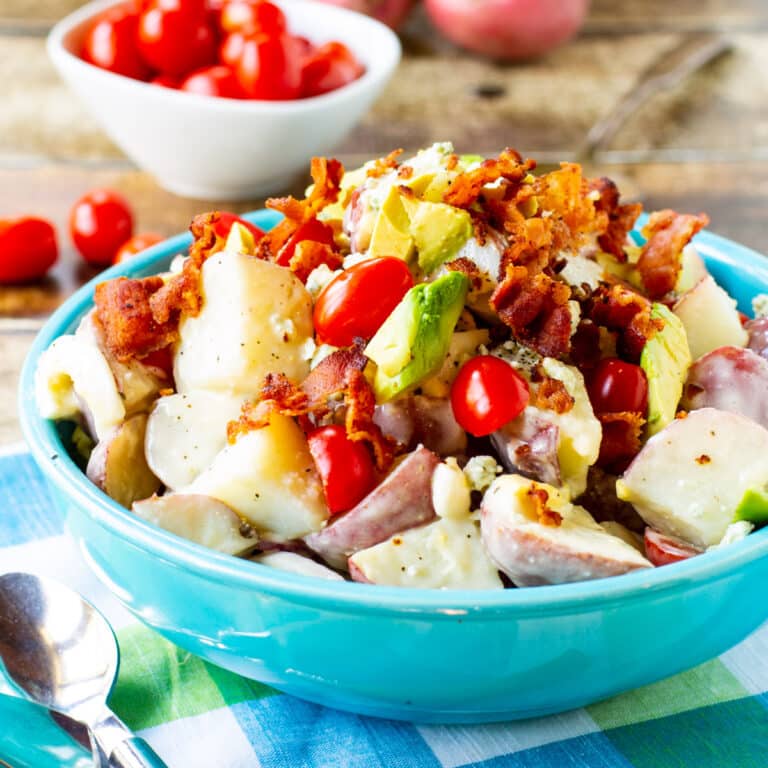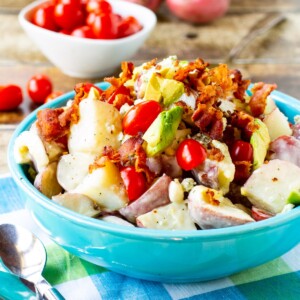 Cobb Potato Salad
Potato Salad with bacon, hard-boiled eggs, avocado, and blue cheese all coated in a blue cheese vinaigrette.
Ingredients
3

lbs

small red potatoes,

quartered

1/2

cup

Italian Vinaigrette

1/2

cup

Blue Cheese Dressing

1

teaspoon

sugar

2

hard boiled eggs

4

slices

bacon,

cooked and crumbled

1/2

small red onion,

thinly sliced

1

cup

grape tomatoes,

cut in half

1/2

avocado,

diced

1/4

cup

blue cheese crumbles

1/4

teaspoon

freshly ground black pepper

salt,

to taste
Instructions
Place potatoes in a medium saucepan with water to cover. Add at least 1 tablespoon of salt and Bring to a boil and simmer until potatoes are tender, about 12-15 minutes.

Drain potatoes and place in a large bowl.

In a small bowl whisk together vinaigrette, blue cheese dressing, and sugar. Pour half on top of potatoes and mix well. Cover potatoes with plastic wrap and refrigerate 1-4 hours. Refrigerate remaining vinaigrette mixture as well.

Just before serving, stir remaining vinaigrette mixture into potatoes.

Add remaining ingredients and mix well.

Taste for seasoning and add additional salt if necessary.
Want to Save This Recipe?
Originally posted April 22, 2014.