Chicken Fried Steak Fingers with a crispy, Cajun spiced coating and a Creole mustard dipping sauce. No utensils needed for this southern comfort food.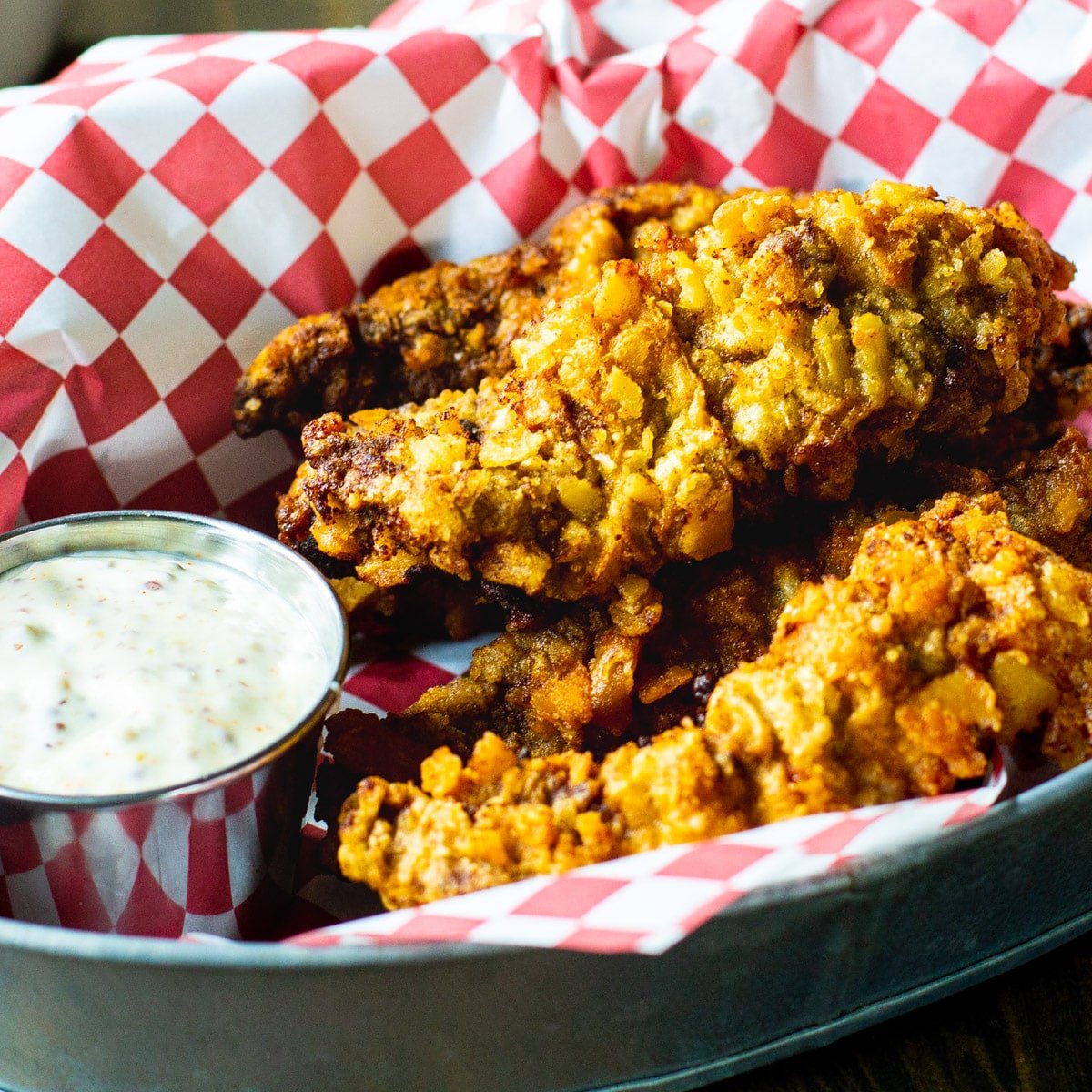 The name of this dish, Chicken Fried Steak, is a little confusing to some people. Chicken Fried Steak really has nothing to do with chicken except that it was traditionally fried in oil that had already been used to fry chicken.
Typically Chicken Fried Steak is served with a cream gravy and mashed potatoes, but I love making steak fingers and dipping them in a Creole-style mustard sauce. Turning knife and fork comfort foods into finger food is always a good idea in my opinion. That's fewer dishes to wash.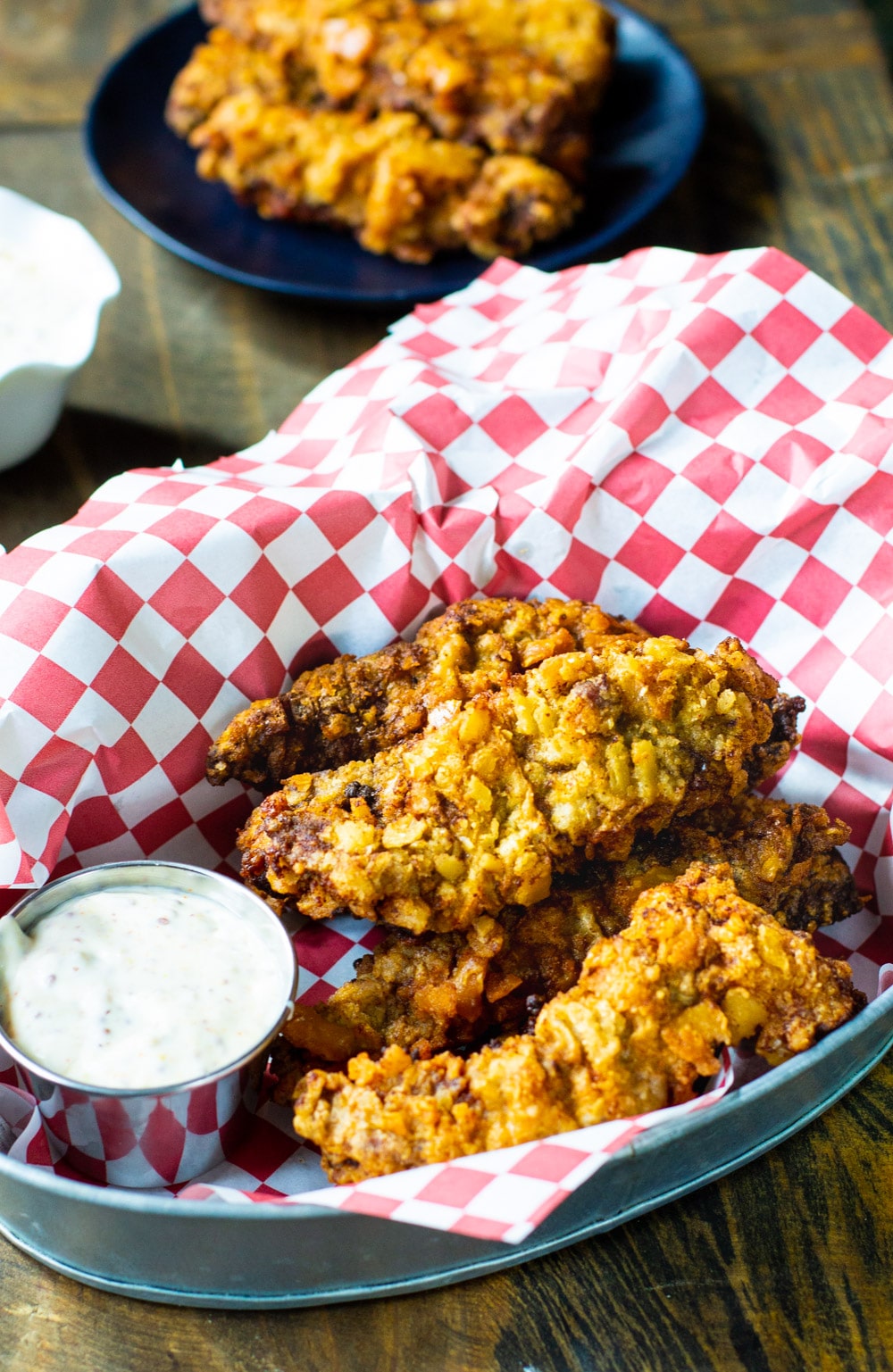 I like to use cube steak to make chicken fried steak because it's already tenderized and very economical. Each piece can easily be sliced into 3 or 4 strips to make fingers. Instead of using cube steak, you could buy round steak and pound it with a meat mallet to tenderize it. Might be a very good way to get some stress out because you are going to have to pound it to death to get it adequately tenderized.
If you've already gotten your workout in for the day, just go for the cube steak. It's already to go.
I like to coat the steak fingers in a mixture of flour and Saltine crackers for a thick and crispy coating. Some Cajun seasoning added to the flour mixture gives these Chicken Fried Steak Fingers a little zip which is complemented well by a mustard dip made with mayonnaise and sour cream.
You Might Like These Other Recipes: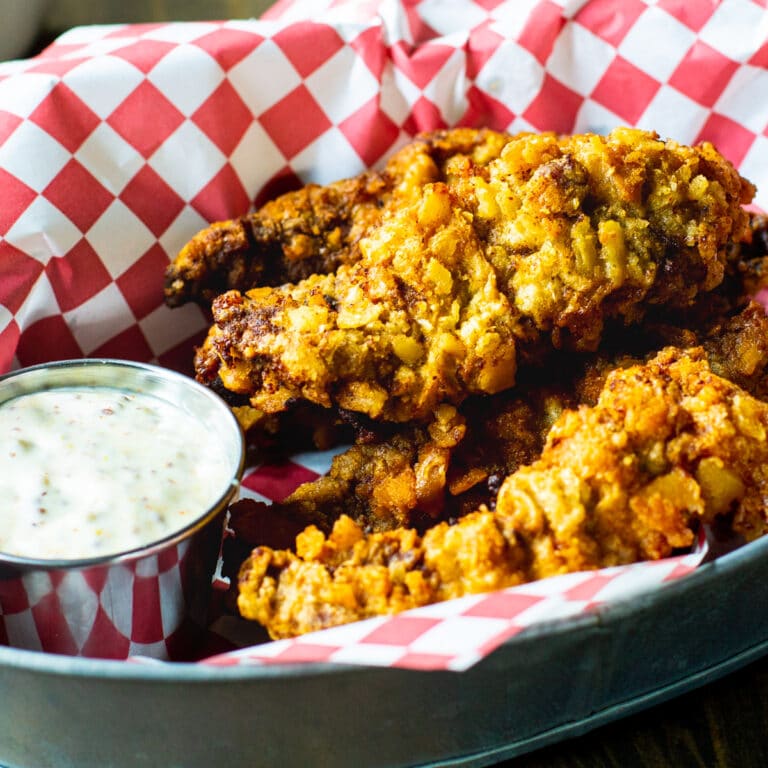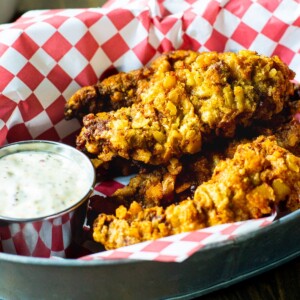 Chicken Fried Steak Fingers with Creole Mustard Sauce
Comfort food gets turned into finger food with these Chicken Fried Steak Fingers served with a Creole Mustard Sauce.
Ingredients
Creole Mustard Sauce
1/2

cup

mayonnaise

1/2

cup

sour cream

1/4

cup

Creole mustard,

or you can use any whole grain mustard

1

tablespoon

honey

1/8

teaspoon

cayenne pepper
Steak Fingers
1 1/2

pounds

cube steak

salt and pepper

1/2

cup

flour

2

eggs,

lightly beaten

1/3

cup

milk

1

teaspoon

Worcestershire sauce

1/2

cup

flour

1/2

sleeve Saltine crackers,

finely crushed

2

teaspoons

Cajun seasoning

1/2

teaspoon

black pepper

Vegetable oil
Instructions
Make Creole mustard sauce. In a small bowl, mix together all ingredients. Refrigerate until needed.

Cut cube steak into 1-inch fingers, Season lightly with salt and pepper.

Place 1/2 cup flour on a plate.

Whisk together eggs, milk, and Worcestershire sauce in a medium bowl.

On another plate, combine 1/2 cup flour, saltine crumbs, Cajun seasoning and pepper.

Pour about 2 inches of Vegetable oil in a Dutch oven and heat to 375 degrees.

Dredge steak pieces in flour, shaking off excess.

Dip in egg mixture and then coat with flour/saltine mixture.

Fry steak fingers, working in 2 batches, until brown on both sides and cooked through (about 6-8 minutes).

Place on wire rack to drain.
Want to Save This Recipe?
Originally published April 17, 2014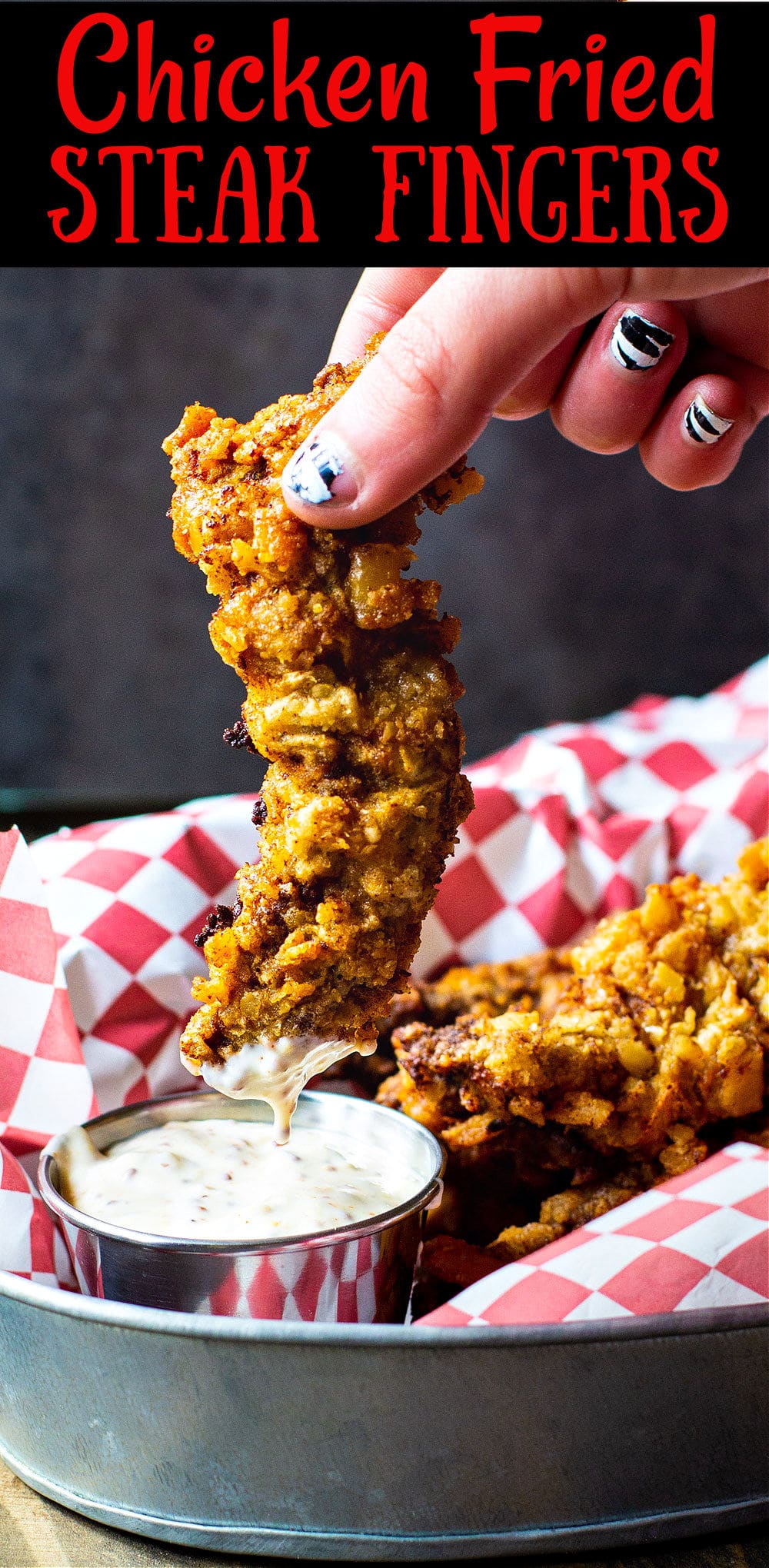 Linking up at The Country Cook Weekend Potluck
Disclosure: This post contains affiliate links.