Cajun Pastalya is a spicy pasta based jambalaya with shrimp, chicken, and Andouille sausage. So much flavor in every delicious bite!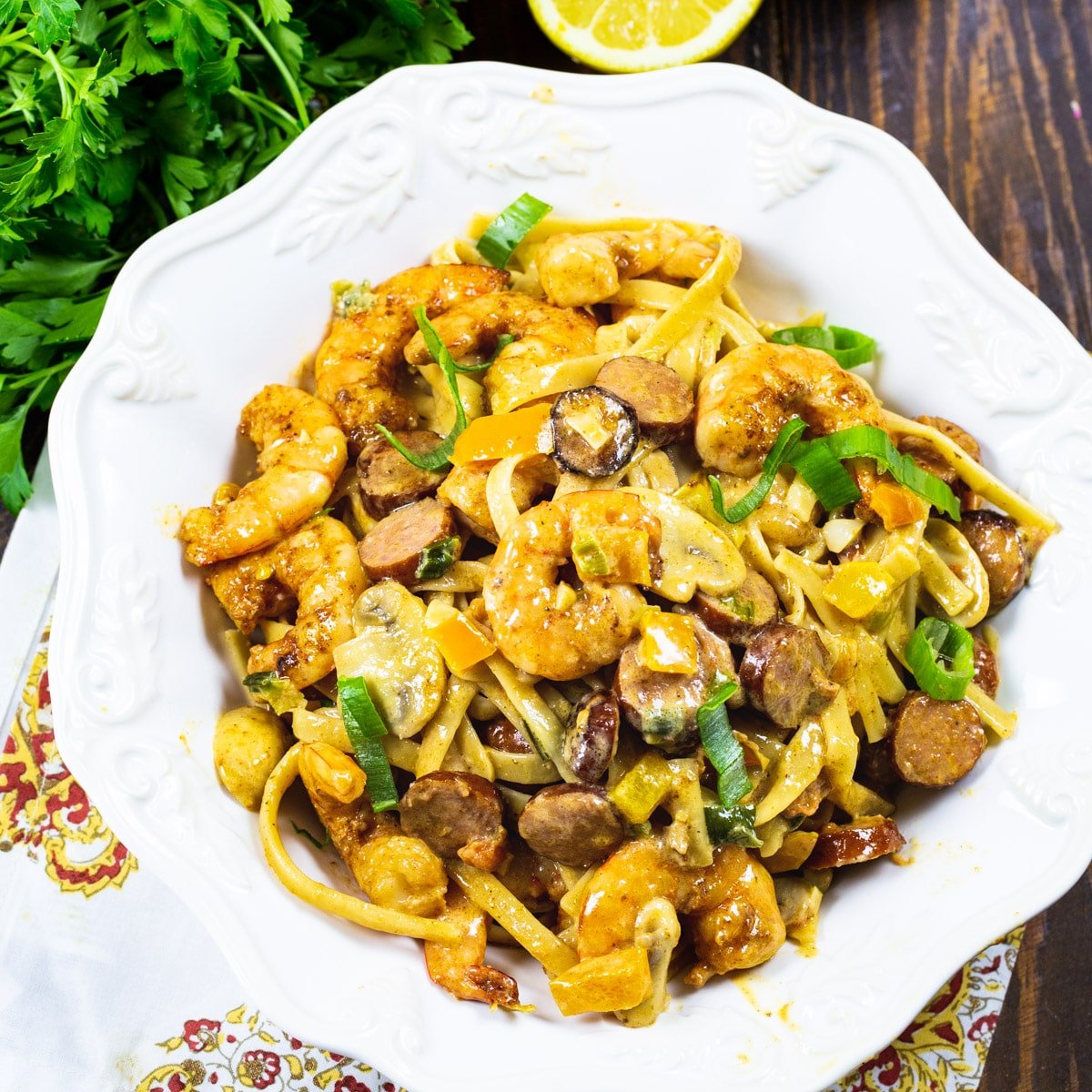 Has anyone been watching Top Chef New Orleans? I don't usually watch Top Chef, but since this season takes place in one of my favorite cities in the world, I've been tuning in. It's made me realize that I miss Emeril since he's not on the Food Network 24/7 like he used to be. And it's really put me in the mood for some Creole/Cajun food.  There is no food like the food of New Orleans and it is a spice lovers heaven. (Note: This post was originally published October 10, 2013.)
Cajun Pastalaya. What is it? It's jambalaya made with pasta instead of rice and it's absolutely delicious. Jambalaya is a Louisianan dish that's basically a relative to paella. It usually has multiple types of protein. The ones I've used are very common- shrimp, chicken , and andouille sausage. Lots of times crawfish are used instead of shrimp.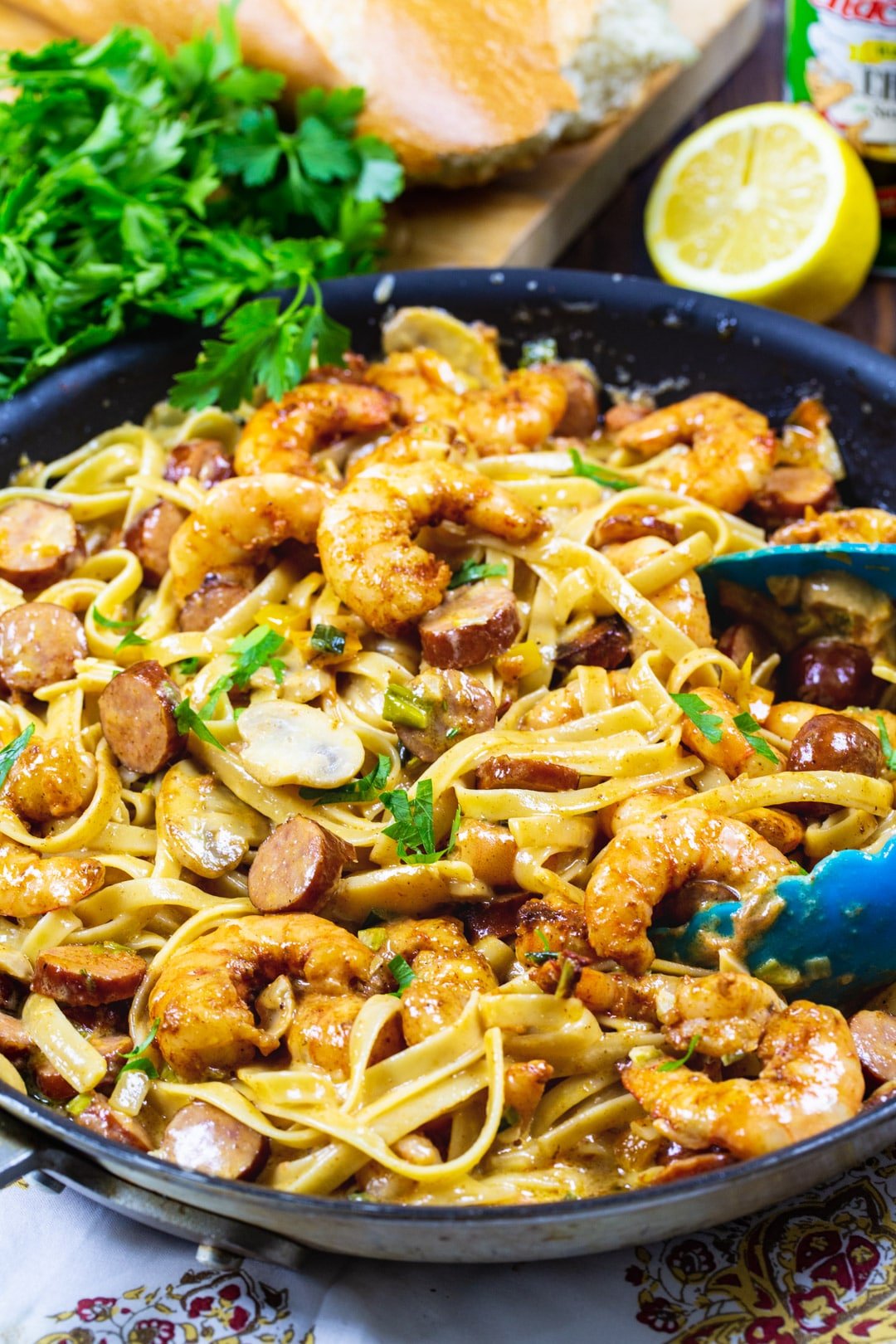 Great Fusion Recipe
Cajun Pastalaya is the perfect dish to make when you want the flavors of jambalaya, but you're craving pasta. It's a great dish to feed a crowd and can easily be doubled or tripled. Pastalaya is a very versatile dish and you can use pretty much any type of pasta. I like to use linguine, but fettucine, penne, shells, or rotini would work well.
Cajun Pastalaya Recipe Tip
You can sub the Andouille sausage with kielbasa, but I really suggest using Andouille if you can get your hands on some. In my opinion, the Andouille sausage is the ingredient that really makes the dish.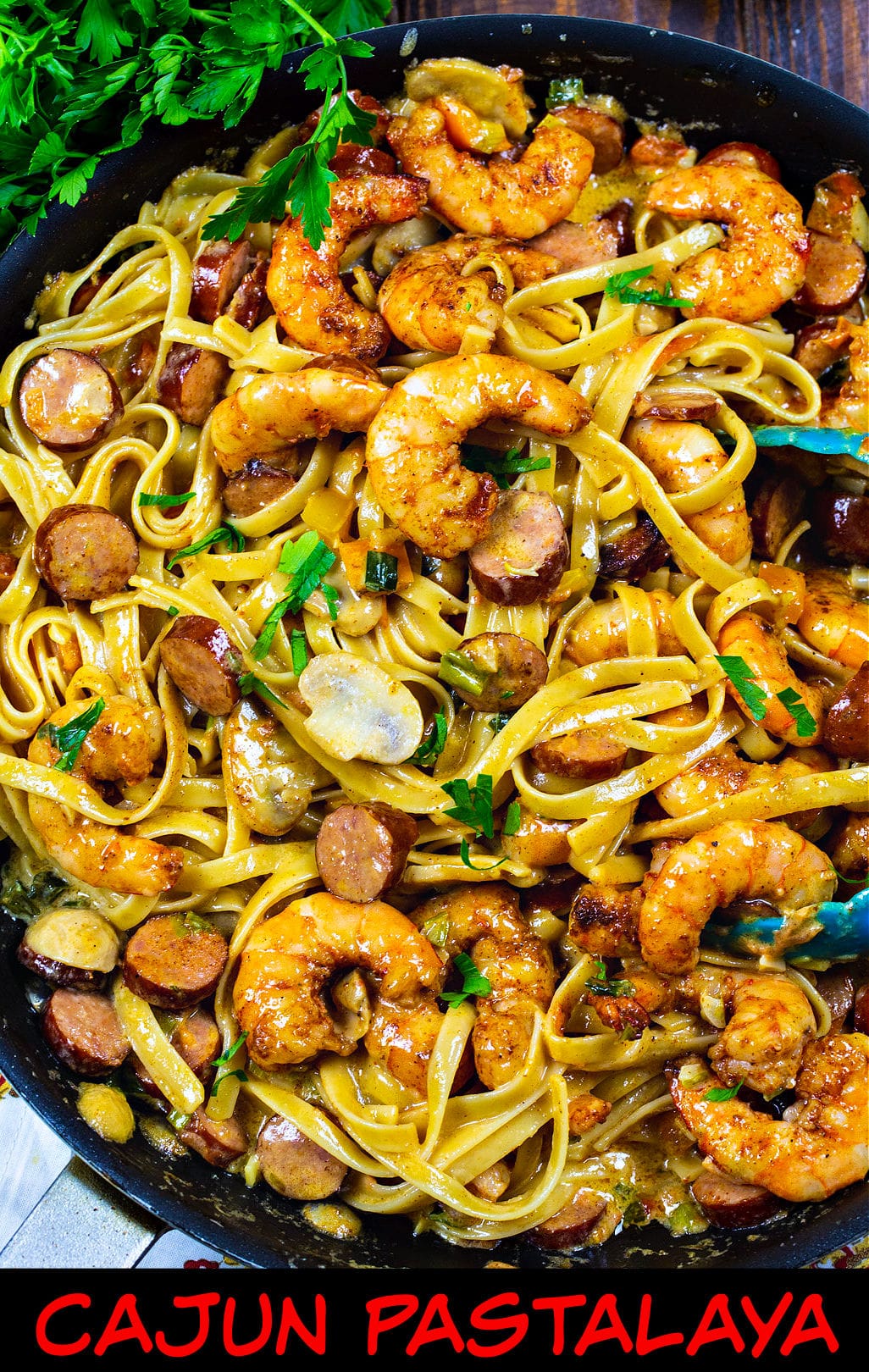 More New Orleans-Style Recipes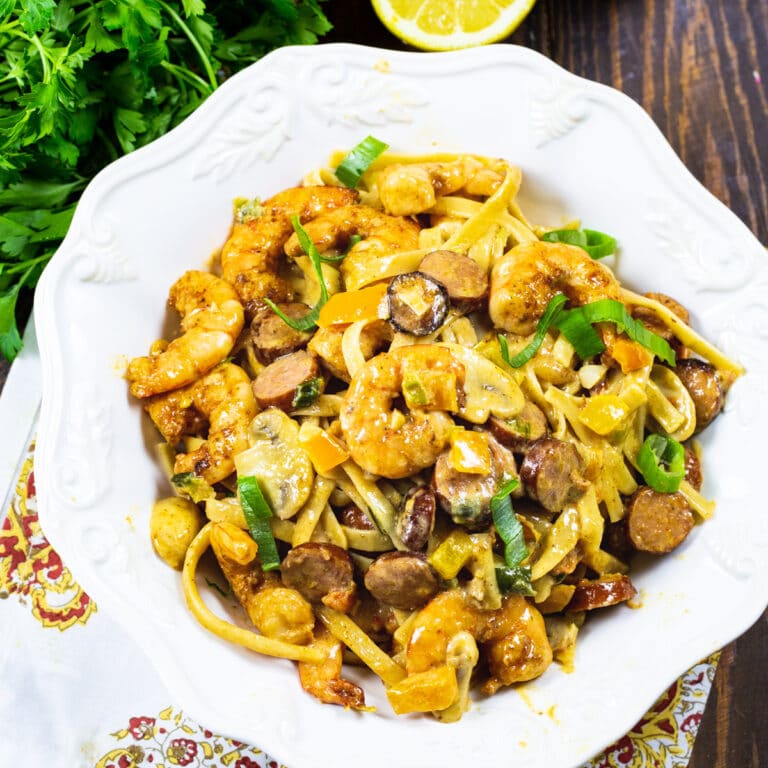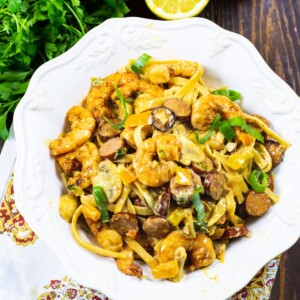 Cajun Pastalaya
A spicy pasta based jambalaya with shrimp, chicken, and Andouille sausage.
Ingredients
12

ounces

linguine

2

tablespoons

butter,

divided

3/4

pound

shrimp

salt and pepper

1

tablespoon

olive oil

1

boneless,

skinless chicken breast, cut into 1/2-inch dice

3/4

pound

Andouille sausage

(about 3 links), cut into thin slices

1

medium onion,

diced

1/2

cup

diced green pepper

1/2

cup

diced red bell pepper

1

stalk celery,

diced

3

cloves

garlic,

minced

1

teaspoon

paprika

1/2

teaspoon

garlic powder

1/2

teaspoon

oregano

1/2

teaspoon

thyme

1

tablespoon

Worcestershire sauce

1

cup

diced tomatoes

1

tablespoon

tomato paste

3/4

cup

chicken broth

1/2

cup

heavy cream

3

green onions. sliced
Instructions
Bring a large pot of salted water to a boil and cook the pasta to al dente. Reserve 1/4 cup of the pasta liquid.

Melt 1 tablespoon butter over medium-high heat in a large skillet. Season shrimp with salt and pepper and add shrimp to skillet. Sauté 2-3 minutes. Remove shrimp and set aside.

Add 1 tablespoon olive oil to skillet. Season chicken with salt and pepper and add to skillet. Cook until no longer pink in the middle, stirring once or twice, about 3 to 4 minutes. Remove from skillet and place with shrimp.

Add 1 tablespoon butter and Andouille sausage, onion, green pepper, red pepper, and celery. Cook 4 to 5 minutes, until Andouille is browned and vegetables are softened.

Add garlic, paprika, garlic powder, oregano, and thyme and cook 30 seconds. Then add Worcestershire sauce, diced tomatoes, tomato paste, and chicken broth. Let simmer 3 minutes.

Add cream and simmer 3 minutes. Return shrimp and chicken and add cooked pasta plus reserved cooking liquid. Simmer another 2-3 minutes. Check for seasoning and add salt to taste.

To serve, top with green onions.
Want to Save This Recipe?