This Applebee's copy cat salad has been one of my favorite salads for years. The list of ingredients is long, but the flavor impact that comes from all of the components is amazing.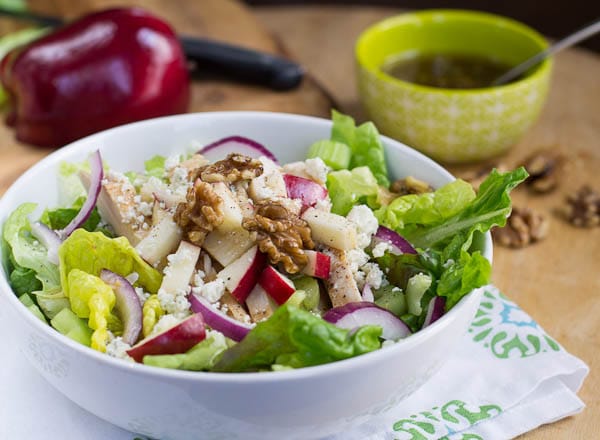 Smokey grilled chicken, a mix of romaine and red leaf lettuce, apple, celery, red onion, blue cheese crumbles, candied walnuts, and a balsamic vinaigrette that is out of this world. This is a recipe that I got out of Top Secret Restaurant Recipes 3: The Secret Formulas for Duplicating Your Favorite Restaurant Dishes at Home (Top Secret Recipes)
.  I find all of the Top Secret cookbooks to be so much fun to cook from. Many times they really do taste like the real thing, and even if they don't, they are almost always delicious nonetheless.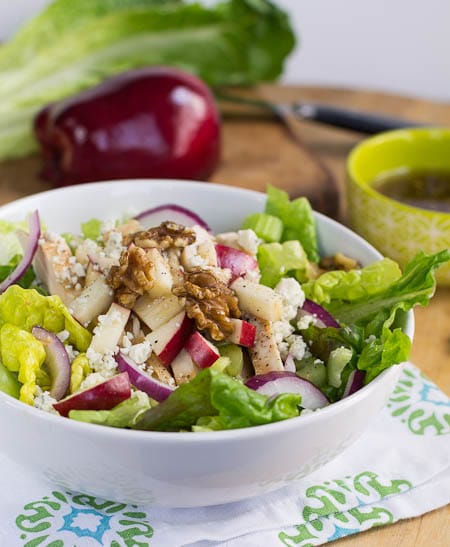 It's probably been close to two decades since I've eaten at an Applebee's so I'm not sure how this recipe compares to the real thing. Or if it's even still on the menu.
The chicken is marinated in brine for 3 hours. The brine has a touch of hickory-flavored liquid smoke added to it which makes the chicken taste like it's been grilled to perfection over hot coals and wood chips. But I just grill it in my grill pan.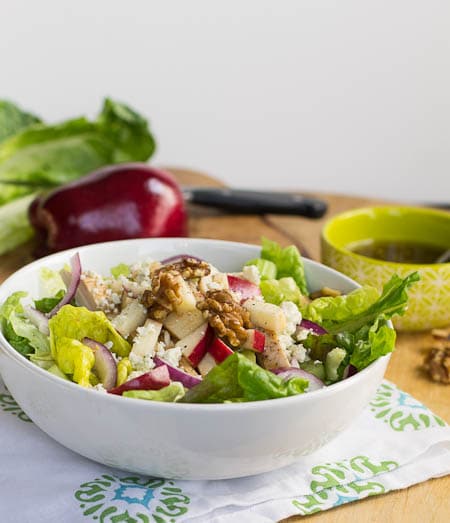 All of the components can be made ahead of time and the balsamic dressing recipe makes a huge batch that you can use on salads all week long. It's one of my favorite dressings ever, and it actually doesn't taste much like a balsamic vinaigrette. Not surprising considering how little balsamic it has in relation to the other ingredients. There is a lot of sugar and honey in it and sweetness is the predominant flavor. But I find there's just enough tang from the balsamic, red wine vinegar, and Dijon mustard. If you don't like sweet vinaigrettes, you may not be a fan.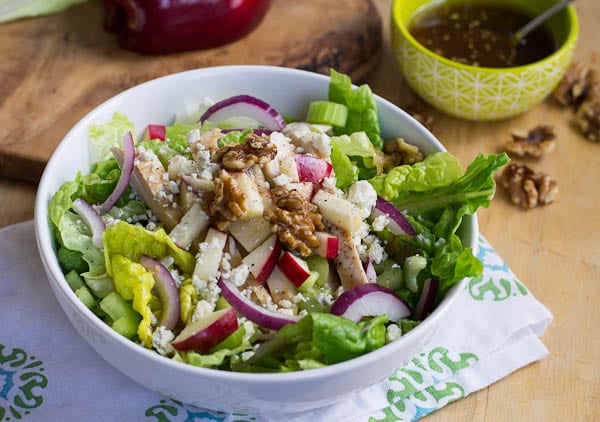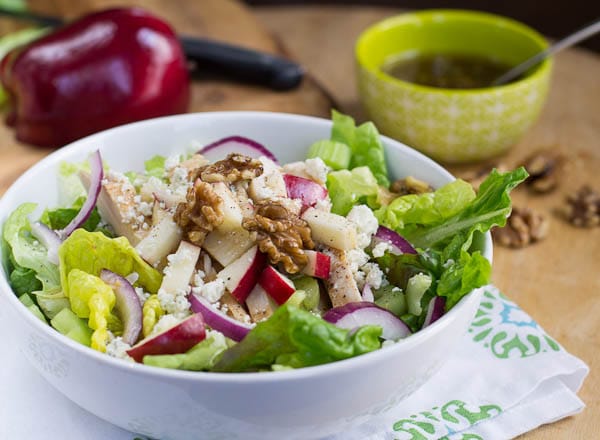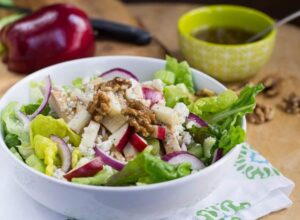 Apple Walnut Chicken Salad- Applebee's Copycat
Marinated grilled chicken tossed with greens, apple, blue cheese, candied walnuts and a tangy balsamic vinaigrette.
Ingredients
Chicken Marinade
3

cups

water

1

tablespoon

salt

1/2

teaspoon

garlic powder

1/4

teaspoon

hickory-flavored liquid smoke

1

boneless chicken breasts,

pounded to 1/2-inch thickness

oil

ground black pepper
Balsamic Vinaigrette
1/4

cup

red wine vinegar

3

tablespoons

granulated sugar

3

tablespoons

honey

1

tablespoon

Dijon mustard

1/2

teaspoon

salt

1/2

teaspoon

minced garlic

1/2

teaspoon

lemon juice

1/4

teaspoon

Italian seasoning

1/4

teaspoon

dried tarragon

pinch ground black pepper

1

cup

extra-virgin olive oil
Candied Walnuts
1

teaspoon

peanut oil

1

teaspoon

honey

2

tablespoons

granulated sugar

1/4

teaspoon

vanilla extract

1/8

teaspoon

salt

pinch of cayenne pepper

3/4

cup

chopped walnuts
Salad
4

cups

chopped romaine lettuce

4

cups

chopped red leaf lettuce

1

apple,

diced

1/2

small red onion,

sliced

1/2

cup

diced celery

1/4

cup

crumbled blue cheese
Instructions
Make chicken marinade. Combine water, salt, garlic powder, and liquid smoke in a medium bowl. Mix to dissolve salt. Place chicken in marinade, cover, and refrigerate for 3 hours.

Make balsamic vinaigrette. Whisk together all ingredients except oil in a medium bowl. Gradually pour oil in while whisking continuously. Cover and refrigerate.

Make candied walnuts. Combine (in order listed) the peanut oil, honey, sugar, vanilla, and salt in a medium skillet over medium heat. When mixture starts to bubble, add walnuts and stir constantly until sugar begins to caramelize. Turn off heat and keep stirring walnuts so they do not burn. After 1 minute of stirring. Pour nuts onto a piece of wax paper to cool.

Grill chicken. Heat a gas grill or

grill pan

over medium-high heat. Remove chicken from marinade and blot dry with paper towels. Rub with oil and season with pepper. Grill for 3 to 4 minutes per side, or until done. Let cool and slice.

For each salad, toss together 2 cups romaine, 2 cups red leaf lettuce, half of the apple, onion, celery, and blue cheese. Mix in desired amount of dressing and top with sliced chicken and walnuts.
Want to Save This Recipe?
Disclosure: Spicy Southern Kitchen is an amazon.com affiliate.
More Copycat Recipes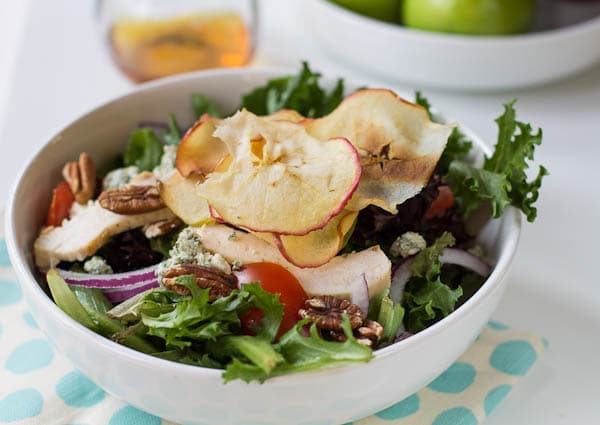 Fuji Apple Chicken Salad– Panera Bread copycat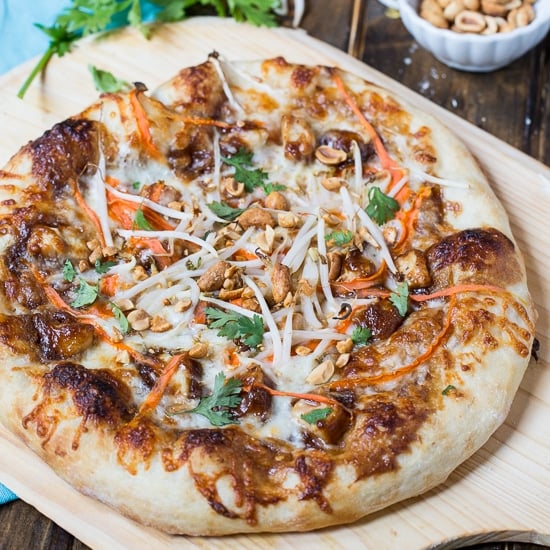 Thai Chicken Pizza – California Pizza Kitchen copycat