This creamy and comforting Turkey Tetrazzini is one of my favorite meals to make with leftover Thanksgiving turkey. It works equally well with leftover chicken and I often buy rotisserie chicken to use.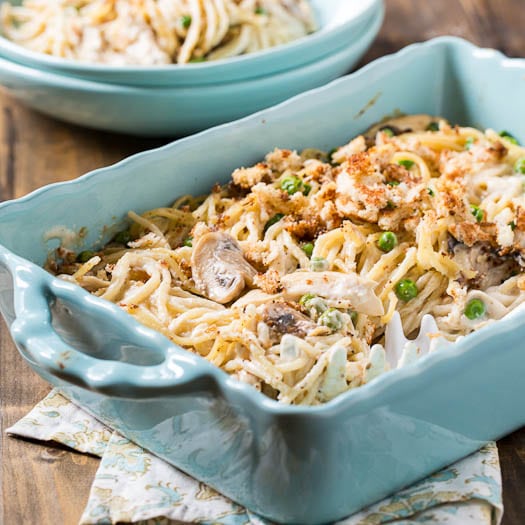 In my opinion, the mushrooms and peas are essential for a tetrazzini. They're my favorite part and I'll admit that whenever I dish myself up, I always dig for a few extra mushrooms. A splash of sherry and a pinch of nutmeg also add wonderful flavor to a tetrazzini.
That being said, Turkey Tetrazzini is very adaptable and forgiving and you can leave any of these ingredients out to suit your taste. Try adding broccoli or even green beans instead of peas or mushrooms.
Because when you have a creamy, cheesey sauce pretty much anything tastes good in it.
Quite a few Turkey Tetrazzini recipes use Condensed Soup to make preparation quick and easy and I make a lot of casseroles using condensed soup, including tetrazzini on occasion. But this one is from scratch with a creamy sauce made from butter, flour, chicken broth, milk, and heavy cream. If you don't like cooking with canned soup, this is a great recipe to try.
Like most casseroles, Turkey Tetrazzini can be made ahead of time. Another reason it's a family favorite. Just get it all assembled, wrap with plastic wrap and store in the refrigerator for up to 24 hours. Take it out, discard the plastic wrap and add a few minutes to the baking time. You have yourself a hassle free weeknight meal.
Everyone will want seconds of this hot and creamy meal.