This Slow Cooker Apple Cobbler is made from fresh apples and it is a super easy fall dessert. Only a handful of ingredients are required. Serve warm with a scoop of vanilla ice cream.
I love making all kinds of foods in my crock pot, even desserts. This Crock Pot Pecan Pie is a big favorite!
During the summer you'll find me making Slow Cooker Lemon Cake, but come fall it's all about the apples.
Using a crock pot is a super convenient way to make a dessert. There's more leeway in cooking time, so not much of a risk of burning anything.
This recipe starts with 6 cups of peeled and sliced fresh apples. I use a mixture of Granny Smith and either Honey Crisp or Gala. The apples get tossed with brown sugar, cinnamon, and nutmeg in the crock pot. No mixing bowl needed. Everything is done in the slow cooker for easy clean-up.
A box of yellow cake mix (no need to add anything to it) gets sprinkled on top of the apples, along with a little more cinnamon.
Finally, 1 stick of melted butter is drizzled on top. The butter and the liquid that comes out of the apples as they cook, is all the liquid needed to form the dry cake mix into a delicious cobbler topping. Easy Peeazy.
This slow cooker Apple Cobbler just may be your new favorite apple dessert.
Never miss a recipe. Follow Spicy Southern Kitchen on Pinterest, Youtube, and Facebook.
More Crock Pot Desserts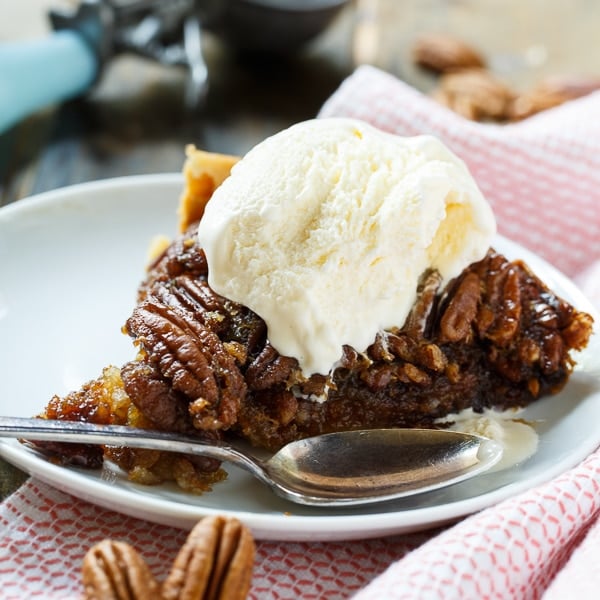 Disclosure: This post contains affiliate links.