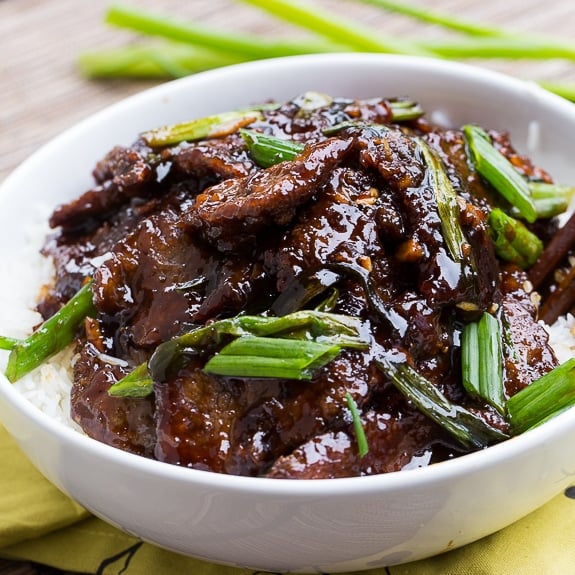 I've seen recipes for PF Chang's Mongolian Beef all over Pinterest for some time and since PF Chang's is one of my favorite restaurants, I knew I had to try making Mongolian Beef at home.
Usually when we go to PF Chang's, I am all about the Kung Pao Scallops, but Mongolian Beef is also a favorite of mine.
Crispy but tender pieces of beef coated in a thick, sweet and a little salty sauce. It's almost like eating beef candy! Add some red pepper flakes if you want to balance the sweetness with some heat.
We don't go to PF Chang's often since it is a little pricey and the drive can take a lot of time when there's traffic. So I am thrilled to be able to make this dish at home and it is so easy!
You don't have to eat at PF Chang's to enjoy a fabulously delicious Mongolian Beef. It's easy to make at home and can be served over white rice for a meal that is sure to become a family favorite.
And your kids will think you have suddenly developed restaurant chef skills.  🙂
For more mouth watering recipes follow Spicy Southern Kitchen on Pinterest and Instagram.
Subscribe to Spicy Southern Kitchen's Youtube Channel.
Recipe Adapted from:
Food.com
Disclosure: This post contains affiliate links.