This Wheat Berry Waldorf Salad is loaded with grapes, apple, celery, blue cheese, and honey-spiced walnuts. It makes a delicious and filling lunch that can be made the day before.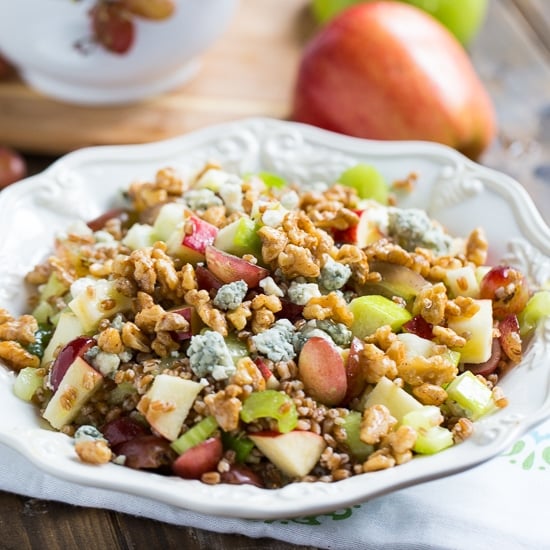 As much as I love them, I get bored with green salads very easily. But never grain-based salads. There's so much versatility with them and they always seem so much more filling.
And there are tons of grains to choose from these days: farro, barley, quinoa, millet, sorghum, and wheat berries are just a few.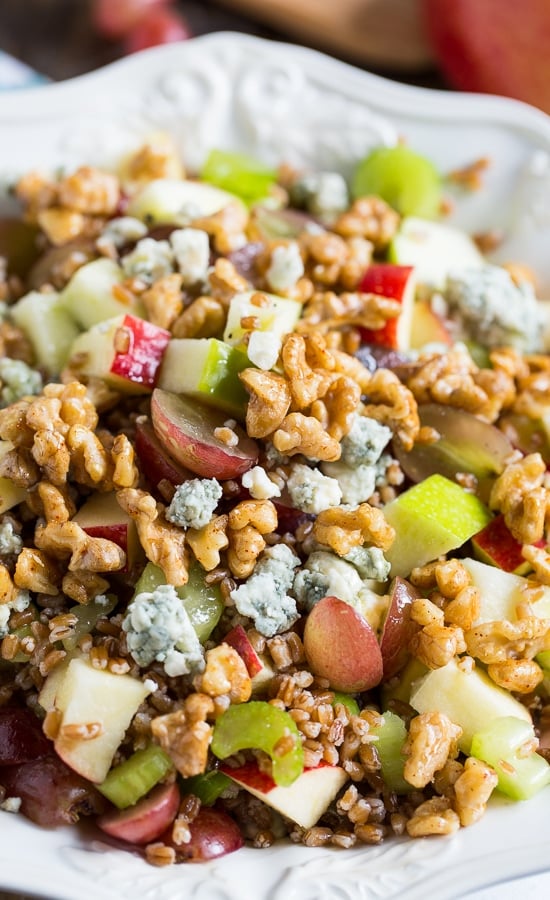 If you want to add a few new grains to your cooking repertoire, but aren't sure how to, I recommend taking a look at Craftsy's free online class Creative Ways With Whole Grains (w/ Anna Bullett).
I have fallen in love with Craftsy classes and recently blogged about their free Pizza Making Class here. Cooking with Grains is also a free class and you will learn tips on cooking different grains, how to store them, and ways to serve them. Recipes include a Wheat Berry Salad with goat cheese, a Wild Rice Pilaf, Quinoa Breakfast Porridge, and a farro risotto.
If you're not familiar with Craftsy, they have wonderful online video classes to learn just about any craft imaginable. You can review the lessons as often as you want, working at your own pace, and even ask your teacher questions. Craftsy makes it easy for busy moms to find time to pursue their interests right from home. Here's the full list of Craftsy free mini classes to choose from.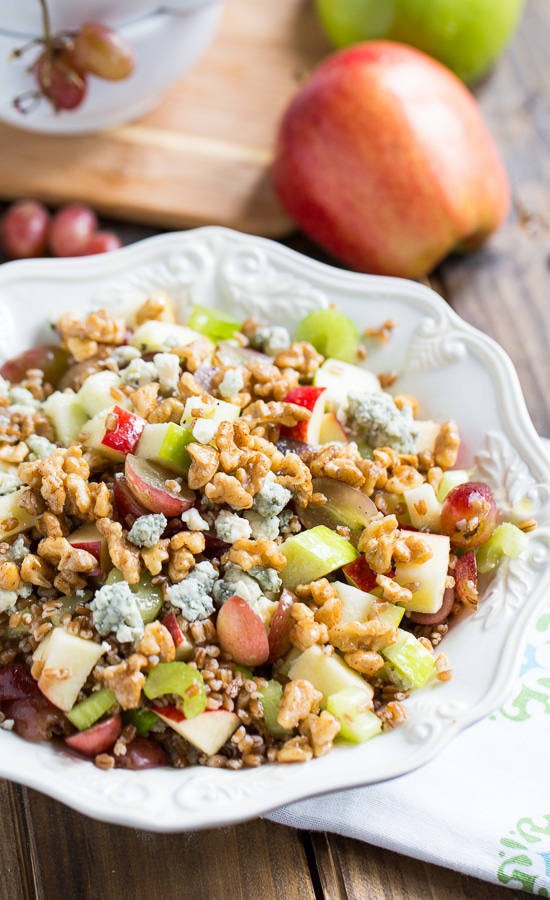 I've used Wheat Berries for this Waldorf Salad, but it can be made with other grains as well. I've even made it with steel-cut oats and it was delicious.
I love the chewy texture and nutty flavor of wheat berries. Combined with grapes, apple, celery, blue cheese, and walnuts that have been toasted with honey and cayenne pepper, wheat berries make a deliciously satisfying lunch. The whole salad is drizzled with a sweet and tart apple cider and honey dressing.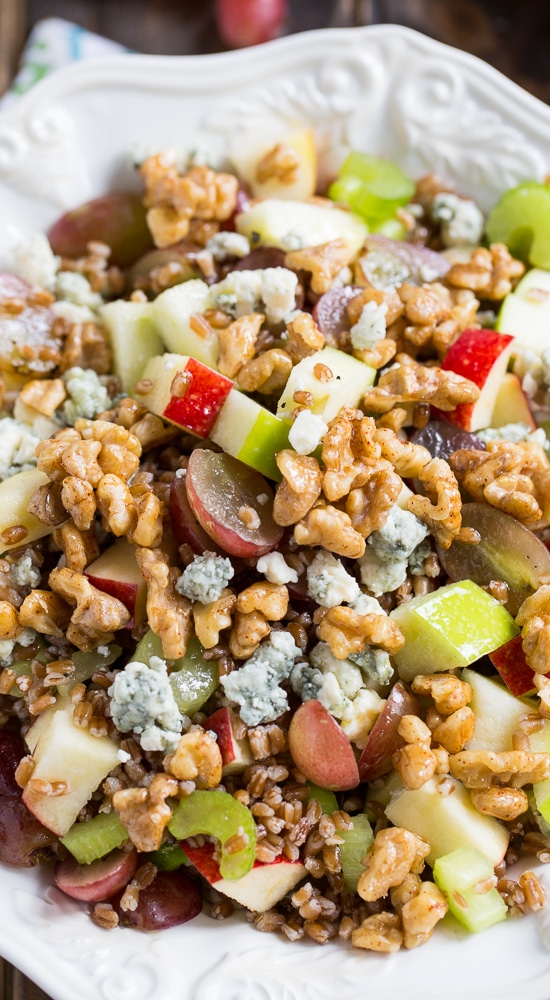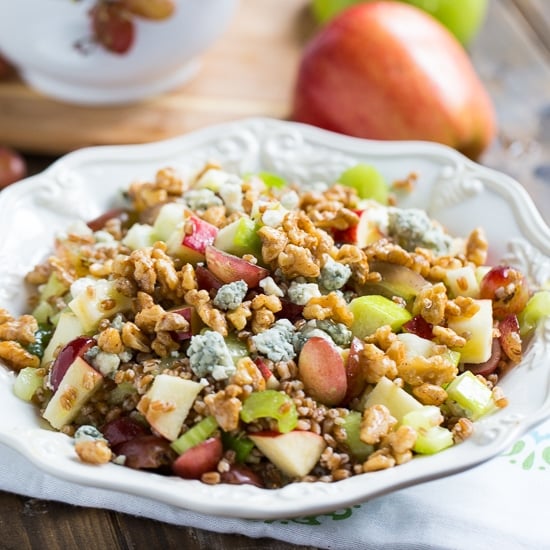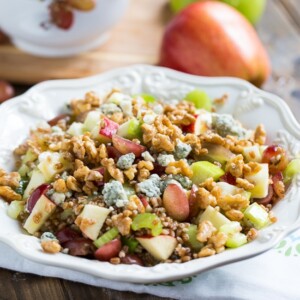 Wheat Berry Waldorf Salad
A healthy and filling grain salad with grapes, apple, celery, blue cheese, and honey-spiced walnuts.
Ingredients
1

cup

wheat berries

1

teaspoon

salt

1/4

cup

olive oil

3

tablespoons

apple cider vinegar

1/2

teaspoon

dry mustard

4

teaspoons

honey

1/4

teaspoon

salt

1/2

teaspoon

ground black pepper

1/2

cups

walnut pieces

1 1/2

teaspoons

honey

1/8

teaspoon

ground red pepper

1/2

cup

diced Granny Smith Apple

1/3

cup

diced celery

1

cup

seedless red grapes,

cut in half

1/4

cup

crumbled blue cheese
Instructions
Place the wheat berries in a medium saucepan and cover with about 2 inches of water. Add 1 teaspoon salt.

Bring to a boil, reduce heat, cover and simmer gently for about 1 hour. Stir occasionally. Drain.

To make dressing, combine olive oil, apple cider vinegar, dry mustard, 4 teaspoons honey, salt and pepper in a small bowl and whisk well to combine. Set aside.

To make walnuts, combine walnuts, 1 1/2 teaspoons honey, and red pepper in a small nonstick skillet and cook over medium heat for about 3 minutes, stirring occasionally.

Place wheat berries in a medium bowl and add in apple, celery, grapes, and blue cheese. Add dressing to taste and toss well. Sprinkle with walnuts.
Want to Save This Recipe?
Recipe Source: adapted from Cooking Light
Disclosure: Spicy Southern Kitchen is a Craftsy affiliate.