Popsicles made with watermelon, fresh blueberries, and a touch of mint make a super refreshing summer snack.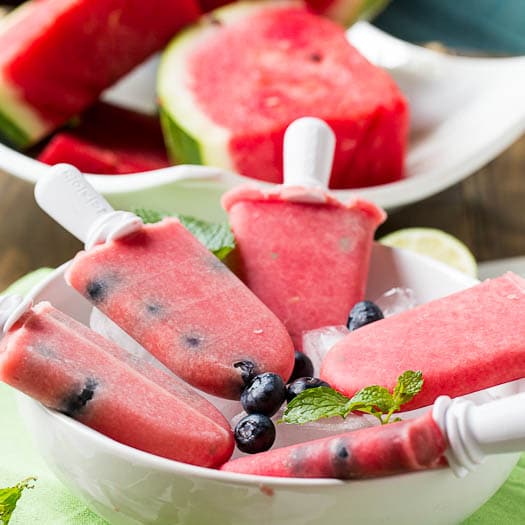 We are huge watermelon lovers in my family with the exception of my daughter. She says she doesn't like the texture. Because I can't stand for anyone to not be able to enjoy one of my favorite summer foods, and because my daughter is now vegetarian AND gluten-free and I'm seriously worried she's going to starve to death, I started brainstorming ways to serve watermelon that she might find appealing.
And I thought……popsicles! No one can object to the texture of a popsicle.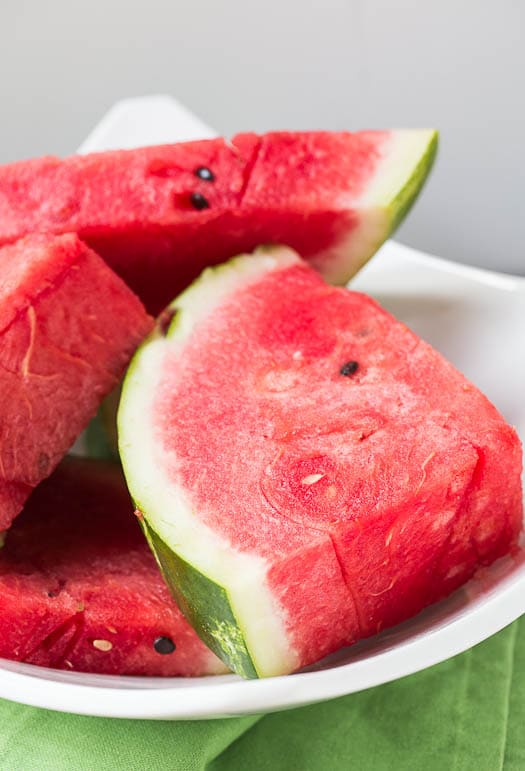 But one problem. I didn't have a popsicle mold. And yes I know you can make them in Dixie Cups and use those wooden popsicle sticks. But I've tried finding those popsicle sticks for a school project and they are impossible to find without going to a craft store.
Not to mention I had a 14-year-old watermelon hater to impress with these popsicles.
So I stopped in Sur La Table when I was at the mall a few weeks ago certain that I would find a shelf full of wonderful popsicle molds. Maybe even a really cool vintage-looking one.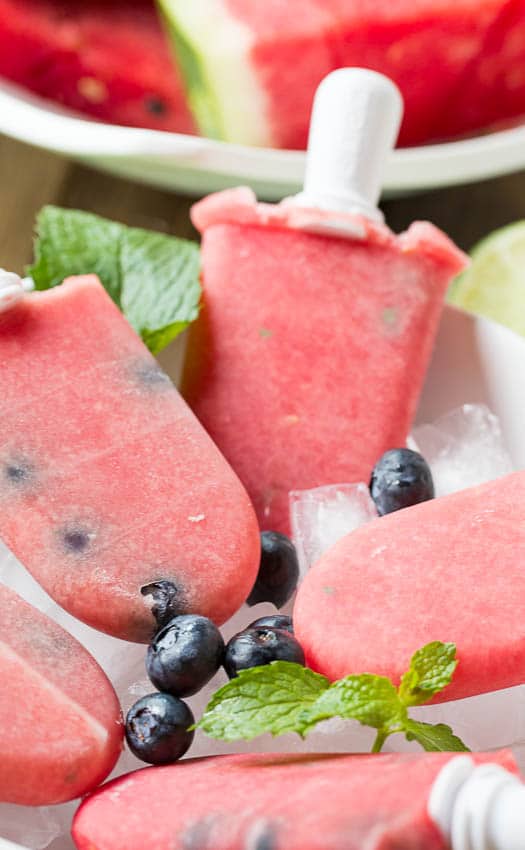 I basically had 2 choices. Space ship shaped popsicles? Uh, no.
Or the   Zoku Quick Pop Maker
which was a little more than I wanted to spend.

After about a 5 minute internal debate- "I'm not sure these are the ones I want." "But it will waste a lot of time and energy to continue the search at who knows how many more stores." "How in the world does this thing freeze popsicles in 7-9 minutes?"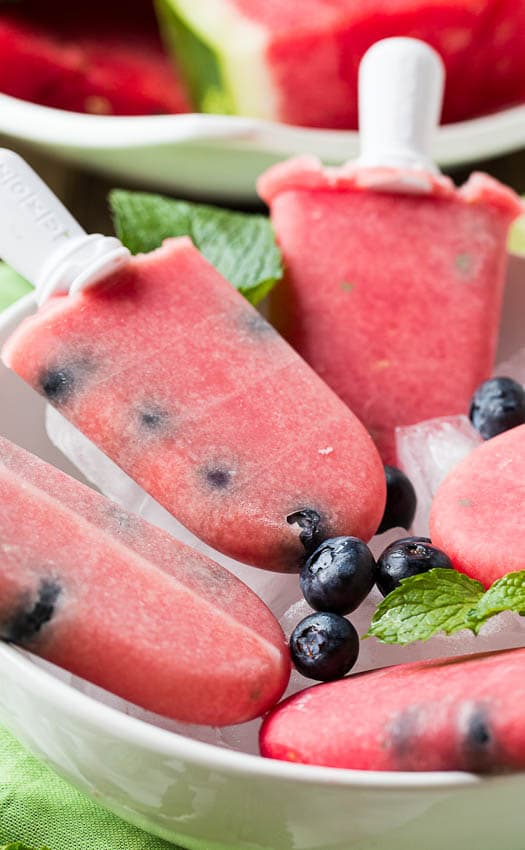 I broke down. I got the Zoku Quick Pop Maker. I passed on an extra box of sticks. The Pop Maker came with 6. I would feel less guilty if I made myself make do with just the 6 after spending more than I had anticipated. Or maybe it was stupid to not be able to use it to the fullest extent possible? Maybe I needed those extra sticks?  Way too much internal debate. Always a sign that a vacation is needed.
I came home with the Pop Maker and set about creating a delicious watermelon concoction to fill it with.
But wait. I had to freeze the Pop Maker for 24 hours.
Next day I blended up some deliciously juicy watermelon, a little sugar, a touch of fresh lime juice, and some mint. And I decided I would put a few fresh blueberries in the molds too. With the 4th of July right around the corner I couldn't resist the patriotic qualities of a watermelon and blueberry combination.
By this point I was a little anxious to get this thing going. In my haste, I made a mistake which knocked my popsicle yield from 6 down to 5. Ok, maybe I should have gotten the extra box of sticks. I started pouring the mixture in the mold and I completely miscalculated how fast it would fill and didn't realize that a funnel would be handy, and I overflowed the first mold.
Turns out the Zoku Pop Maker doesn't freeze in 7-9 minutes, it freezes instantaneously. There was no way I could get rid of the extra popsicle mixture that went past the fill line and extended over the top of the mold and there was no way to get this popsicle out without completely melting it.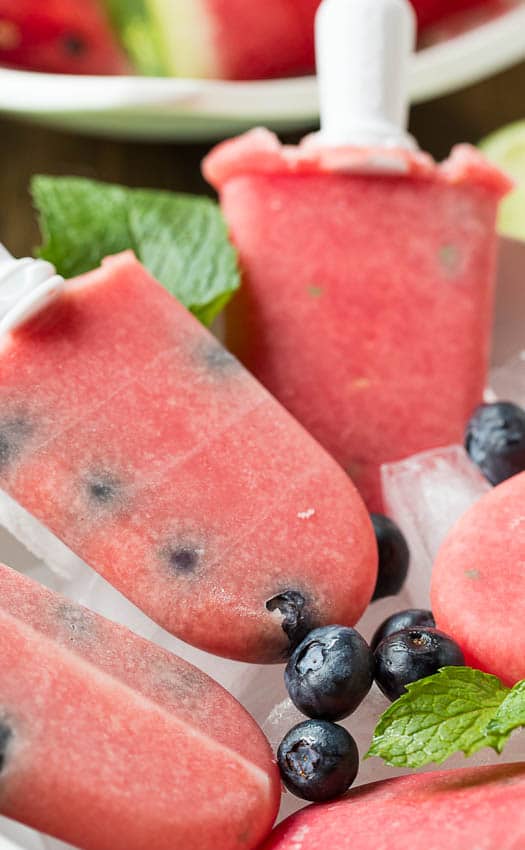 Not willing to accept defeat,  I grabbed a funnel and ever so slowly filled the next two molds (did I mention it only makes 3 at a time?), stopping every inch or so to add a few blueberries. And into the freezer they went. When I got them out about 10 minutes later with the "super tool" as they call it, popsicles 2 and 3 came out easily and were perfectly frozen. Popsicle 1 as I said before, was a lost cause.
But I quickly refilled the 2 empty molds and 8 minutes later I had 2 more popsicles. Nearly instant gratification!
After a rocky start, I was becoming quite smitten with the Zoku Quick Pop Maker
. The popsicles were fabulously frozen in just minutes and the watermelon, mint, blueberry combination was a winner.
My daughter? She refused to try one.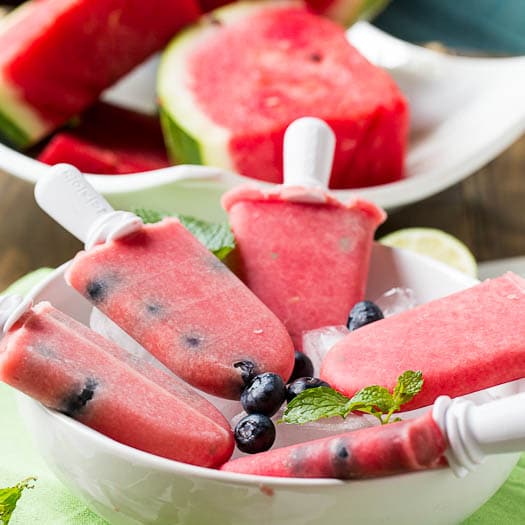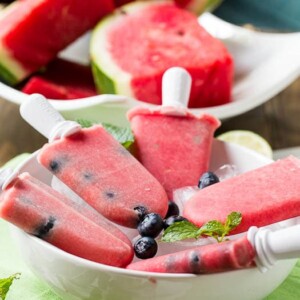 Watermelon-Mint Popsicles with Blueberries
Popsicles made with watermelon, fresh blueberries, and a touch of mint make a cool, sweet treat on a summer day.
Ingredients
6

heaping cups diced seedless watermelon

or remove the seeds

3

tablespoons

sugar

1/2

tablespoon

lime juice

1/8

teaspoon

salt

1

tablespoon

minced mint leaves

1/2

cup

fresh blueberries
Instructions
In a blender, puree watermelon along with sugar, lime juice, and salt until smooth.

Add mint and blend briefly to finely mince the mint and get it mixed in.

Pour puree into popsicle molds. (You should be able to make at least 10, but it will depend on the size of your molds.)

Freeze until hard.
Want to Save This Recipe?
Disclosure: This post contains affiliate links.