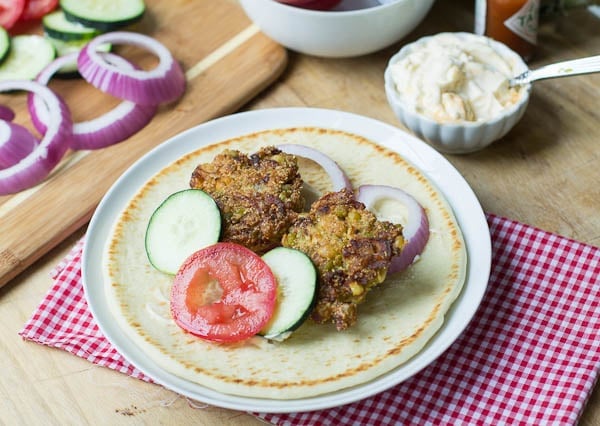 This Southern Falafel recipe is a tasty southern twist on the classic Middle Eastern Falafel Sandwich using field peas instead of chickpeas. During the summer months, many different varieties of field peas can be found at farmer's markets throughout the south. Any variety will do for this. I used one called White Acre which is a small field pea with a mild taste.
They were a little bit of a bear to mash. But I was using a fork which is not the most optimal mashing tool. It would have been easier to use a food processor, but at least I got an upper body workout in.
If you'd like to learn more about field peas, Southern Living has a good Guide to Summer-Fresh Field Peas.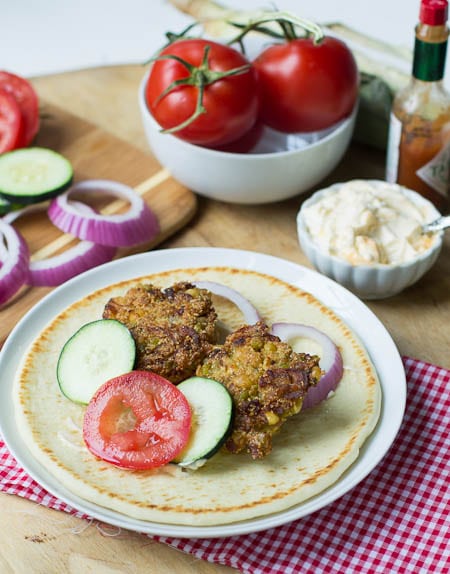 When forming the patties, it really didn't seem like there is enough binder to hold them together and I expected them to fall completely apart in the oil. But they held together very well as soon as they were in the oil.  It may be helpful to refrigerate the mixture first before forming the falafel. I also didn't do the best job of mashing my peas which I am sure made the task of forming the falafel more challenging.
A little country ham, sweet onion, and corn add a nice southern touch to the falafel. Served in fresh pita bread, spread with spicy mayo, this is a delicious and nontraditional lunch. If there are any leftovers, they heat up well a day later.
Note: You could easily leave out the country ham and make this a vegetarian meal.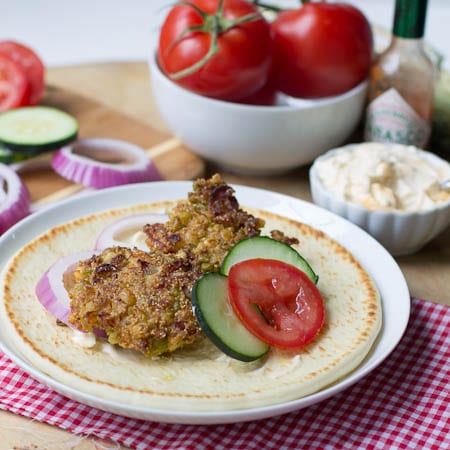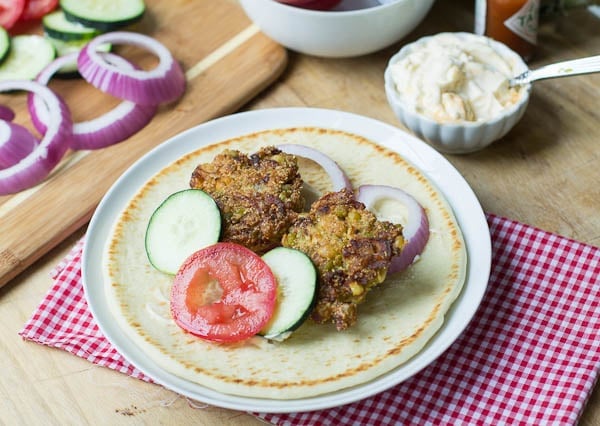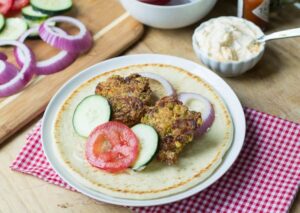 Southern Falafel
A southern take on falafel made with field peas and country ham.
Ingredients
2

cups

cooked field peas,

mashed

½

small sweet onion,

diced

½

cup

diced country ham

1

tablespoon

vegetable oil

1

garlic clove,

minced

½

ground cumin

1

egg,

lightly beaten

1

tablespoon

tahini

¼

cup

cooked corn

¼

teaspoon

cayenne pepper

½

teaspoon

salt

1/3

cup

cornmeal

½

teaspoon

baking powder

¼

teaspoon

black pepper

vegetable oil

½

cup

mayonnaise

1

tablespoon

lime juice

½

teaspoon

hot sauce

4

pita rounds

1

red onion,

thinly sliced

½

a cucumber,

thinly sliced

2

medium tomatoes,

thinly sliced
Instructions
Place mashed field peas in a medium bowl and set aside.

Heat 1 tablespoon oil in a nonstick skillet and sauté onion and country ham 2 to 3 minutes. Add garlic and cumin and sauté 30 more seconds. Let cool slightly.

Add onion and ham to bowl with field peas along with egg, tahini, corn, cayenne pepper, and salt. Mix together well.

In a small bowl, combine cornmeal, baking powder, and black pepper. Stir to mix and add to field pea mixture. Mix together and form into 2-inch patties.

In a nonstick skillet, add ½-inch worth of oil and heat to 375°. Fry patties in batches for approximately 2 minutes per side. Drain on paper towels.

In a small bowl, combine mayonnaise, lime juice, and hot sauce. Stir well.

To serve, spread spicy mayo on pita bread, top with 2 or 3 falafel and desired amount of red onion, cucumber, and tomato.
Want to Save This Recipe?
Yield: 4 servings
Recipe inspired by Taste of the South
More Southern Sandwich Ideas