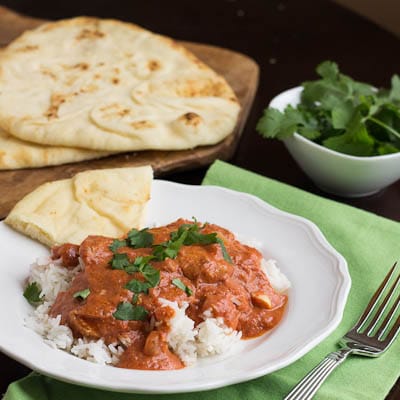 Indian food has become my very favorite type of food to eat. Ironically, it was my teenage son who really got me interested in it. I don't really think of Indian Cuisine as being popular with teenagers, but my son and his friends love to go out to several of the nearby Indian restaurants. They especially love the lunch buffets. They can eat their fill, plus try some new foods.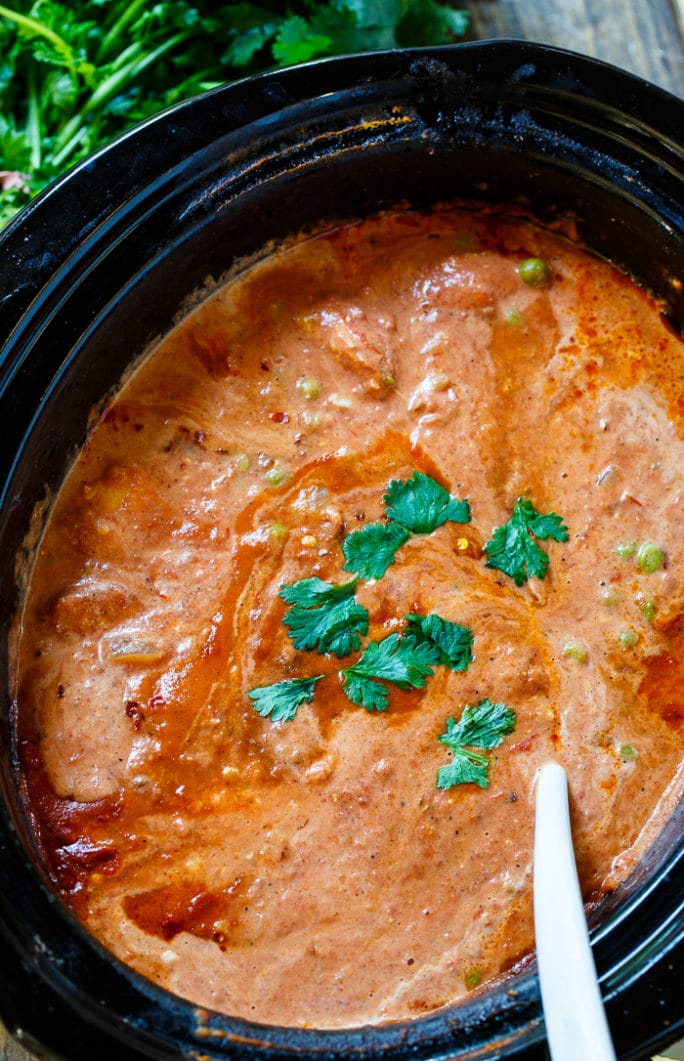 One of my favorite Indian dishes is the ever popular Chicken Tikka Masala. I love the contrast of sweetness and spice in it and the richness from the cream. I haven't really done much Indian cooking at home because it seems so foreign to me, but when I saw this slow cooker Chicken Tikka Masala recipe on Pinterest, I thought- That's something I can make.
And it turned out fabulously well. The sauce is wonderfully thick and rich, with loads of flavor. The chicken pieces are moist and tender and almost just become a part of the sauce. The only change I might make would be to add a little more chicken. If you want it to have a significant amount of chicken, maybe use 3 or 4 pounds instead of two. But let's face it, people who like Chicken Tikka Masala like it for the sauce, not the chicken.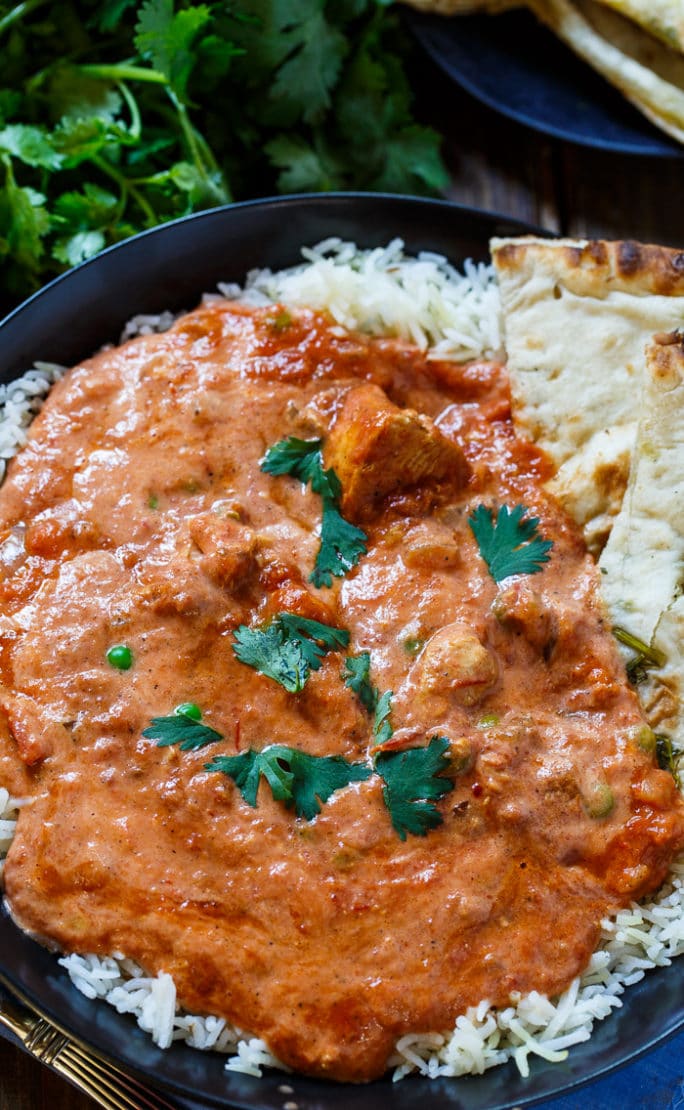 Of course Tikka Masala must be served with some warm Na'an to mop up the sauce and some rice, preferably Basmati or Jasmine.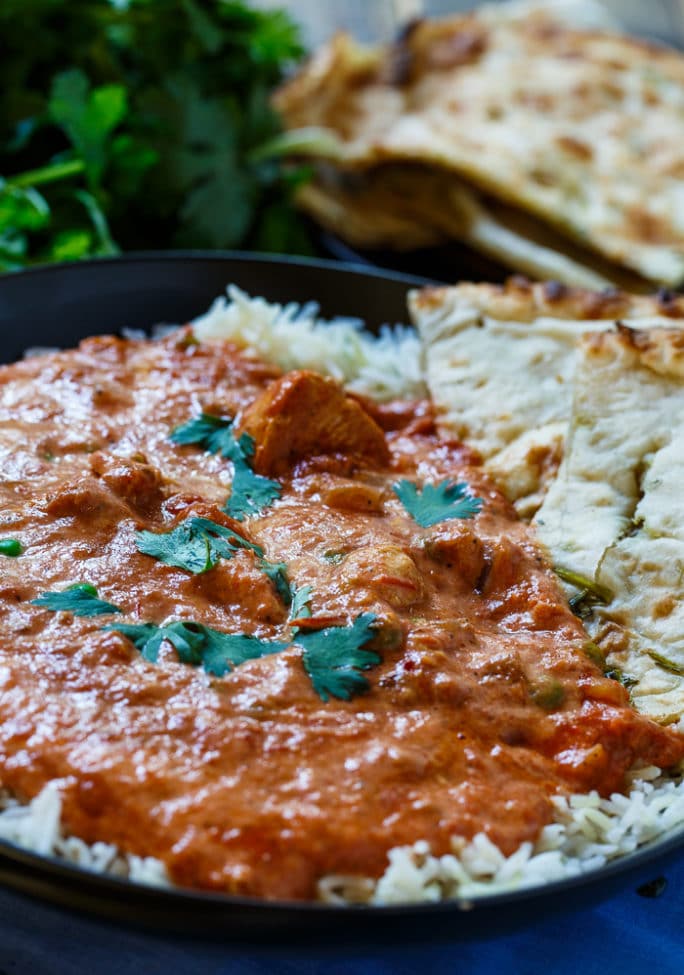 Never miss a recipe. Follow Spicy Southern Kitchen on Pinterest and Facebook.
Watch the short video below to see how to make Slow Cooker Chicken Tikka Masala.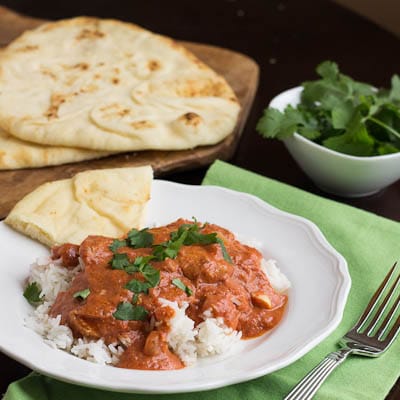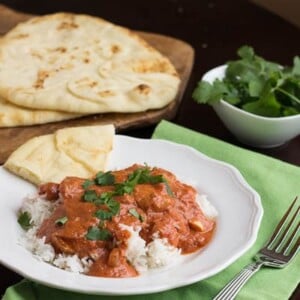 Slow Cooker Chicken Tikka Masala
Ingredients
2

pounds

boneless,

skinless chicken thighs, cut into 2-inch pieces

1

tablespoon

ground coriander

1

tablespoon

ground cumin

1

teaspoon

kosher salt

1

cup

plain greek yogurt

2

tablespoons

olive oil

1

large onion,

diced

6

cloves

garlic,

minced

1/2

teaspoon

red pepper flakes

1

teaspoon

kosher salt

3

tablespoons

garam masala

2-3

inch

piece ginger,

peeled and grated

2

(28-ounce)

cans crushed tomatoes

1

tablespoon

sugar

1

tablespoon

cornstarch

1 1/2

cups

heavy cream

10-

ounce

bag frozen peas,

thawed

rice

cilantro
Instructions
In a large bowl, combine chicken, ground coriander, cumin, and salt. Toss to combine. Stir in yogurt, coating chicken evenly. Marinate for at least 10 minutes.

In a large nonstick skillet, heat 1 tablespoon olive oil over medium-high heat. Add half of chicken and cook until browned on both sides. Transfer to slow cooker. Repeat with remaining chicken.

In same skillet, add 1 more tablespoon olive oil. Add onions, garlic, and red pepper flakes and saute until onions are softened and translucent, about 5 to 7 minutes.

Add 1 teaspoon salt ,garam masala, and ginger and cook 1 more minute. Add tomatoes and sugar, turn heat to high, and bring to a boil. Pour over chicken in slow cooker. Cover and cook for 5-6 hours on LOW.

Whisk together cornstarch and 1/4 cup heavy cream and add to crockpot along with remaining heavy cream and peas. Stir to combine. Cover and continue to cook 10 minutes on HIGH.
Want to Save This Recipe?
Recipe Source: adapted slightly from A Dash of Cinnamon
More Slow cooker recipes
Five Spice Pork with Sugar Snap Peas