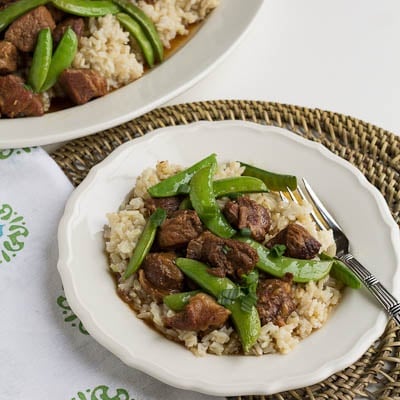 Recently I have joined the slow cooker fan club and I've been trying about every slow cooker recipe I can get my hands on. Five Spice Pork with Sugar Snap Peas may be my favorite slow cooker recipe to date.
I made a few alterations to the recipe from Fine Cooking
 Magazine. I reduced the amount of water added from 1/2 a cup to 1/4 of a cup. Meats give off so much liquid in the slow cooker and there's no way for it to evaporate, so I don't feel like there is a need to add but a little water. I also added a tablespoon or 2 of Wondra at the end to thicken the sauce up a bit. Wondra is a specially treated flour that dissolves easily in liquids without clumping.
I browned the meat first in a skillet. This step is not necessary, but I do think it adds flavor and makes the meat more visually appealing. I used dry Sherry instead of the Shaoxing, which is an ingredient I've never used before. Normally, I jump at the chance to try a new ingredient, but I've had a bottle of Sherry taking up valuable real estate in my refrigerator for several months now.
You could definitely sub snow peas for the sugar snap peas, but I much prefer the taste of the sugar snaps.
Slow Cooker Five Spice Pork makes a wonderful meal when you are tired of the same old boring meals. The flavor is unique and delicious!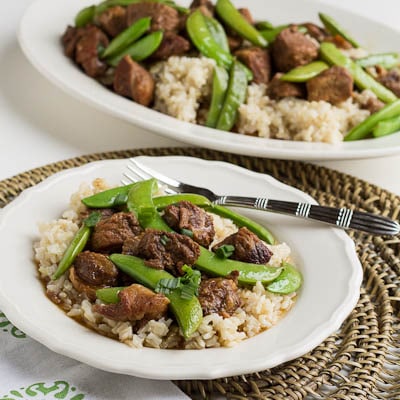 More Awesome Slow Cooker Recipes
Slow Cooked Spice-Rubbed Chicken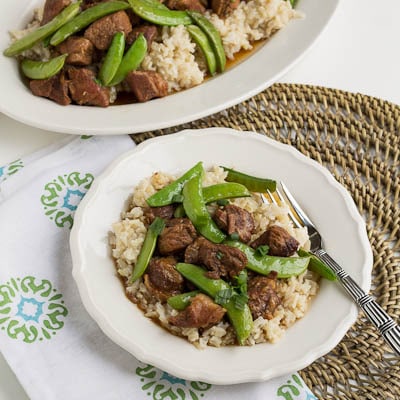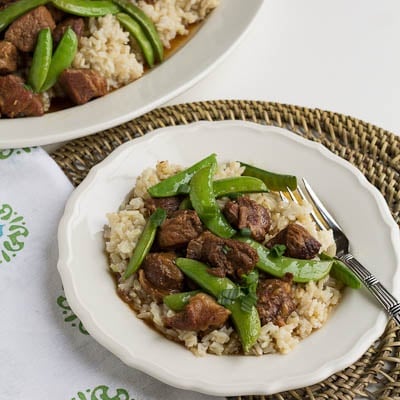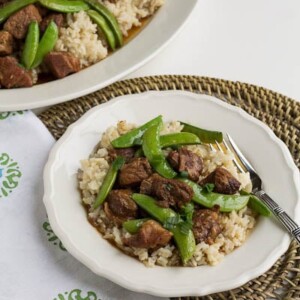 Slow Cooker Five Spice Pork with Sugar Snap Peas
Ingredients
1/2

cup

Shaoxing Chinese Rice Vinegar or dry sherry

1/2

cup

reduced-sodium soy sauce

1/2

cup

light brown sugar

1

tablespoon

chili sauce

such as Sriracha

2

large cloves garlic,

minced

1

teaspoon

grated fresh ginger

1

teaspoon

Chinese five-spice powder

2

pounds

boneless pork shoulder,

trimmed of excess fat and cut into 1-inch pieces

salt and freshly ground pepper

1

tablespoon

olive oil

1-2

tablespoons

Wondra

1/2

pound

sugar snap peas,

trimmed
Instructions
In a 5 to 6-quart slow cooker, combine Shaoxing, soy sauce, brown sugar, chili suace, garlic, ginger, five spice powder, and 1/4 cup water.

Heat 1 tablespoon of olive oil in a large skillet over medium-high heat. Dab as much moisture off pork with paper towels as possible. Season with salt and pepper. Place in skillet and lightly brown on both sides.

Place pork in slow cooker and coat with sauce. Cover and cook 4 to 5 hours on high or 6 to 7 hours on low.

Stir in Wondra and sugar snap peas and cook until peas are crisp-tender, about 10 minutes.
Want to Save This Recipe?
Recipe Source: adapted from Fine Cooking
Disclosure: Spicy Southern Kitchen is an amazon.com affiliate.