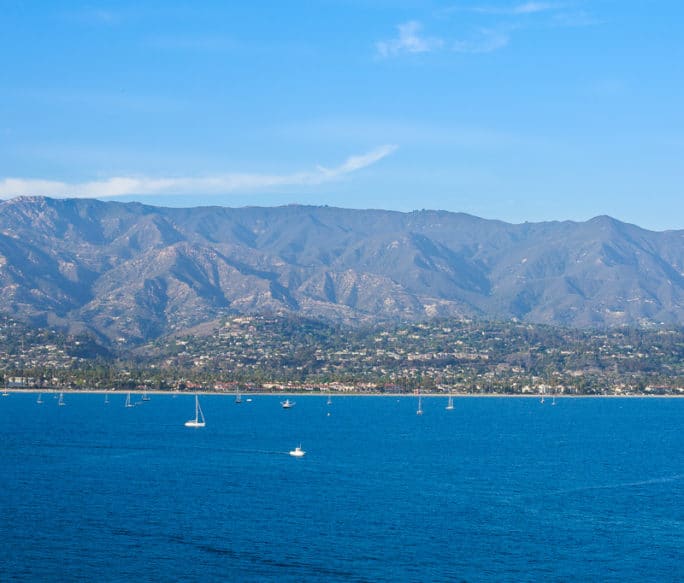 Last month I went on my first cruise- a California Wine tour Cruise on the Ruby Princess. The cruise had a food and wine focus (right up my alley!) with a cooking demonstration done by Iron Chef Cat Cora and Suzanne Tracht. There was also a Santa Barbara wine excursion and another wine excursion in Ensenada Mexico.
I had never been to Santa Barbara before and I was beyond thrilled to get to spend a day there. What a gorgeous place. The views are spectacular! The water is a gorgeous shade of blue and the sailboats scattered across the water with the mountains in the background makes for a breathtaking view.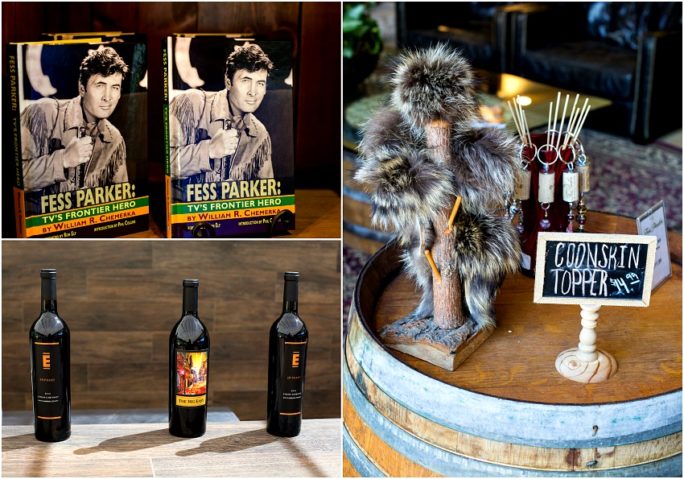 When we arrived in Santa Barbara, we drove approximately 30 minutes to Fess Parker Winery which is located along the Foxen Canyon Wine Trail. The winery was started by the actor who played Dvvy Crockett and Daniel Boone on television.
Any mention of Daniel Boone takes me back to childhood meals at the Daniel Boone Inn in Boone, North Carolina. Has anyone ever been there? I used to think it was the coolest restaurant. They served everything family-style and you just helped yourself from large platters of food set in the middle of the table. But I digress.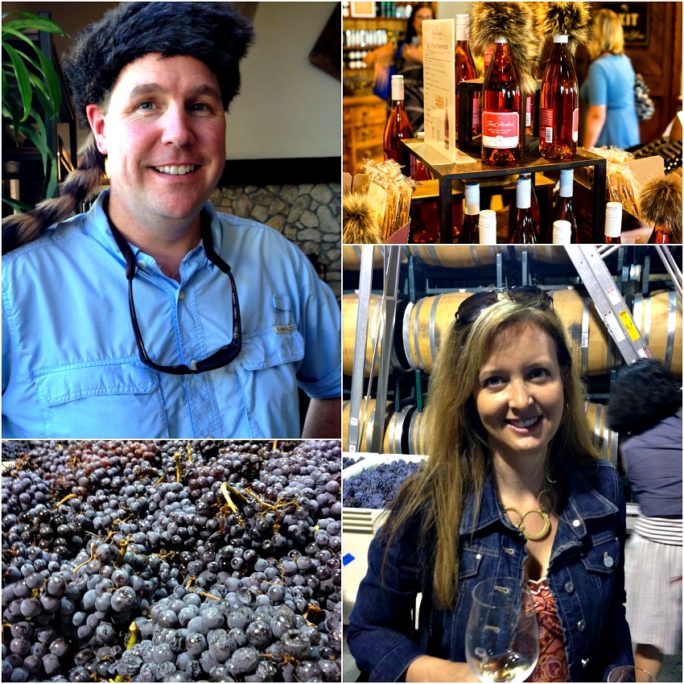 When we first arrived at the winery we took a few minutes to look at the specialty foods and gifts for sale. The coonskin cap fit Ted quite well and I loved the Coonskin wine toppers.
Fess Parker Winery is still a family run business and includes 1,500 acres on 4 different vineyards.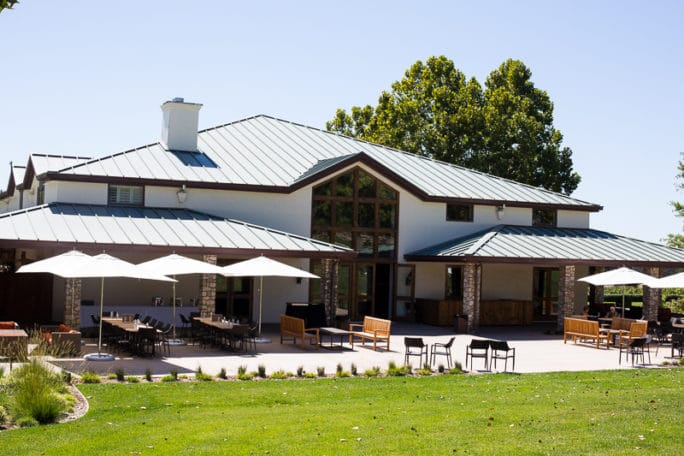 We did a tour of the winery and sampled a number of wines. I loved them all.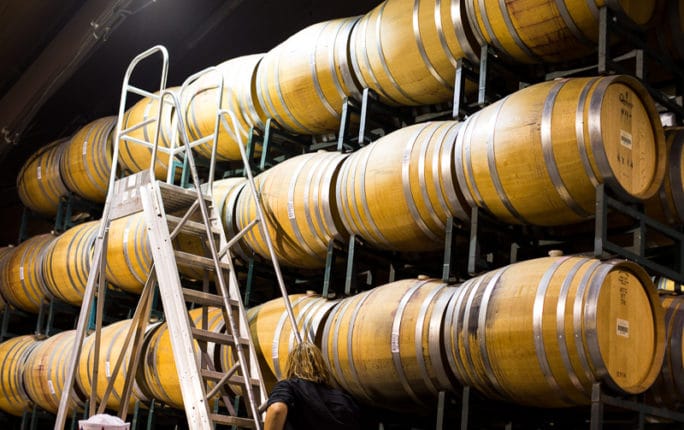 Even with the drought California has been experiencing, the views were still gorgeous and we were lucky the winery had a large, covered outdoor area. It was hot!! But I'll take California hot over South Carolina hot any day. It is so much less humid.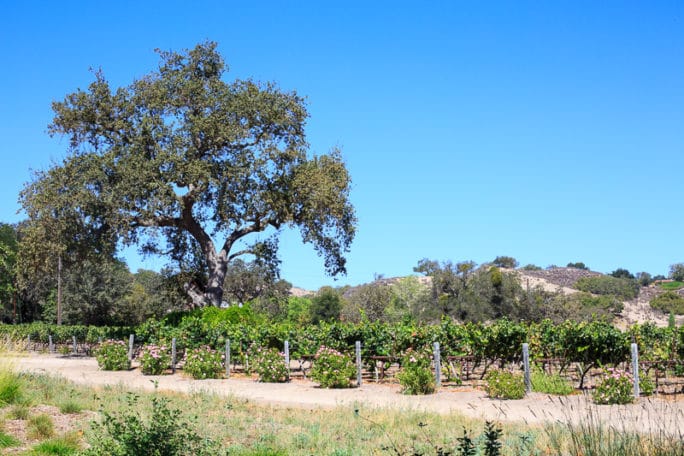 While we did our wine tasting, we were served some truly amazing food prepared by Pascale Beale. She is the author of numerous beautiful cookbooks featuring seasonal Mediterranean-style recipes. She told us a lovely story of how she developed a close friendship with the late Julia Child.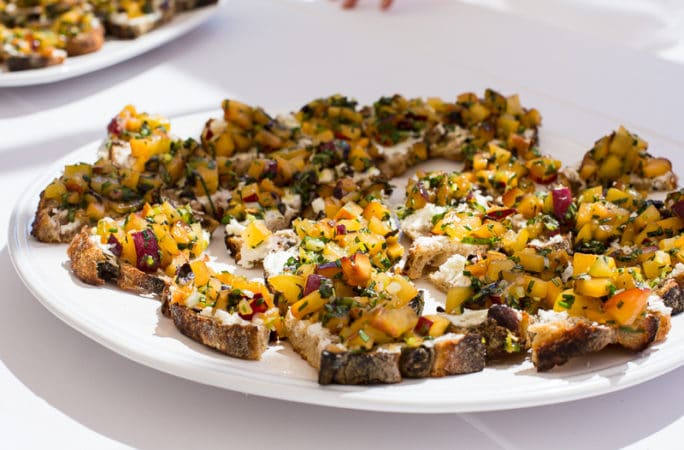 This bruschetta was the first thing we were served and it was wonderful paired with the wine.
The other food was amazing too, only I forgot to take pictures of it. Apparently I started enjoying the wine a little too much.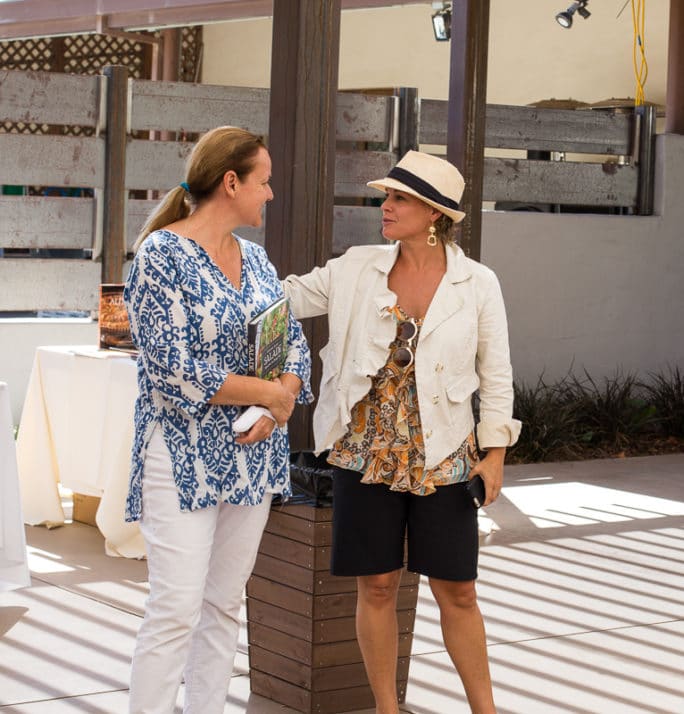 Pascal Beale with Cat Cora- did I tell you how awesome it was to hang out with Cat Cora?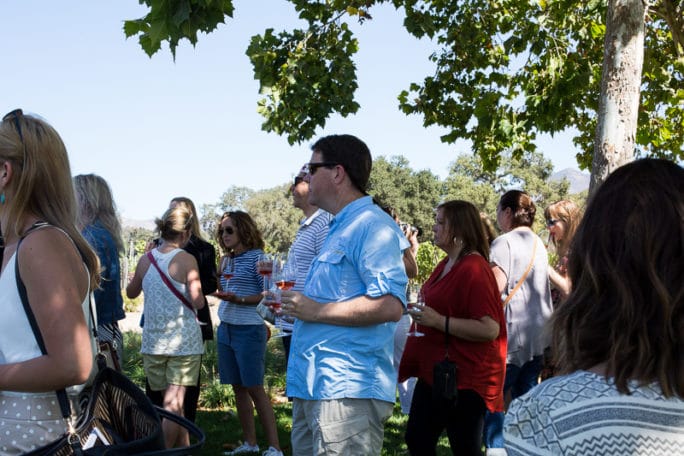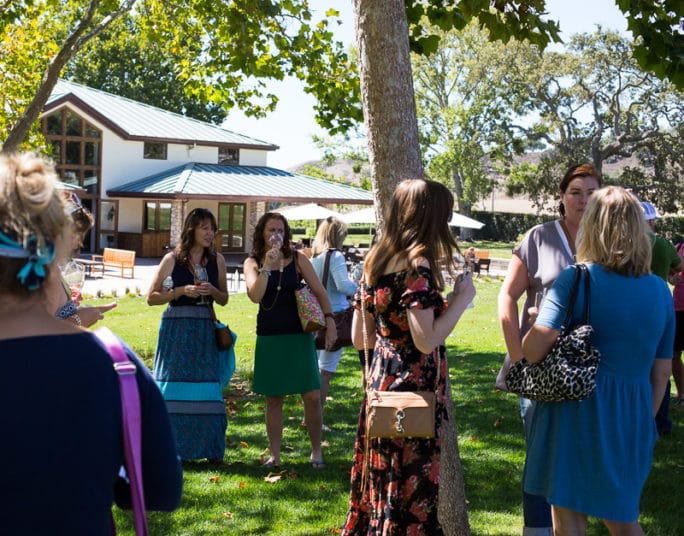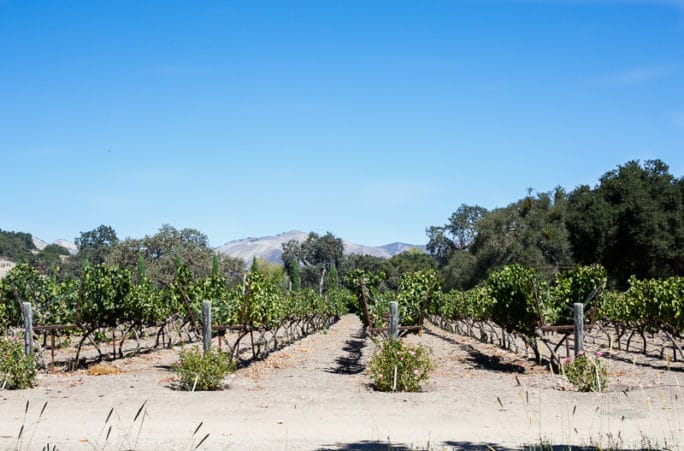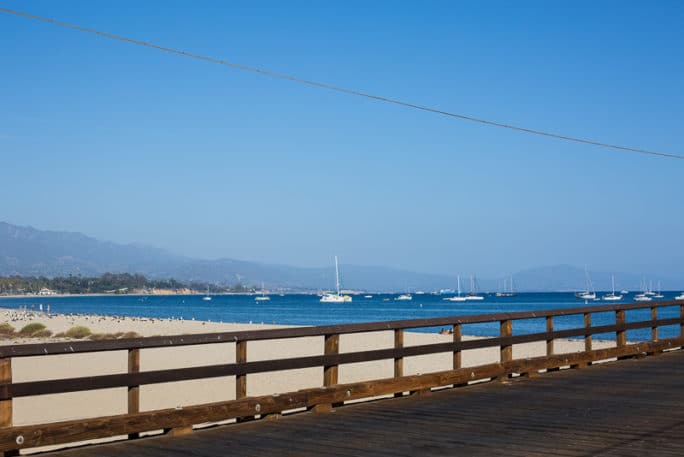 After the wine excursion we had a little time to explore the Santa Barbara Pier and beach before it was time to catch a tender back to the Ruby Princess.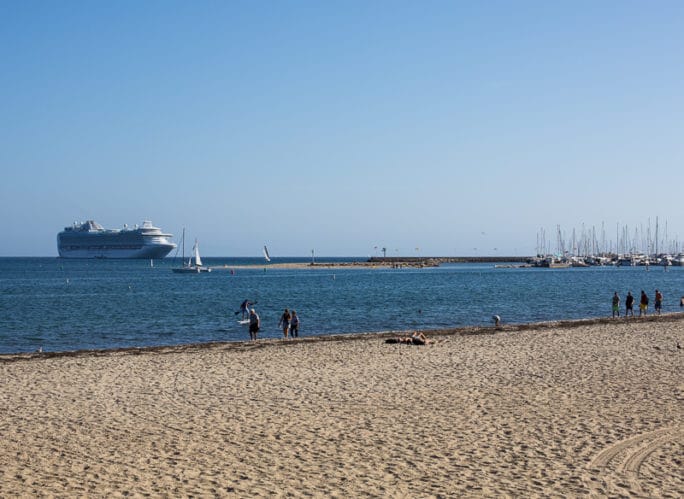 Once back on the ship, we went to get a Salted Caramel Latte from the International Cafe. This became a late-afternoon ritual for us while onboard. Those things were so good and I've never made a latte at home before but I totally need to try and recreate it. Each day we took our Salted Caramel Lattes out onto the Promenade Deck to sit and watch the sunset. This was one of my favorite places on the ship. It was so quiet and serene and much closer to the water than the higher decks. And you can't ever get tired of watching a sunset can you?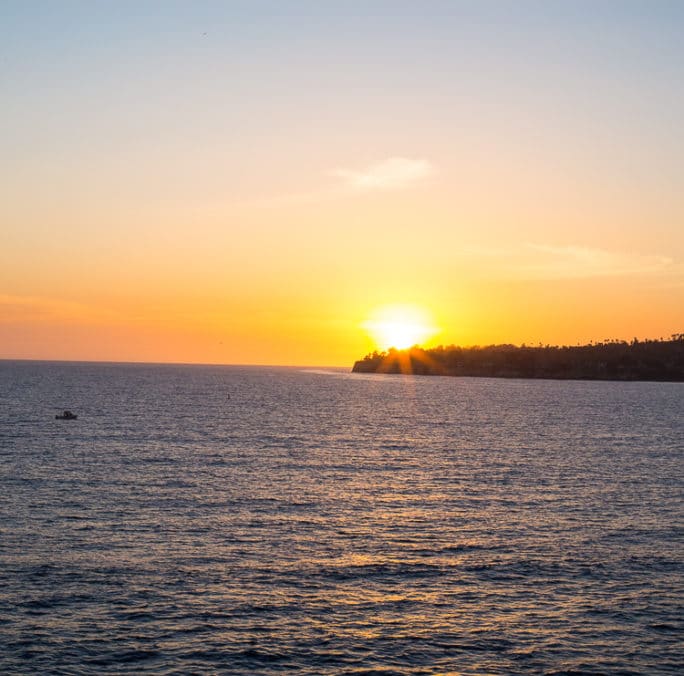 It was nice that while there were so many fun and exciting things to do each day on our cruise, there was still time to work in a daily ritual and you just can't beat sipping a Salted Caramel Latte while watching the sun set over the water.
Stay tuned because as amazing as our Santa Barbara Excursion was, you will not believe the views from the next Winery in Ensenada, Mexico. Totally Incredible!
Find out how you can have your own cruise adventure by visiting Princess Cruises website. #comebacknew
And Don't Miss These Posts: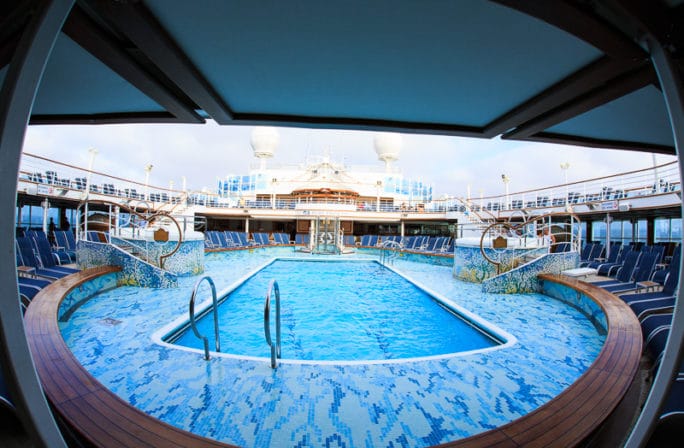 The Ruby Princess: Cruising the California Coast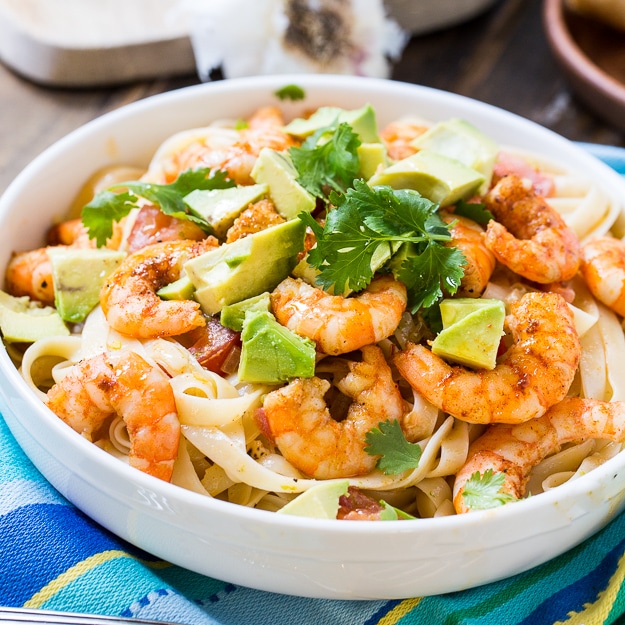 Avocado Shrimp and Tequila Fettuccine
Culinary Demonstration on the Ruby Princess.
Disclosure: This is a sponsored post. I enjoy the opportunity to share products and experiences I love!