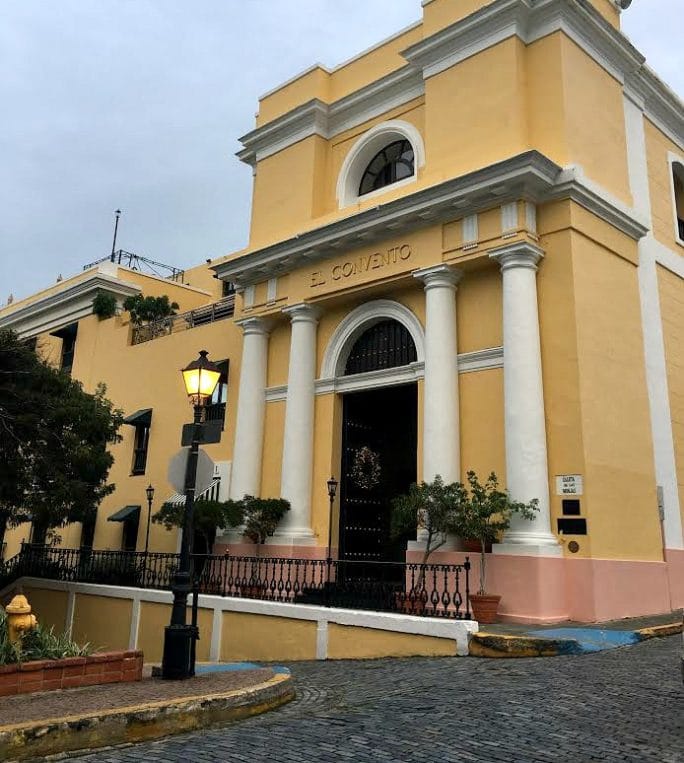 Last month I took a wonderful trip to Puerto Rico courtesy of Southwest Airlines. I stayed at Hotel El Convento in Old San Juan and enjoyed every second of my time there. El Convento was built in the 1600s as a convent and it fabulously combines old world charm with contemporary comfort. It is a small boutique hotel consisting of 58 rooms that feature ornate handcrafted furniture, marble bathrooms, and Andalusian tile floors.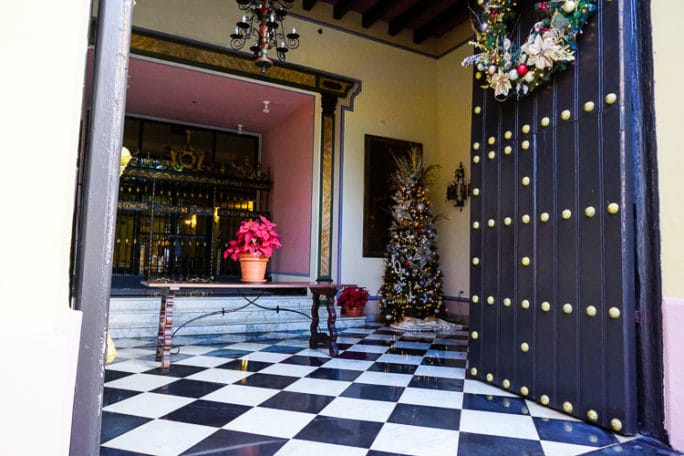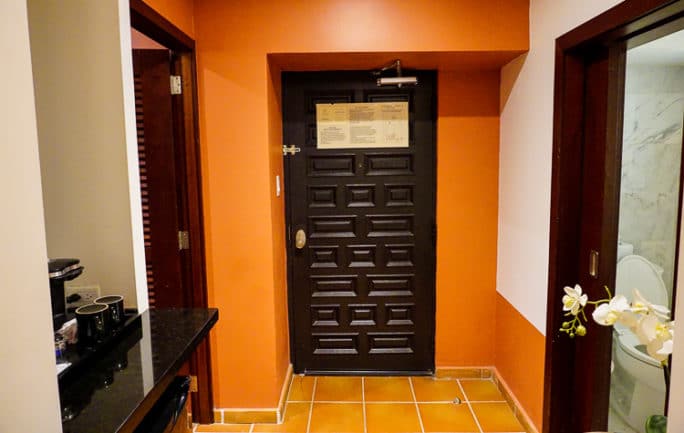 My room was spacious with a walk-in closet and a sitting area. Each room is stocked with a refrigerator and complimentary bottles of water.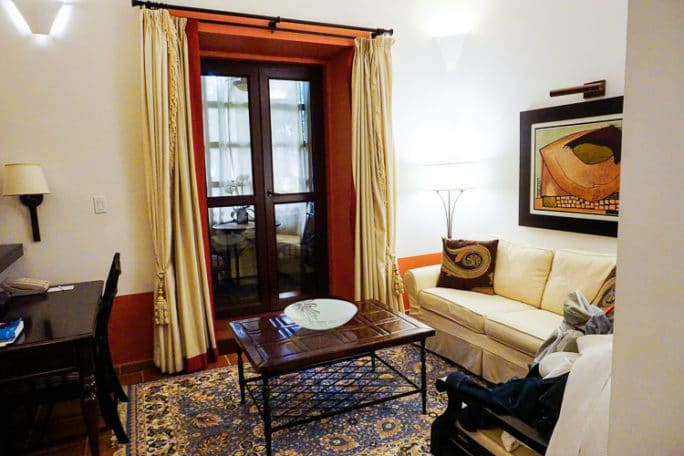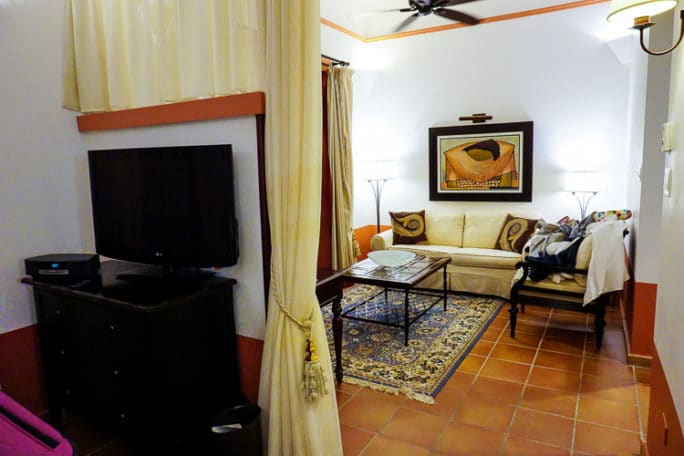 I think my favorite thing about the room was how well lit it was. I think there must have been at least 20 lights. (I know I'm weird about the things that make me happy.)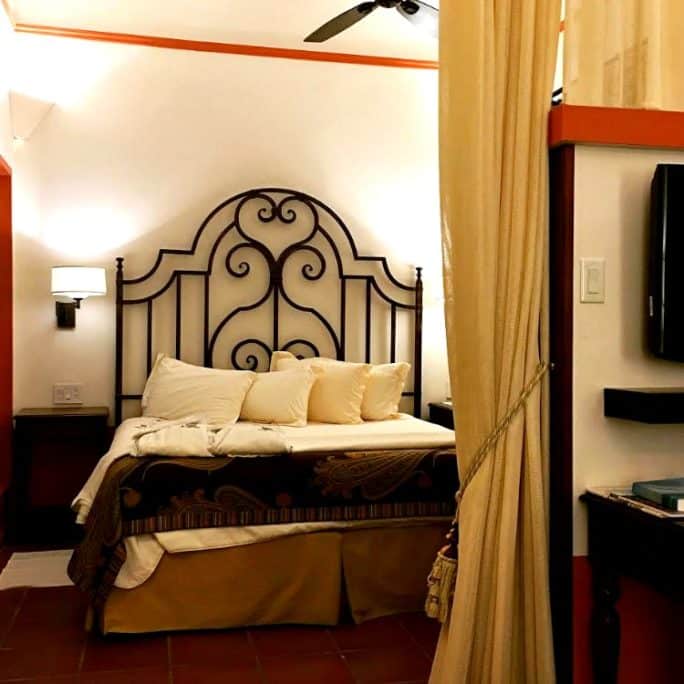 There were robes and slippers laid out on the bed when I arrived and my bed was turned down each evening. Plus there were complimentary chocolates.  🙂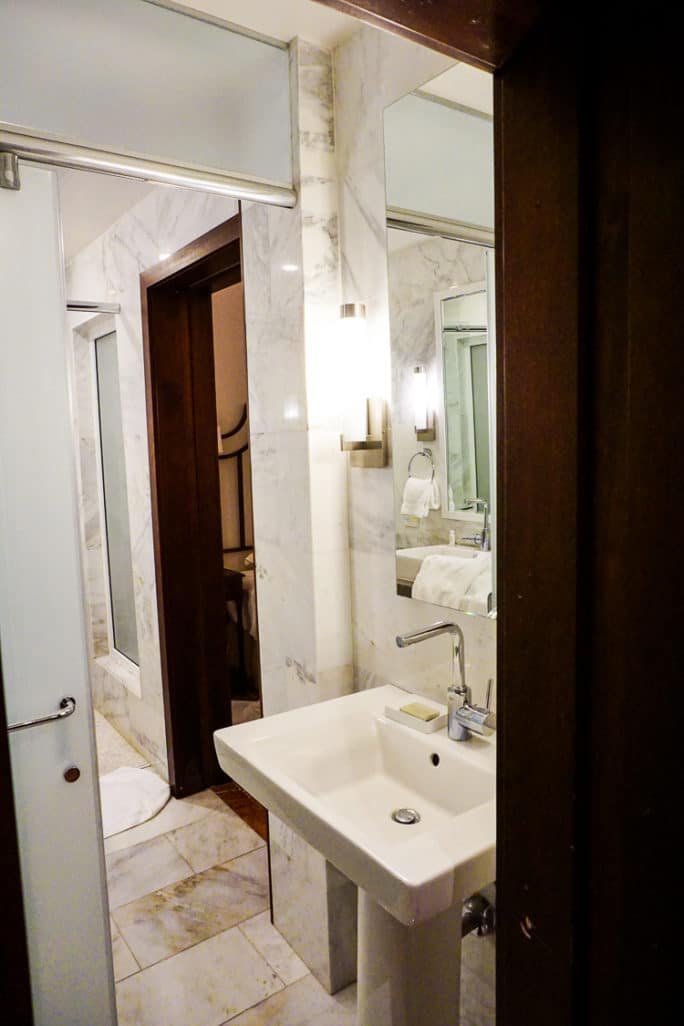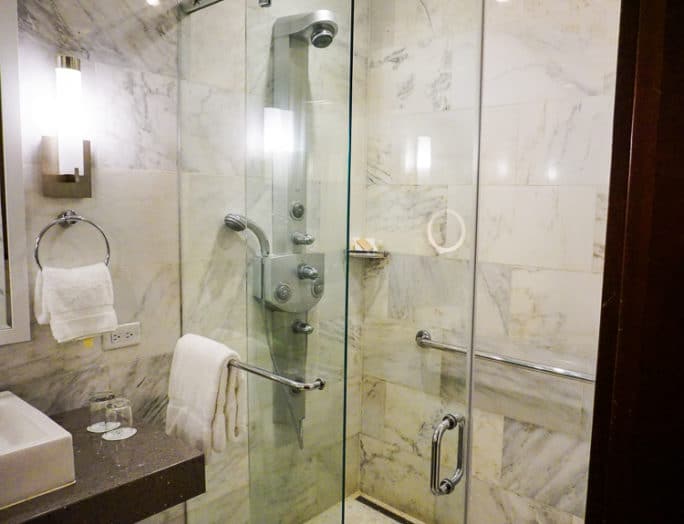 The shower was awesome and the water came out instantly warm.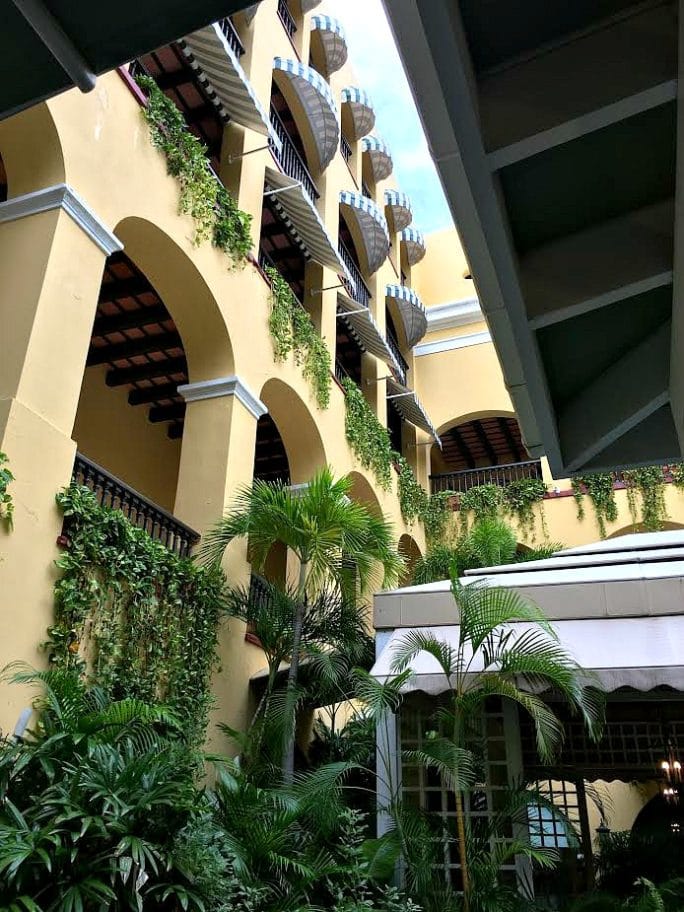 Pictured above is the gorgeous hotel courtyard where I ate breakfast in the morning and had cocktails in the late afternoon. At certain times of day, the light coming through is just extraordinary.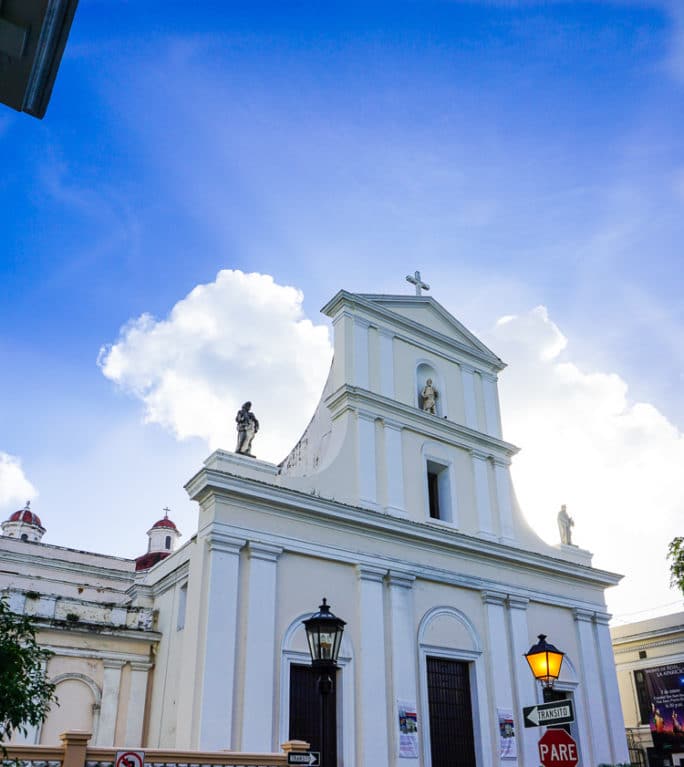 El Convento is located directly across from the Cathedral (pictured above) that houses Ponce de Leon's remains.
Don't underestimate the importance of a great hotel location when planning a trip. You may pay a little more for your accommodations, but you will save lots of time and probably money spent on transportation. El Convento is located right in the heart of Old San Juan. You can not find a more perfect location for exploring the colorful cobblestone streets that make up this historic city.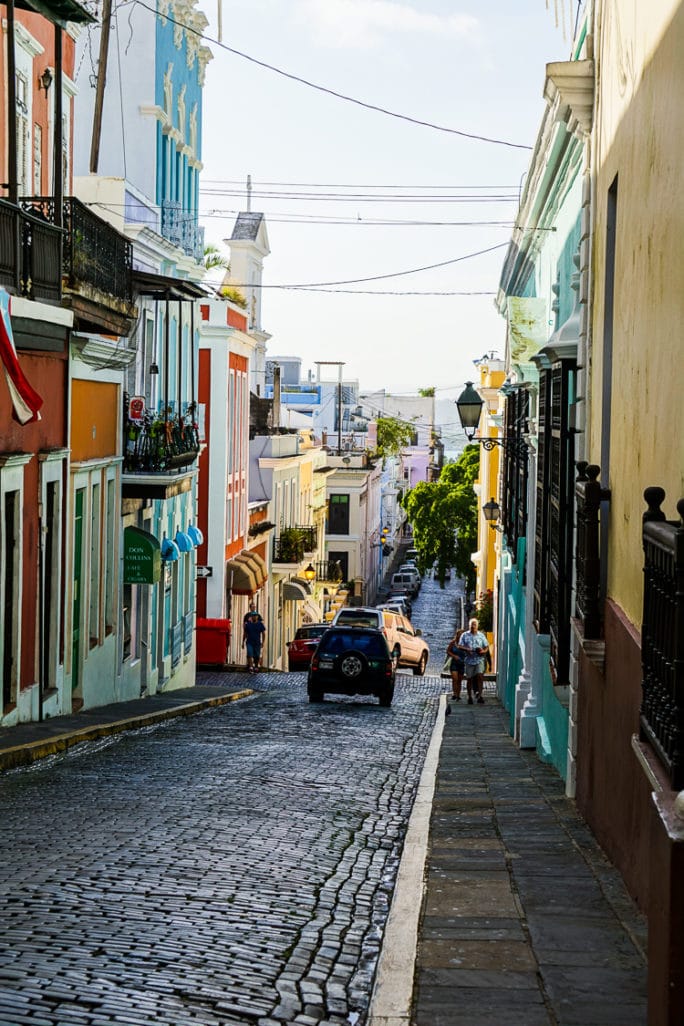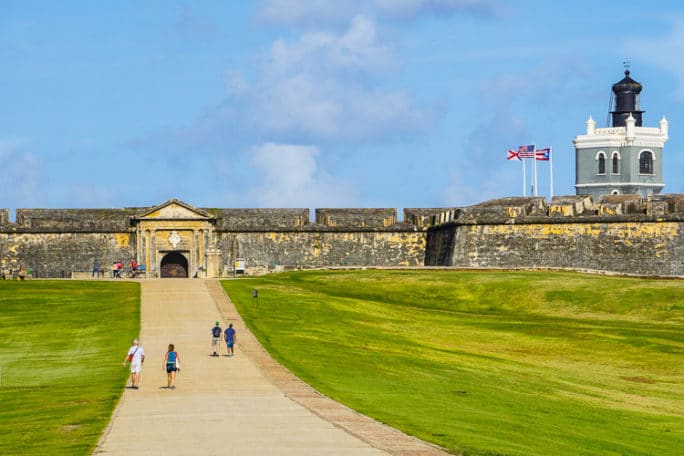 Above: El Morro – about a 15 minute walk from El Convento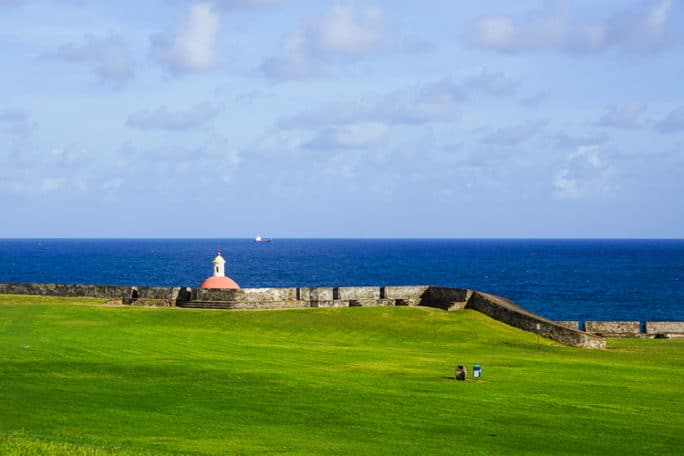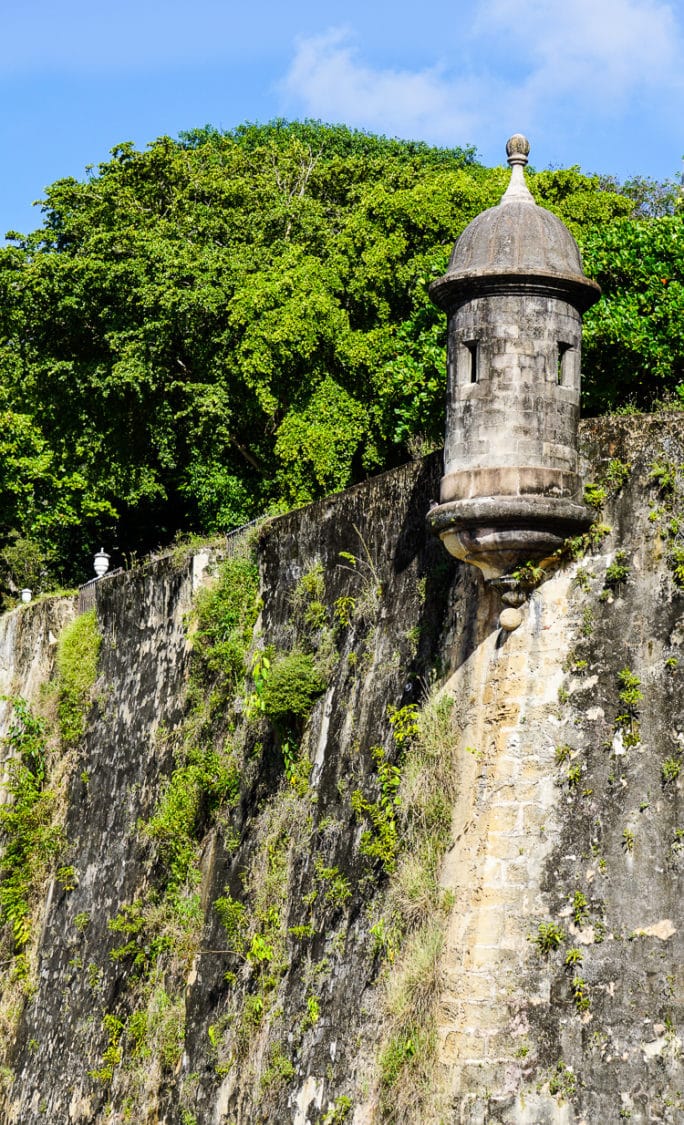 Pictured above is the 42-foot wall that surrounds Old San Juan. This picture was taken just a block behind El Convento.
Hotel El Convento Features:
Plunge Pool and Heated Jacuzzi on the fourth floor with gorgeous views of San Juan Bay
24 hour fitness center
2 restaurants
Complimentary wine and cheese happy hour each evening from 5-6pm
No parking, except valet parking across the street
El Convento Beach Club featuring beach and pool privileges at 2 of the best beaches in Puerto Rico
Only a 15 minute drive from the airport
100 Calle del Cristo, San Juan, 00901, Puerto Rico