These Southern Catfish Tacos are a southern twist on fish tacos and they're covered with a Jalapeno-Peach Slaw that is both spicy and sweet as well as crunchy. The catfish is coated in a batter  of cornmeal and flour and fried until golden. Serve with a Margarita or cold beer for a delicious fusion meal.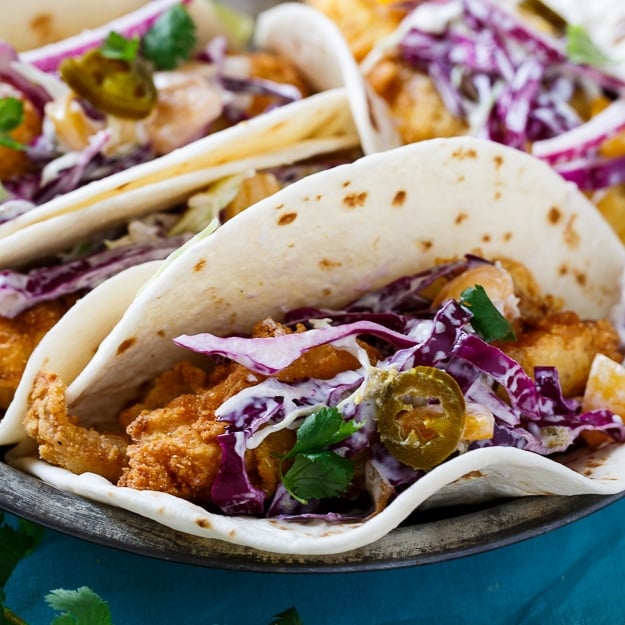 I was inspired to make these tacos after my recent visit to Mexico. Along with a Margarita and guacamole, a fish taco is what I most looked forward to consuming in Mexico.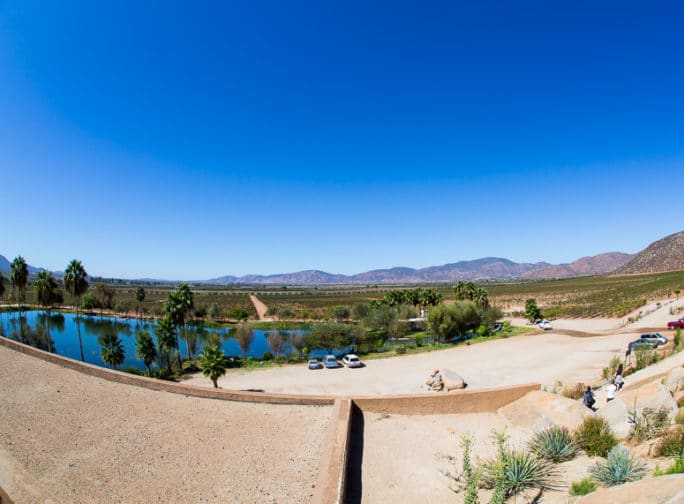 In September I went on my first ever cruise- a Princess Cruise off the coast of California. The cruise had a food and wine theme and for our first excursion we visited Santa Barbara wine country. The next day was spent in Ensenada Mexico. I had never been to Mexico before and I was beyond excited to see it.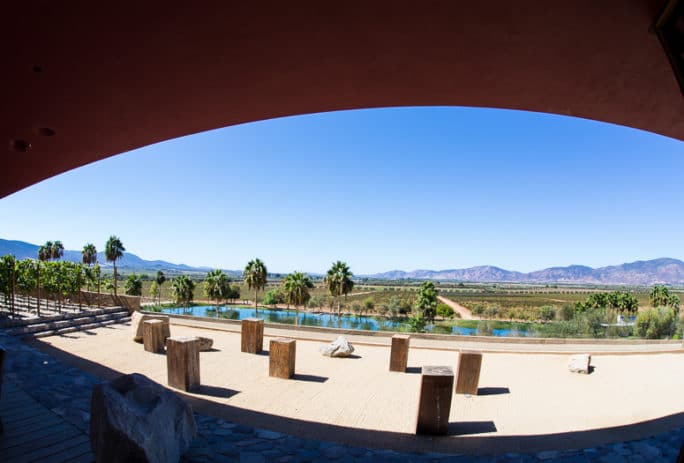 We visited Monte Xanic Winery in Baja wine country. Never having seen a winery in Mexico before (I don't even think it occurred to me that there were wineries in Mexico!), I had no idea what to expect.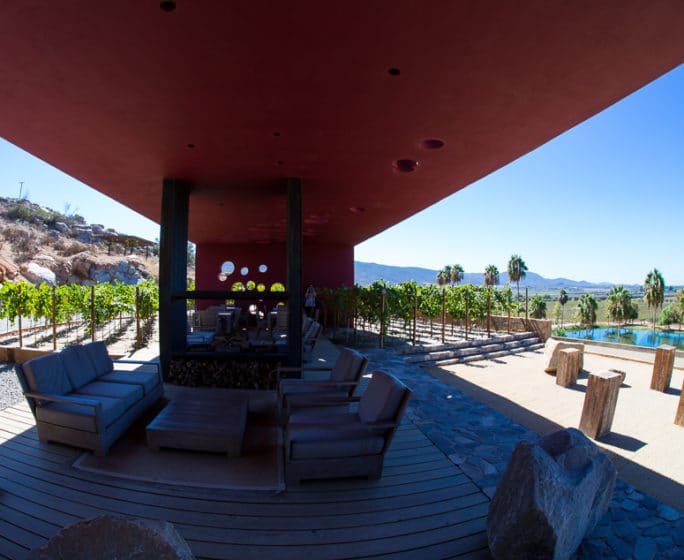 But wow!
I could sit there all day without moving!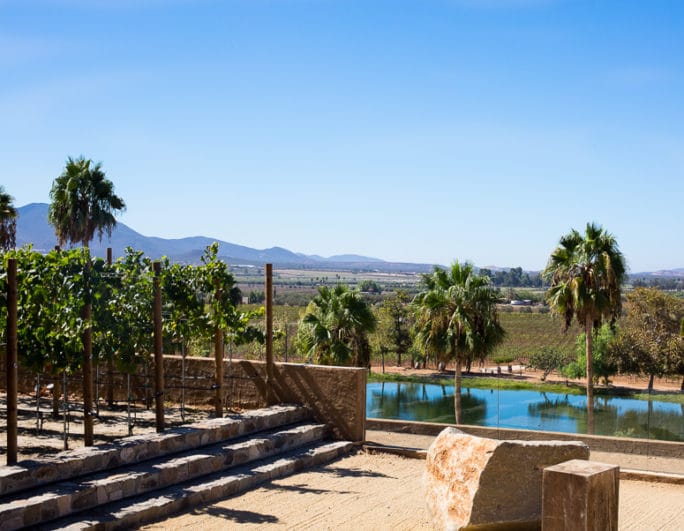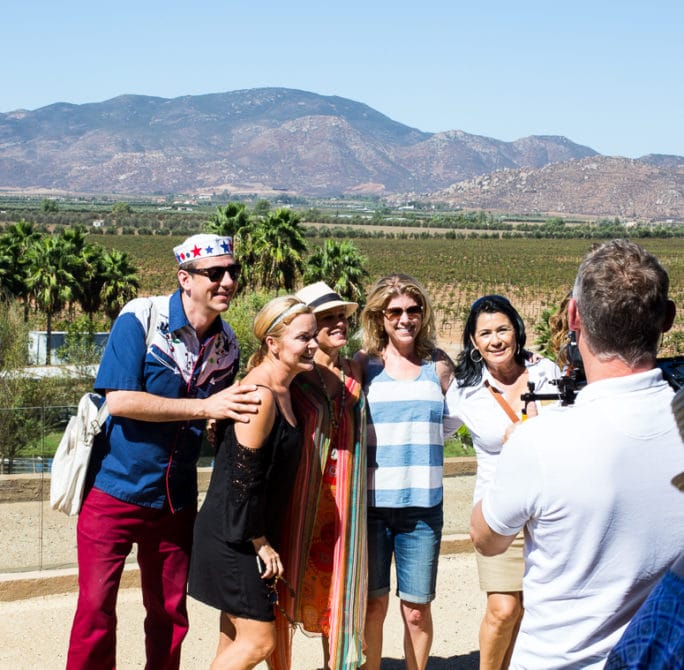 Iron Chef Cat Cora (pictured in the middle) joined us along with Julie who played the Captain's daughter on the Love Boat.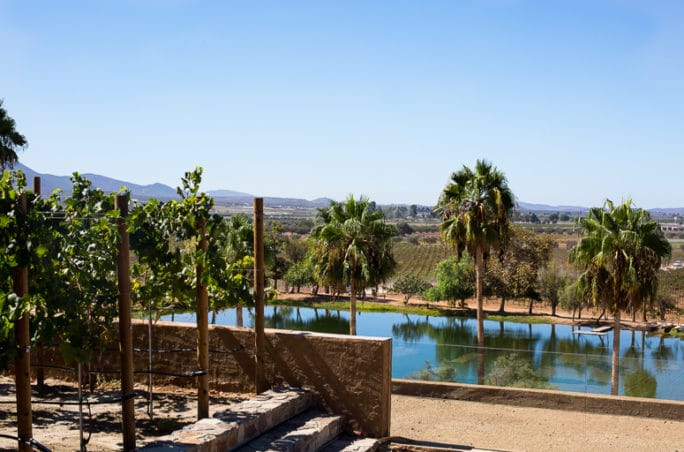 Let's just say I was blown away! The architecture of the winery and tasting room perfectly frames the fabulous, unobstructed views of the valley.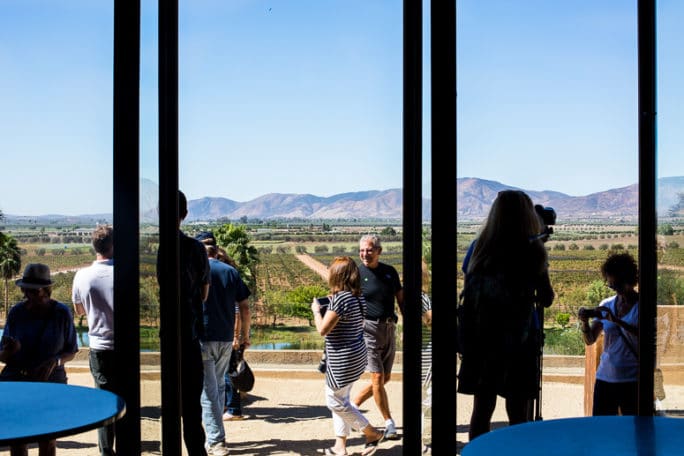 The modern and minimalist architecture makes a big statement without at all distracting from the natural beauty of the surrounding landscape. The structure itself is perfectly integrated with the rock cliff it sits on.
Stunning, absolutely stunning.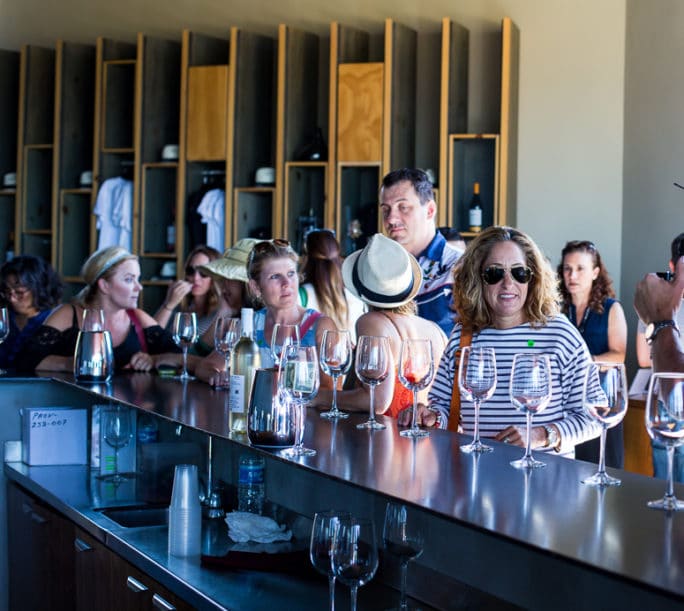 We tasted a number of there wines and I thought they were all excellent. Pictured above is Suzanne Tracht, chef/owner of Jar Restaurant in Los Angeles.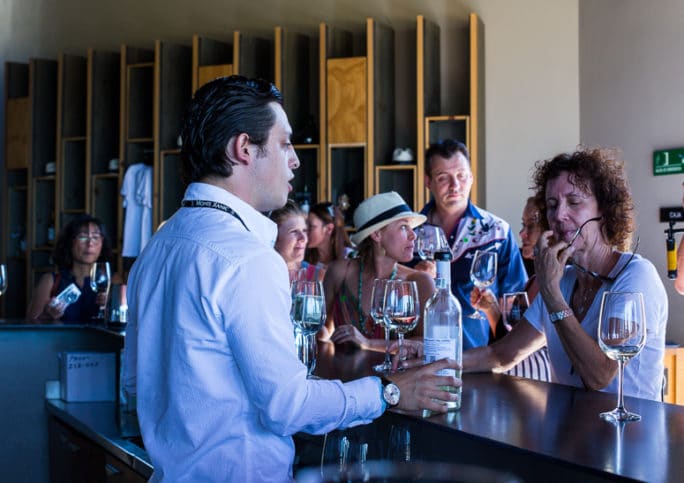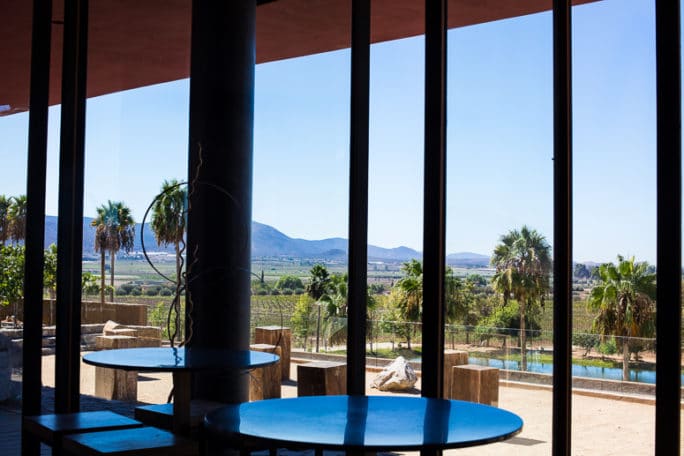 A glass of wine and that view. Life doesn't get any better.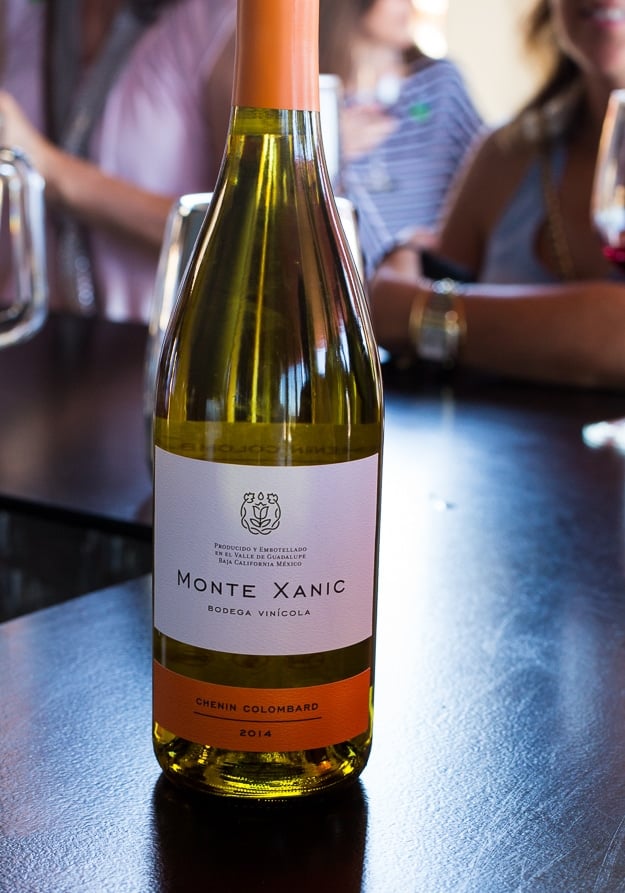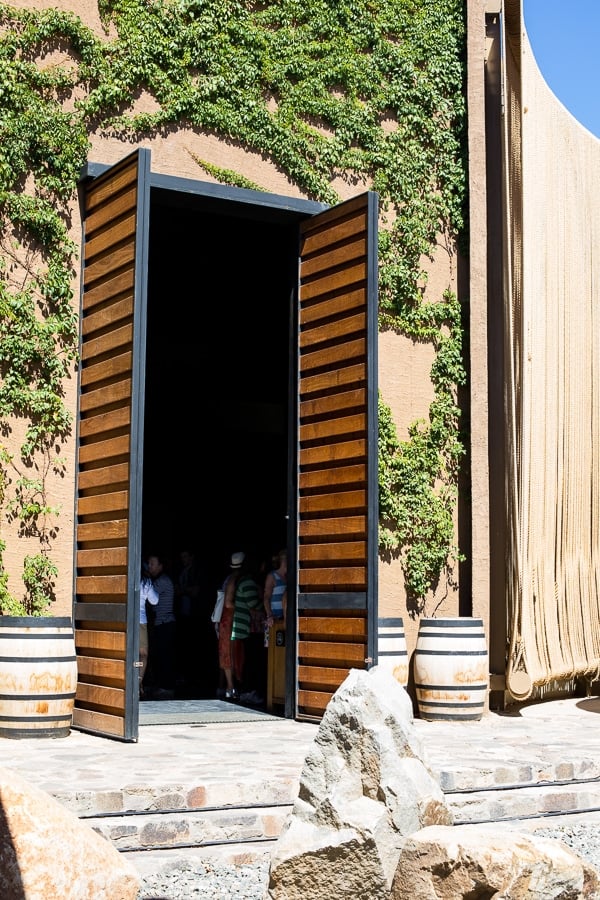 This picture really emphasizes the enormity of the structure. On the right you can see all the ropes hanging down. They have been recycled from ships and because they are virtually indestructible they help protect the building from the elements. A lot of thought went into the design of this breathtaking structure.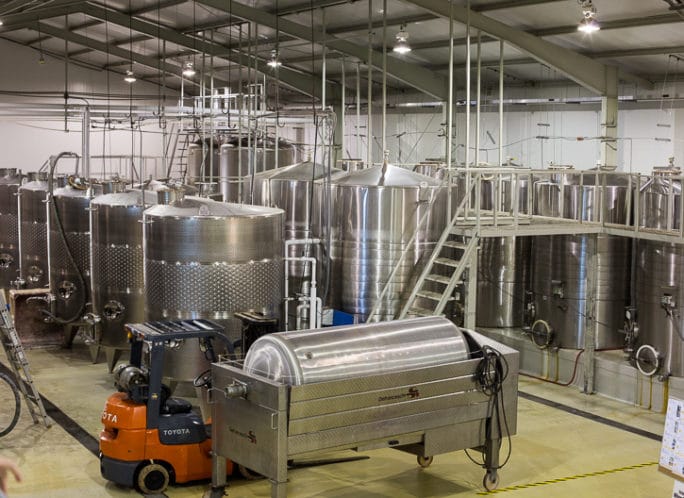 After our wine tasting we had a tour of the winery.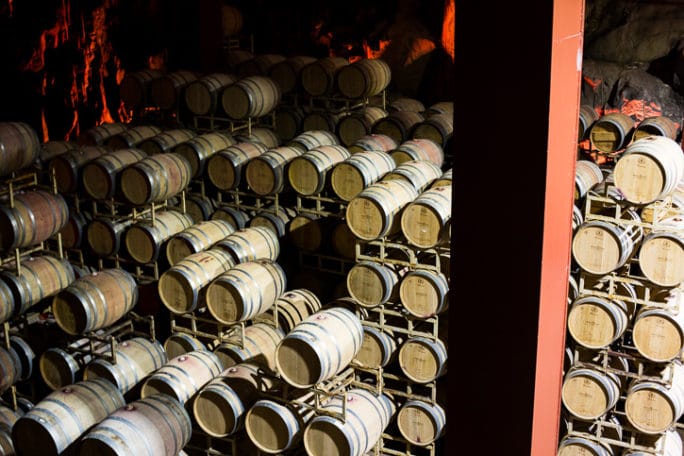 Huge number of wine barrels.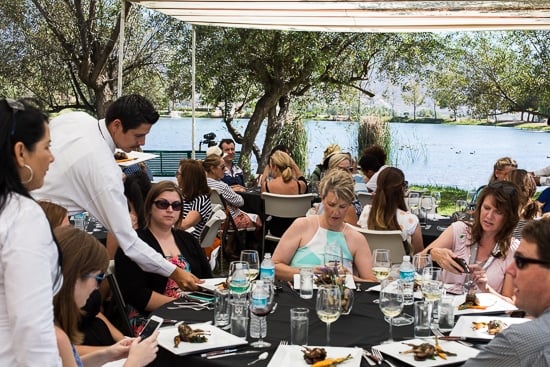 Then an amazing lunch by the lake in front of the winery. Course after course of delicious food. Mainly seafood and I have to say it was all amazingly fresh.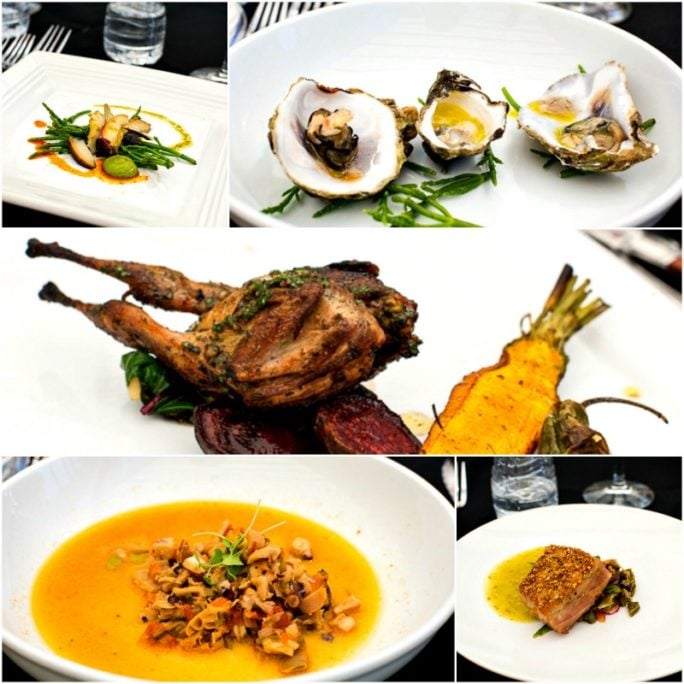 The soup, pictured on the bottom left, was one of my favorites. It was a seafood bouillabaisse of sorts. And I can never resist fresh oysters. Each one was prepared differently. Our main course was quail served with the most amazing tasting vegetables which I think were smoked. It was such a treat to get to taste so many new flavors. There were more than a few ingredients in these dishes I had never tasted before.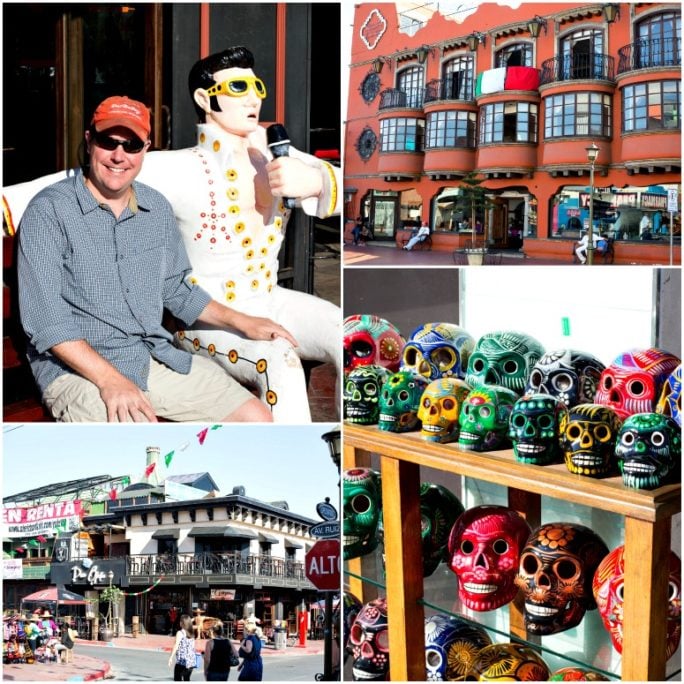 After our incredible lunch, we had a little time to spend in the town of Ensenada before boarding the Ruby Princess again. We had been talking about fish tacos all day and I was determined not to leave Mexico without consuming a fish taco and a Margarita. We went to the place pictured in the lower left in the picture above. After downing our taco and Margaritas we had enough time to explore a couple of blocks of the town and buy our daughter a few trinkets. All in all, it was a fabulous day and we got to experience so much of Mexico in a small amount of time. That's the beauty of a cruise!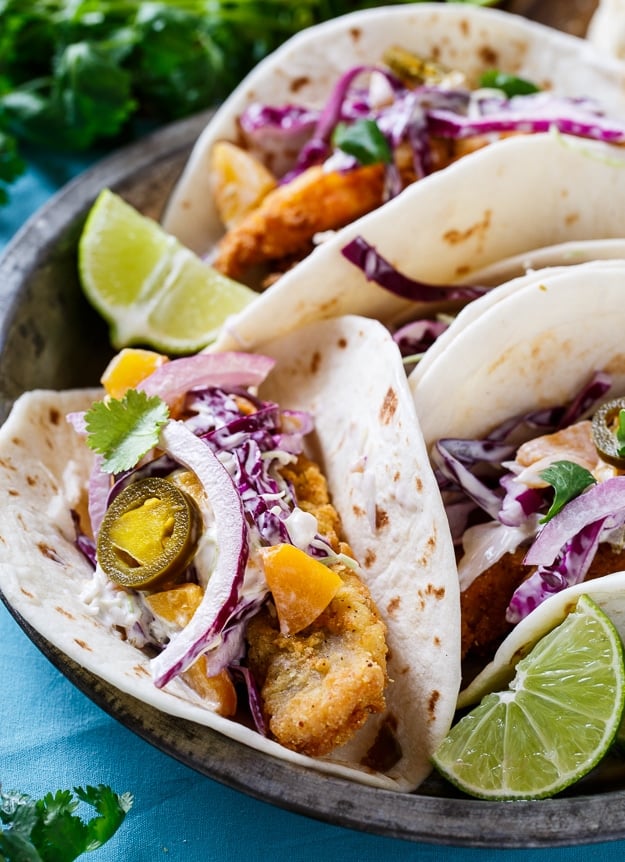 I had no idea what a vast array of experiences taking a cruise exposes you to and I'm trying to figure out how I can become a professional cruiser.  😉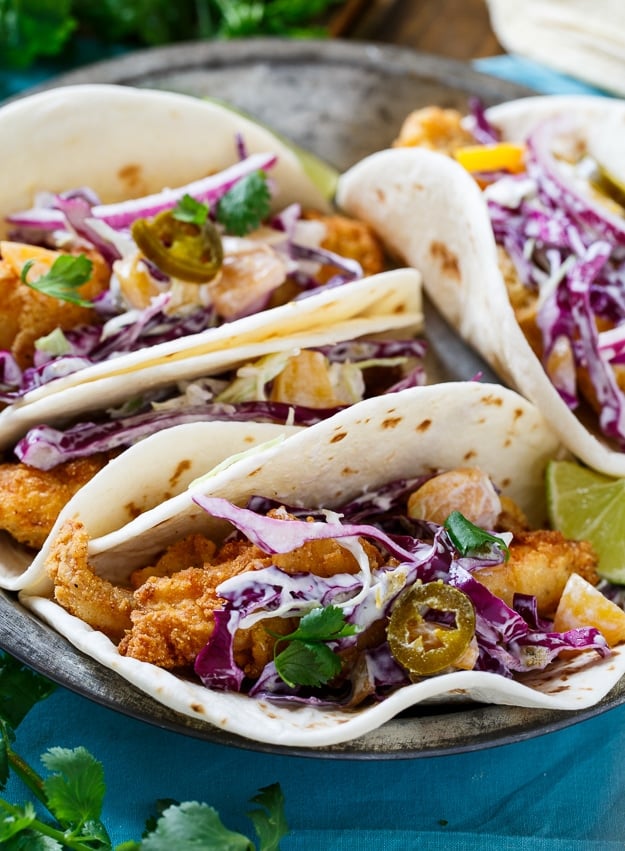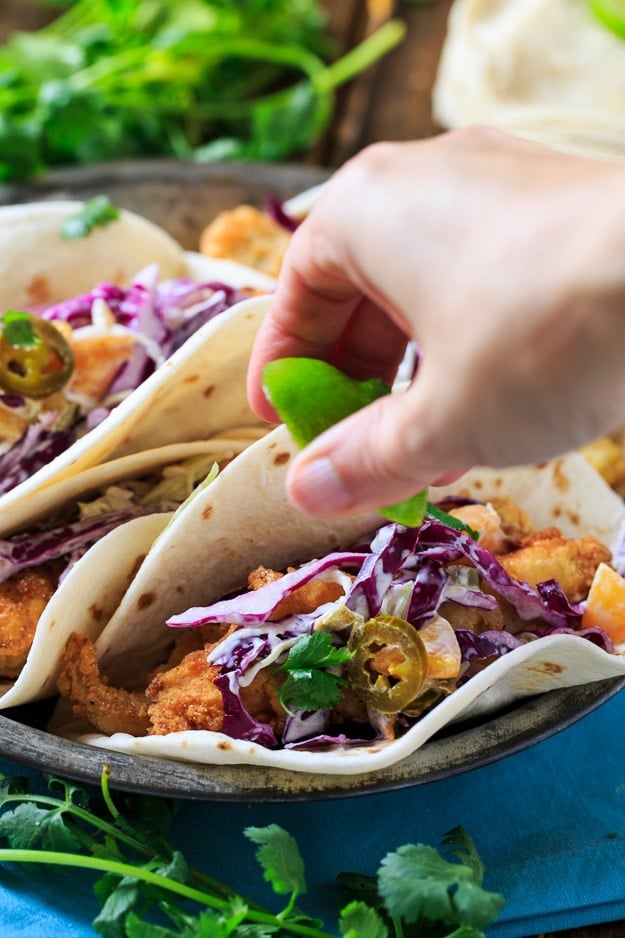 I love making foods that remind me of places I've been and experiences I've had. Don't you? I couldn't help but make fish tacos after a visit to Mexico. Since catfish is so popular in the south, I decided to make tacos with it. Catfish fries up beautifully. Being a southerner, I love a creamy coleslaw on just about anything. Sweet and spicy combos are my favorite when it comes to food so I added pickled jalapenos and peaches to the slaw. Delicious!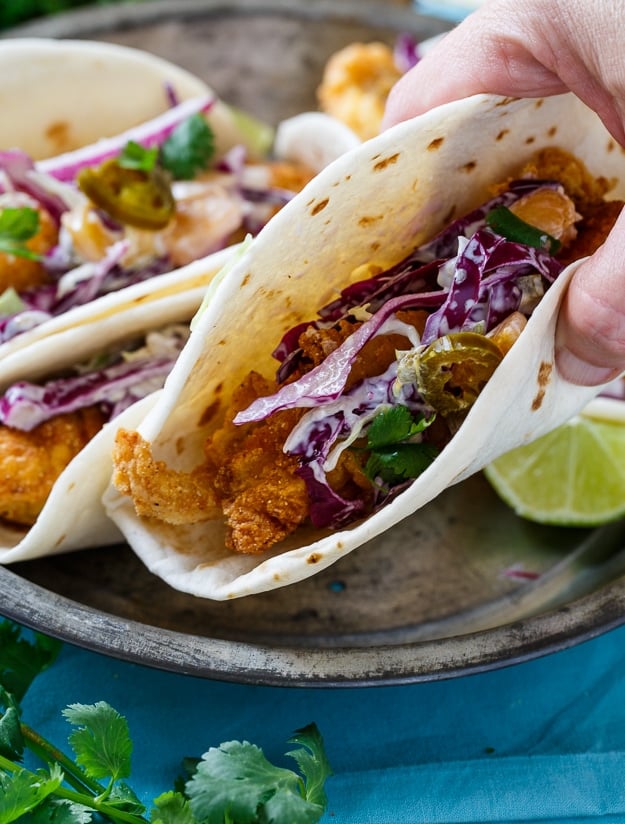 Never been on a cruise before and not sure if you want to? Read about my first cruise experience on the Ruby Princess. It turned me from a cruise skeptic into a die-hard cruise fan.
Sign up HERE for the Spicy Southern Kitchen Newsletter.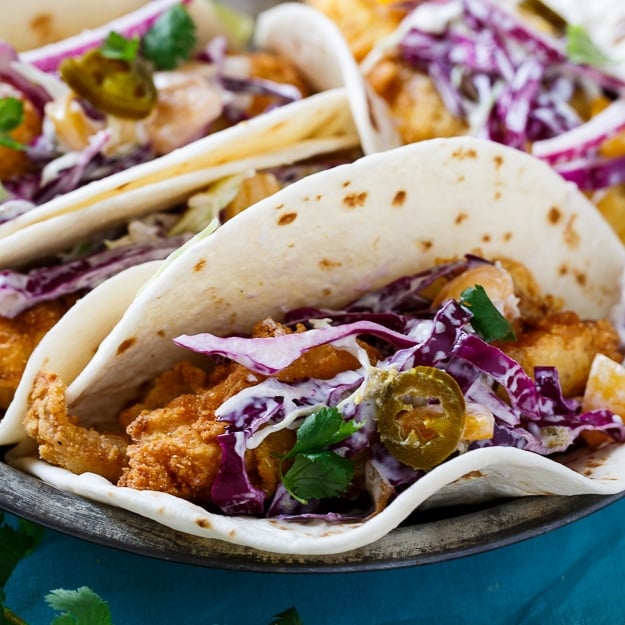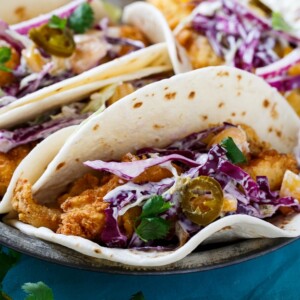 Southern Catfish Tacos and Ruby Princess Cruise- Ensenada Mexico Excursion
These Southern Catfish Tacos are a southern twist on fish tacos and they're covered with a Jalapeno-Peach Slaw that is both spicy and sweet as well as crunchy.
Ingredients
Jalapeno Peach Coleslaw
2

cups

thinly sliced red cabbage

2

cups

thinly sliced green cabbage

1/2

a red onion,

thinly sliced

2

tablespoons

chopped pickled jalapenos

1/2

cup

diced peaches (fresh or frozen

thawed)

1/3

cup

mayonnaise

1

teaspoon

sugar

1

tablespoon

liquid from pickled jalapenos
Catfish
1

(16-ounce)

catfish filet

salt and pepper

3/4

cup

flour

3/4

cup

yellow cornmeal

1 1/2

teaspoons

garlic salt

3/4

teaspoon

cayenne pepper

1/2

cup

buttermilk

1

egg,

lightly beaten

Vegetable oil

4

small flour or corn tortillas

fresh cilantro,

optional
Instructions
To make coleslaw, combine both cabbages, red onion, pickled jalapenos , and peaches in a medium bowl.

In a small bowl, whisk together mayonnaise, sugar and pickled jalapeno liquid. Add to cabbage mixture and stir to combine. Season to taste with salt and pepper and refrigerate until needed.

In a pie pan or a shallow dish, combine flour, cornmeal, garlic salt, and cayenne pepper.

In a medium bowl, whisk together buttermilk and egg.

Cut catfish into 1-inch strips and season with salt and pepper.

Dip in buttermilk mixture and then coat in cornmeal mixture.

Heat 1 inch of oil over medium heat in a cast iron pan.

Cook catfish until golden brown, about 2-3 minutes, Drain on paper towel-lined plate.

Warm the tortillas either in the microwave or in a pan over low heat.

Place a couple of catfish strips on each tortilla and top with slaw and cilantro.
Want to Save This Recipe?
Disclosure: This is a sponsored post. All opinions are my own and I love the opportunity to share my favorite experiences and products with you.