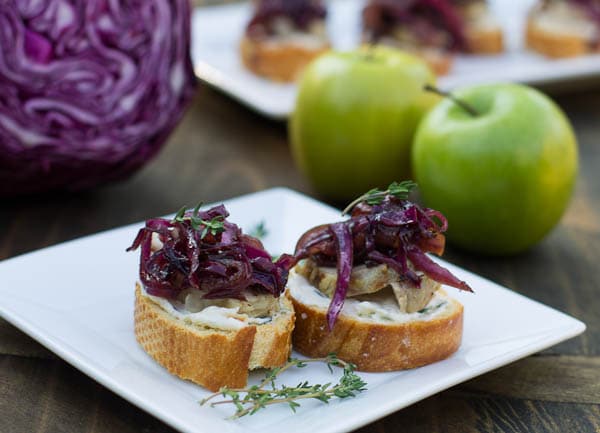 Crunchy crostini spread with cream cheese flavored with thyme, topped with slices of roasted pork tenderloin, and finished with a sweet and tangy red cabbage sauté with apples. It's a scrumptious and impressive fall h'orduerve.
Pork, red cabbage, and apples are 3 ingredients that were meant for each other. There's no third wheel in this equation. But the red cabbage is in my opinion the star of the show here. Oh how I love sweet and sour cabbage. I had to scold myself for eating it out of the pan with my fingers. I'll be making this red cabbage-apple sauté as a side very soon.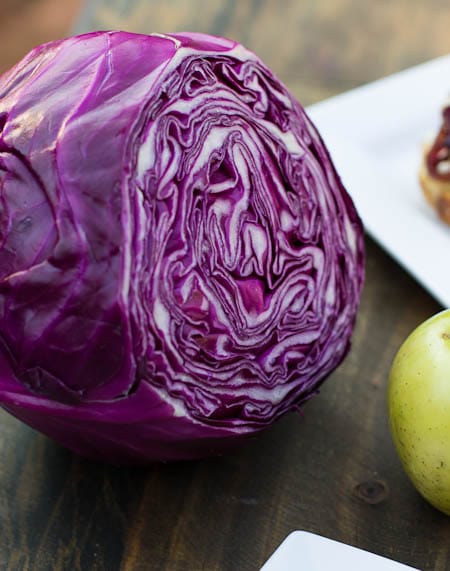 This recipe for Pork Tenderloin Crostini is a little bit involved, but all parts can be made in advance and assembled last-minute for a fuss free party appetizer your guests won't soon forget.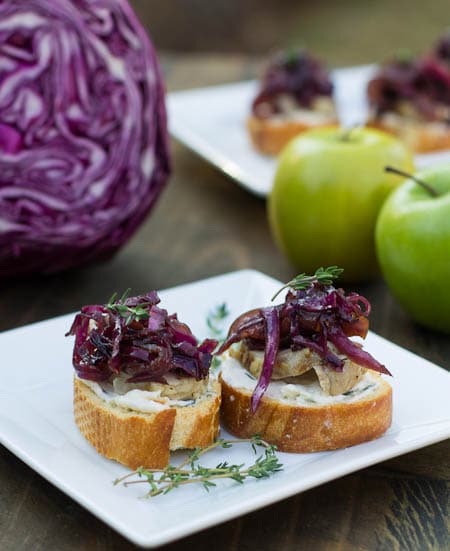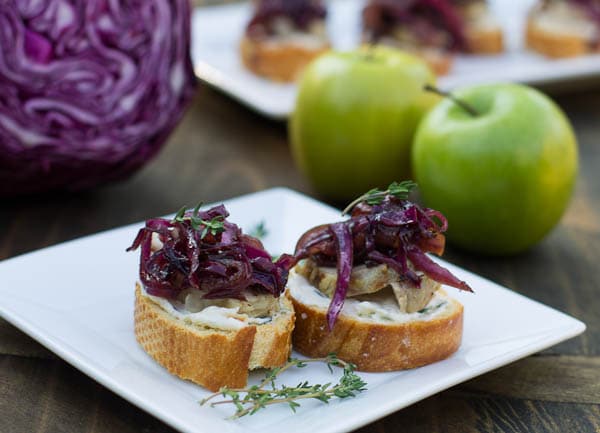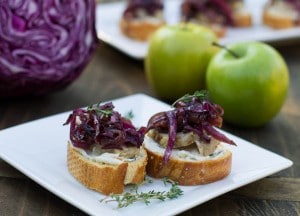 Pork Tenderloin Crostini with Sweet-and-Sour Red Cabbage
Print Recipe
Ingredients
2

tablespoons

olive oil

2

cloves

garlic,

minced

1/2

teaspoon

salt

1/4

teaspoon

black pepper

1

pork tenderloin,

trimmed

1

French baguette

3

tablespoons

butter,

melted

2

ounces

cream cheese,

softened

2

tablespoons

mayonnaise

2

teaspoons

chopped fresh thyme,

plus more for garnish
Sweet and Sour Cabbage
3

tablespoons

olive oil

1

small onion,

thinly sliced

1/2

small Granny Smith apple,

thinly sliced

1

clove

garlic,

minced

2 1/2

cups

finely shredded red cabbage

1/2

cup

chicken broth

2

tablespoons

balsamic vinegar

2

tablespoons

dark brown sugar

1/4

teaspoon

salt

1/4

teaspoon

black pepper
Instructions
Combine 2 tablespoons olive oil, garlic, salt, and pepper in a medium bowl. Add pork and turn to coat. Cover with plastic wrap and let marinate 2o minutes at room temperature.

Preheat oven to 350 degrees.

Heat a large oven-safe skillet over medium-high heat. Add pork and sear on all sides.

Transfer skillet to oven and roast pork for 15-20 minutes, or until meat thermometer inserted in center reaches 145 degrees. Cool pork completely and slice into 1/4-inch slices.

While pork cooks, slice baguette into 1/2-inch slices. Brush both sides with melted butter. Bake at 350 for 10 to 12 minutes, until lightly browned around edges.

Combine cream cheese, mayo, and thyme in a small bowl and stir until smooth. Set aside.

For cabbage, heat 3 tablespoons olive oil in a skillet over medium heat. Add onion and cook for 3 minutes. Add apples and garlic and cook 1 minute, stirring frequently.

Add cabbage and chicken broth. Cook 5 minutes.

Add vinegar, brown sugar, salt and pepper and cook 4 to 5 minutes, stirring frequently, until liquid evaporates.

To assemble, spread cream cheese mixture on one side of each bread slice. Top with 1 to 2 slices of pork. Pile red cabbage on top. Garnish with thyme if desired.
Recipe Source: adapted from Southern Lady Best Recipes 2013