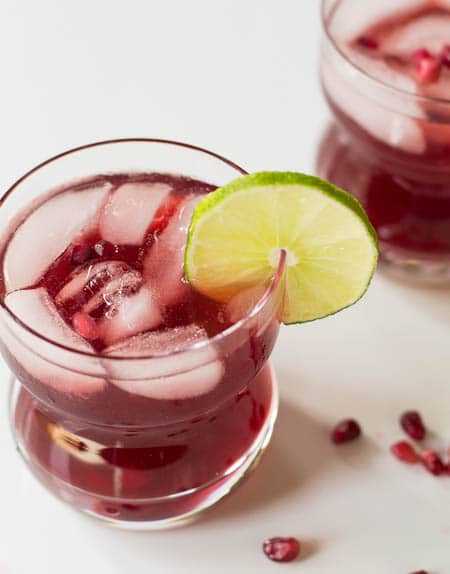 This  Pomegranate Margarita recipe is the perfect way to enjoy your margaritas once the fall weather sets it. It has a beautiful ruby color and delicious sweet and tart taste.
The dense humidity that's been hanging around all week seems to have finally disappeared, leaving us with a brilliant weekend of sunny but not too hot weather to enjoy. I'm looking forward to some time on my back porch and so is my poor dog. She loves to go lay in the sun, but with her jet black fur, she's panting after just a minute or two when it's hot. Our porch is actually covered and 80 % of it is in the shade at any time of the day, but the old gal will go lay right at the edge in the direct sun. It's not long before she's scratching at the door to get back inside.
We don't often eat on our porch, but we do frequently sit outside with a drink. Coffee in the mornings, cocktails in the evenings.
Sorry fellow southerners. I never really got into the sipping sweet tea on the porch thing.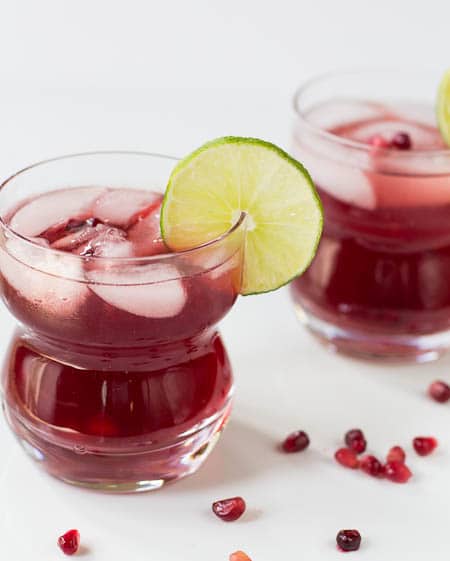 Pomegranate Margaritas are a delightful fall twist on a traditional margarita and they are simple to make. I've started to see pomegranates popping up in the local markets. You don't actually need a fresh pomegranate for this drink as it uses pomegranate juice. But it is fun to garnish the drink with those beautiful ruby seeds.
Note:I use the POM Wonderful juice that's usually sold in the refrigerated section of the grocery near the produce.
Cheers to the weekend and I hope y'all enjoy this Pomegranate Margarita Recipe!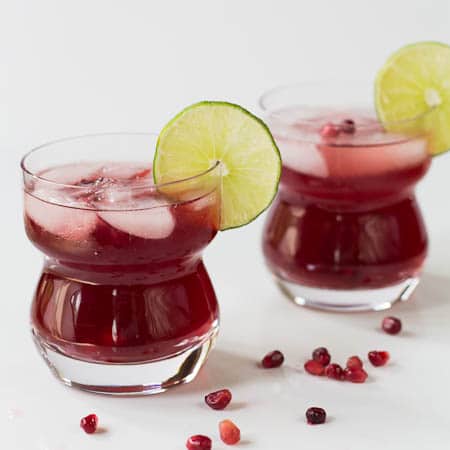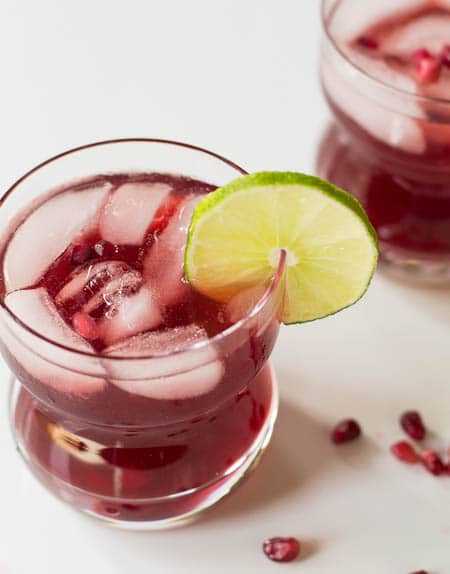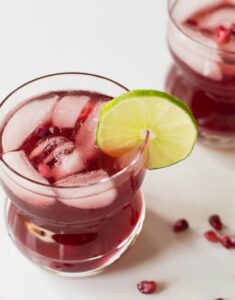 Pomegranate Margaritas
This pomegranate flavored margarita is the perfect cocktail for fall evenings spent on the porch.
Ingredients
4

tablespoons

sugar

4

tablespoons

hot water

1 1/2

cups

pomegranate juice

3/4

cup

tequila

1/4

cup

fresh lime juice

1/4

cup

orange liquor

lime slices for garnish
Instructions
Stir sugar and hot water until sugar is dissolved. Stir in remaining ingredients. Pour desired amount of mixture into a cocktail shaker. Cover and shake for approximately 30 seconds. Serve
Want to Save This Recipe?
I used Cabo Wabo for the tequila and cointreau but since the pomegranate juice has such a strong flavor, you could get away with using cheaper tequila and triple sec.
More Margarita Recipes