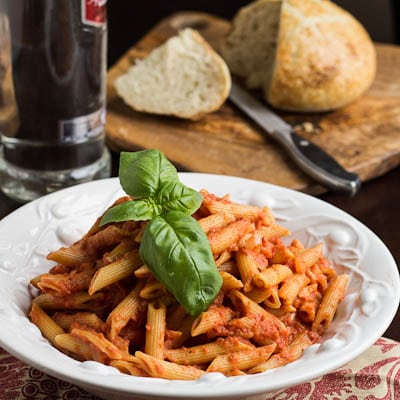 This cold, wet weather is the bane of my existence. The only thing that makes it more tolerable is a heaping plate full of comfort food. And there's perhaps no food more comforting than a creamy, rich pasta dish.
Nobody ever objects to having pasta for dinner. And I get a lot of, "Ew, why'd you make THAT for dinner?"  around my house. Or the even worse, "What IS that?" Put a big bowl of pasta on the table and we have four happy tummies in our house.
This recipe from Rachel Ray is super yummy. But really, how could you go wrong with pasta, vodka, and cream? I added just a few red pepper flakes to her recipe to spice it up. I'm of the opinion that almost anything tastes better with red pepper flakes. Except desserts. They're off limits as far as red pepper flakes are concerned. But anything else is fair game.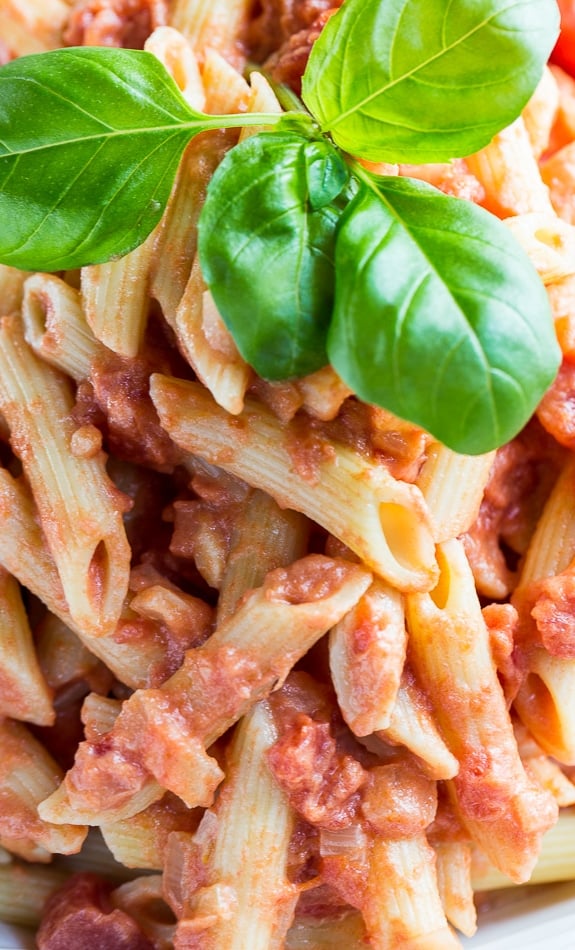 This recipe is pretty much full proof as long as you do not overcook your pasta, you use high quality tomatoes, and you simmer the sauce long enough to thicken it so it really coats the penne. Feel free to use as much basil as you like. Rachel Ray calls for 20 leaves of basil in her recipe. The taste of fresh basil can be a little overwhelming for my palate, so I only add a little bit.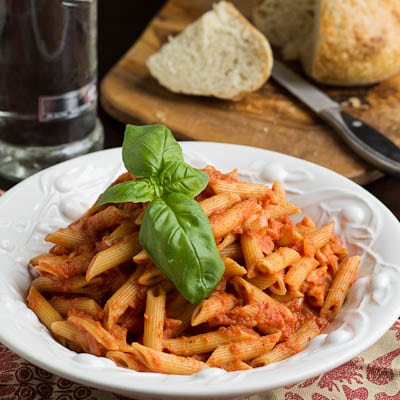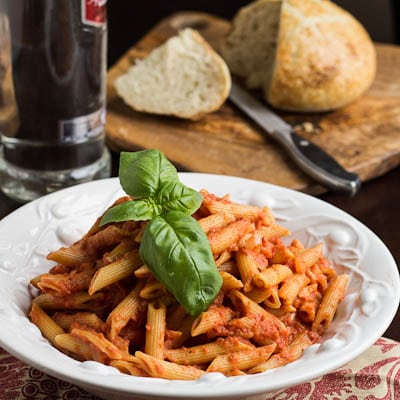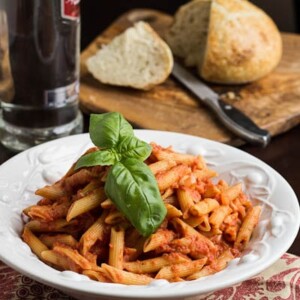 Penne Alla Vodka
Ingredients
1

tablespoon

Extra-virgin Olive Oil

1

tablespoon

butter

2

cloves

garlic,

minced

2

shallots,

minced

1

cup

vodka

1

cup

chicken stock

1

(32-ounce)

can crushed tomatoes

Kosher salt and pepper

16

ounces

pasta,

such as penne

1/2

cup

heavy cream

1/4

teaspoon

crushed red pepper flakes

2

tablespoons

chopped fresh basil
Instructions
Heat large skillet over medium-high heat. Add oil, butter, garlic, and shallots. Saute for 3 to 5 minutes, until shallots are nice and translucent. (Watch the heat and turn it down if the garlic starts to brown. There is nothing worse than burnt garlic.)

Add vodka and reduce by half, at least 2-3 minutes time.

Add chicken stock and tomatoes. Simmer for a good 30 minutes. Season with salt and red pepper flakes.

Add cream to sauce, bring to a simmer and remove from heat.

While Sauce is simmering, cook penne pasta in salted water to al dente. Drain pasta.

Combine pasta and sauce in a large bowl and stir in fresh basil.
Want to Save This Recipe?
Recipe Source: slightly adapted from Rachel Ray
More Super Delicious Pasta Recipes
Papparadelle with Bolognese Sauce