Lemon Cream Cheese Pound Cake with Lemon Glaze- This rich, buttery pound cake flavored with lemon is both sweet and tart and topped with a thick, lemony frosting. Such a bright and fresh summer dessert!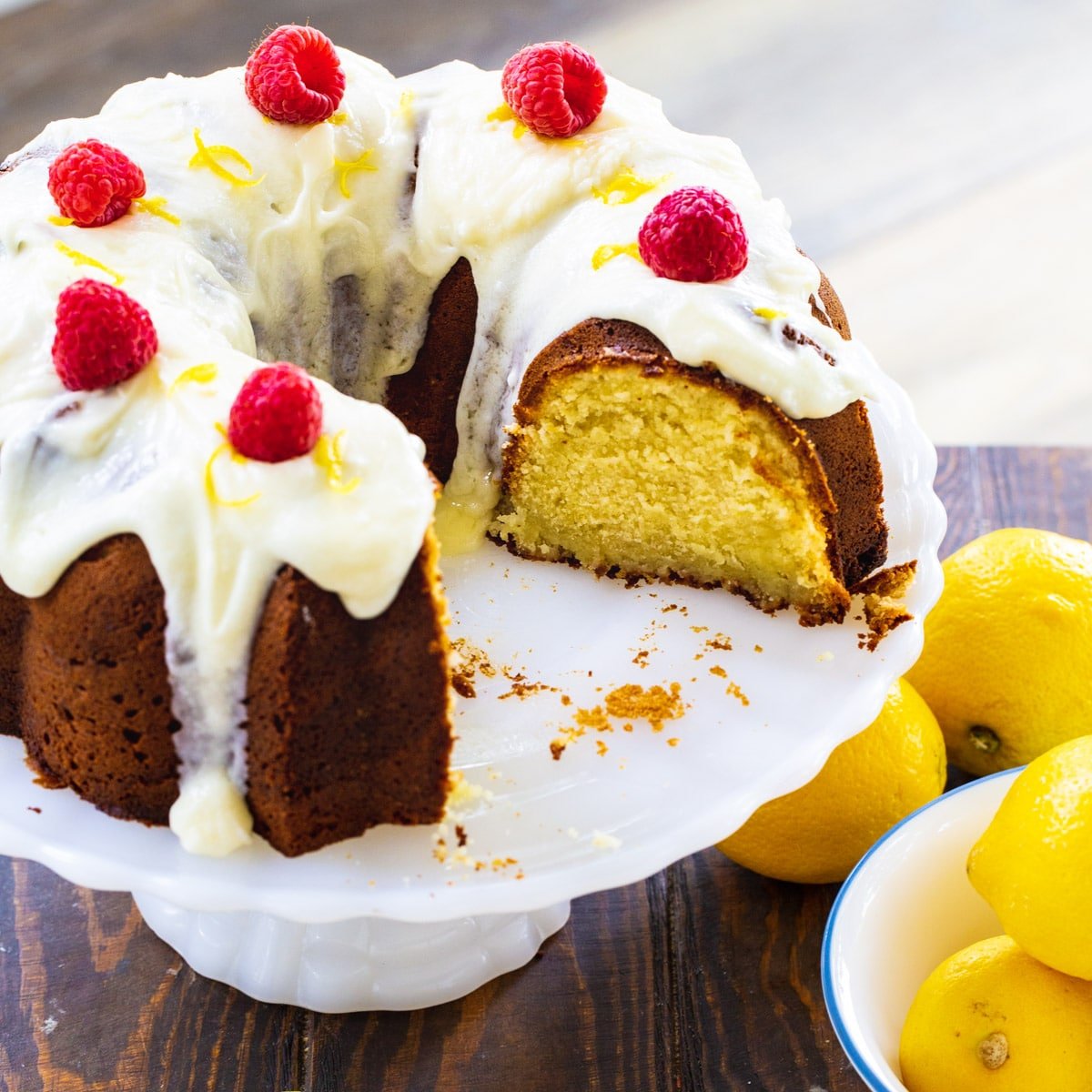 Southern Pound Cakes
Growing up in the South there was a pound cake at practically every social event, church luncheon, and holiday meal. My grandmother invariably had at least 1 in her freezer. Never baked by her though. She was an anomaly among southern women of her generation and stayed as far away from the kitchen as possible.
Luckily she had lots of friends who liked to give the gift of pound cakes. And they do make wonderful gifts since they can be baked well in advance and easily stored and transported.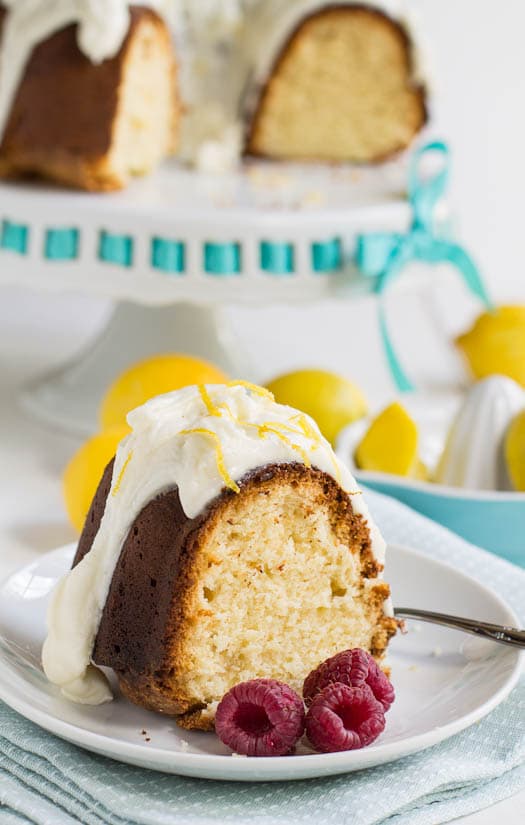 I didn't necessarily appreciate pound cakes much as a child. They always seemed kind of plain. And what kid is going to choose a piece of pound cake when there might be chocolate cake with loads of rich, chocolate frosting to be had?
But as an adult, I truly love pound cake. They are maybe the easiest cakes to make, they freeze well, and a slice of pound cake can sometimes be passed off as breakfast. 🙂
Traditionally a pound cake was made with a pound each of butter, sugar, eggs, and flour. But that makes a WHOLE lot of pound cake.
In addition to lemon juice and zest, this recipe also includes cream cheese which has become a common addition to pound cakes.
Recipe Tips
The most important part of making a pound cake is thoroughly beating the butter and sugar, or in this case the butter, cream cheese, and sugar. You want to really give it time to become light and fluffy. During this process air is whipped into the mixture and this is what helps the cake rise and develop a wonderful texture.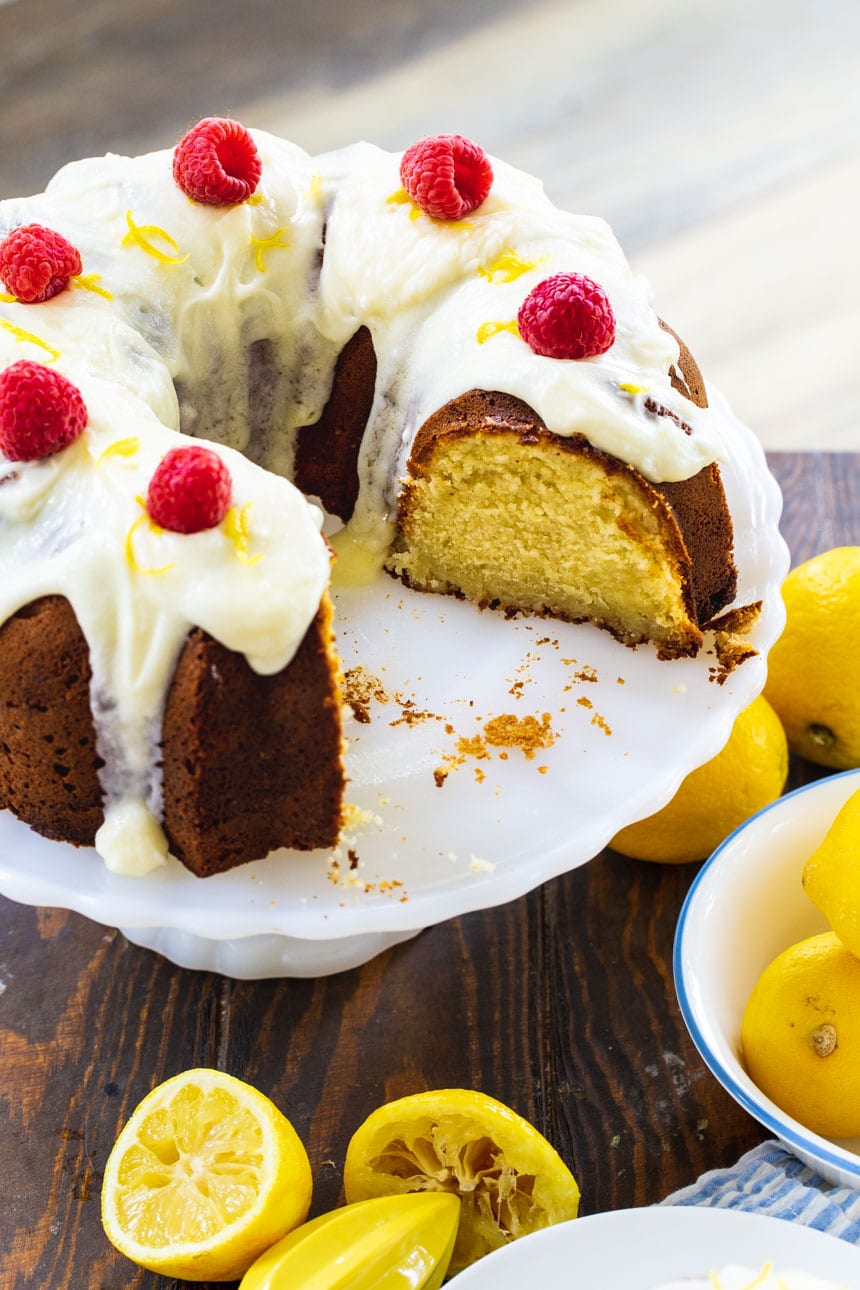 But once you add the eggs, keep beating to an absolute minimum.
Let the cake cool almost to room temperature before you put the frosting on or it will melt and run all over the place.
Lemon Pound Cake is a wonderfully versatile cake. Serve it as a snack, dessert, or for brunch.
Note: The outside of the cake shouldn't be quite as dark as it is in my pictures. I got distracted and didn't hear the timer go off. Hence my cake spent a good extra 15-20 minutes in the oven. 🙁 It still tasted good though.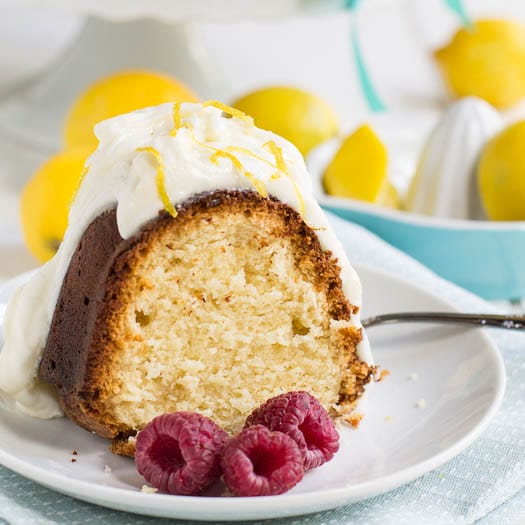 Try These Other Amazing Pound Cake Recipes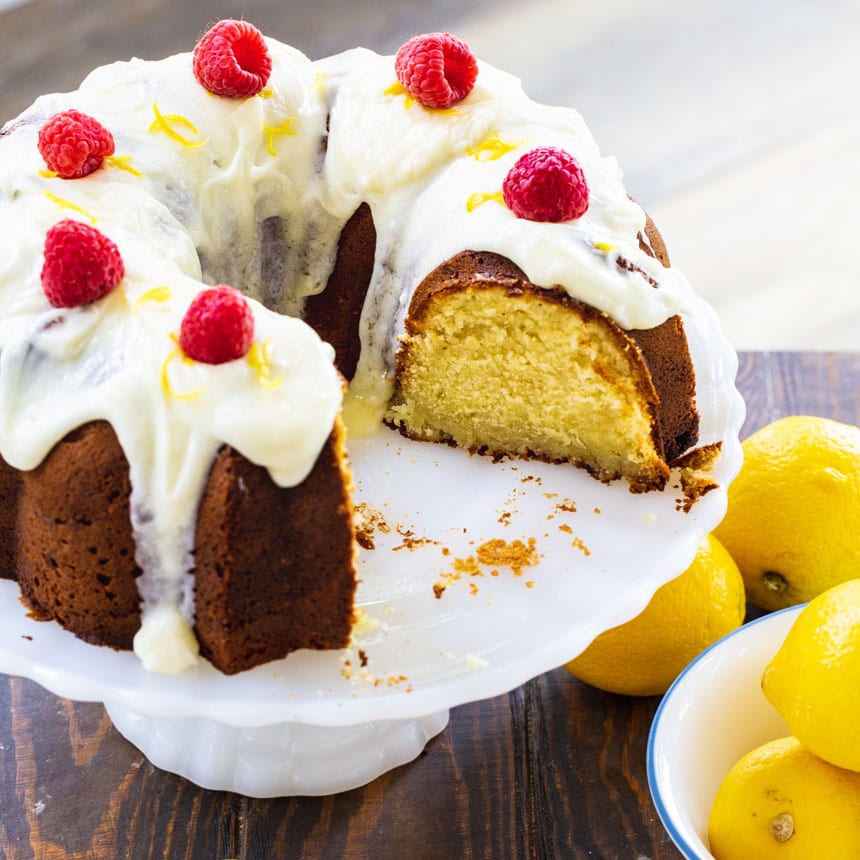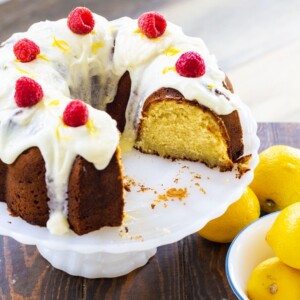 Lemon Pound Cake with Frosting
A bright and delicious lemon flavored pound cake that is both sweet and a little tart. Topped with a lemon-flavored frosting.
Ingredients
1 1/2

cups

unsalted butter,

softened

8

ounces

cream cheese,

softened

3

cups

sugar

1/4

cup

fresh lemon juice

2

teaspoons

lemon zest

1

tablespoon

vanilla extract

6

eggs,

room temperature

3

cups

flour

1/4

teaspoon

salt
Frosting
1/2

cup

melted butter

2 1/2

cups

confectioners' sugar

3

tablespoons

lemon juice

1/2

teaspoon

vanilla extract

milk

optional
Instructions
Preheat oven to 350 degrees. Butter and flour a 10-inch Bundt pan.


Beat the butter using an electric mixer with a paddle attachment until light and smooth.

Add cream cheese and beat until smooth.

Add sugar gradually and beat for 3 minutes. Add lemon juice, zest, and vanilla. Mix well.

Beat in eggs 2 at a time, scraping down sides of bowl once or twice.

Add flour and salt and beat just until evenly mixed.

Pour into prepared pan. Bake for 1 1/2 hours or until toothpick inserted in center comes out clean.

Cool on wire rack for 15 minutes and then invert cake onto a cake stand or serving platter.

To make frosting, beat together melted butter and confectioners' sugar. Add in lemon juice and vanilla extract. Beat until smooth. Thin with milk if too thick.

Let cake cool almost to room temperature before frosting. Spoon frosting on top of cake so that it drips down edges.
Want to Save This Recipe?
Originally published May 15, 2014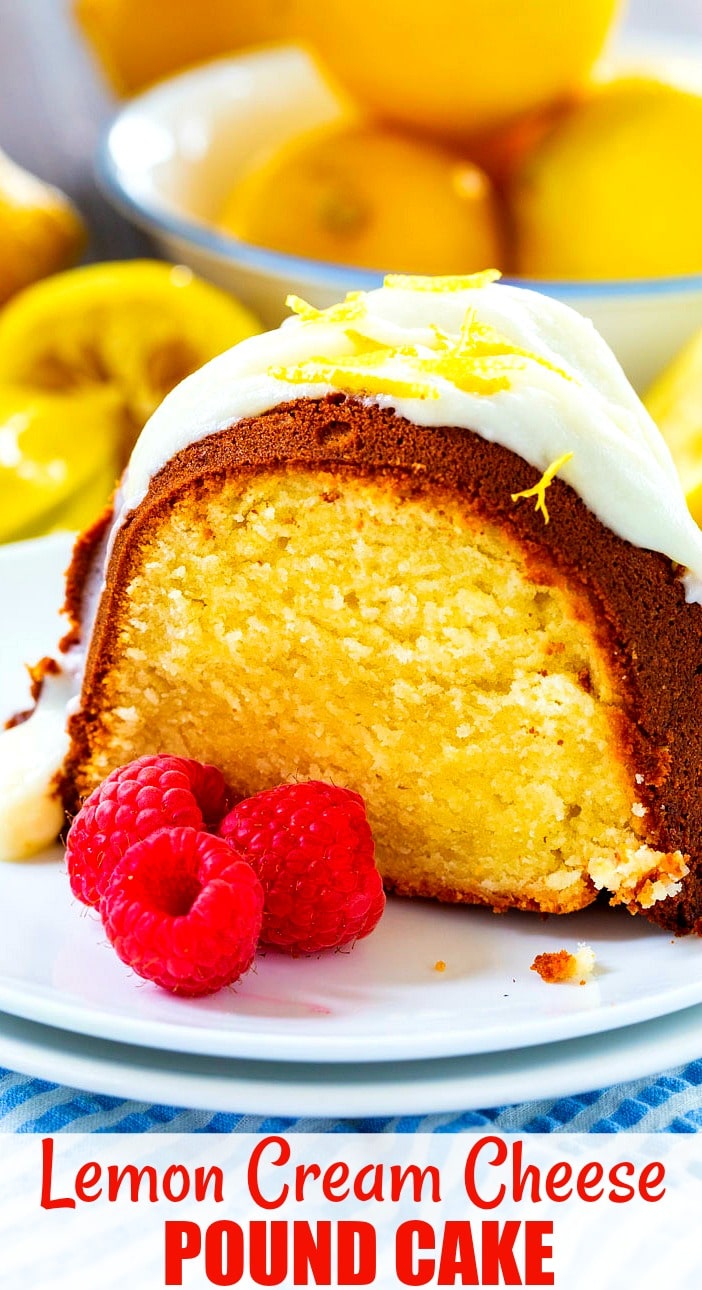 Disclosure: This post may contain affiliate links.