Cherry Almond Cola Bread, loaded with maraschino cherries and topped with almonds and a cherry cola glaze, is an easy and delicious dessert bread.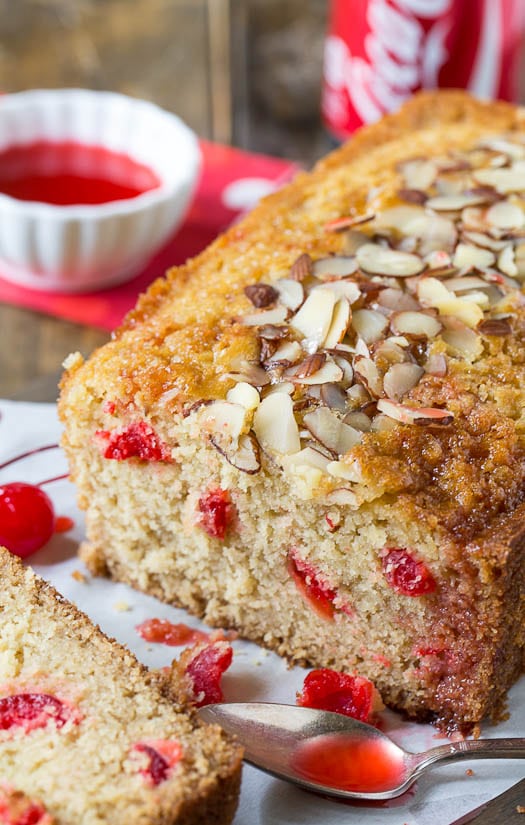 This bread came about because I had 3 jars of maraschino cherries in my pantry and 2 in my refrigerator. Now, except for food styling the occasional cocktail, I really don't have much use for maraschino cherries. How I ended up with so many jars, I don't know.
What I do know is that Cherry Almond Cola Bread is an easy to make quick bread bursting with that of so recognizable, extra-sweet maraschino cherry flavor. It's perfect served with a cup of coffee or as a dessert.
The cake itself doesn't have a whole lot of sweetness except for the bursts of sweetness from the cherry chunks. The Cherry Cola Glaze however is extra sweet. Drizzle as much or as little as you like over the bread to control the sweetness.
A little almond extract in the batter and sliced almonds on top give wonderful flavor to the bread.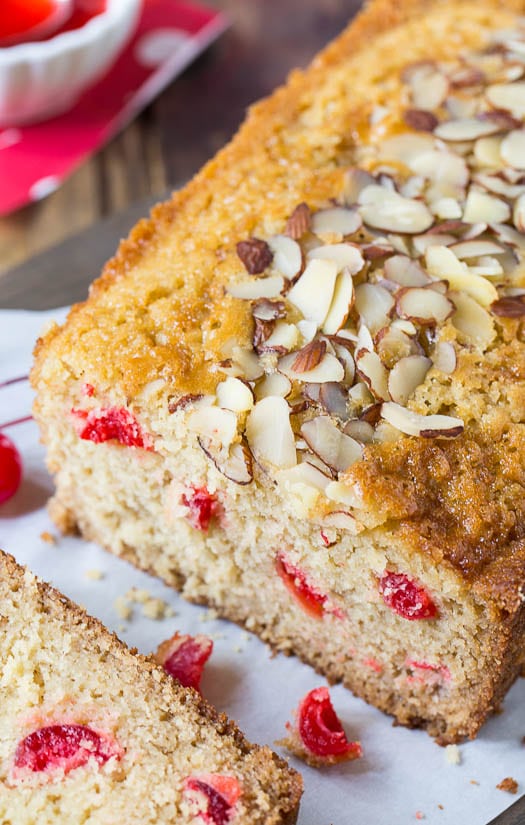 Whenever I eat dessert bread, I like to eat it with my fingers, taking one tiny bite at a time. Usually I'm doing something like reading while I'm eating it.
Which reminds me to tell you that I just read such a wonderful book. I'm embarrassed to say it's the first novel I've read in quite a few years. I love to read, but it is just so hard to find the time and I hate to say that spending time on the internet has replaced my reading time.
But this summer I'm determined to change that.
Anyways, I had wanted to buy a book to take to the beach. There's nothing better than reading on the beach is there?
Because I put off planning for our trip until last minute, I had no choice but to make my book selection at Target while doing some last minute beach shopping.
BTW- When did the selection of beach towels become so poor and overpriced? If anyone is looking to start a business, I say make good quality, attractive beach towels at a reasonable price and I'm your first customer. I did have to resist the urge to buy my 17 year-old son a Batman towel as a joke. I would have if it hadn't been practically as thin as lace and felt like sandpaper.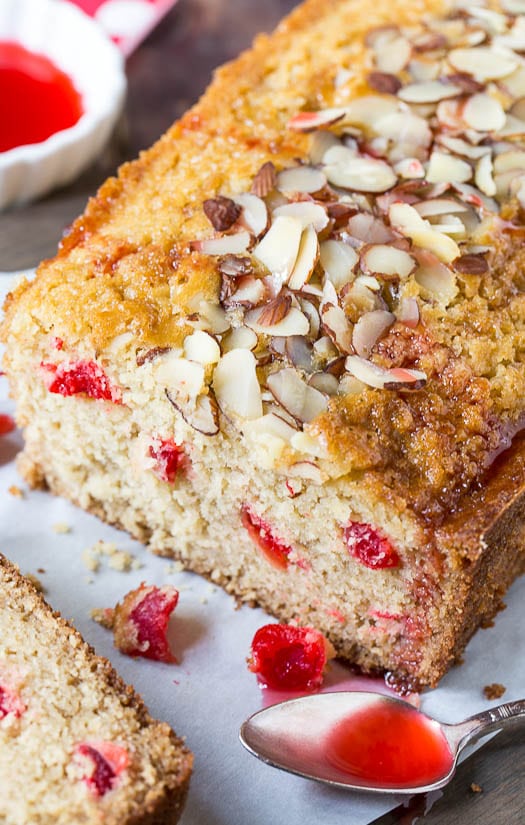 Impressed with the selection of books at Target, I chose 5 books, ignoring my daughter's objections. I'm picky about the books I like and I wanted, needed to read one that I really connected with. I started one and didn't really get into it so I started a second one  and it was one of those books you stay up all night reading, but then, when you get close to the end, you read as slow as possible because you can't bear for it to end.
Even better, it was about a food blogger and her best friend a travel writer.
So if you're still looking for some summer reading, check out Sweet Salt Air: A Novel
 and maybe make a batch of Cherry Almond Cola Bread to munch on while you read.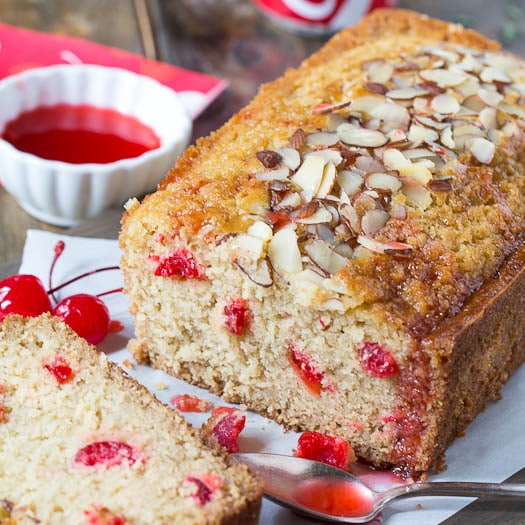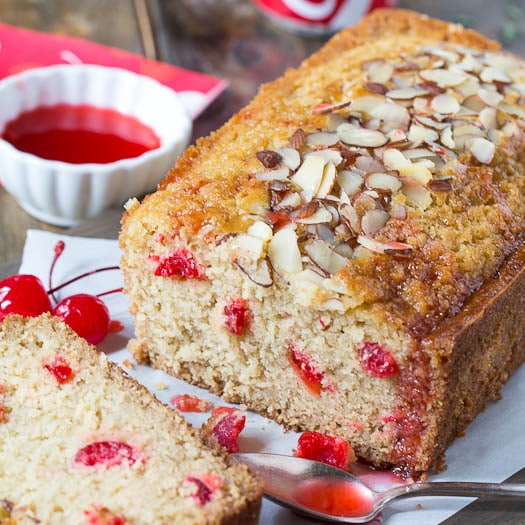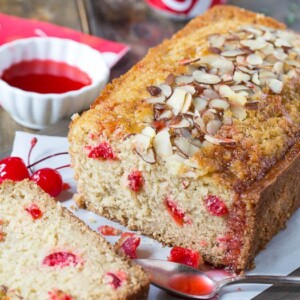 Cherry Almond Cola Bread
A delicious quick bread flavored with coke, almonds and maraschino cherries. Topped with a sweet cherry glaze for extra sweetness.
Ingredients
1

cup

butter,

softened

1

cup

sugar

5

eggs

2 3/4

cups

all-purpose flour

1/2

teaspoon

baking powder

1/4

teaspoon

baking soda

1/4

teaspoon

salt

1 1/4

cups

cola-flavored beverage

1

(12-ounce)

jar maraschino cherries,

reserve juice, drained and chopped

2

tablespoons

all-purpose flour

1/4

teaspoon

almond extract

1/3

cup

sliced almonds
Glaze
2

tablespoons

reserved cherry juice

1

tablespoon

cola-flavored beverage

1/2

cup

confectioners' sugar
Instructions
Preheat oven to 300 degrees and spray a 9X5-inch bread pan with cooking spray with flour.

In a mixing bowl beat butter and sugar on medium-high speed with an electric mixer until light and fluffy.

Add eggs one at a time, stopping to scrape down the sides of the bowl several times.

In a medium bowl, combine flour, baking powder, baking soda, and salt.

With the mixer on medium-low speed add 1/3 of the flour mixture to the mixing bowl.

Once flour is mixed in add 1/2 of the cola, followed by another 1/3 of flour mixture.

Add in remaining cola and then remaining flour. Once batter is an even consistency, turn mixer off and stir in almond extract.

Toss cherries with 2 tablespoons of flour and stir into batter.

Pour batter into prepared pan . Top with almonds and bake for approximately 1 hour and 15 minutes, or until a wooden toothpick inserted into bread comes out clean.

Let cool in pan 10 minutes and remove from pan to cool completely.

Whisk together cherry juice, 1 tablespoon cola, and powdered sugar. Spoon over bread.
Want to Save This Recipe?
Recipe adapted from Taste of the South
 Magazine
Disclosure: This post contains affiliate links.