Jambalaya Stuffed Bell Peppers have so much cajun/creole flavor. Colorful bell peppers are filled with a sausage, chicken, and ham jambalaya for a super tasty dinner.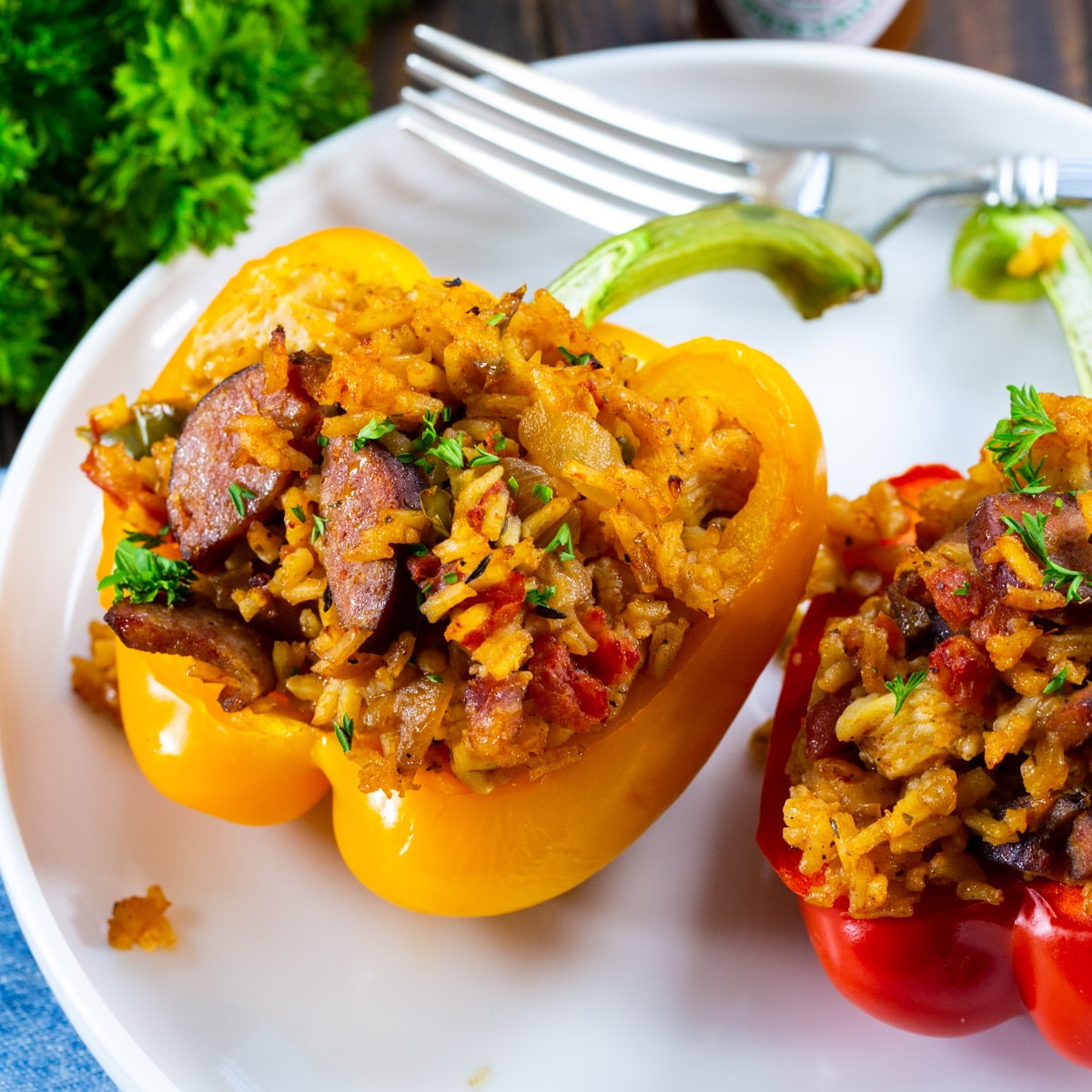 Stuffed Peppers are a favorite of mine. Scroll down for more stuffed pepper recipes. These Jambalaya Stuffed Peppers take stuffed peppers to a whole new level of deliciousness. The rice cooks with the seasonings, sausage, and ham so it soaks up tons of flavor.
What Are Andouille Sausage and Tasso Ham?
Both are popular ingredients in cajun and creole cooking. Andouille Sausage is a smoked pork sausage with garlic, thyme, and cayenne pepper. It can be a little to alot spicy. I find the flavor really varies between brands. Tasso ham is a smoked, spicy pork made from a pig's shoulder, so it technically isn't ham. It is fattier than ham and adds more flavor and spice.
Andouille sausage is pretty easy to find, but tasso ham can be hard to find outside of Louisiana. You can substitute regualr ham. The flavor is not the same, but it will still be delicious.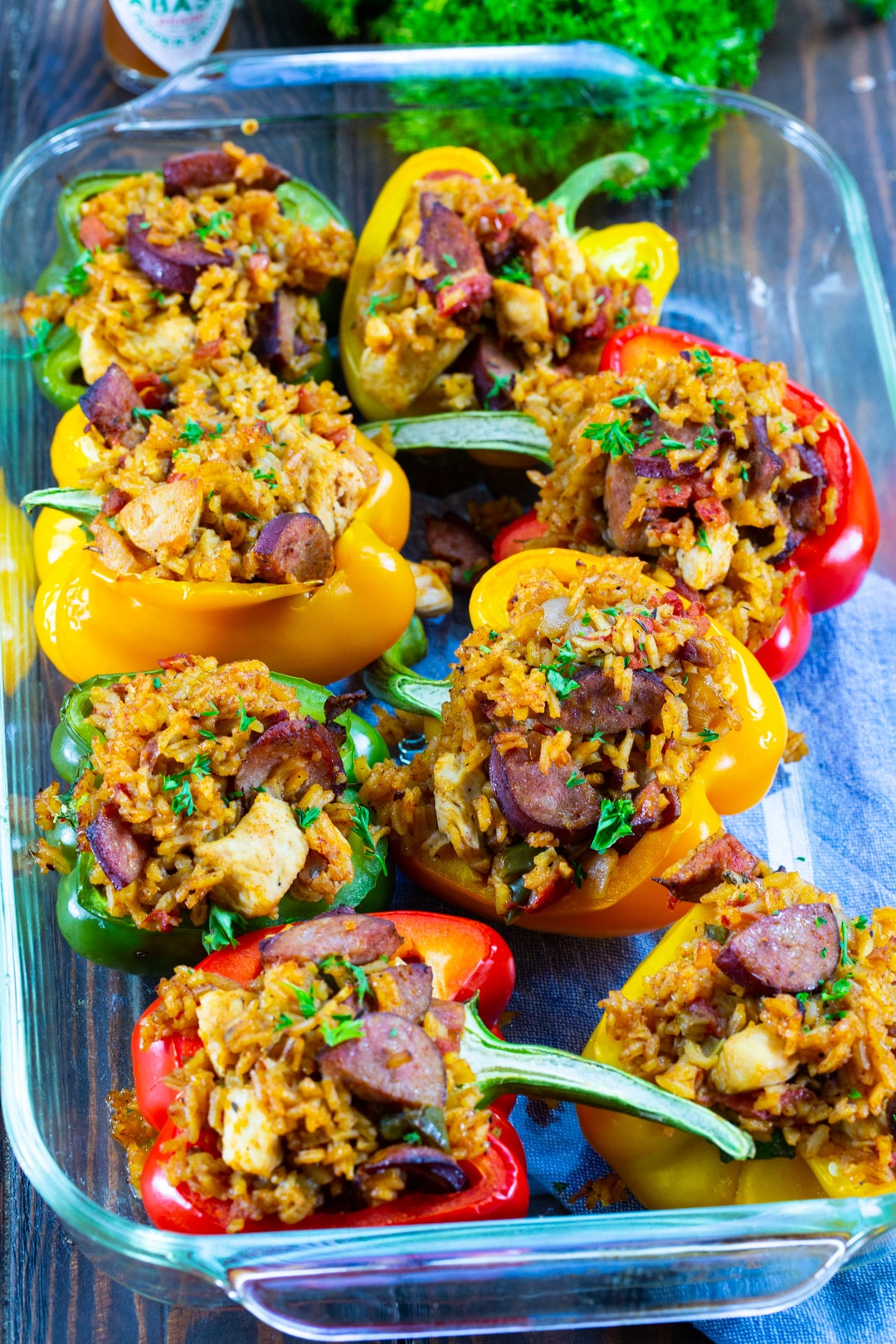 Is This Dish Spicy?
The Andouille sausage and tasso ham add some heat along with the cajun/creole seasoning and hot sauce. To make it spicier, serve with TABASCO Sauce.
Variations
You can sprinkle some shredded mozzarella cheese or grated Parmesan cheese on top, but I don't think these stuffed peppers need it. Just an option.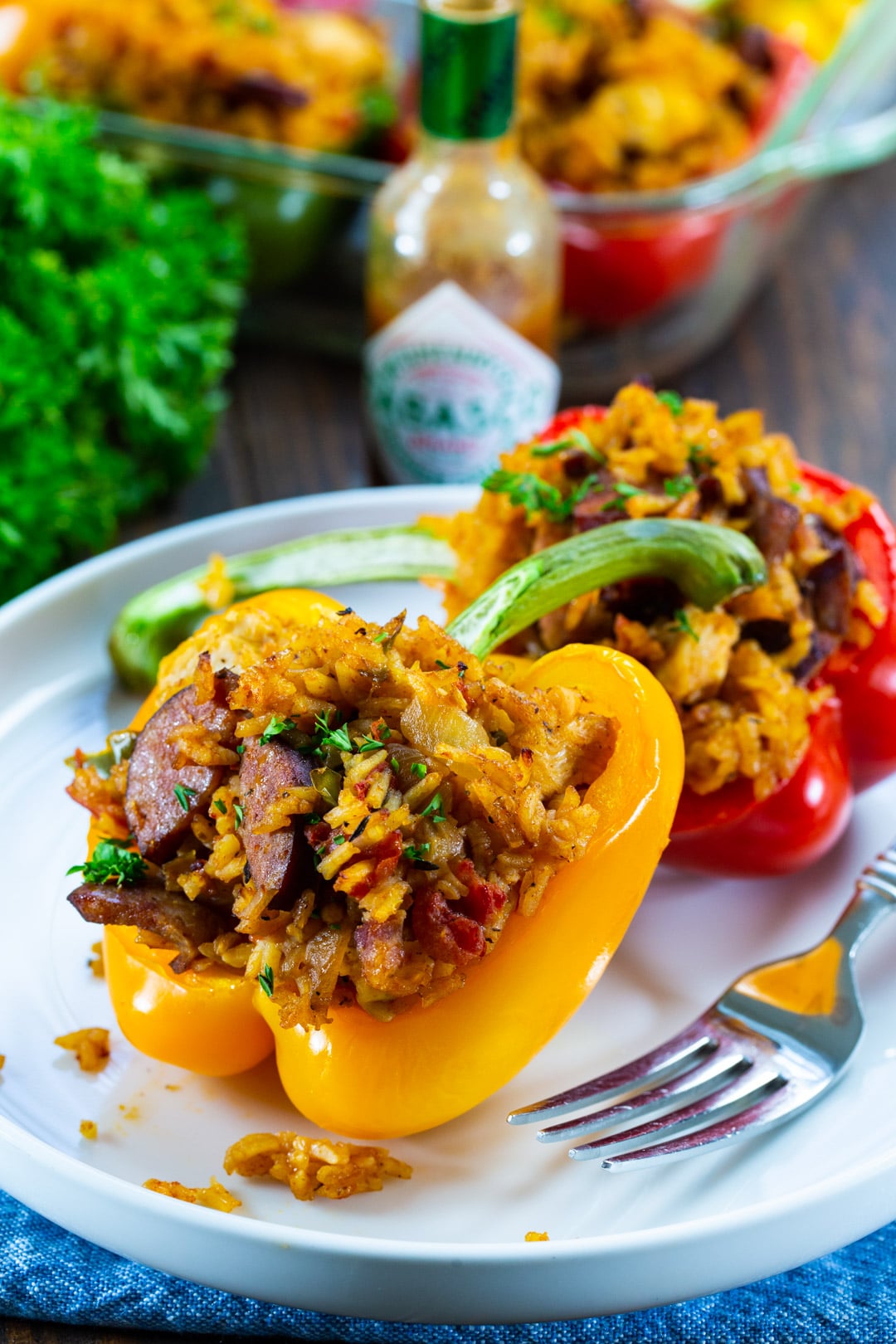 Make Ahead
The jambalaya can be made a day in advance and then it just takes a quick 30 minutes to get these stuffed peppers on the table.
Jambalaya Stuffed Bell Peppers Storage
Leftovers will keep in an airtight container in the refrigerator for 4 to 5 days and can be reheated in the microwave.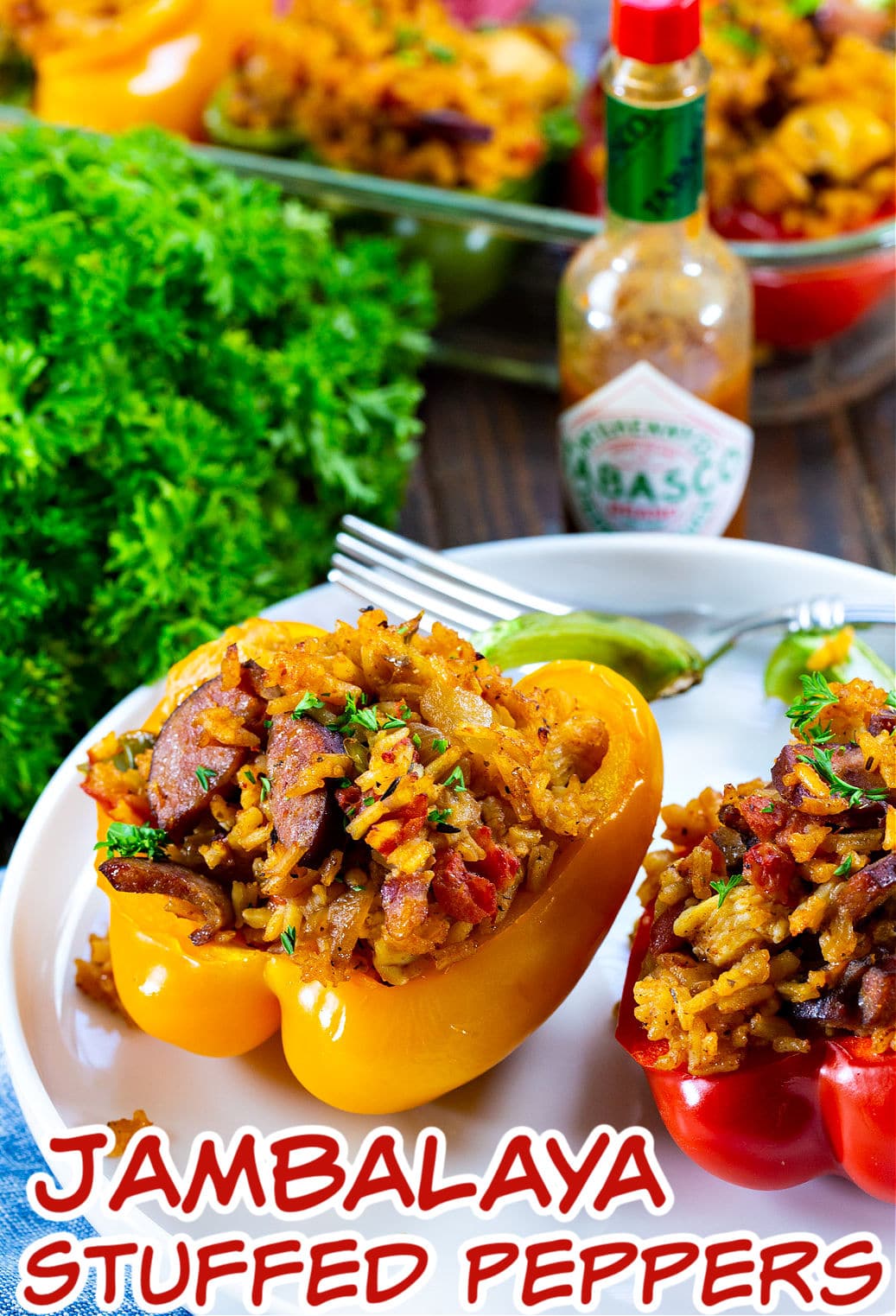 More Stuffed Pepper Recipes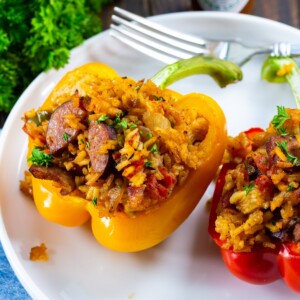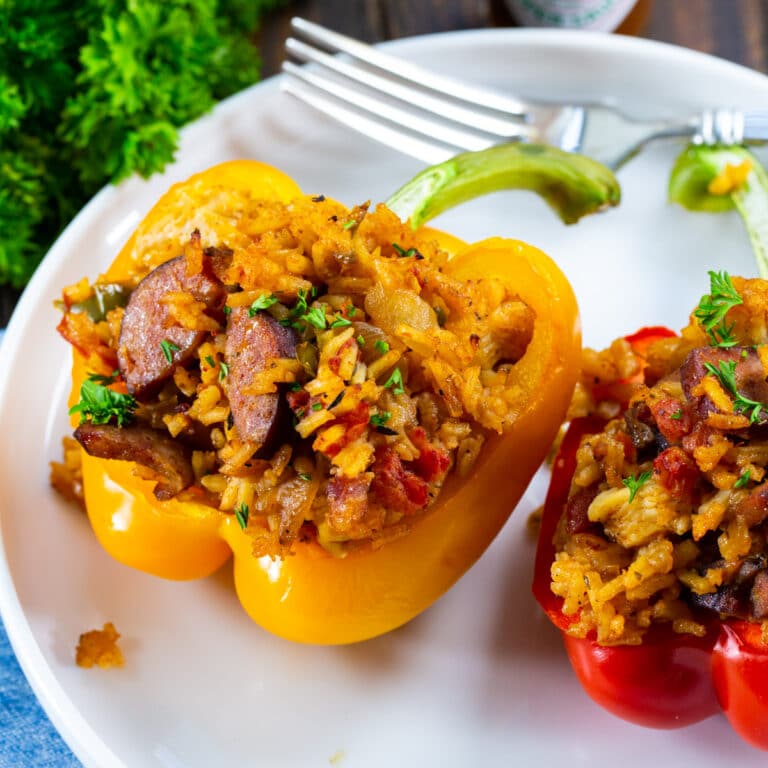 Jambalaya Stuffed Bell Peppers
Jambalaya Stuffed Bell Peppers have so much cajun/creole flavor. Colorful bell peppers are filled with a sausage, chicken, and ham jambalaya for a super tasty dinner.
Ingredients
2

tablespoons

vegetable oil

1

pound

boneless, skinless chicken thighs,

cut into 1-inch pieces

2

teaspoons

cajun or creole seasoning

3/4

pound

andouille sausage

1/2

cup

diced tasso ham,

or regular baked ham

1

cup

diced yellow or sweet onion

1/2

cup

diced bell pepper

1/2

cup

diced celery

4

garlic cloves,

minced

1 1/2

cups

long-grain rice,

uncooked

1/4

cup

tomato paste

2 1/2

cups

chicken broth

1

(14.5-ounce) can

petite diced tomatoes,

undrained

1

bay leaf

1/2

teaspoon

dried oregano

1/4

teaspoon

dried thyme

1

teaspoon

hot sauce

4

bell peppers

1

tablespoon

chopped fresh parsley
Instructions
Heat oil in a large Dutch oven over medium-high heat.

Sprinkle chicken with cajun seasoning and add to Dutch oven. Cook until bowned, 4 to 5 minutes.

Remove chicken and set aside.

Add sausage, ham, onion, bell pepper, and celery. Cook until sausage is browned and veggies are softened, about 5 minutes.

Add garlic and cook 1 minute.

Stir in rice and cook one minute.

Stir in tomato paste, chicken broth, diced tomatoes, bay leaf, oregano, thyme, and hot sauce.

Bring to a boil, reduce heat to medium-low. Cover and cook for 20 minutes, stirring in the chicken when there is 5 minutes left.

Meanwhile, preheat oven to 400 degrees. Cut each bell pepper in half. Discard seeds and membranes.

Lightly grease a 9×13-inch baking dish and place peppers in baking dish cut side up. Place in 400 degree oven for 15 minutes.

When jambalaya is cooked, check for seasoning and add salt and pepper to taste.

To make it spicier, add another teaspoon or two of hot sauce.

Spoon jambalaya mixture into peppers. Bake for 15 to 18 minutes.

Sprinkle with parsley and serve.
Notes
There will be enough jambalaya to fill 5 to 6 peppers if you want to make that many.
Want to Save This Recipe?