Thick and creamy Chicken and Wild Rice Soup has mushrooms, celery, and onion for a flavor that is nutty, earthy, and truly comforting.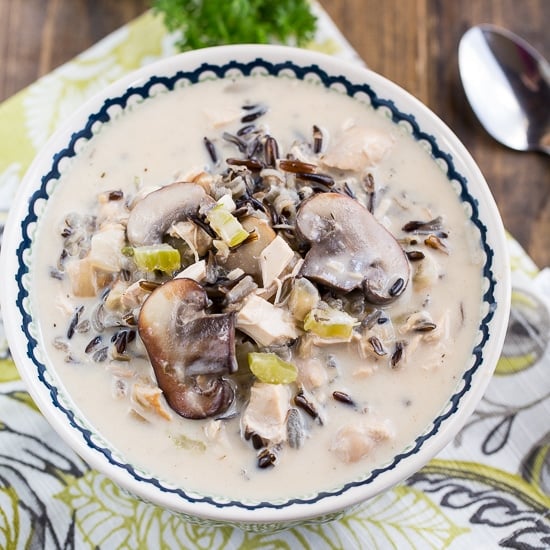 I should go on and on about how perfect this soup is for warming up on a cold winter's day, but I can't because Holy Cow – it was 66 degrees here today and perfectly sunny. I thought I was in heaven.
Until I tried to take advantage of it by spending a little time on the back porch reading, relaxing, and working on elevating my Vitamin D levels (I have a deficiency and can hardly ever remember to take my supplements). As soon as I got comfy in my chair, I thought I was in hell.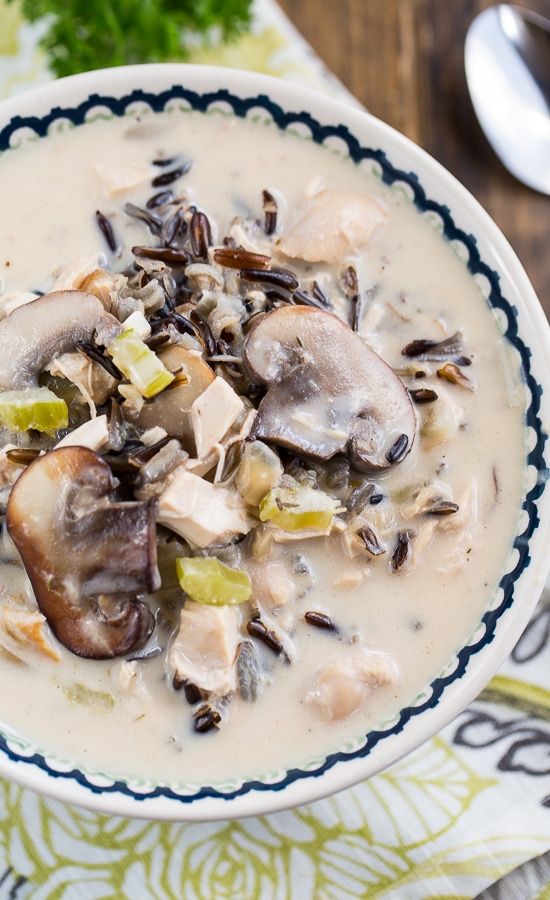 My neighbor, who lives behind us, enjoys spending time outside listening to something that's horrendously loud. Sometimes it's music, sometimes it's a television program. Loud. Very loud. Often it can be hear from inside our house.
This time it was talk radio. And it didn't take me but about 5 seconds to recognize the voice as that of Rush Limbaugh. Ugh. Do you know how hard it is to relax to the sound of Rush Limbaugh's agitated and loud voice? Not at all soothing. So I was outside for about a total of 20 seconds.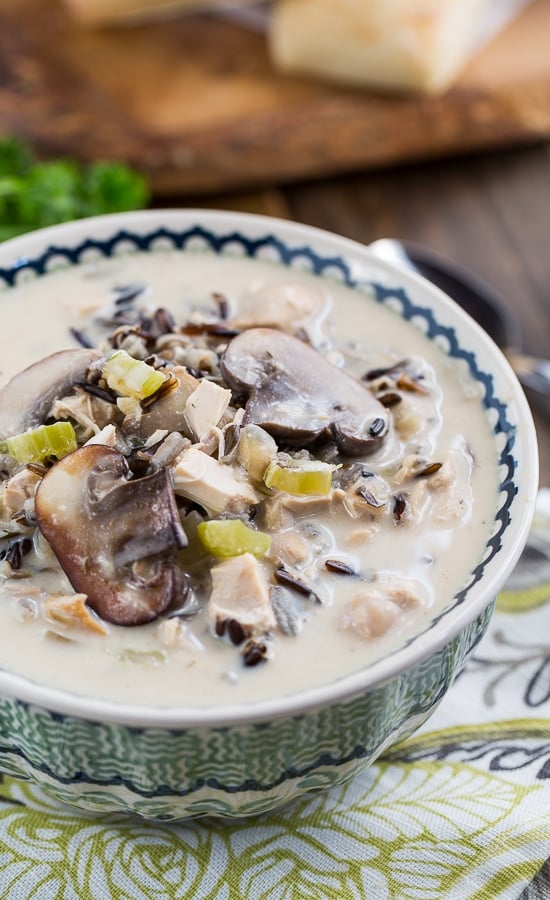 The easy solution would be to say something to them. But that's not so easy considering we have a row of Leyland Cypress trees the length of our back property line, then there's a fence, and then they have a dense row of hedges. So we can't even see into their back yard. We can just hear it.
Do you have neighbors who frequently play loud music/TV programs outside during the middle of the day? I'm wondering if it has become common behavior.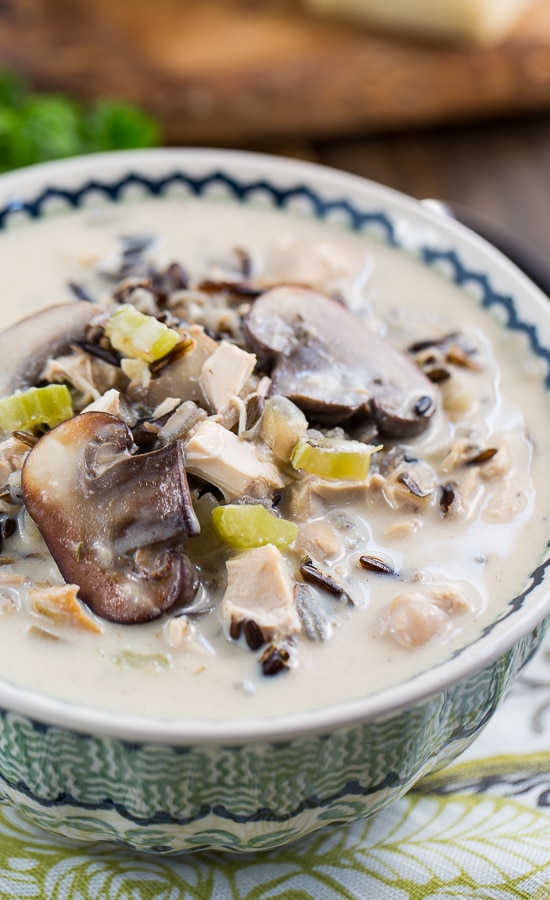 But enough of that. Let's get back to this Chicken and Wild Rice Soup. It's thick, creamy, rich, and full of diced chicken, wild rice, mushrooms, onion, and celery. I prefer my soups to be creamy and a half cup of cream makes this soup super rich and yummy.
I like wild rice in a soup. It holds up so well and really gives it some texture contrast. I usually just use the meat off of a rotisserie chicken to make things extra simple. A few splashes of sherry give extra flavor, but you don't need to use it.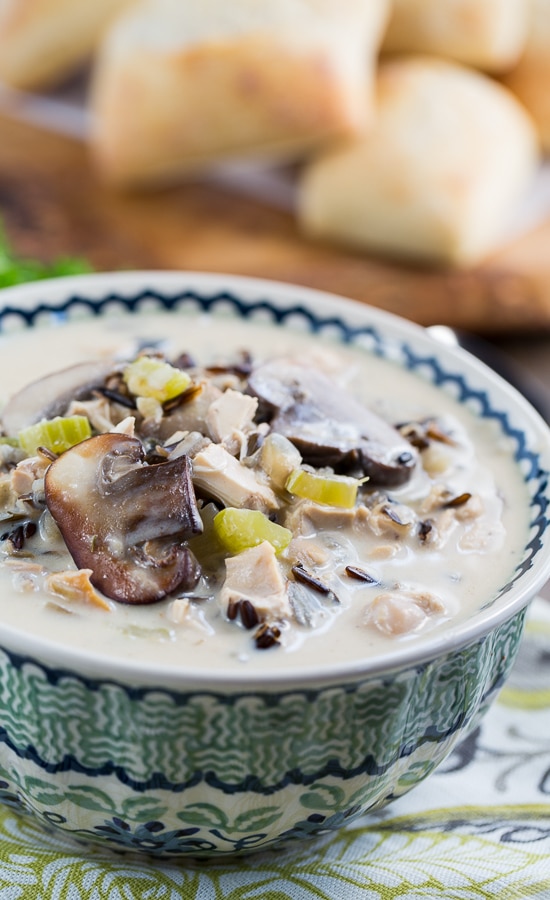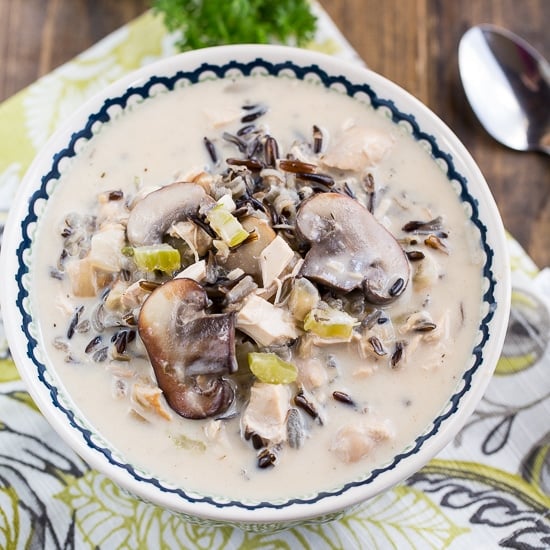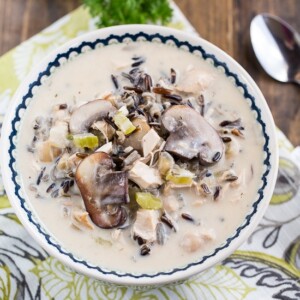 Chicken and Wild Rice Soup
Chicken and Wild Rice Soup is thick and creamy and flavored with mushrooms, onion, and celery, plus a splash of sherry. Rich, nutty, and earthy taste.
Ingredients
2

tablespoons

butter

1

tablespoon

olive oil

1

cup

chopped onion

1

celery stalk,

chopped

1

(8-ounce)

package cremini mushrooms,

sliced

1

large clove garlic,

minced

3

tablespoons

flour

1/2

teaspoon

garlic powder

1/2

teaspoon

salt

1/2

teaspoon

ground white pepper

1/4

teaspoon

black pepper

1/4

teaspoon

dried thyme

4

cups

chicken broth

2

cups

diced cooked chicken

1 1/2

cups

cooked wild rice

1/2

cup

heavy cream

2

tablespoons

dry sherry
Instructions
In a Dutch oven, heat butter and olive oil over medium heat. Add onion, celery, and mushrooms. Cook for 5 minutes, stirring occasionally.

Add garlic and cook for 1 minute.

Sprinkle flour over vegetables and cook for 1 minute, stirring constantly.

Add garlic powder, salt, both peppers, and thyme.

Gradually add chicken broth, whisking constantly to prevent lumps.

Bring to a simmer. Add chicken and wild rice and cook for 10 minutes.

Add cream and sherry and cook 5 more minutes.
Want to Save This Recipe?
Sharing this recipe at The Weekend Potluck
More Soup Recipes