Chicken and Stuffing Casserole with chunks of white chicken meat and a creamy stuffing mix with onions, celery, and mushrooms makes perfect fall comfort food and is just the meal to serve when you can't wait for that Thanksgiving meal.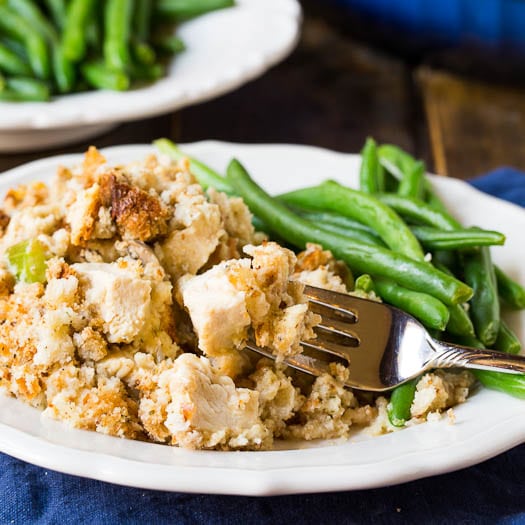 Chicken Casseroles are one of my favorite dinners  to cook during the cold weather months. They're comforting, satisfying, and usually a very economical way to feed a family. Plus they are great for using up leftovers and become wonderful leftovers themselves. Some of my favorites are Sandy's Chicken, Chicken Cobbler, and Chicken Cornbread Casserole.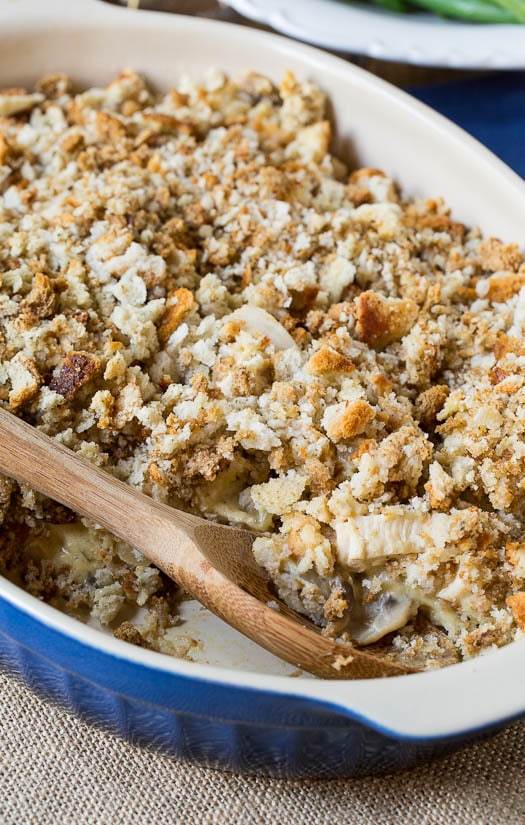 This recipe for Chicken and Stuffing Casserole uses a method for poaching chicken that I really love. No need to worry about rubbery, overcooked chicken. Add just enough water to the pot to cover the chicken, bring to a boil, and simmer 2 minutes. Cover, remove from heat, and let sit 30 minutes and then drain (but reserve the liquid). The chicken really picks up the flavor of whatever herbs, spices, and vegetables you add to the liquid. In this case celery, carrot, onion, and thyme.
You could also use rotisserie chicken or even leftover turkey for this casserole.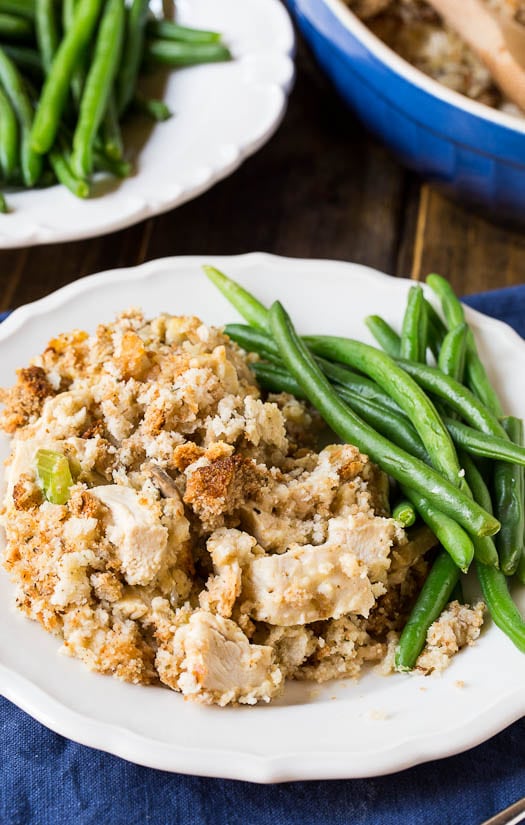 A can of cream of chicken soup, some milk, and a little mayo make for a super creamy and moist casserole.
Chicken and Stuffing Casserole can be assembled the night before and covered and refrigerated. Just add 5 minutes or so onto the cooking time.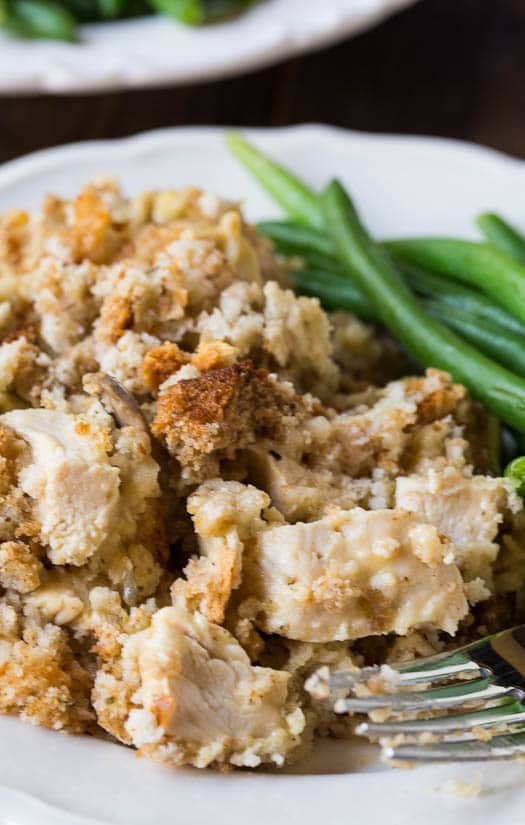 Watch the short video below to see how easy this casserole is!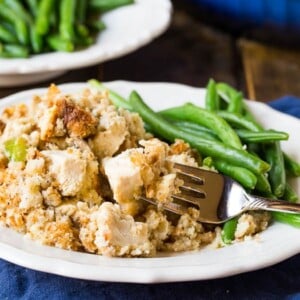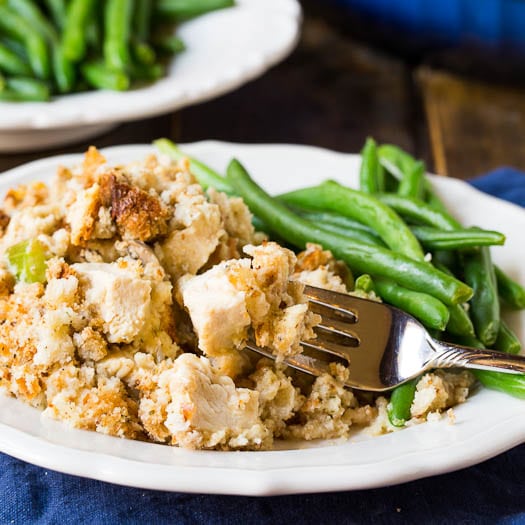 Chicken and Stuffing Casserole
Chicken and Stuffing Casserole with chunks of white chicken meat in a creamy stuffing mixture with onion, celery, and mushrooms.
Ingredients
2

boneless,

skinless chicken breasts

salt and

pepper

1/4

teaspoon

dried thyme

1

carrot

2

celery stalks,

1 stalk diced

1

yellow onion

cut in half, one half diced

6-8

mushrooms sliced

1

tablespoon

olive oil

1

can cream chicken soup

1/4

cup

mayo

1/2

cup

milk

4

cups

stuffing mix,

I used Pepperidge Farm

2

tablespoons

butter,

melted

1/2-3/4

cup

reserved chicken broth from poaching chicken

salt and pepper
Instructions
Place chicken breasts in a pan and add just enough water to cover. Add about 1/2 teaspoon salt, 1/4 teaspoon pepper, and 1/4 teaspoon thyme, plus 1/2 onion, 1 celery stalk, and carrot.

Bring to a boil and immediately reduce to a simmer for 2 minutes. Remove pan from heat and cover. Let sit 30 minutes. Remove chicken from liquid and set aside. Save 3/4 cup of broth. Dice chicken once cooled.

Preheat oven to 350 degrees.

Heat olive oil in a nonstick skillet. Add diced onion, celery, and sliced mushrooms. Saute until lightly browned. Season with salt and pepper.

Add chicken soup, mayo, milk, and reserved chicken. Mix well. Stir in 1 cup of stuffing mix.

Spray a casserole dish with cooking spray and transfer chicken mixture to dish.

Add remaining 3 cups of stuffing mix on top. Pour melted butter on top and then chicken broth. Pour chicken broth on slowly and evenly so that the stuffing mix soaks it up as much as possible.

Bake for 30 minutes.
Want to Save This Recipe?