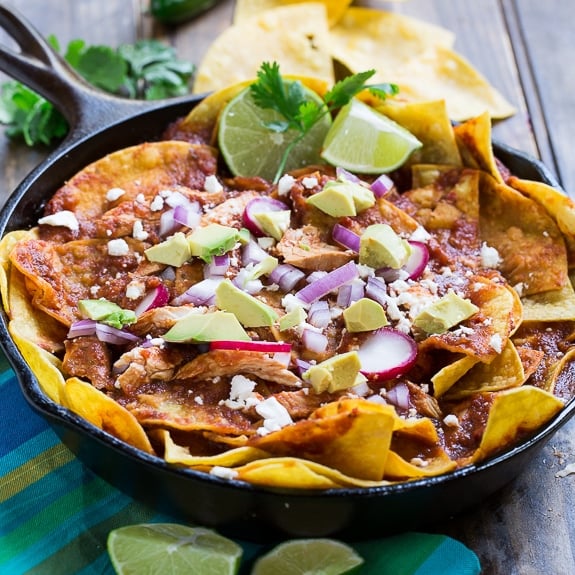 Chicken Chilaquiles is a scrumptious Mexican-style casserole cooked on the stovetop. Corn tortillas are fried until cripsy and layered with chicken cooked in a red chile sauce. Tomatoes form the base of the chile sauce and it is spiced up with ancho peppers, jalapeno pepper, and garlic.
The edges of this Chicken Chilaquiles stay crispy while the central part becomes more like a casserole in texture. And yes, the chips get soggy and that maybe sounds a little off-putting. But you wouldn't believe how good soggy can taste.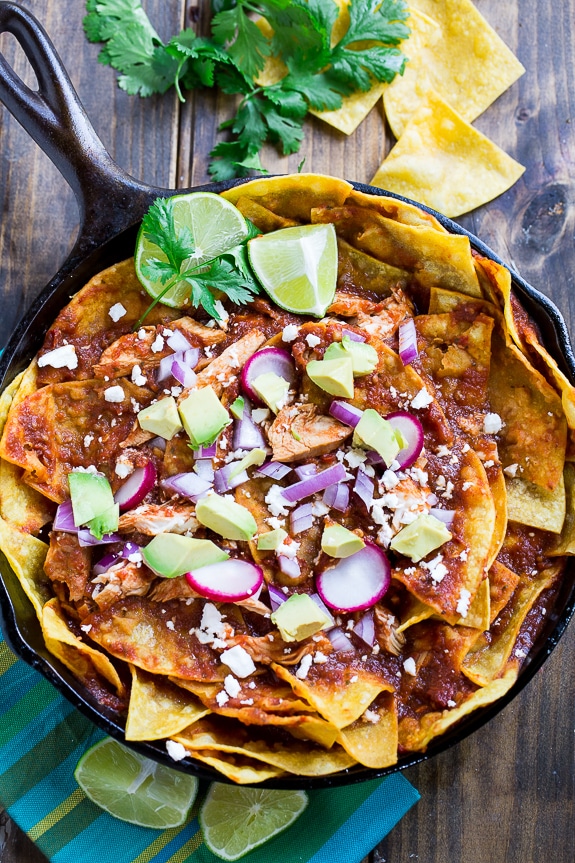 I love to use a Cast Iron Pan
to make this dish, but you can use any type of pan. I also I love that there is no rolling or stuffing involved in this recipe. It's totally fuss-free food but the end result is so pretty.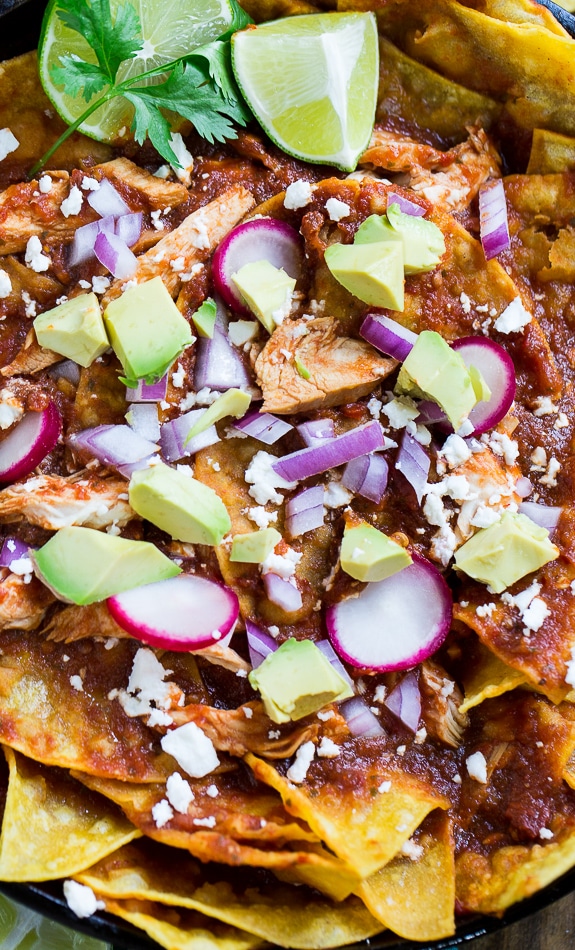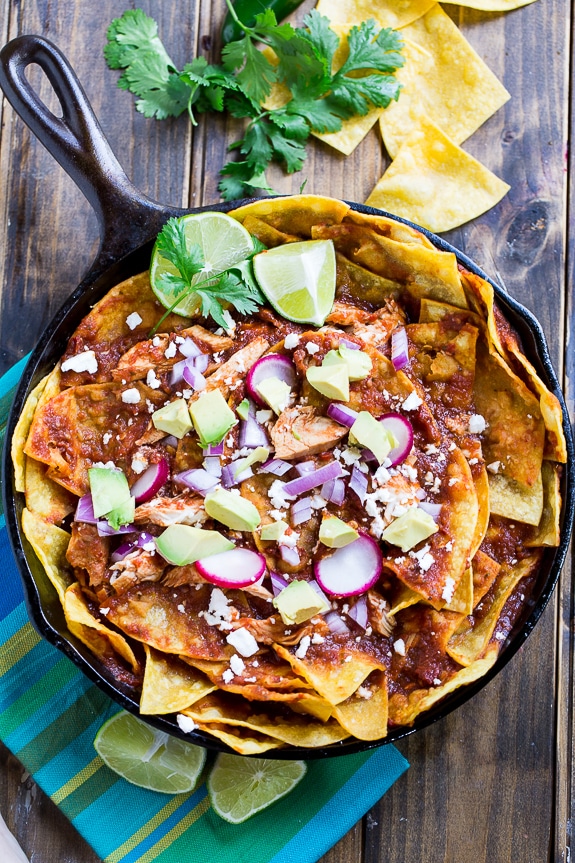 I am not as familiar with chilaquiles as I am with some other Mexican foods and this was my first time making this dish. From what I understand they are often done with eggs and served for breakfast. Any variation of them is most likely going to taste like true Mexican comfort food and I look forward to making them again.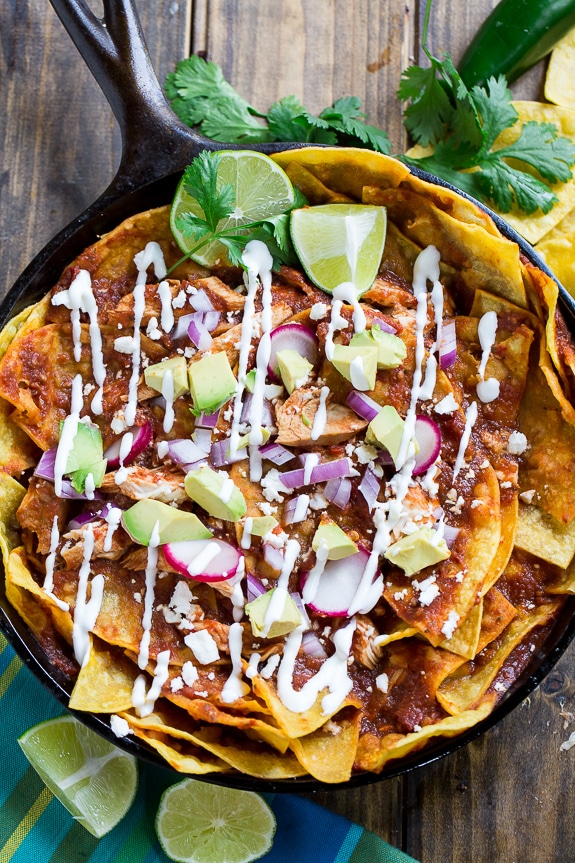 And  what does everyone love about Mexican food? The toppings!!
There are so many toppings you can add to chilaquiles. A little cheese is a must. Queso fresco, cotija, or even crumbled feta cheese if your store doesn't carry Mexican cheese. Red onion, thinly sliced radishes, diced avocado, cilantro, and sour cream are also good additions.
If you want to drizzle the sour cream across it as I did instead of having one big dollop of it in the middle, mix a little water or milk into it to thin it a touch, place it in a plastic bag, snip the corner, and drizzle away.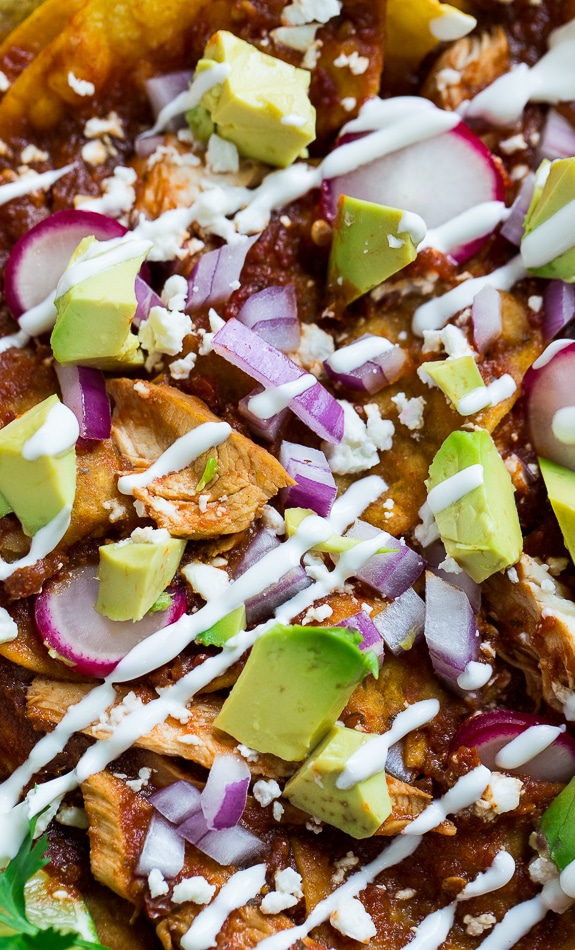 Never miss a recipe. Follow Spicy Southern Kitchen on Pinterest and Instagram.
Sign up HERE for the Spicy Southern Kitchen Newsletter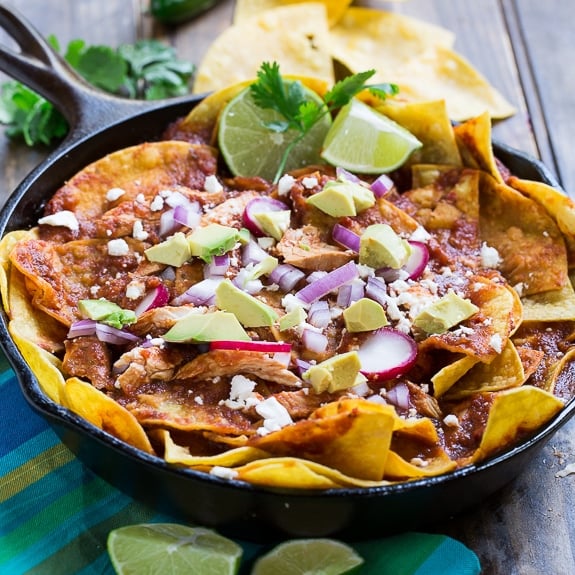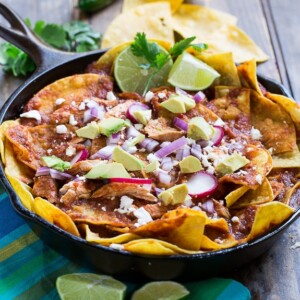 Chicken Chilaquiles
Ingredients
3

dried ancho peppers,

stemmed and seeded

1

jalapeno,

stemmed, seeded, and chopped

1

(28-ounce)

can whole peeled tomatoes

1/2

cup

chopped onion

3

garlic cloves,

chopped

1/4

cup

fresh cilantro leaves

1

cup

chicken broth

2

boneless,

skinless chicken breasts

15

corn tortillas

(6-inch), each cut into 4 wedges

2

cups

Vegetable oil

salt

1/4

cup

queso fresco cheese,

or feta cheese

Garnish: chopped red onion,

chopped avocado, sliced radishes, sour cream, lime, cilantro
Instructions
Rip the ancho chili peppers apart and discard the seeds and stem. Toast the peppers in a pan over medium heat for about 1-2 minutes per side. Place them in a small bowl and cover with boiling water. Let soak for 15 minutes and then drain off the water.

Place ancho peppers in a blender with jalapeno, undrained can of tomatoes, onion, garlic, and cilantro. Process for 60 to 90 seconds, until fairly smooth.

Transfer sauce to a large cast iron skillet (or regular pan or Dutch oven).

Stir chicken broth into sauce.

Add chicken breasts to sauce. Bring sauce to a simmer and cook for 20 minutes, turning chicken over halfway through.

Turn heat to low and remove chicken from skillet. Shred chicken or cut into bite-size pieces and return to skillet. Keep warm while you make the tortilla chips. (Or you can refrigerate the sauce at this point and finish the recipe the next day.)

Heat 2 cups oil in a Dutch oven to about 350 degrees. In batches, fry corn tortilla wedges for about 1 minute, flipping over halfway through. Place on a paper towel lined plate and sprinkle with salt.

Turn heat off under the skillet with sauce. Add chips to the skillet, sticking them into the sauce as much as possible.

Sprinkle feta cheese and toppings on top.
Want to Save This Recipe?
More Mexican-Style Recipes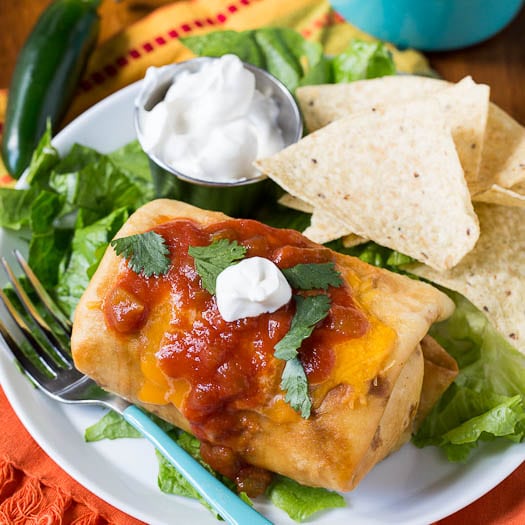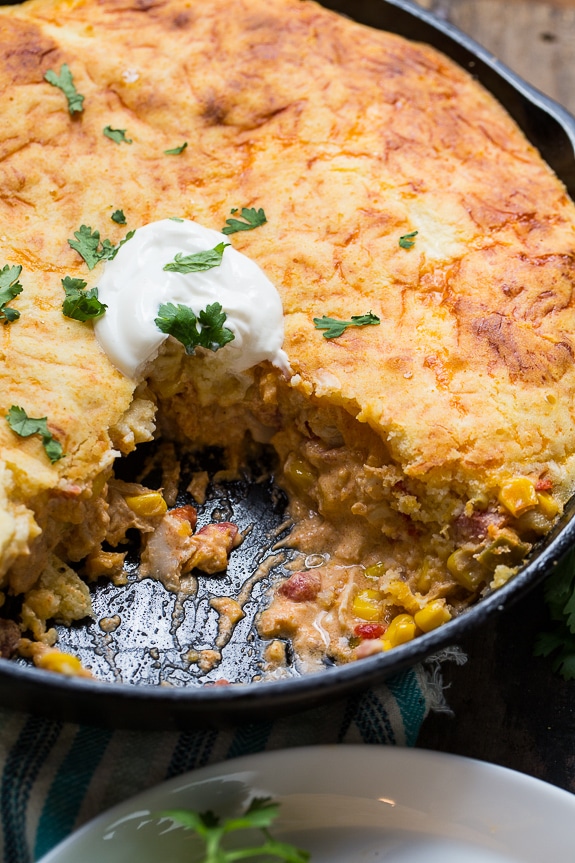 Mexican Chicken Cornbread Casserole
This post contains affiliate links.