Have you ever tried making bread pudding with biscuits? I think it's one of the best things I've ever tasted. This Toffee Bread Pudding is made with day old biscuits. I used Bojangles biscuits plus toffee bits and a few chocolate chips. When it comes to bread pudding, I greatly prefer chocolate chips to the more traditional raisins. 🙂
This biscuit bread pudding is every bit as delicious as my popular Krispy Kreme Bread Pudding Recipe.
I made a toffee-flavored sauce from dark brown sugar, butter, and heavy cream to drizzle on top. Serve it warm with a scoop of vanilla ice cream and you'll think you've died and gone to heaven.
Last month I visited the Bojangles Test Kitchen in Charlotte, NC. We got to try our hand at making a batch of Bojangles biscuits.
They are still made fresh by hand in all of their restaurants.
And then we got to try our hand at making our own biscuit creations.
Here's one with a cajun chicken breast, bacon, and pimento cheese.
And here's one with a B0-Berry Biscuit, sausage, sausage gravy, bacon bits, and hot sauce. The sweet/savory/salty/spicy combo is incredible!
There's nothing like the taste of a fresh Bojangles biscuit and when they're past their prime, you can turn them into bread pudding. No need to let any biscuits go to waste!
I think I like this bread pudding more than one made with stale bread. The biscuits create the most wonderful texture. It gets crispy on top, but stays plenty soft in the middle.
Never miss a recipe. CLICK HERE to Subscribe.
More Bread Pudding Recipes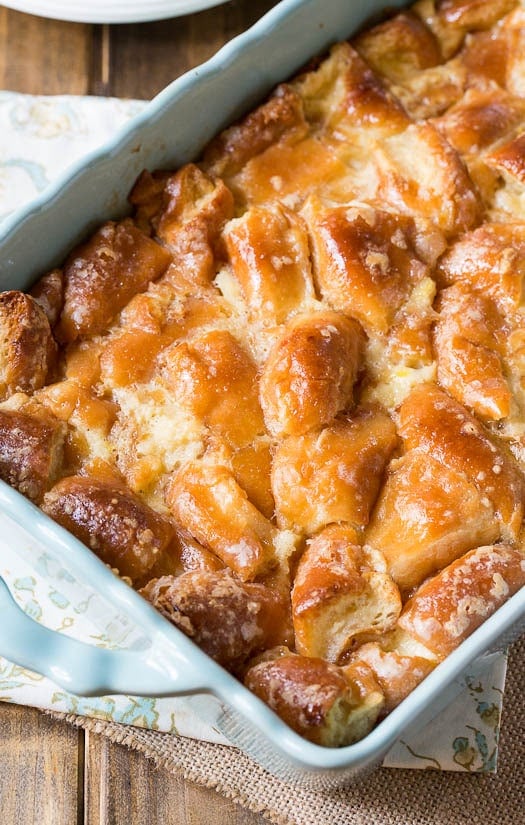 Disclosure: This post contains affiliate links.