Chicken Pot Pie. It's one of my favorite southern comfort foods. A buttery pie crust covering a creamy chicken filling with peas, carrots, and maybe some potatoes. Food doesn't get much better than that. And if you can eat it with your hands, it REALLY doesn't get much better than that.
When you get right down to it though, it's all about the pie crust. Flakey, buttery, delicious pie crust. Who can resist the chance to eat such a scrumptious dessert component as a part of a main dish?
One of my favorite things about Chicken Pot Pie is that whether it's totally made from scratch, or multiple short cuts are taken –it's all good.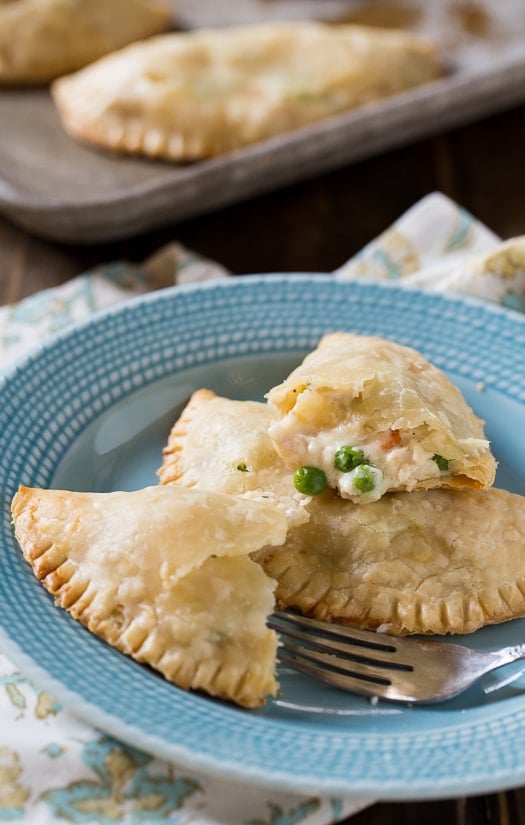 I've taken several shortcuts with these Chicken Pot Pie Turnovers to make them super easy to prepare. First, I used the meat off of a rotisserie chicken. This is a great recipe for using any leftover chicken, or even Thanksgiving turkey.
Secondly, I've used refrigerated pie crusts. If you have the time and inclination, you could certainly make your own pie crusts. You could also use frozen puff pastry. But I find the refrigerated ones work perfectly well when time is short.
The filling is a combination of chicken, celery, peas, onion, carrot, a little thyme, and some cream cheese. I don't usually put cream cheese in chicken pot pie, but I thought these turnovers should have an extra creamy and thick filling.
The filling can be made a day in advance for a super easy weeknight meal. Pair these Chicken Pot Pie Turnovers with a green salad for a filling and delicious meal.
Sharing this recipe with
The Weekend Potluck
More Chicken Pot Pie Recipes