This Applebee's copy cat salad has been one of my favorite salads for years. The list of ingredients is long, but the flavor impact that comes from all of the components is amazing.
Smokey grilled chicken, a mix of romaine and red leaf lettuce, apple, celery, red onion, blue cheese crumbles, candied walnuts, and a balsamic vinaigrette that is out of this world. This is a recipe that I got out of Top Secret Restaurant Recipes 3: The Secret Formulas for Duplicating Your Favorite Restaurant Dishes at Home (Top Secret Recipes)
.  I find all of the Top Secret cookbooks to be so much fun to cook from. Many times they really do taste like the real thing, and even if they don't, they are almost always delicious nonetheless.
It's probably been close to two decades since I've eaten at an Applebee's so I'm not sure how this recipe compares to the real thing. Or if it's even still on the menu.
The chicken is marinated in brine for 3 hours. The brine has a touch of hickory-flavored liquid smoke added to it which makes the chicken taste like it's been grilled to perfection over hot coals and wood chips. But I just grill it in my grill pan.
All of the components can be made ahead of time and the balsamic dressing recipe makes a huge batch that you can use on salads all week long. It's one of my favorite dressings ever, and it actually doesn't taste much like a balsamic vinaigrette. Not surprising considering how little balsamic it has in relation to the other ingredients. There is a lot of sugar and honey in it and sweetness is the predominant flavor. But I find there's just enough tang from the balsamic, red wine vinegar, and Dijon mustard. If you don't like sweet vinaigrettes, you may not be a fan.
Disclosure: Spicy Southern Kitchen is an amazon.com affiliate.
More Copycat Recipes
Fuji Apple Chicken Salad– Panera Bread copycat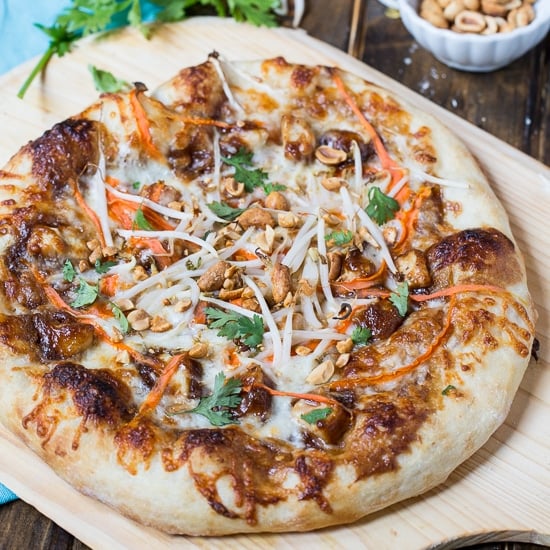 Thai Chicken Pizza – California Pizza Kitchen copycat