Tomato Jam Crostini with a creamy whipped feta makes an impressive appetizer any time of year.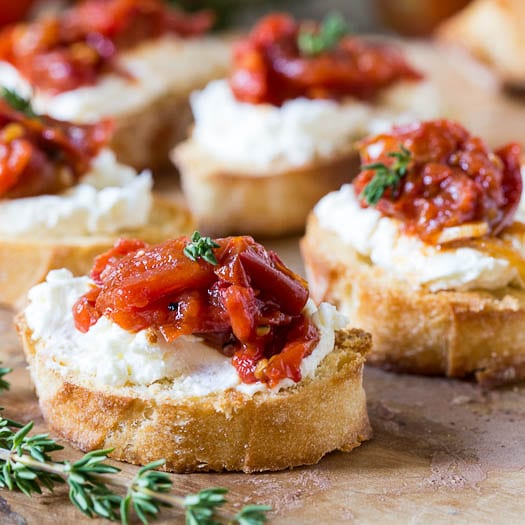 Ever since I made tomato jam for this BLT, I've been thinking of other ways to use it. Roasting tomatoes in the oven, whether they be peak of the season vine-ripened tomatoes or off-season tomatoes, really intensifies their flavor.
I paired it with an easy and delicious whipped feta that only has 3 ingredients: cream cheese, feta cheese, and a little olive oil. It's smooth and creamy and wonderfully delicious. Like the tomato jam, whipped feta is wonderfully multi-functional and would also taste great in a wrap with roast beef or on a burger.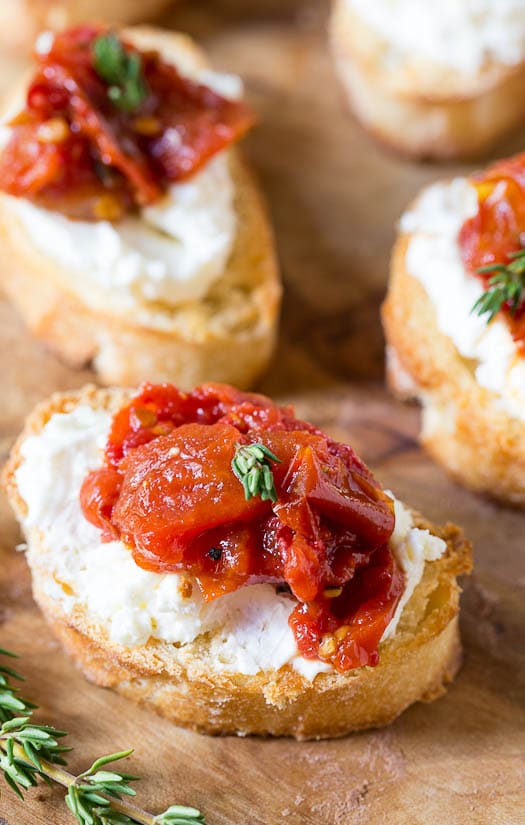 Make the tomato jam and whipped feta ahead of time and buy some premade toasted Baguette slices and you're ready to roll next time you have guests over. Assembly just takes a matter of minutes. Set Tomato Jam Crostini out on a serving platter and sit back and relax while your guests go at it.
Intense tomato flavor with onion and garlic plus some thyme on top of creamy whipped feta with the crunch of toasted baguette. It's a fabulous appetizer any time of year!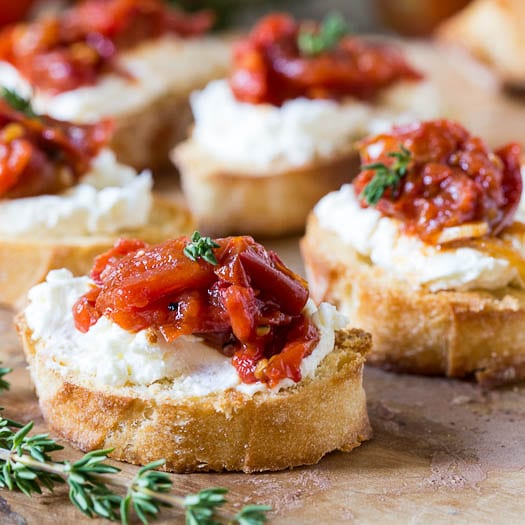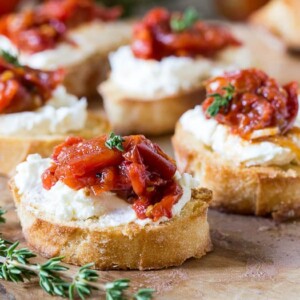 Tomato Jam Crostini
Savory tomato jam and creamy whipped feta on top of toasted baguette slices makes a wonderful appetizer any time of year.
Ingredients
Tomato Jam
6

large vine-ripened tomatoes

1

medium onion,

thinly sliced

3

garlic cloves,

thinly sliced

2

tablespoons

fresh thyme leaves

2

tablespoons

honey

1

tablespoon

extra-virgin olive oil

2

teaspoons

red wine vinegar

½

teaspoon

kosher salt

½

teaspoon

black pepper

¼

teaspoon

red pepper flakes
Whipped Feta
4

ounces

cream cheese,

room temperature

1/2

cup

feta cheese crumbles

1

tablespoon

olive oil

Pre-made toasted baguette slices

or make your own by brushing fresh slices of baguette with olive oil and baking in a 400 degree oven until toasted

thyme for garnish
Instructions
Preheat oven to 350 degrees. Line a rimmed baking sheet with aluminum foil.

Chop tomatoes into approximately 1 to 1½ inch pieces. Spread out evenly on baking sheet along with onion, garlic, and thyme.

Bake for 1 hour. Increase oven temperature to 400 degrees.

Whisk together honey, oil, vinegar, salt, black pepper, and red pepper flakes in a small bowl. Drizzle over tomatoes.

Return pan to oven and bake for 45 minutes, stirring every 15 minutes. Let cool. Scrape all contents of baking sheet into a bowl. Stir to combine, mashing while you stir to break down the tomatoes and form more of a cohesive mixture.

In a food processor, process cream cheese and feta until smooth. Add olive oil and process until mixed.

Spread each baguette slice with whipped feta and top with tomato jam. Garnish with thyme if desired.
Want to Save This Recipe?
Disclosure: This post may contain affiliate links.