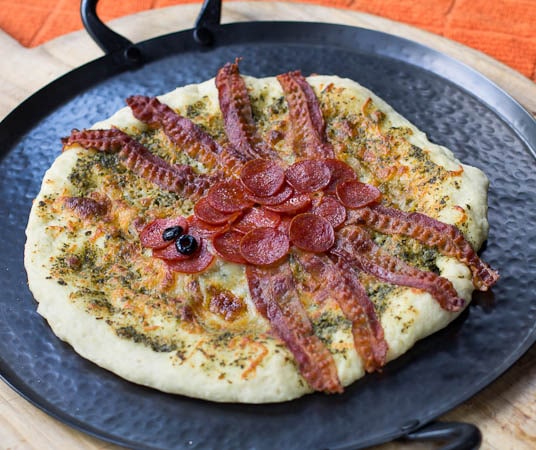 Add this Pepperoni and Bacon Spider Pizza to your Halloween menu this year. It's a little bit spooky and a whole lot of fun. Your kids will love it and it will fill their tummies with something non-sugary before they head out trick-or-treating.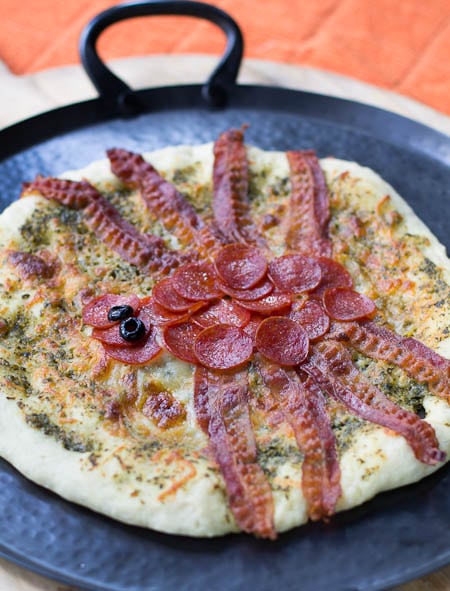 I saw this Spider Pizza in Phyllis Hoffman's Celebrate Magazine. I think it may have been last year's fall issue. It's super easy to make and will get everyone in the mood for some Halloween festivities.
I used some refrigerated pizza dough that I got in the deli section of my local grocery store. I spread some pesto on it and I love how the pesto gives the pizza a creepy look. It tastes great too. Sprinkle on some mozzarella cheese and form a spider figure out of pepperoni slices, bacon, and black olives. Couldn't be simpler!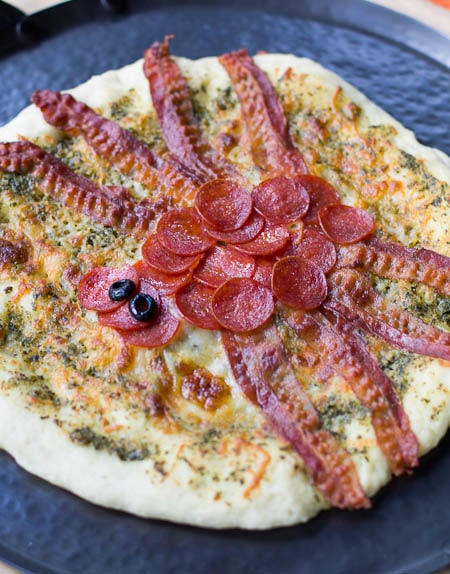 I used Hormel Fully Cooked Bacon for this Spider Pizza. You could cook your own bacon, but I would undercook it a little so that it's still pliable enough to shape. It will crisp up in the oven. Everyone will want a slice with at least one bacon leg. 🙂
We have a family tradition of making holiday-themed pizzas. Candy canes or Christmas trees for Christmas, heart-shaped pizza on Valentine's Day, Bunny Pizza for Easter. Only thing is, now that I have a food blog, I usually end up making holiday things weeks in advance. We'll probably be eating a turkey shaped pizza on Halloween.
Luckily my kids are teenagers now and don't think much of it. I know there are probably some confused blogger children out there wondering why they are eating Shamrock cupcakes on Valentine's Day and doing Valentine's crafts for New Years Eve.
Do you ever make crazy shaped or decorated pizzas for holidays?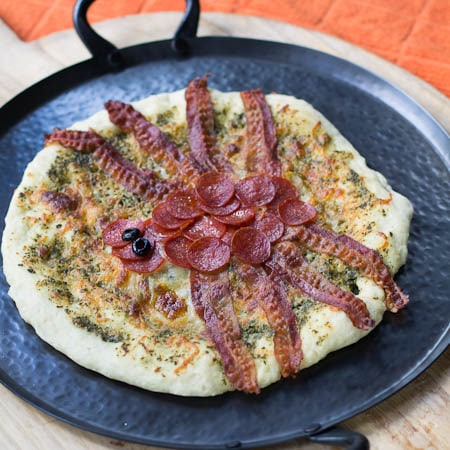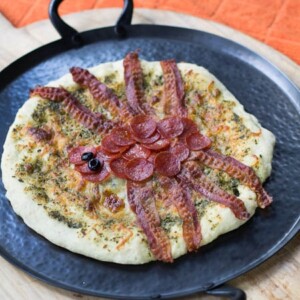 Spider Pizzas
Delight your kids with this fun Halloween pizza made with pesto, bacon, and pepperoni.
Ingredients
1

lb

pizza dough

1/4

cup

prepared pesto

1

cup

shredded mozzarella

14-16

pepperoni slices

2

black olive slices

8

slices

precooked bacon
Instructions
Preheat oven to 400 degrees.

Shape pizza dough into a large circle on a baking sheet. Spread with pesto sauce. Sprinkle with cheese.

Arrange pepperoni slices in an oval for the spider body in the center of the pizza. Arrange 4 slices of bacon on each side of the oval, tucking ends of bacon under pepperoni slices.

Place 2 olive slices at one end of oval for eyes.

Bake for 12-14 minutes, until cheese melts and crust is lightly browned.
Want to Save This Recipe?
Adapted from Celebrate Magazine