Spaghetti Squash with Spicy Meat Sauce is a healthy, low carb and gluten free meal that still tastes like delicious comfort food.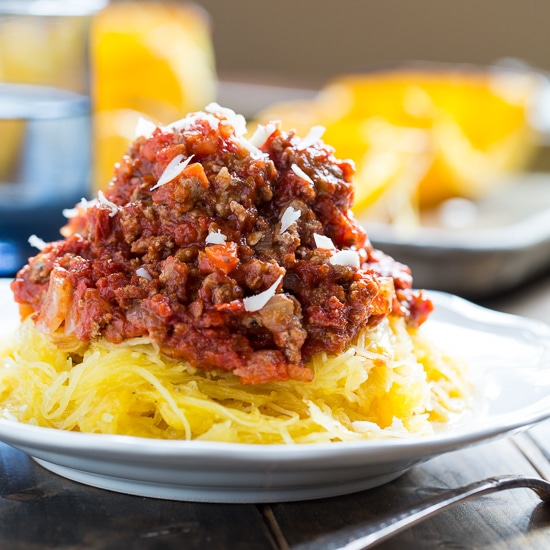 It's a New Year! Time for some healthy recipes after weeks (ok, maybe months) of eating sweets nearly every day.
This Spaghetti Squash with Spicy Meat Sauce is a healthy, low carb and gluten-free meal, but it still tastes like delicious comfort food.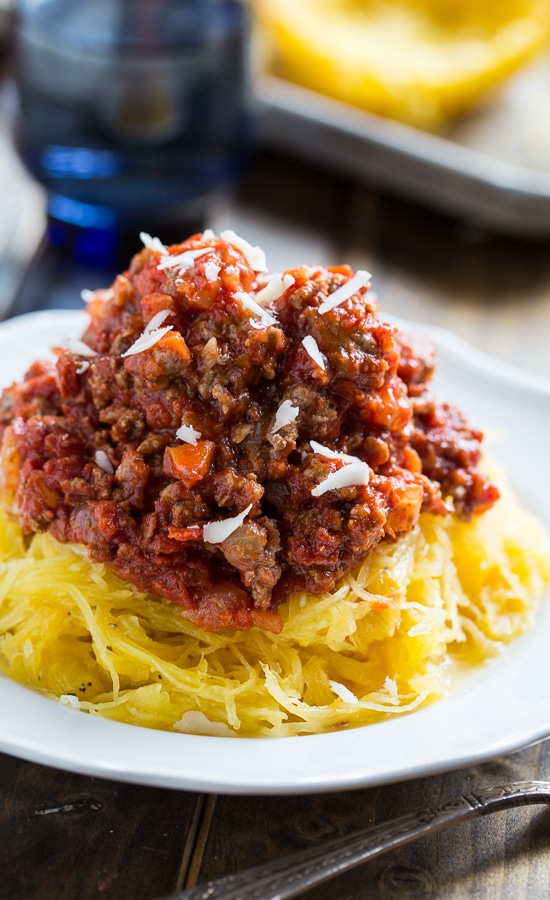 The sauce is super thick and made from lean ground turkey meat to keep the calories and fat low. To make this recipe as low fat as possible be sure to use ground turkey that is made from all or mostly white meat.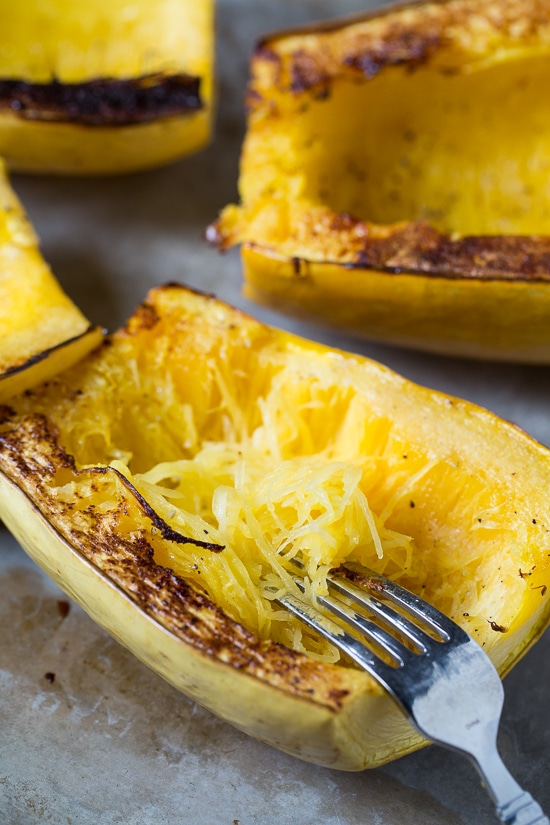 Go heavy on the red pepper flakes if you like. Who knows? It may speed up your metabolism.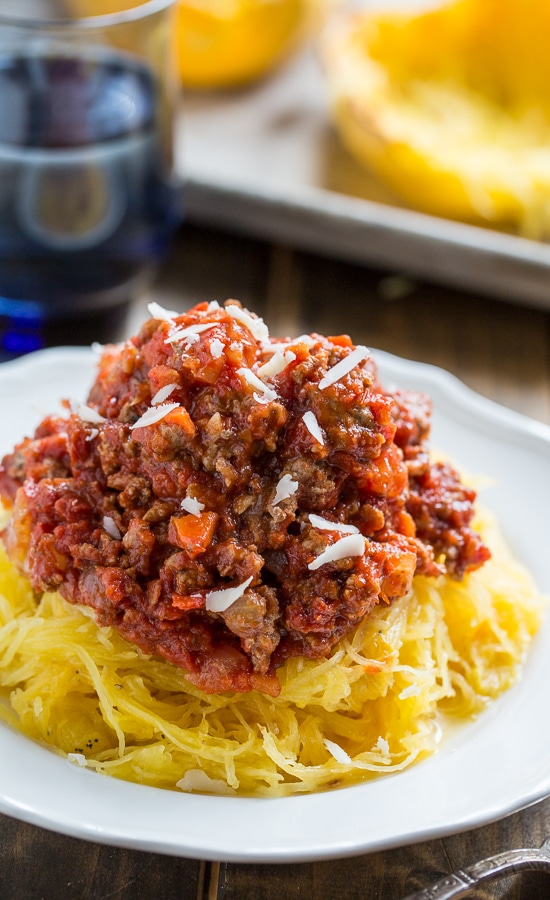 Substituting spaghetti squash for pasta really works for me because I'm partial to the sauce part of a pasta dish. Whatever is underneath the sauce is just something to eat it with. Because I would feel like a weirdo if I just ate a bowl of sauce.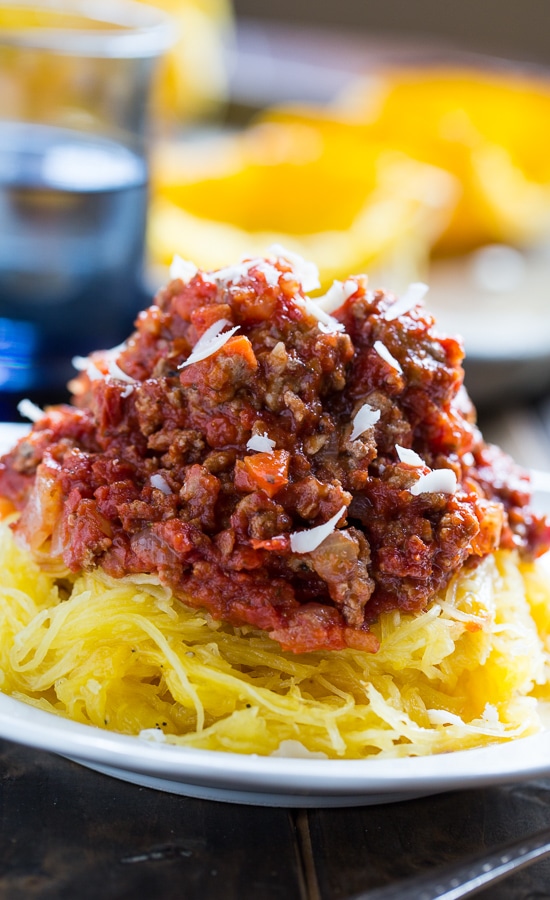 If you've never tried spaghetti squash as a sub for pasta, you really should. It's very healthy and really quite delicious.
Plus, it is so much fun to run a fork across a cooked spaghetti squash and watch all those hundreds of threads separate. Spaghetti squash gets my vote for coolest vegetable ever. 🙂
For another low carb meal, try these zucchini noodles.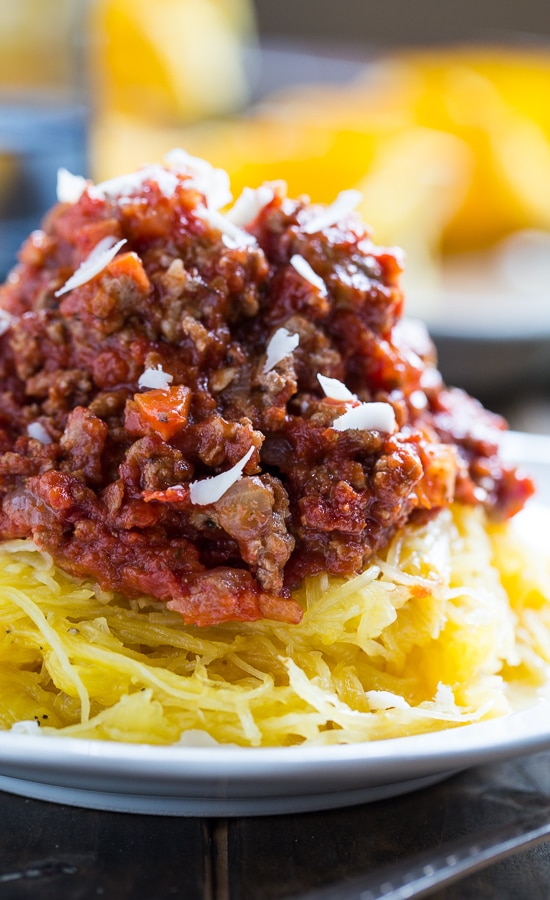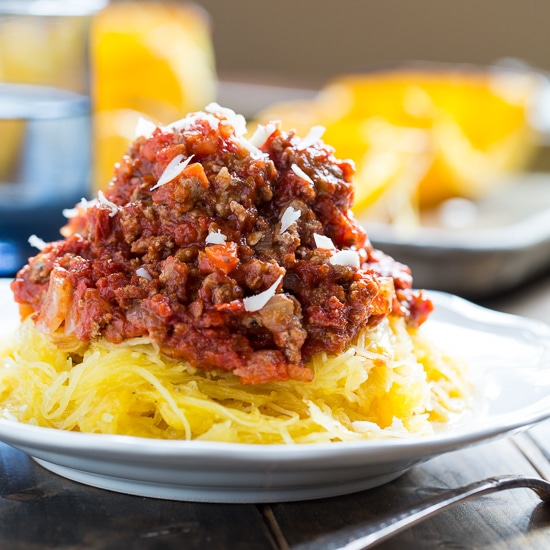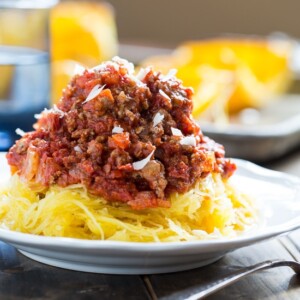 Spaghetti Squash with Spicy Meat Sauce
Spaghetti Squash topped with a spicy meat sauce made from ground turkey is a healthy, flavorful, gluten free and low carb meal.
Ingredients
1

large spaghetti squash or two smaller

1 1/2

tablespoons

olive oil,

divided

1

medium sweet onion,

diced

1

carrot,

peeled and finely diced

2

garlic cloves,

minced

1

pound

ground turkey breast

1

tablespoon

tomato paste

1 28-

ounce

can crushed tomatoes

2

teaspoons

Italian seasoning

1/2

teaspoon

crushed red pepper

salt and pepper

freshly grated Parmesan cheese
Instructions
Heat oven to 400 degrees. Slice spaghetti squash in half lengthwise and scrape out the seeds. Rub 1/2 tablespoon olive oil onto the cut side of squash and season with salt and pepper. Place cut side down on a large, rimmed baking sheet and cook for 45 to 60 minutes, until tender all the way through.

Heat 1 tablespoon olive oil in a large nonstick skillet over medium heat. Add onion and carrot and cook for 2 minutes. Add turkey and garlic and cook until turkey is cooked through, breaking into pieces with a wooden spoon. Season with salt and pepper and add Italian seasoning.

Add tomato paste and crushed tomatoes and stir well to combine everything. Reduce heat and simmer 5-10 minutes. Add red pepper flakes and more salt and pepper if necessary.

Scrape out insides of spaghetti squash with a fork. Serve topped with meat sauce and Parmesan cheese.
Notes
Cook the spaghetti squash until tender, but careful not to overcook. It will get mushy.
Want to Save This Recipe?
 For more Healthy Recipes FOLLOW Spicy Southern Kitchen's Healthy Recipes Board on Pinterest
Follow Spicy Southern Kitchen| Christin Mahrlig's board Healthy Recipes on Pinterest.