This rich Shrimp Etouffee made with a dark, flavorful roux with a little spice and served over rice will bring a tasty piece of The Big Easy into your kitchen. The roux takes some time and patience to perfect but besides that Shrimp Etouffee is an easy meal and is perfect for serving a family.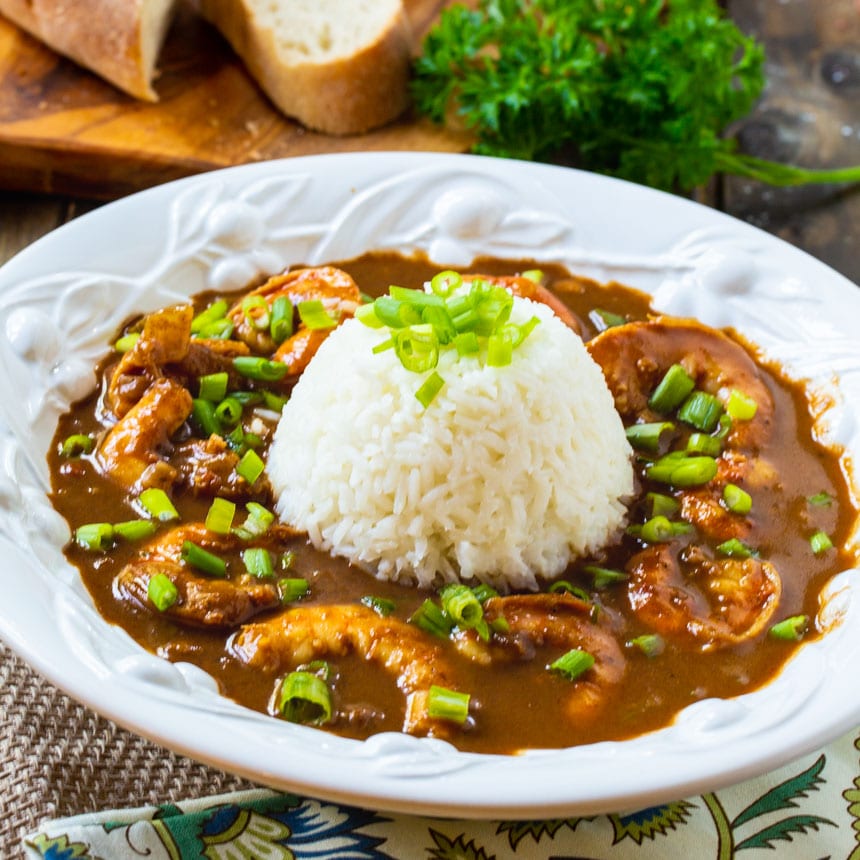 Etouffee, which means "smothered" in french, is a sort of stew that typically consists of a roux, the Holy Trinity (onion, celery, and bell pepper), some garlic, hot sauce, and either shrimp, crawfish, or chicken. I like to add some diced tomatoes to mine, but many etouffee recipes do not have tomato.
The key to a good etouffee is the roux. Some people like it with a light roux, but I like the full flavor and richness of a dark roux. Unfortunately a dark roux takes much longer to make. You want to cook it long and slow over medium heat until it turns the color of milk chocolate.
Cook it over too high a heat or neglect to stir enough, and the roux will burn, and not only will you have to start over, but you will have a truly awful smell in your kitchen. Done that.
But to learn to cook a roux, unless you have a grandmother standing over your shoulder giving you guidance, you're bound to burn a roux or two. It's just part of the learning process. You really have to learn to sense with your eyes and your nose whether the roux is coming along at the right rate.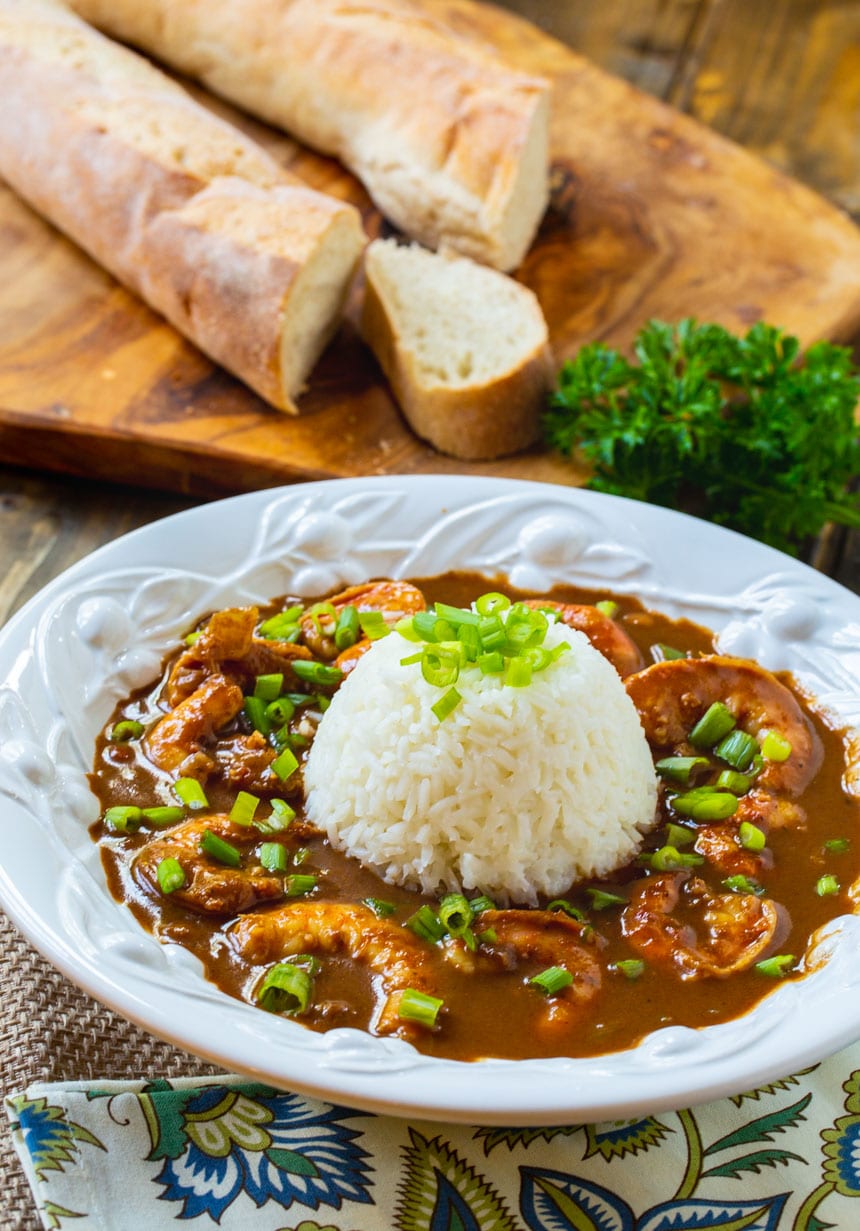 And whatever you do, DO NOT STOP STIRRING. Not even for a few seconds. You must stir continuously for at least 20 minutes. Not exactly my idea of fun. But worth it.
Not a leisurely stir either, really keep that mixture moving and make sure you're using a whisk or wooden spoon that can really get to the edge of the pan. But careful not to splash the hot oil up on yourself!
When you are judging color, keep in mind that the roux will darken up when you add the veggies. Immediately turn the heat to low when you add them and stir well. Yes, your arm is getting a workout. There will be lots of hissing and spitting. From the vegetables coming in contact with the roux. Hopefully not from you. Don't let this alarm you. They will quiet down shortly.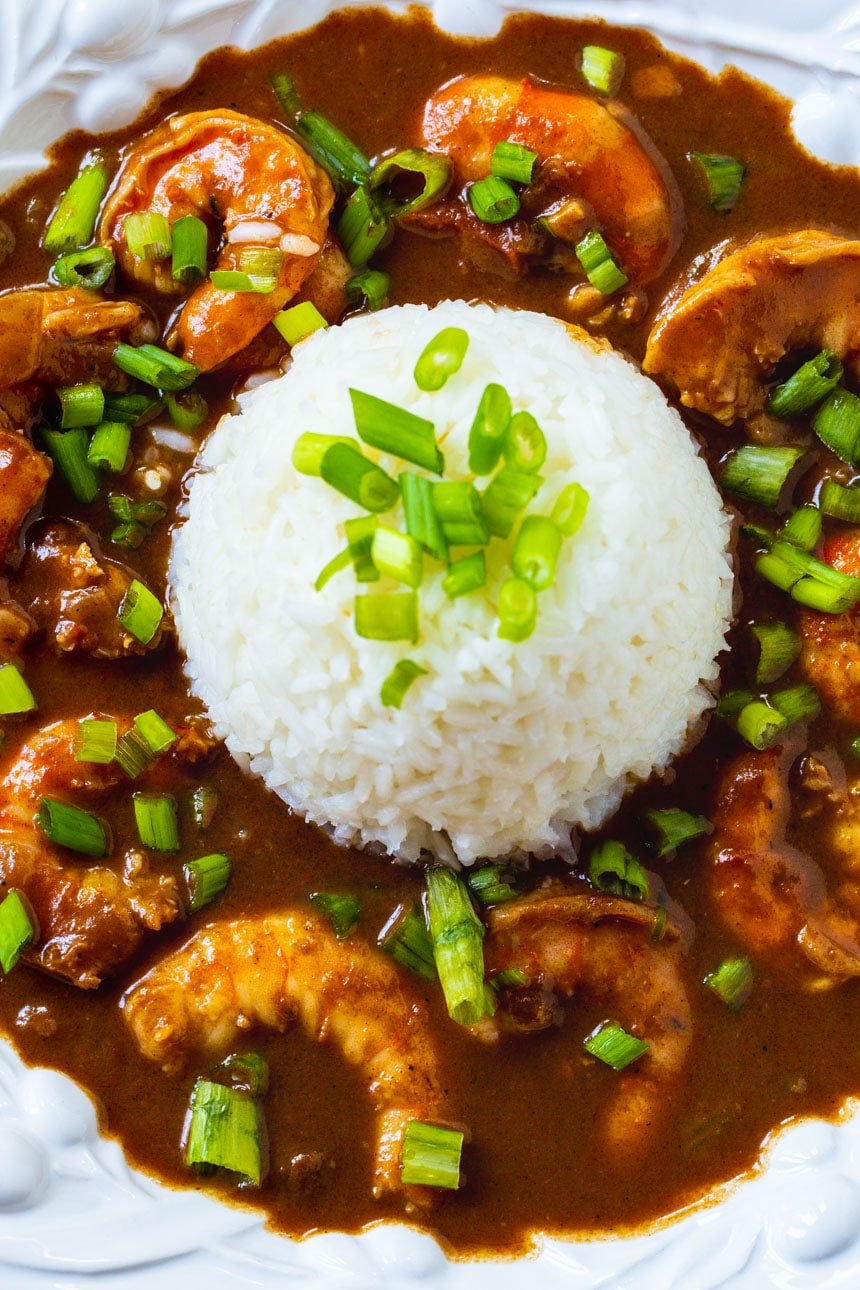 And one more thing. The pan or pot you use for cooking a roux is very important. It doesn't really matter so much the shape or size or even the material so long as the bottom is very heavy. Use a pot with a thin bottom and it will be very difficult to not burn the roux. A cast iron pot or pan is perfect. I personally like using a Dutch Oven like the Lodge Pre-Seasoned Cast-Iron Dutch Oven
  or the Lodge Color Enameled Cast Iron Dutch Oven
. Both are very versatile, reasonably priced pots that you will get a lot of use out of. I even do my deep frying in a Dutch Oven. Plus they will out live you in the kitchen.
It takes some patience, but learn to cook a roux and you will have a taste of New Orleans right in your kitchen.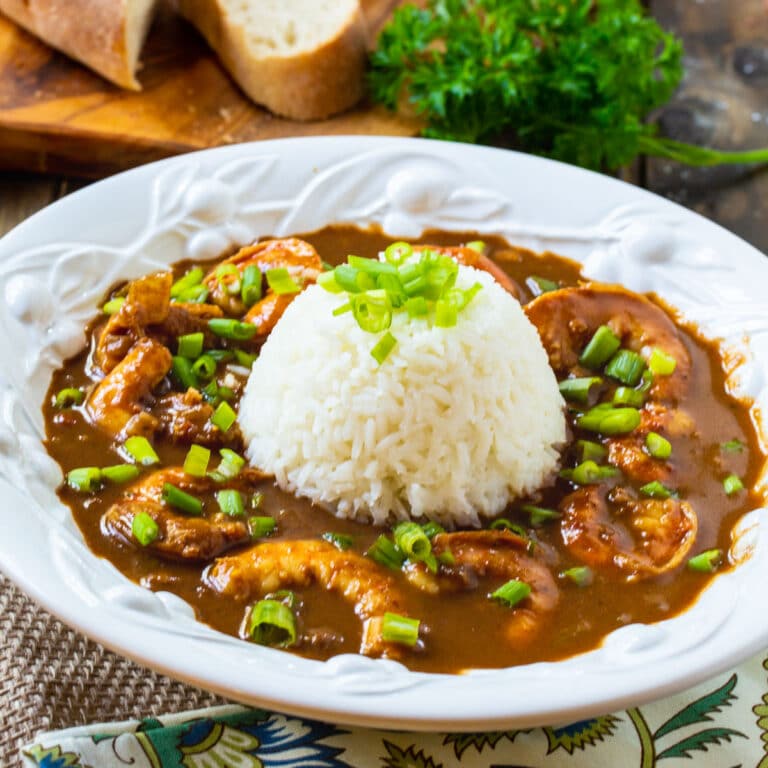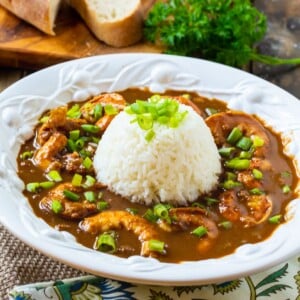 Shrimp Etouffee
A rich and flavorful Shrimp Etouffee made with a dark roux will bring a little taste of New Orleans to your kitchen.
Ingredients
1/2

cup

Vegetable oil

1/2

cup

all-purpose flour

1 1/2

cups

diced onion

1/2

cup

diced green bell pepper

1/2

cup

diced celery

2

large garlic cloves,

minced

1

(8-ounce)

jar clam juice

1

(14-ounce)

can diced tomatoes,

undrained

1 1/2

teaspoons

Cajun seasoning

1

teaspoon

Worcestershire sauce

1/2

teaspoon

black pepper

1/2

teaspoon

cayenne pepper

1/2

teaspoon

salt

1/4

teaspoon

white pepper

1/4

teaspoon

dried thyme

1/4

teaspoon

Tabasco sauce

2

pounds

shrimp,

peeled and deveined

2

tablespoons

butter

green onions,

sliced

white rice for serving
Instructions
To make a roux, whisk together oil and flour in a large heavy saucepan (cast iron is perfect, but any heavy-bottomed pot or pan will do) over medium to medium-low heat. Once combined, it is easier to use a wooden spoon to stir. Stir continuously for at least 20 minutes, until mixture turns a dark caramel color. It should darken very slowly. If it darkens too fast, turn down the heat. The roux will burn if the heat is too high or you don't stir continuously. Be sure to really stir all the way up to the edges of the pot. You don't want any of the mixture to stay in one spot for too long.

Turn heat to low and add onion, green pepper, and celery to roux. It will start to sizzle loudly and darken some in color. Cook 5 minutes, or until vegetables are soft.

Add garlic and cook 30 seconds.

Add clam juice, tomatoes, Cajun seasoning, Worcestershire sauce, black, white, and cayenne pepper, salt, thyme, and Tabasco. Bring to a boil and simmer 15 minutes.

Add shrimp and cook 2 to 3 minutes. Turn heat off and add butter. Stir to mix it in.

Serve with green onions and white rice and additional hot sauce.
Notes
I keep things simple and use a bottle of clam juice, but you could boil your shrimp peels and make a shrimp stock instead.
Be sure to use a heavy-bottomed pan or pot for making the roux. Cast iron works perfectly.
Want to Save This Recipe?
Originally published September 7, 2104.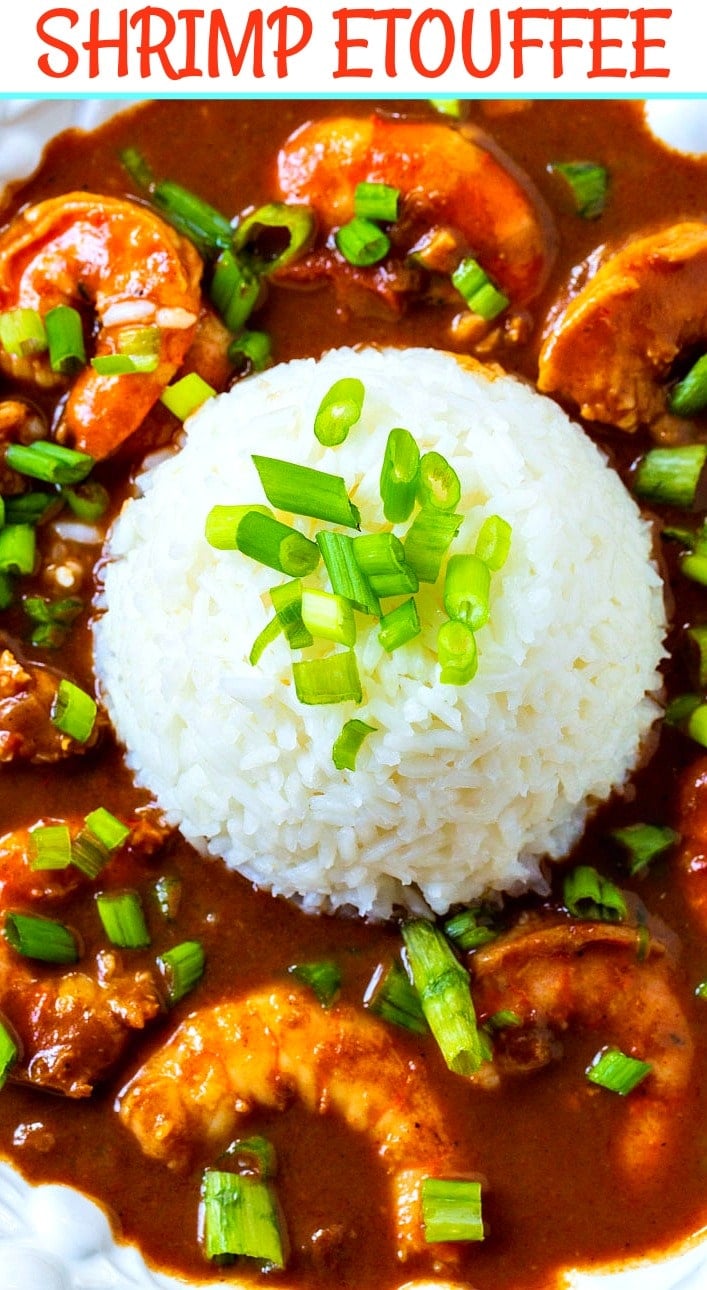 Disclosure: This post contains affiliate links.