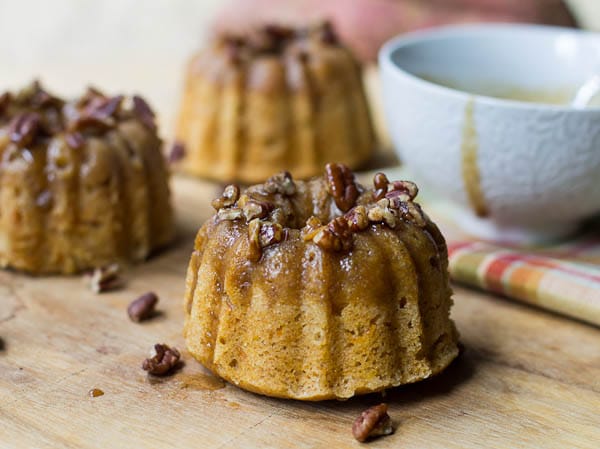 These individual-sized bundt cakes are perfect treats for fall. They consist of sweet potatoes, rum-soaked golden raisins, wonderful fall spices, toasted pecans, and a rum-spiked glaze that makes an already moist cake, even moister.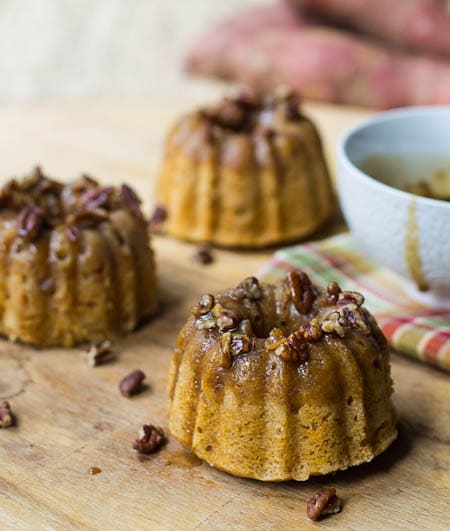 The original recipe calls for roasted pureed sweet potatoes, but I just baked some sweet potatoes, removed the skin, and mashed them really well with a fork. Super easy. Bake your sweet potatoes in a 350º oven for at least an hour, until very, very soft. Be sure to bake them on a baking sheet because they tend to ooze as they bake and will make a mess on the bottom of your oven. The vegetable oil and sweet potato puree keep the cakes extremely moist. I love the individual portion sizes that you can achieve by using mini Bundt pans. I used Nordic Ware Platinum Anniversary Bundtlette Pan
. Nordic Ware makes very high quality pans that will last forever and if you grease them properly, you won't have any sticking problems. You could also bake one large bundt cake, just adjust the cooking time.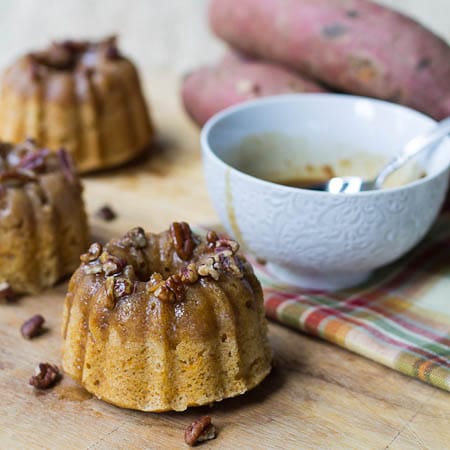 I decreased the amount of raisins and chopped them into bitty pieces. I'm not a huge raisin fan! I actually like their flavor more than their texture, so cutting them into pieces to more evenly distribute them was a good compromise. These cakes are wonderful on their own, overflowing with fall flavors, but a dollop of whipped cream on top would be super delicious!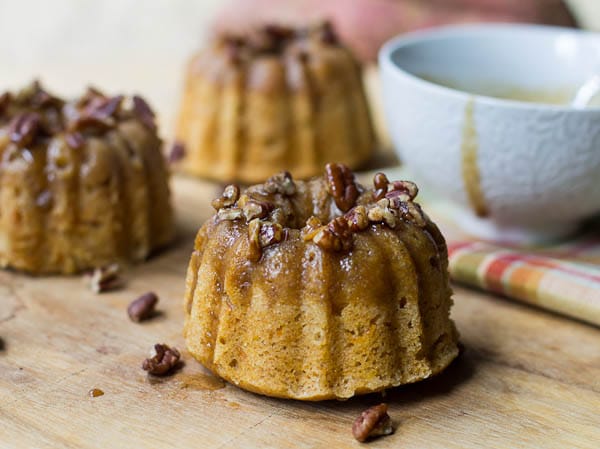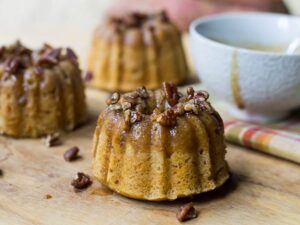 Rum-Glazed Sweet Potato Cakes
Ingredients
½

cup

golden raisins

1/3

cup

dark rum

4

large eggs,

at room temperature

2

cups

granulated sugar

1

cup

vegetable oil

2

teaspoons

vanilla extract

2

cups

mashed,

baked sweet potatoes

3

cups

all-purpose flour

1 ½

teaspoons

ground cinnamon

1

teaspoon

baking powder

1

teaspoon

baking soda

½

teaspoon

kosher salt

½

teaspoon

ground nutmeg

¼

teaspoon

allspice

¾

cup

buttermilk

½

cup

firmly packed dark brown sugar

¼

cup

butter

3

tablespoons

whipping cream

¾

cup

finely chopped toasted pecans
Instructions
Combine raisins and rum in a small bowl and let sit 30 minutes.

Using an electric mixer, beat eggs and granulated sugar at high-speed until thick and pale, about 2 to 4 minutes. Add oil and vanilla and beat just until blended. Add mashed sweet potatoes and beat just until blended, scraping down sides of bowl as needed.

Preheat oven to 350 degrees.

Place flour, cinnamon, baking powder, baking soda, salt, nutmeg, and allspice into a medium bowl and whisk together. With mixer on low speed, add flour mixture to egg mixture, alternating with buttermilk, beginning and ending with flour mixture.

Drain raisins and reserve rum. Fold raisins into batter.

Spoon batter into lightly greased mini-Bundt pans. (I used the ones that make 6 cakes per pan. You will have enough batter for at least 3 pans worth. If you only have one pan, you can cook the cakes in 3 batches. Let the pan cool before batches.) Fill just over ¾ of the way full.

Bake for 13 to 15 minutes, or until firm to the touch on top. Cool in pans set on wired racks for 5 minutes. Spray wire racks lightly with cooking spray before inverting cakes onto racks to finish cooling.

While cakes bake, bring dark brown sugar, butter, and whipping cream to a boil in a small heavy-bottomed saucepan. Boil for 3 minutes, stirring constantly. Once mixture becomes syrup-like consistency, remove from heat and stir in reserved rum.

Use a wooden pick to poke holes in tops of cakes. Dip tops of cakes into glaze, letting them soak up the glaze for a few seconds. Turn right side up and sprinkle with pecans.

Serve warm or at room temperature.
Want to Save This Recipe?
Recipe Source: adapted from Southern Living More Sweet Potato Recipes Butterfinger Sweet Potato Bread Sweet Potato Pound Cake with Marshmallow Crème Frosting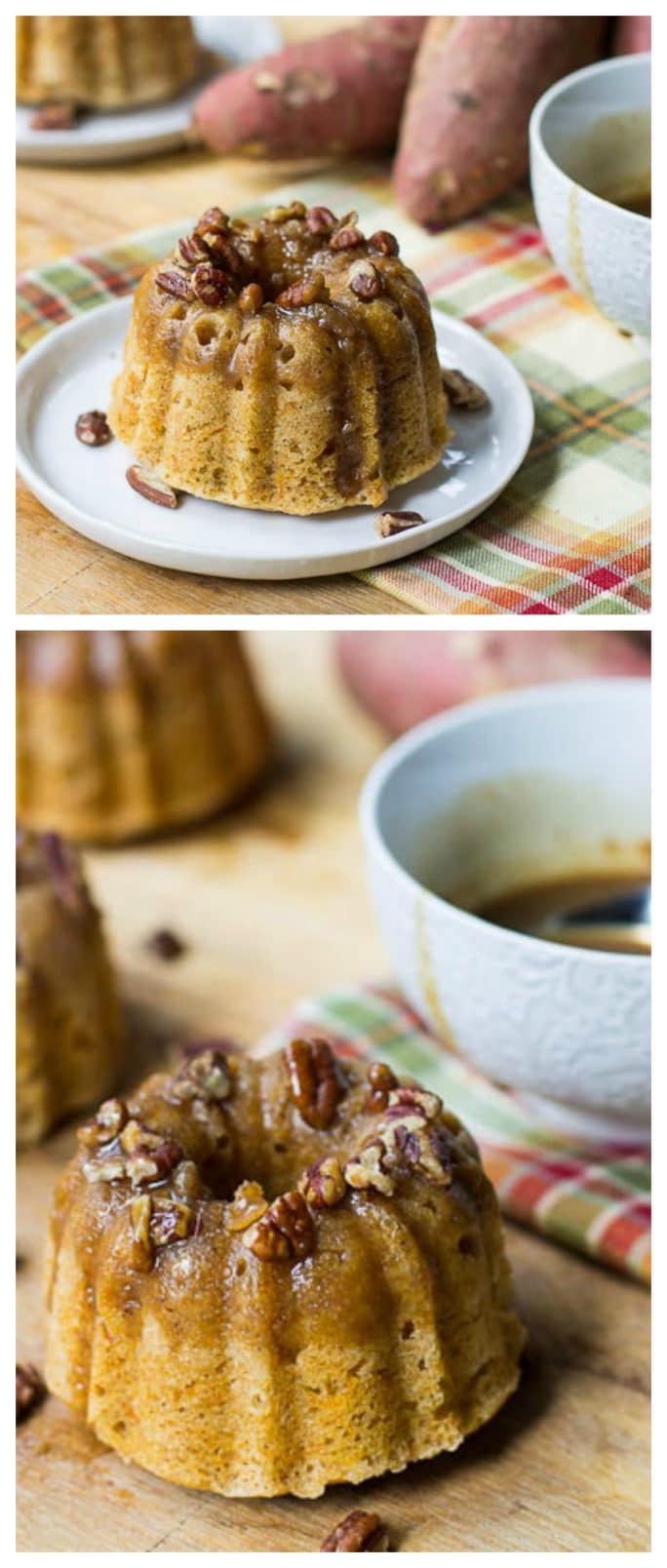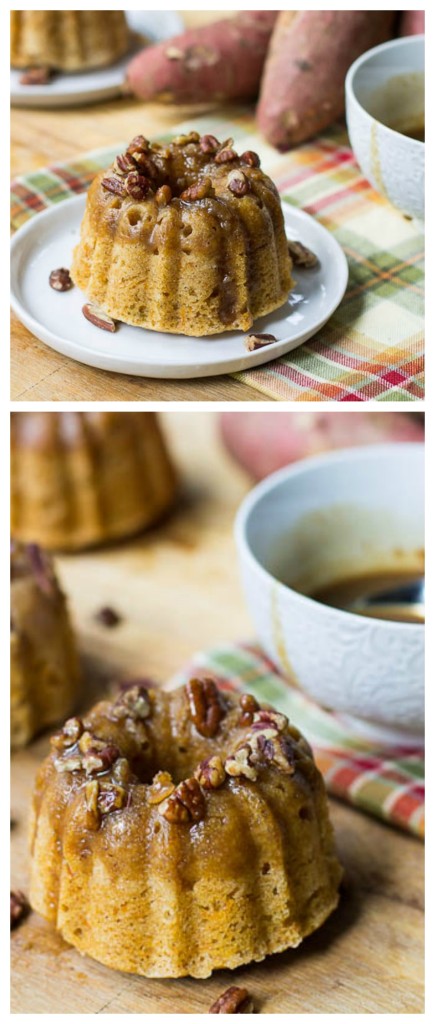 Disclosure: Spicy Southern Kitchen is an amazon.com affiliate.