Quick and easy Reuben Crescent Rolls are super fun to make and eat. They are stuffed with corned beef, swiss cheese, sauerkraut, and drizzled with Thousand Island dressing for a twist on the classic deli sandwich. They are great for serving either as an appetizer or as a snack.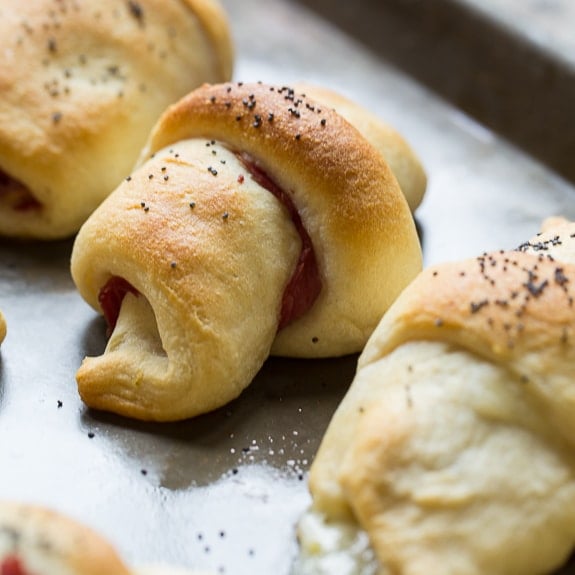 A Reuben would not be a Reuben without kraut (although I think coleslaw totally passes on a turkey reuben).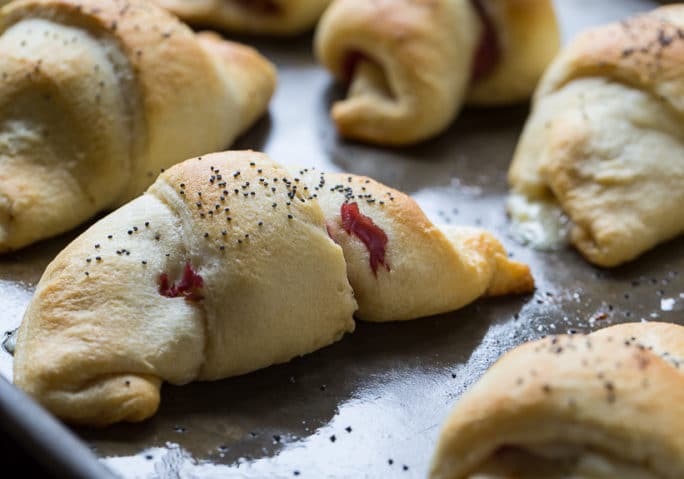 Recently I got to try some really amazing kraut which was very exciting to me because the kraut options at my regular grocery store are very limited.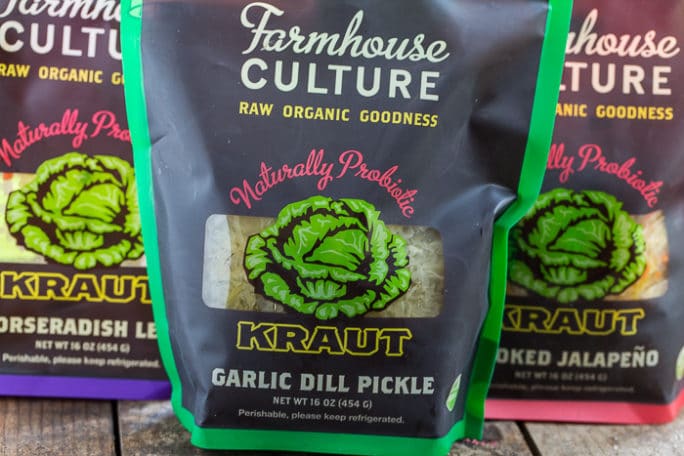 Farmhouse Culture claims to "make the Best Darn Kraut on the planet by infusing regional organic ingredients with wildly imaginative flavor profiles." I can't attest to whether it is the best kraut on the planet but it is for sure the best I've ever tasted. The kraut comes in amazing flavors: Classic Caraway, Smoked Jalapeno, Horseradish Leek, Garlic Dill Pickle, and Ginger Beet. They also make a Wasabi Ginger Kimchi.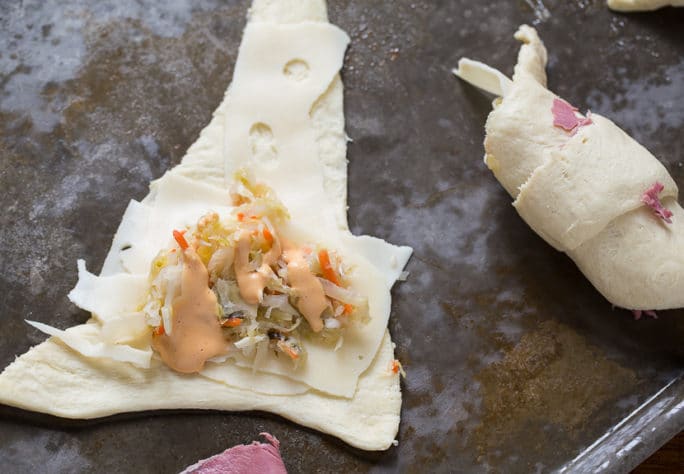 I absolutely love the flavor combinations and I had no idea there was even such a thing as flavored kraut. Creativity, when it comes to food or pretty much anything, always sparks my interest.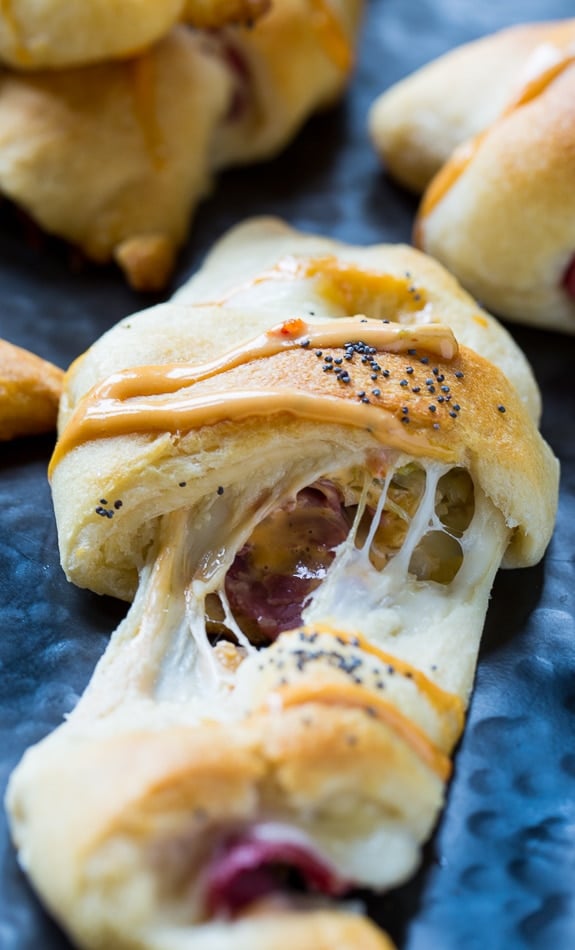 The Farmhouse Culture Kraut comes packaged in pouches instead of cans or jars. Farmhouse Culture Krauts aren't heated or pasteurized so they contain those awesome living probiotics. The pouches have a ferment-o-vent which allows the "living" kraut to breath, plus the pouch reduces their carbon footprint by 2/3rds.
You can find Farmhouse Krauts at Whole Foods in the refrigerated section and you can also check the Farmhouse Culture website to see where it is available in your location and learn more about this awesome kraut.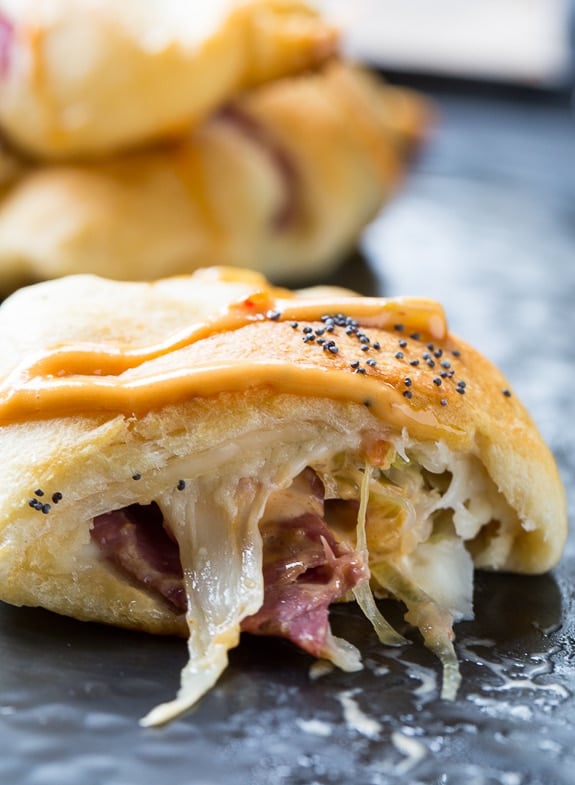 I went very traditional and used the Horseradish Leek flavor in this Reuben adaptation, but there are all kinds of things you can do with kraut. The Smoked Jalapeno Kraut is totally going in a burrito or quesadilla.
Not only does the Horseradish leek Kraut taste fresh and has a nice crunch, the leeks really add flavor and the horseradish gives it a little zing.
You'll love the taste of Reuben ingredients wrapped up in buttery crescent roll dough! Reuben Crescent Rolls make a fantastic snack or appetizer.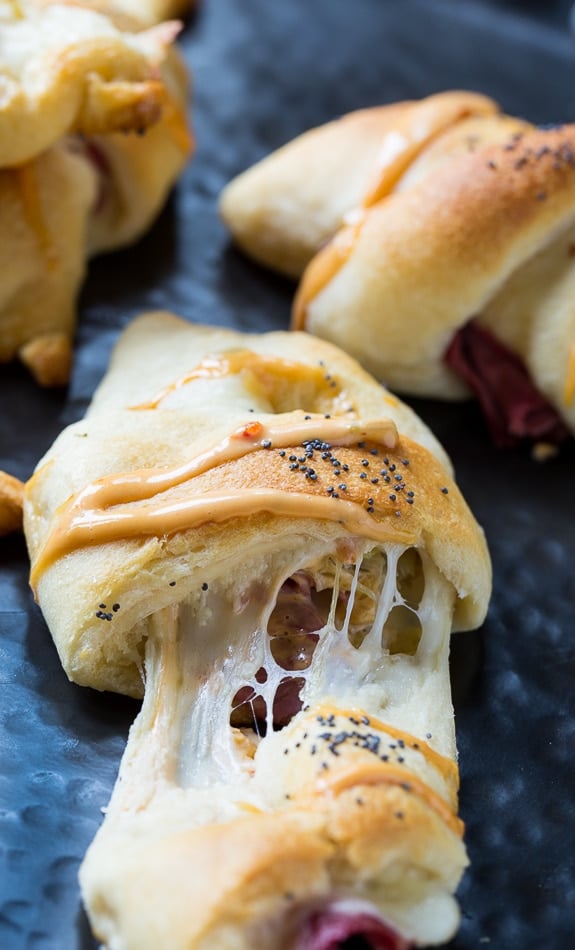 Never miss a recipe. Follow Spicy Southern Kitchen on Pinterest and Instagram.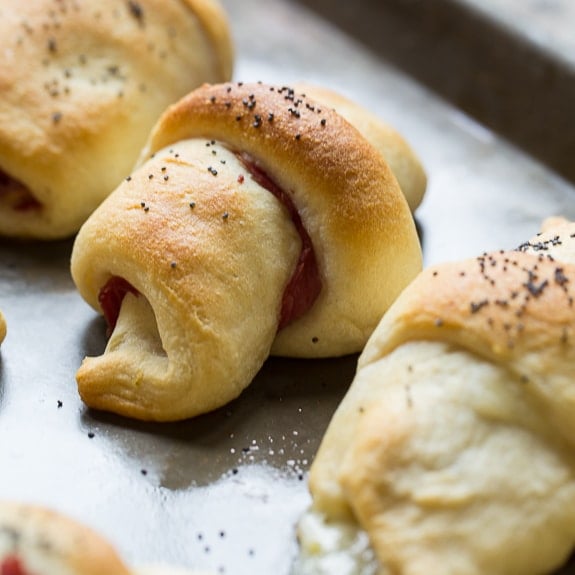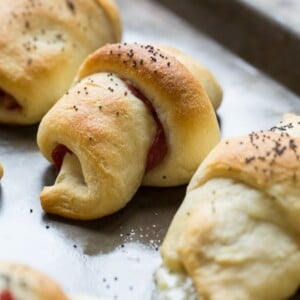 Reuben Crescents
Reuben Crescent Rolls are easy to make from refrigerated crescent roll dough. Stuffed with corned beef, swiss cheese, kraut, and Thousand Island dressing.
Ingredients
1

(8-count)

tube Grands Crescent rolls

8

thin slices corned beef

8

thin slices swiss cheese

2/3

cup

kraut squeezed dry in paper towels to remove all excess moisture

Thousand Island dressing

1

tablespoon

butter,

melted

1

teaspoon

poppy seeds
Instructions
Preheat oven to 375 degrees and lightly spray a

baking sheet

with cooking spray.

Separate the crescent roll dough into triangles. Tear a piece of corned beef into pieces and using half of it, shape it on top of dough, placing it mainly at wide end.

On top of the corned beef, do the same thing with the cheese.

Next place a spoonful of kraut and a drizzle of Thousand Island dressing. Layer remaining corned beef on top. Having the kraut, cheese, and dressing sandwiched between the corned beef will help keep the rolls from becoming soggy.

Starting at the wide end, roll the dough up. Place on baking sheet. Repeat for remaining 7 pieces of dough.

Brush tops with butter and sprinkle with poppy seeds.

Bake for about 12 minutes.

Serve immediately with extra dressing.
Notes
You will want to serve these immediately because they tend to get soggy over time.
Want to Save This Recipe?
 More Reuben Recipes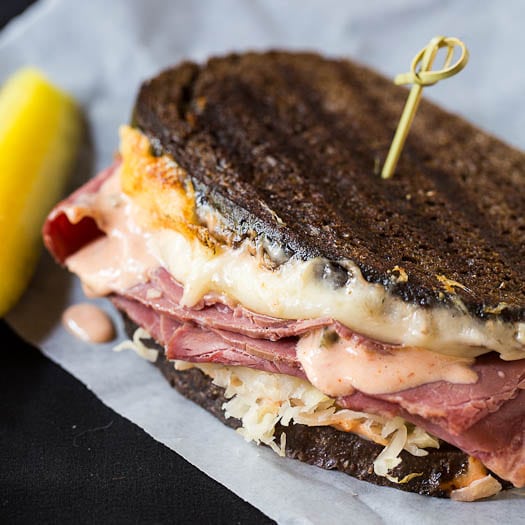 Spicy Reubens
Disclosure: I was sent coupons for the kraut but I was not compensated for this post. All opinions are mine.
This post contains affiliate links.