A patriotic Red, White, and Blue Fruit Salad tossed with a minty dressing is perfect for a 4th of July BBQ or any summer picnic.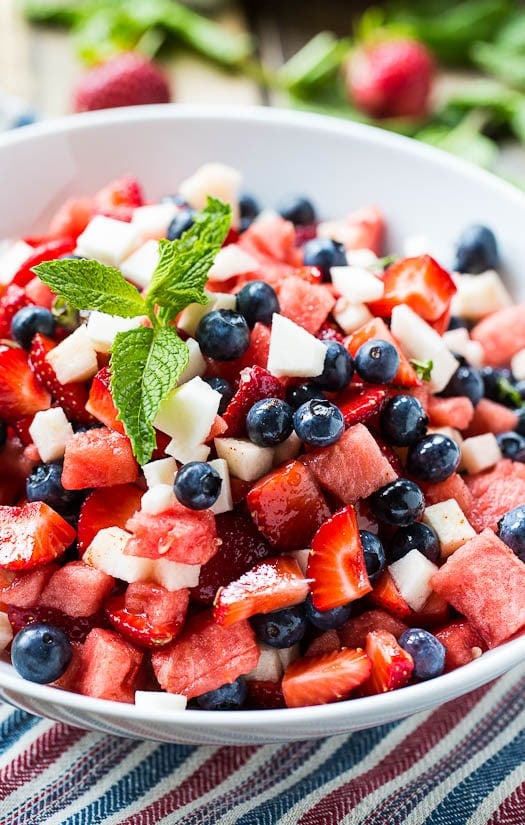 The 4th of July is always full of lots of good eats, but with the weather often well into the 90's, a cool, refreshing fruit salad to help you stay hydrated is almost a necessity.  I've used a combination of watermelon, strawberries (2 reds! I couldn't choose between them), blueberries, and jicama.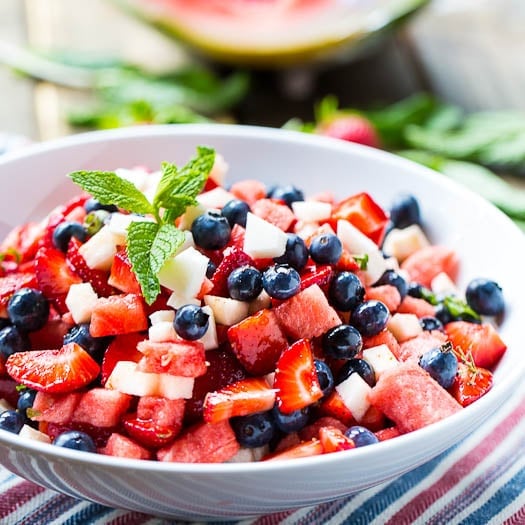 Jicama is a root vegetable native to Mexico that looks similar to a turnip. It's flavor is very mild, with just a hint of sweetness and its texture is very crisp, almost like an apple. These days you can find it at most well stocked grocery stores, or at least that has been my experience. Although the selection is sometimes sub par.
Jicama should be firm and not at all shriveled. Use a vegetable peeler to remove the thick outer skin. Sometimes a knife is easier. Cut it into thin strips and then small cubes. Store whole jicama the same way you would potatoes, in a cool, dark place.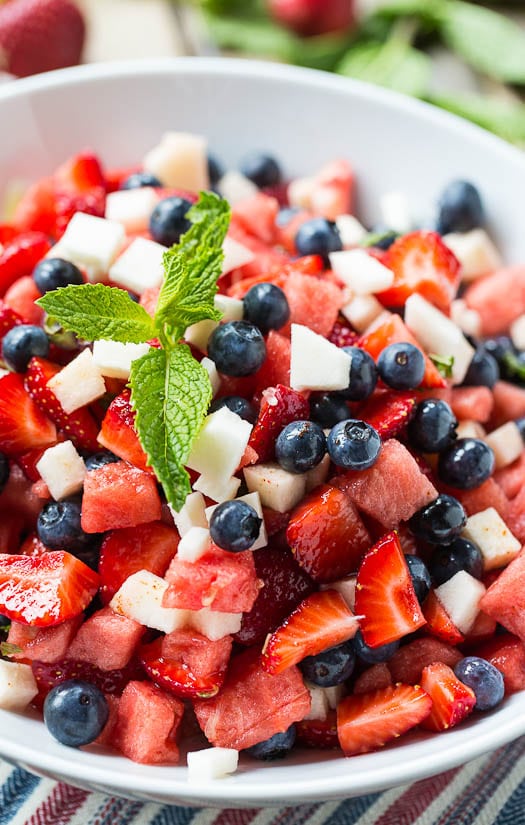 You can substitute apple or banana for the jicama if you wish. If you use banana I would add them into the salad as close to serving as possible . They will brown some and get mushy after a while.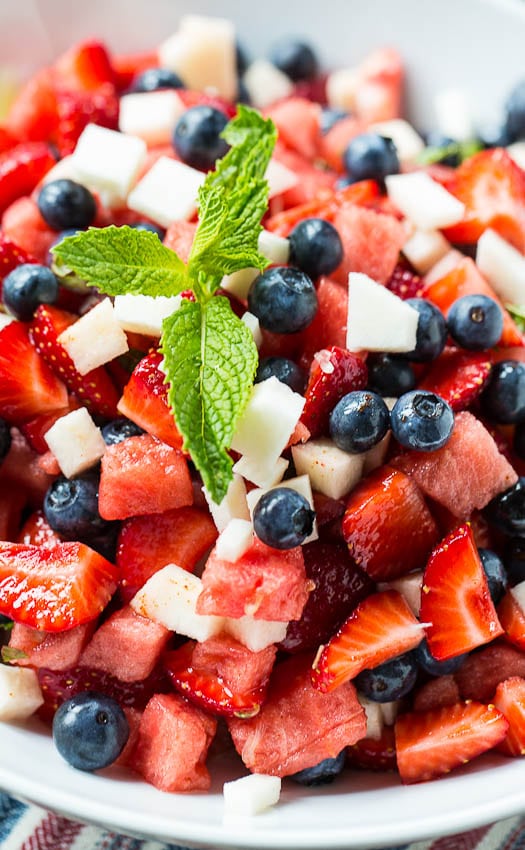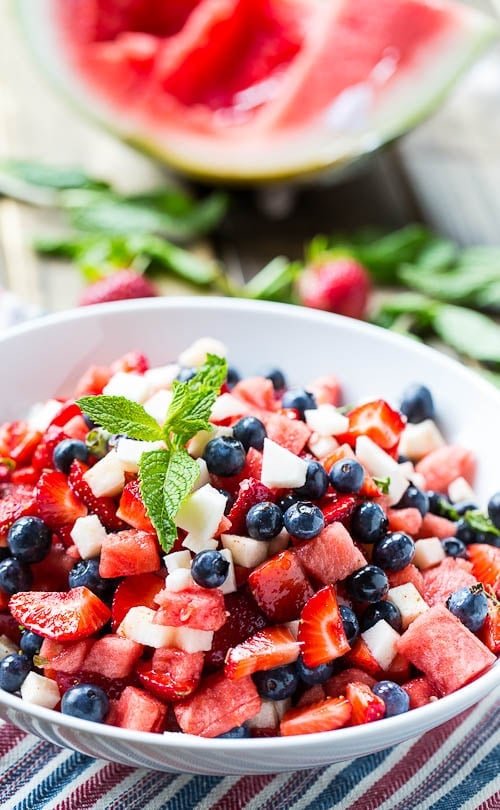 I toss the sliced strawberries with the sugar ahead of time to heighten their sweetness some. The rest of the fruit tastes plenty sweet to me already. You could just add the sugar to the overall fruit salad instead. A light dressing of honey, lime juice, and mint is added to heighten and compliment the flavors of the fruit. The amount of dressing I add is very small. If you want it to be more pronounced, try doubling the amount. I also add just a touch of chipotle chili powder. It's not enough that you can really pick up on the taste, but I think it heightens the flavor a little. If you're adventurous, try adding a little more. Heat from some spice can be a nice contrast to the sweetness of fruit.
To serve a crowd, double or triple the recipe.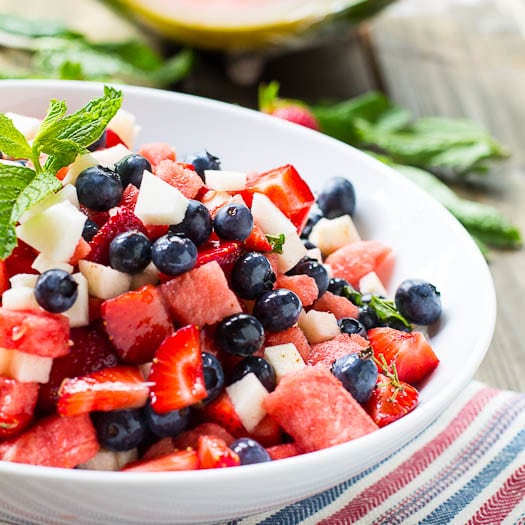 Red, White, and Blue is a festive, fun, and healthy way to balance those burgers and hot dogs. One bite and you'll be eager for more.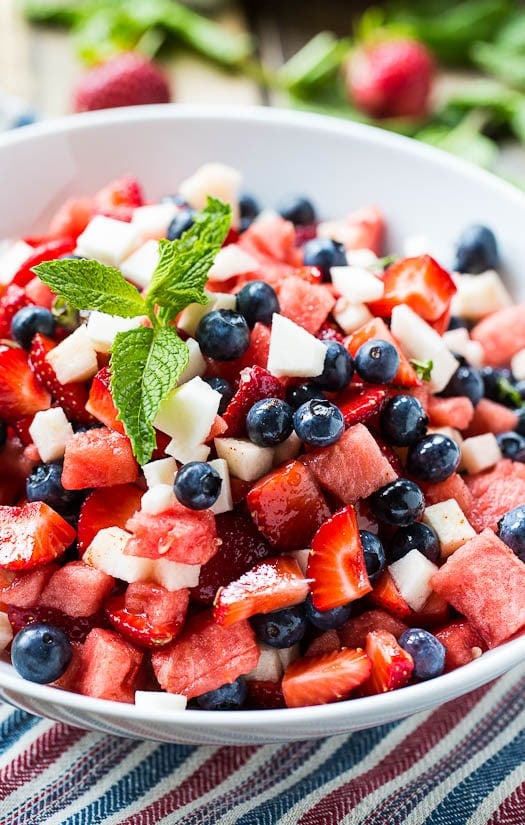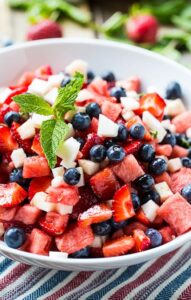 Red, White, and Blue Fruit Salad
A light and refreshing Red, White, and Blue Fruit Salad tossed with a minty honey-lime dressing.
Ingredients
4

cups

sliced strawberries

1

tablespoon

sugar

2

cups

blueberries

2

cups

diced watermelon

1

cup

diced jicama

1 1/2

tablespoons

lime juice

1 1/2

tablespoons

honey

1

tablespoon

minced mint

1/8

teaspoon

chipotle chili powder,

optional
Instructions
Place strawberries in a large bowl and sprinkle with sugar. Toss to coat.

Add blueberries, watermelon, and jicama.

In a small bowl ,stir together lime juice, honey, mint, and chili powder. Pour over fruit and toss to coat.
Want to Save This Recipe?
Disclosure: This post may contain affiliate links.