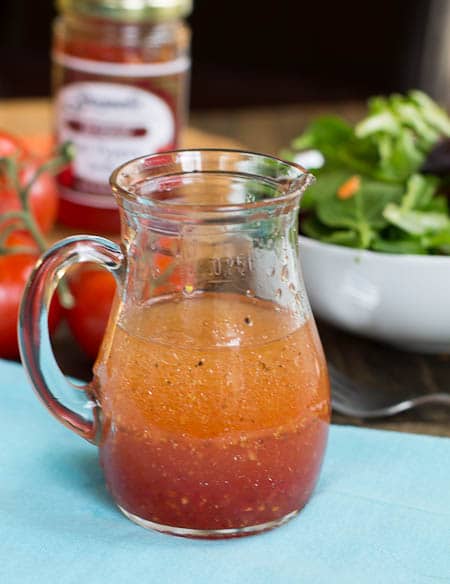 If red pepper jelly is a condiment you've never tried, I suggest you get a jar right away. It's one of the most versatile and under-utilized condiments out there. It works well in marinades, as a sandwich condiment, and in salad dressings.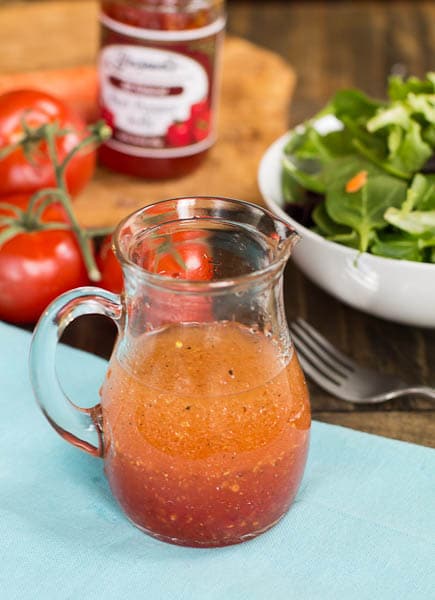 If you're not currently in the habit of making homemade salad dressings, you will be after making this one. The flavor is the perfect mixture of sweet and spicy and it couldn't be easier to make. Plus it will keep for days in your refrigerator.
The flavor of homemade dressings is so much fresher, without those horrible preservative aftertastes so many bottled dressings have. Just a few simple ingredients is all it takes to make a great tasting dressing. Have you taken a look at all the ingredients in some of those fat-free dressings? Scary Stuff.
I've adapted this Red Pepper Jelly Vinaigrette recipe from Southern Living, cutting down on the amount of oil. I like a salad dressing that's a little heavy on vinegar. That way I use a lot less of it because of the strong flavor. And when you factor in that there are fewer calories per tablespoon because you are using less oil, it's a double win.
It may take some getting use to if you are used to oil-heavy dressings, but give it a try. It's an excellent way to keep your calories low when consuming salad. Because that's probably the reason you're eating salad in the first place. Right?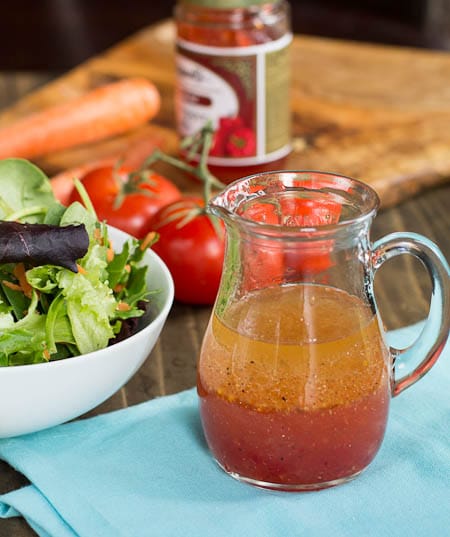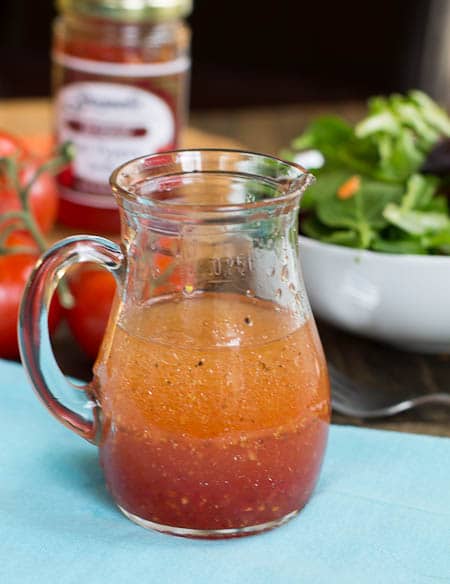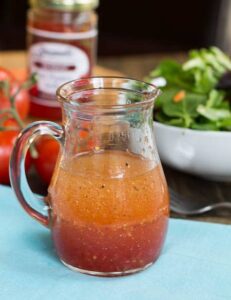 Red Pepper Jelly Vinaigrette
This sweet and spicy vinaigrette made from red pepper will brighten up the flavor of any green salad.
Ingredients
⅓

cup

red wine vinegar

¼

cup

olive oil or vegetable oil

3

tablespoons

red pepper jelly

1

small shallot

(1-2 tablespoons), minced

1

teaspoon

stone ground mustard

¼

teaspoon

salt

¼

teaspoon

fresh ground black pepper
Instructions
Place all ingredients in a medium bowl and whisk well.
Want to Save This Recipe?