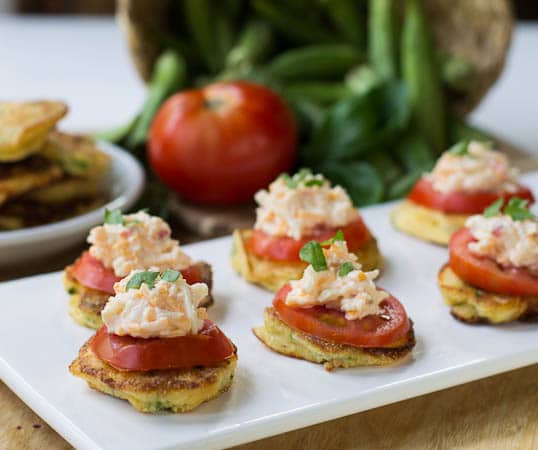 A summer in the south cannot pass by without cooking up some okra. These savory pancakes studded with pieces of okra, topped with gorgeous fresh tomato, and a spoonful of pimiento cheese, are the perfect garden party appetizer. They're pretty good all by themselves too.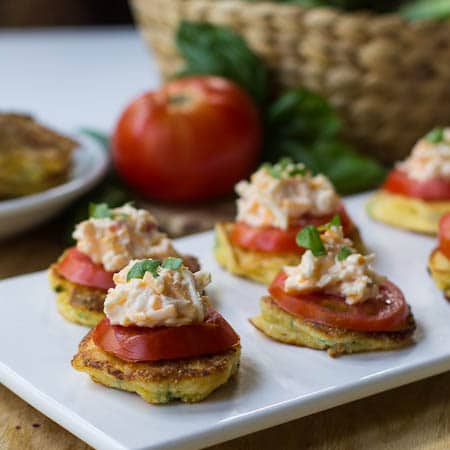 Actually, I think I like them served hot from the pan best, but this presentation is too good to pass up. They look so pretty topped with fresh mater and pimiento cheese.
If you're not a fan of okra due to its slimy nature, go ahead and give these a try. They really don't have much of a slimy quality. The okra gives just a slight , but wonderful sweetness to the pancakes. Slice the okra thinly, no bigger than ¼- inch so it won't taste raw and crunchy.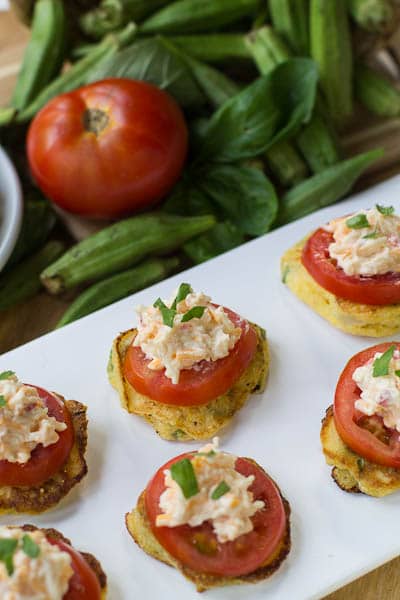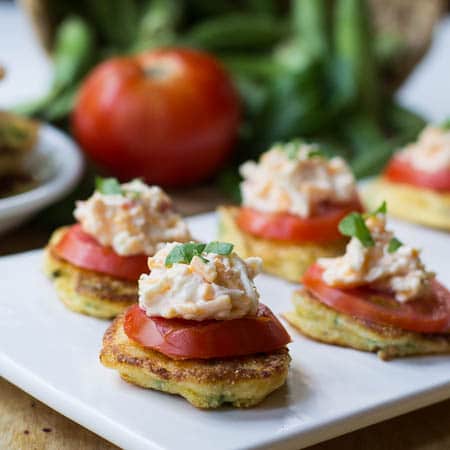 Okra Pancakes with Pimiento Cheese
¾ cup yellow cornmeal
¼ cup all-purpose flour
1 teaspoon baking powder
½ teaspoon kosher salt
¼ teaspoon freshly ground black pepper
½ teaspoon garlic powder
1/8 teaspoon cayenne pepper
2 eggs, lightly beaten
1 cup buttermilk
1 tablespoon minced jalapeno
¼ cup minced Vidalia onion
2 cups thinly sliced okra
3 tablespoons canola oil, divided
4 small tomatoes, thinly sliced and placed on paper towels to remove excess moisture
1 cup pimiento cheese ( packaged or homemade)
2 tablespoons slivered fresh basil
In a medium bowl, whisk together the cornmeal, flour, baking powder, salt, pepper, garlic powder, and cayenne pepper.
In a large bowl, whisk together eggs and buttermilk. Add jalapeno, onion, and okra to buttermilk mixture and stir to combine.
Add cornmeal mixture and lightly stir to combine.
Heat 1 ½ tablespoons canola oil in a large nonstick skillet. Working in 2 batches, pour batter to form 2-3-inch pancakes. Cook until golden brown on both sides, about 1 ½ minutes per side. Drain on paper towels and use remaining oil to fry second half of batter. Season with a little additional salt if desired while pancakes are still warm.
To serve, top each pancake with a tomato slice, a spoonful of pimiento cheese, and garnish with basil.
Yield: 18-20 2 to 3-inch pancakes