Light and luscious lemon pudding cakes with a sponge-like cake layer on top and pudding layer underneath. A tart, but sweet dessert perfect for summer.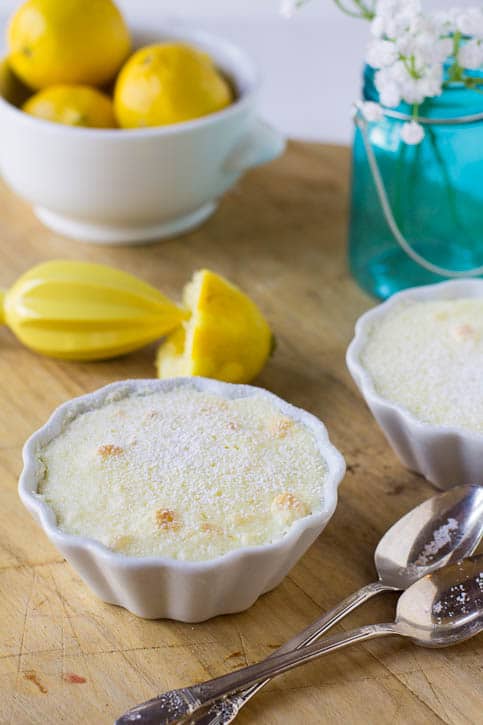 Lemon desserts are always light and refreshing and perfect for warm weather. Plus, it's difficult to look at the cheery yellow color of lemons and not have your mood elevated. These Lemon Pudding Cakes are creamy, dreamy, and easy to make.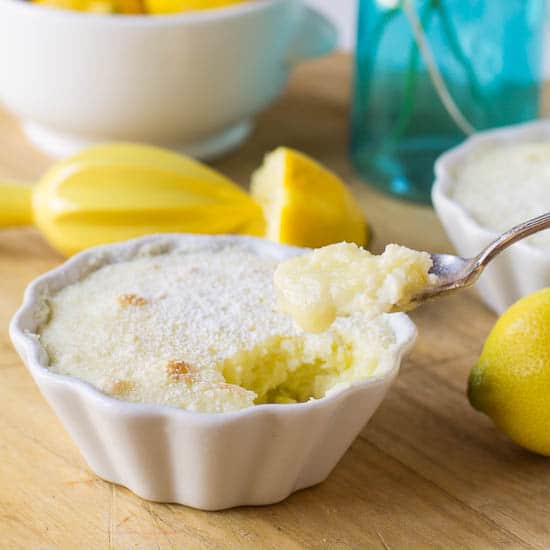 A high proportion of liquid ingredients to dry ingredients results in a magnificent texture separation during baking. The top half has the texture of sponge cake, while hidden beneath is an intensely lemony pudding layer.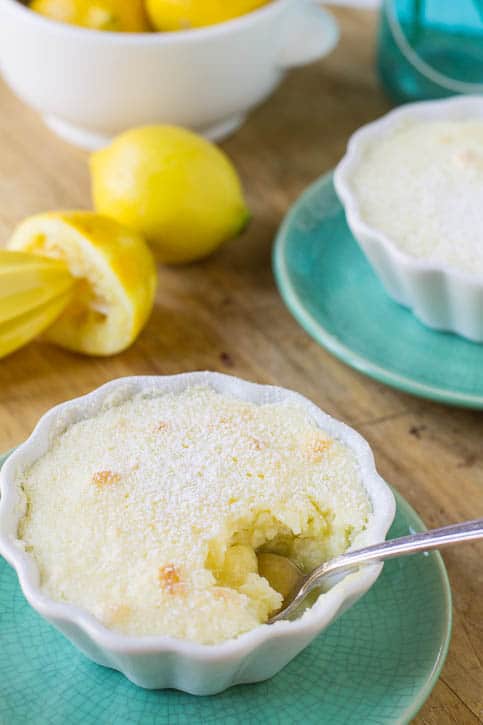 These pudding cakes are a little on the tart side, but balanced with plenty of sweetness. If you have a super strong sweet teeth like I do, you can add powdered sugar and/or whipped cream on top to add extra sweetness.
Some blueberries on top would be divine.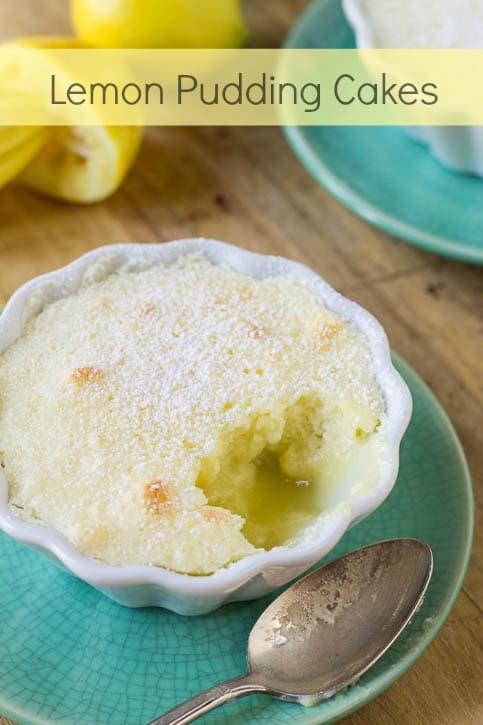 A lot of the lightness of these pudding cakes is due to folding beaten egg whites into the batter. To beat egg whites, it is best if they are at room temperature. I just separate the eggs and leave them on the counter for 30 minutes.
Use a very clean bowl, a whisk attachment for your electric mixer, and beat until they hold their shape well. Begin beating on low speed and increase to high speed once they are nice and frothy. Once you get to the point that the egg whites are stiff, stop beating. If you overbeat them, they will begin to turn liquidy again and you will have to start over.
Serve these lemon pudding cakes warm, at room temperature, or chilled. The texture will be firmer if they are served cold.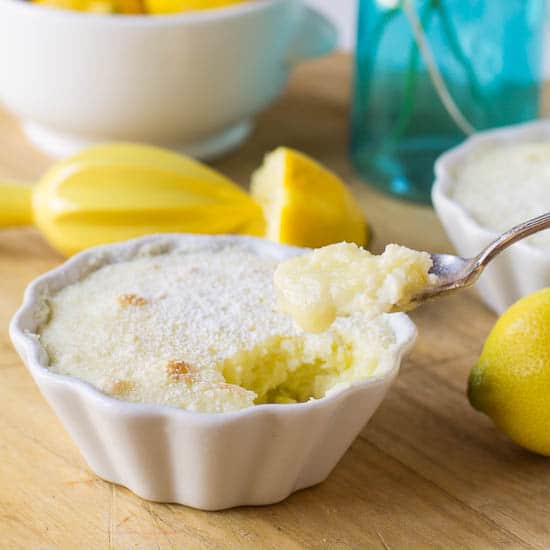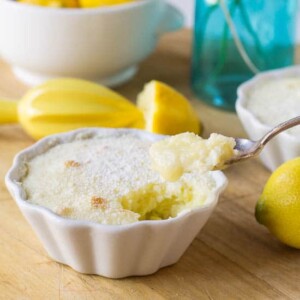 Lemon Pudding Cakes
These lemon cakes are made from an easy batter which forms a layer of cake on the top and a tart, but sweet lemon pudding on the bottom.
Ingredients
1

cup

sugar

1/4

cup

all-purpose flour

1/4

teaspoon

salt

1

cup

milk

2

egg yolks,

lightly beaten

1/4

cup

lemon juice

1

teaspoon

grated lemon zest

2

egg whites,

stiffly beaten

powdered sugar
Instructions
Preheat oven to 350 degrees. Grease either a 1 1/2-quart baking dish or six 6-ounce ramekins. Mine were larger than 6 ounces and I had enough batter to make 4.

In a large mixing bowl, stir together sugar, flour, and salt.

Add milk, egg yolks, lemon juice, and lemon zest and mix well.

Gently fold in the beaten egg whites.

Pour batter into the prepared baking dish or ramekins and set in a 9x13-inch baking dish with 1-inch of water.

Place in oven and bake for 45 to 50 minutes for one large pudding cake. I baked mine for about 30 to 35 minutes. I would check 6-ounce ramekins between 20-25 minutes. You want the top to spring back when touched gently.

Cool 10 minutes on wire rack before serving. Sprinkle with powdered sugar to serve.

Can be served warm or cold.
Notes
See tips in post above for beating egg whites.
Want to Save This Recipe?
Recipe Source: adapted slightly from Martha White's Southern Sampler: Ninety Years of Baking Tradition
Disclosure: Spicy Southern Kitchen is an amazon.com affiliate.