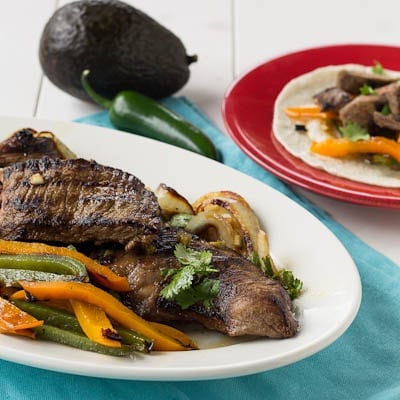 Fajitas are a Tex-mex Classic that can be phenomenal when prepared just right, but are in danger of falling into the ho-hum category. This recipe from Cook's Illustrated without a doubt falls into the phenomenal category, as most of their recipes do.
Oftentimes flank steak is used for fajitas, but you really can't beat the flavor of skirt steak. It contains a higher fat content than flank steak and I think it has a juicier, beefier flavor. It's essential that you don't overcook skirt steak or the meat will be tough. Skirt steak can be difficult to find sometimes and if that is the case, flank steak will (almost) be just as good.
This is a really quick and easy recipe and the ingredients are kept to the essentials. Pricking the meat all over with a fork not only allows the marinade to penetrate the meat and add flavor all the way through, it also helps speed up the marination. A mere 30 minutes is all that is needed. Don't skip toasting the cumin. It really helps bring the flavor out.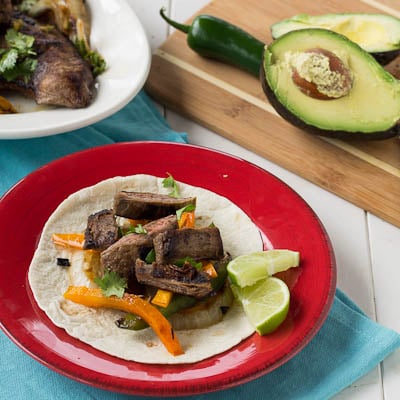 More Recipes to Round Out Your Cinco de Mayo Celebration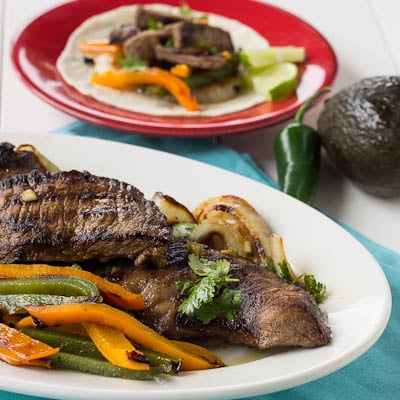 Grilled Skirt Steak Fajitas
1/2 cup lime juice (about 4 limes)
1/4 cup vegetable oil, divided
3 garlic cloves, minced
2 tablespoons soy sauce
2 teaspoons ground cumin, toasted
2 teaspoons packed light brown sugar
1 jalapeno, stemmed, seeded, and minced
1 tablespoon chopped fresh cilantro
2 (3/4-pound) skirt steaks
2 pounds onions cut into 1/2-inch slices
1 red bell pepper, halved, stemmed, seeded, and each half cut into thirds
2 green bell peppers, halved, stemmed, seeded, and each half cut into thirds
12 (6-inch) flour tortillas
tortillas, salsa, sour cream for serving
To toast cumin, place in a dry skillet and heat over medium heat for about 1 minute, or until fragrant.
In a medium bowl, combine lime juice, 2 tablespoons oil, garlic, soy sauce, cumin, sugar, and jalapeno. Place 1/4 cup of marinade in a second bowl and add cilantro to it. Set aside.
Using a fork, prick holes into each side of skirt steaks. Cut each steak in half crosswise. Place steaks in a large ziptop bag and pour marinade left in medium bowl (without cilantro) into bag. Refrigerate for at least 30 minutes and up to 2 hours.
Remove steaks from bags, discard marinade left in bag, and pat steaks dry with paper towels.
Brush onions and peppers with remaining 2 tablespoons of oil.
Heat a gas grill with burners turned to high for about 15 minutes. Leave primary burner on high and turn others off. Place onions and peppers on hotter side of grill and grill until soft and charred , turning occasionally, about 8 to 12 minutes. Move to cooler side of grill.
Grill steaks on hotter side of grill until seared on both sides, but still pink in center, 4 to 6 minutes per side.
Transfer steaks and vegetables to a serving platter, pour reserved marinade on top, cover with aluminum foil, and let sit for 5 minutes.
Place tortillas briefly on grill to warm. Slice bell peppers thinly and slice steak against the grain.
Serve with salsa, sour cream, and any other desired toppings.
Yield: 4 servings