Crawfish Bread- French bread is stuffed with lots of crawfish, garlic, and cheese and baked until toasted. A New Orleans favorite!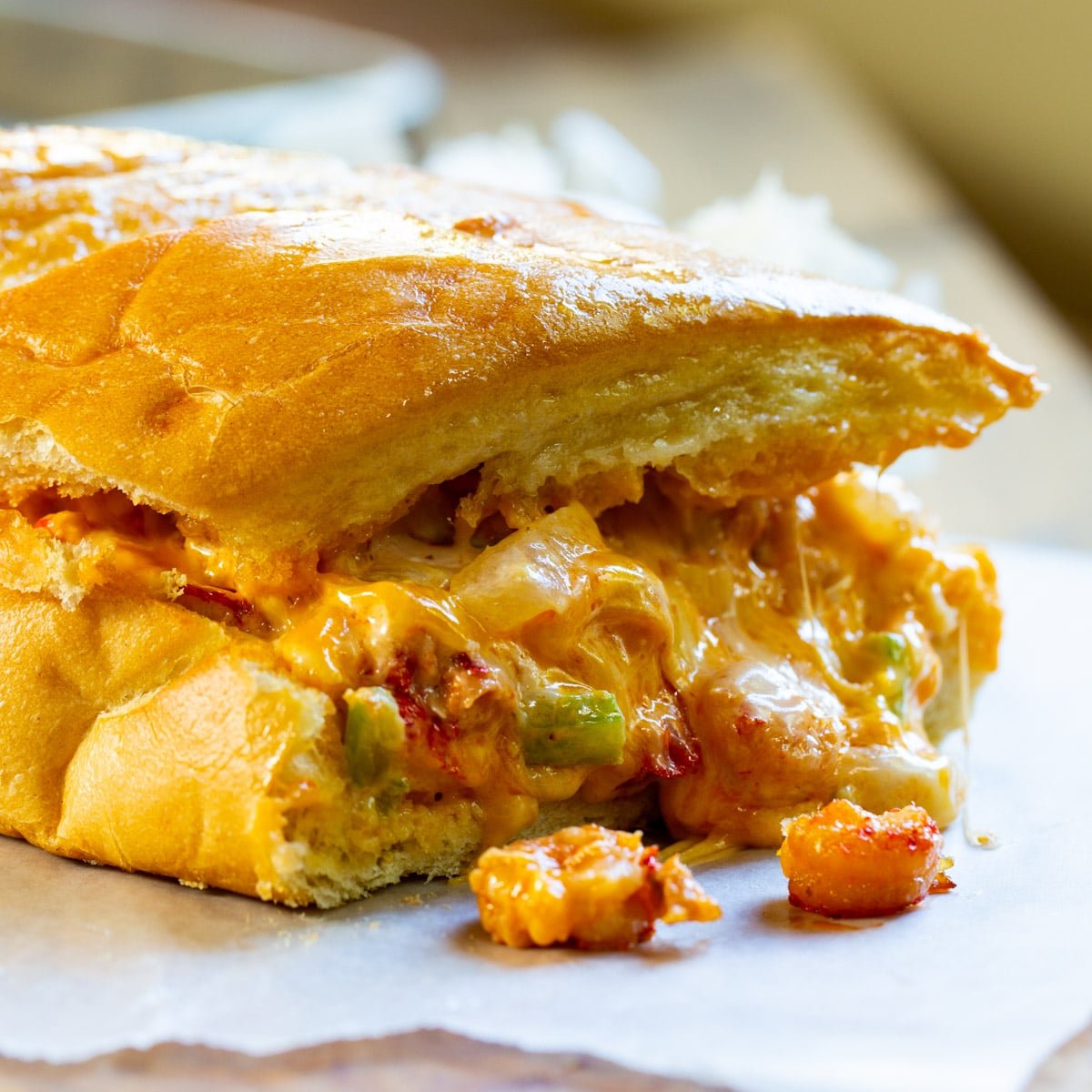 Gooey, cheesy Crawfish Bread. Y'all, if you've never tried crawfish before this stuffed bread is the perfect introduction. This just may be the most delicious way to eat crawfish. Who can resist all that warm, cheesy, garlicky goodness sandwiched between two crusty pieces of French Bread?
How To Make Crawfish Bread
Crawfish tails are sautéed with onion, celery, red bell pepper and then mixed with mayonnaise, mozzarella cheese, and cheddar cheese.
Smear the mixture between a sliced loaf of French bread, sandwich it, wrap in foil and bake in the oven for 30 minutes. And get ready to eat the most insanely delicious bread you have ever tasted. Seriously. You will think you have a big loaf of bread to share with all your friends, but in the blink of an eye, the whole thing will be gone.
Trust me. Go ahead and grab yourself a big piece because seconds can't be guaranteed. The crawfish filling is so good, you could skip the bread and use it as a dip. Nothing reminds me of the years I lived in New Orleans more than crawfish. These little mudbugs are such a huge part of the culture in the Crescent City. Every year numerous crawfish boils bring family and friends together during crawfish season. The atmosphere is always celebratory and fun.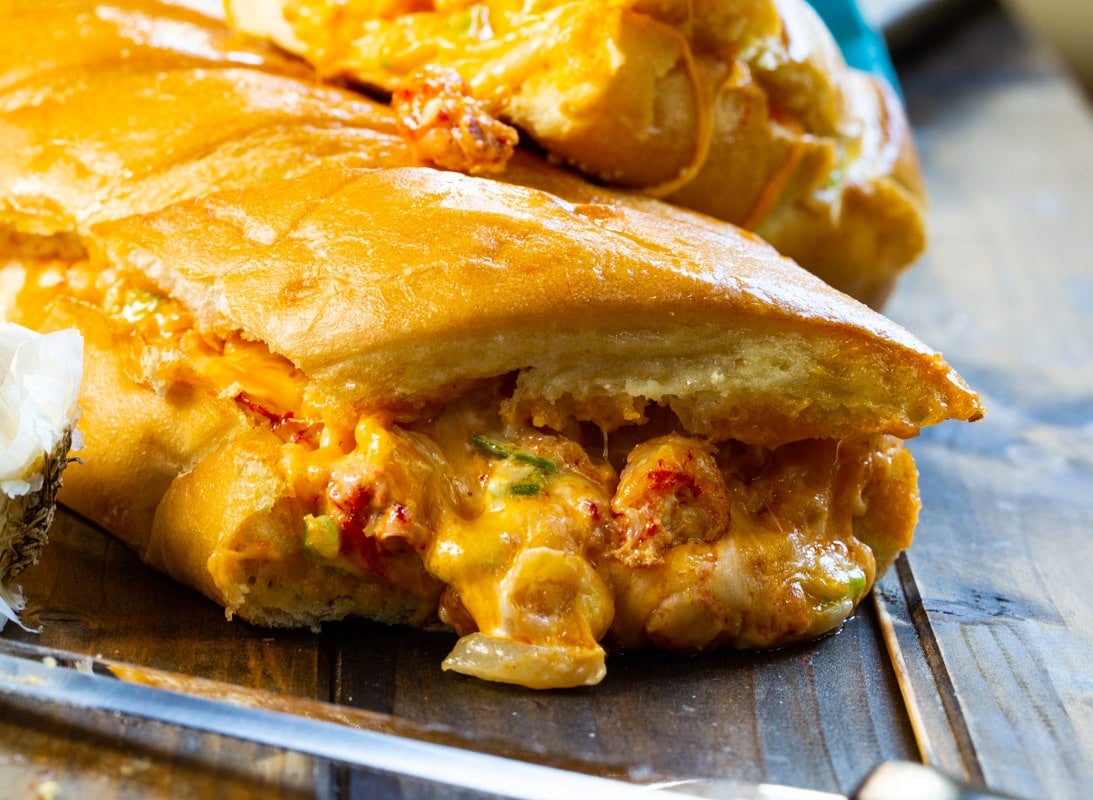 So whenever I eat crawfish, it makes me want to be surrounded by lots of friends, with music playing and everyone enjoying each other's company. And this Crawfish Bread makes the perfect party food. Most of the work can be done ahead of time and the finished bread can be sliced into pieces for guests to help themselves.
Frozen Crawfish Tail Meat
Frozen crawfish tail meat comes in 16-ounce bags and is super easy to defrost in the refrigerator. The tail meat is already partially cooked and of course, the labor of peeling all those crawfish is already done.
Louisiana Crawfish are the best you will taste because they come right out of Louisiana water. Louisiana has an incredibly rich network of waterways that produce a volume and variety of superior seafood that you can't find anywhere else. Whether it be crawfish, oysters, shrimp, crab, fish, or alligator, you can taste the difference with Louisiana Seafood. Domestic seafood in general has much better flavor than imported and you can never go wrong with Louisiana Seafood.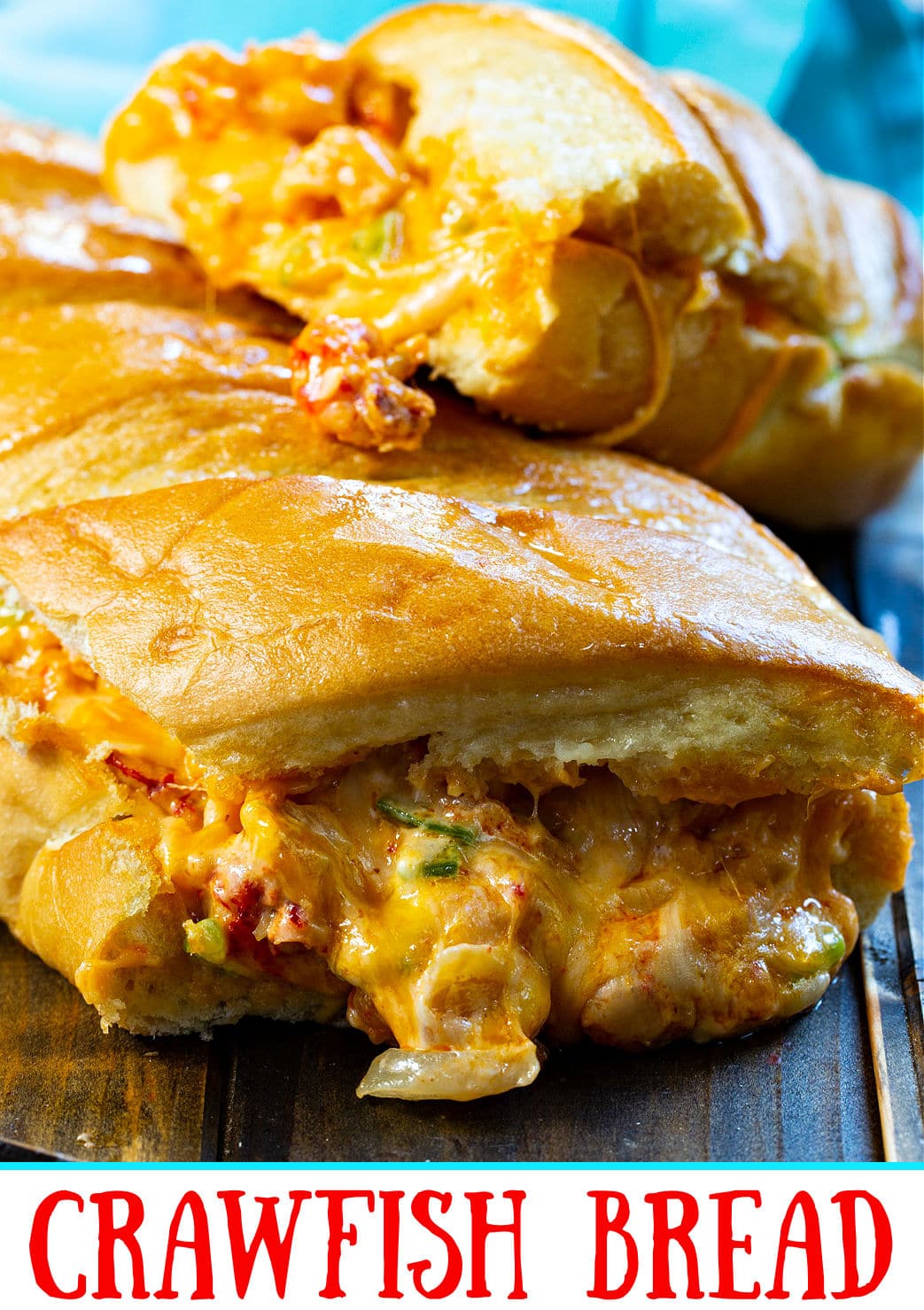 More Crawfish Recipes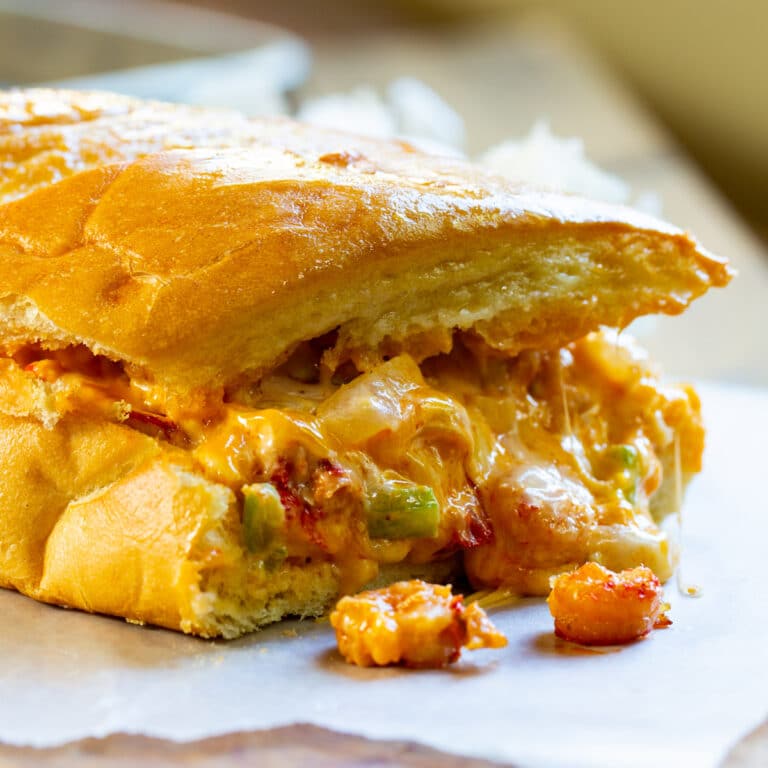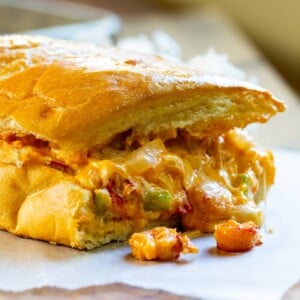 Crawfish Bread
Crawfish Bread- French bread is stuffed with lots of crawfish, garlic, and cheese. A New Orleans favorite.
Ingredients
2

cups

peeled crawfish tails

1

loaf

French bread

1/2

stick

butter

1/2

cup

diced onion

1/2

cup

diced celery

1/4

cup

diced red bell pepper

1

tablespoon

minced garlic

1/2

teaspoon

dry mustard

1/2

cup

mayonnaise

1/3

cup

shredded mozzarella cheese

1/3

cup

shredded cheddar cheese
Instructions
Slice French bread in half lengthwise and scoop out the inside of the loaf. Set aside.

In a large skillet, melt butter over medium-high heat. Sauté crawfish, onions, celery, bell peppers and garlic 15 minutes. Blend in dry mustard and mayonnaise. Add cheeses and blend until melted.

Spread crawfish mixture inside the bread then put halves back together. Butter the top of the loaf, wrap it in foil and bake on a barbecue pit or in a 350°F oven for 20 to 30 minutes.

Cut bread into slices and serve hot.
Want to Save This Recipe?
Recipe courtesy of Louisiana Seafood Board