Crab meat helps elevate the common deviled egg into a gourmet finger food worthy of gracing the table at the fanciest of meals. The crab in the Crab Deviled Eggs adds a sweet, delicate taste that is further enhanced by fresh tarragon. A little Sriracha sauce balances out the sweetness with a little spice. Cayenne pepper or even tabasco sauce can easily be substituted for the Sriracha.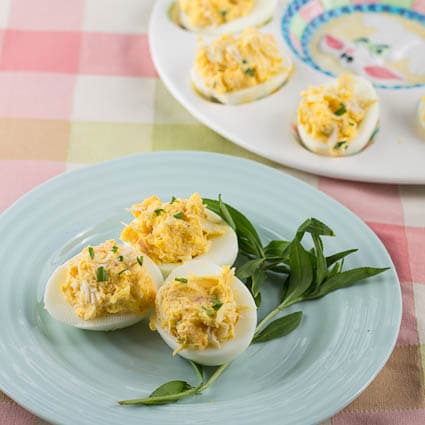 You can use any type of crabmeat you like, but I wouldn't shell out a lot of money for an expensive lump crab meat. Save that for making crab cakes. I always like to add just a drizzle of apple cider vinegar to deviled eggs. It really perks the flavor up tremendously, but you won't detect that there is vinegar present.
I enjoy doing most things in the kitchen, but I absolutely abhor peeling hard-boiled eggs. I'm convinced that they hate me. The shells always want to stick, leaving the egg whites covered with rivets, cracks, and pock marks.
I've tried just about every trick I can to make the process easier, but nonetheless my quest for smooth, blemish-free egg whites is always thwarted. My anger level gradually builds until I'm ready to hurl an especially disobedient egg across the room. Granted, there are usually a few who acquiesce. But getting the whole lot to fall into line seems to be an insurmountable task.
I've tried peeling the shell ever so slowly, in little pieces. I've tried doing it quickly, thinking maybe the shell wouldn't know what hit it. Peeling under running water, not under running water, cracking them and letting them soak in cold water. All to no avail.
The only thing I find helps is using eggs that aren't fresh. And I mean no where near fresh. Some people say that adding baking soda to the water helps, but I haven't tried.
Do you have any tips for peeling hard-boiled eggs?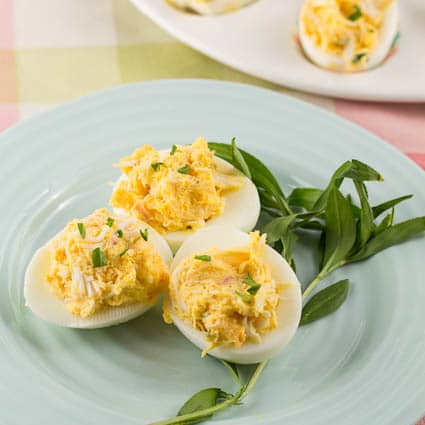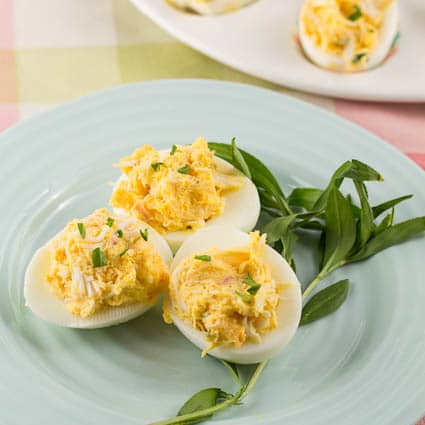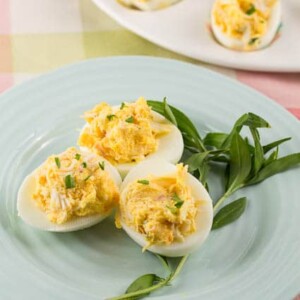 Crab Deviled Eggs
Ingredients
6

large hard-boiled eggs

6

ounces

crabmeat

3

tablespoons

mayonnaise

1

tablespoon

sour cream

2

teaspoons

minced shallot

1

teaspoon

chopped tarragon

3/4

teaspoon

Sriracha sauce

1/4

teaspoon

apple cider vinegar

pinch of salt
Instructions
Cut eggs in half lengthwise and scoop out yolks. Place yolks in a medium bowl.

Mash yolks with forks. Mix in mayonnaise and sour cream until mixture is smooth.

Fold in crab meat, shallot, tarragon, Sriracha sauce, apple cider vinegar, and small pinch of salt.

Mound crab mixture into each egg white half. Refrigerate until ready to serve.
Want to Save This Recipe?