Chocolate Wacky Cake, also called Crazy Cake or Depression Cake, contains no eggs, butter, or milk and you don't even need a mixing bowl to make it. Totally wacky huh?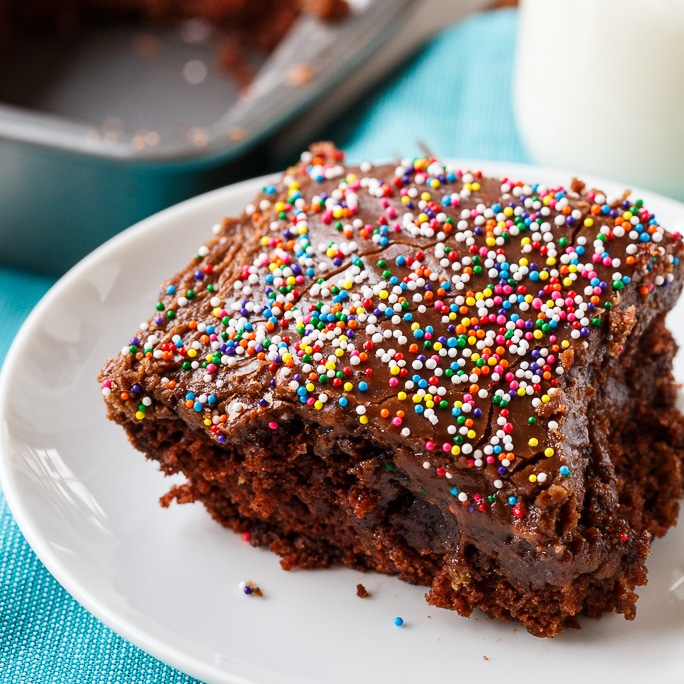 I like to add a rich chocolate icing and a few sprinkles. The icing does contain butter and milk, but you can just leave the icing off if you need a vegan dessert. The cake by itself is delicious. I'm just of the opinion that everything is better with icing.  🙂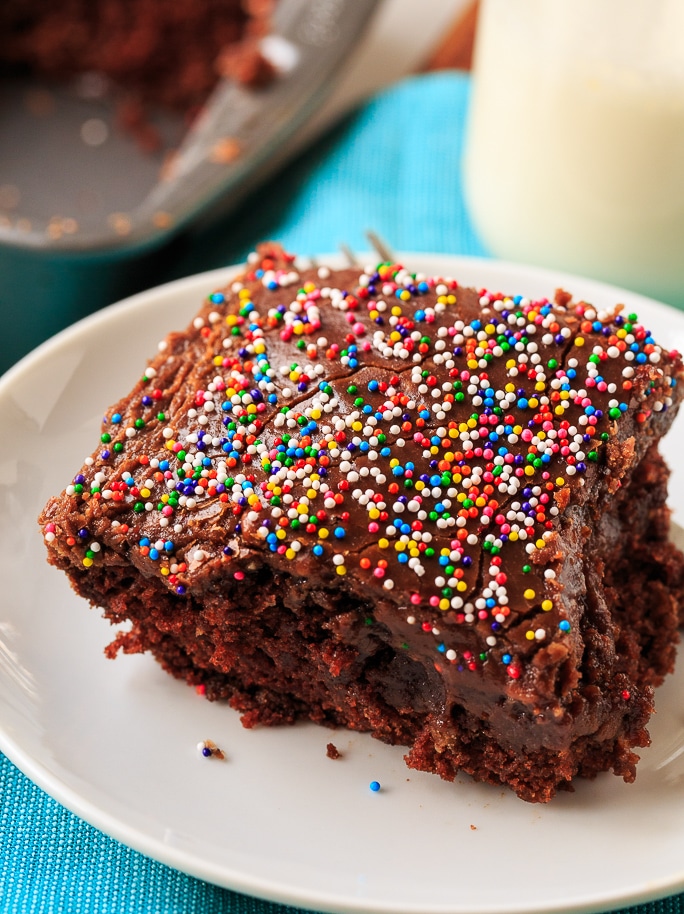 Wacky Cake apparently dates back to the Great Depression when food needed to be super economical and was really popular during World War II when their were rations on things like butter, eggs, and milk. But becasue it is such a delicious cake, it has stood the test of time and people still enjoy baking it.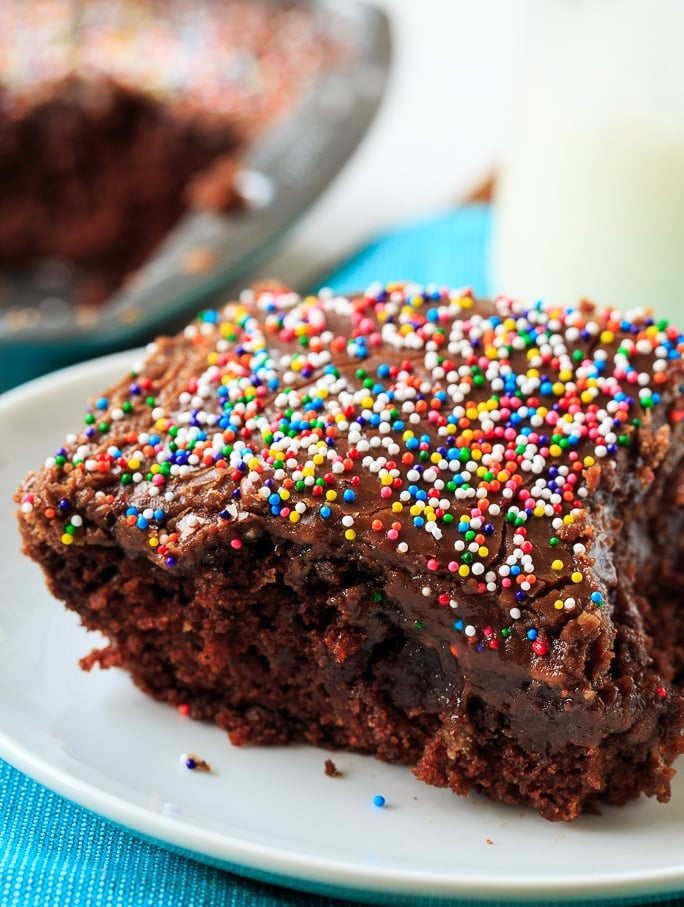 Unsweetened Cocoa Powder gives Chocolate Wacky Cake its chocolate flavor, making this a super inexpensive cake to make.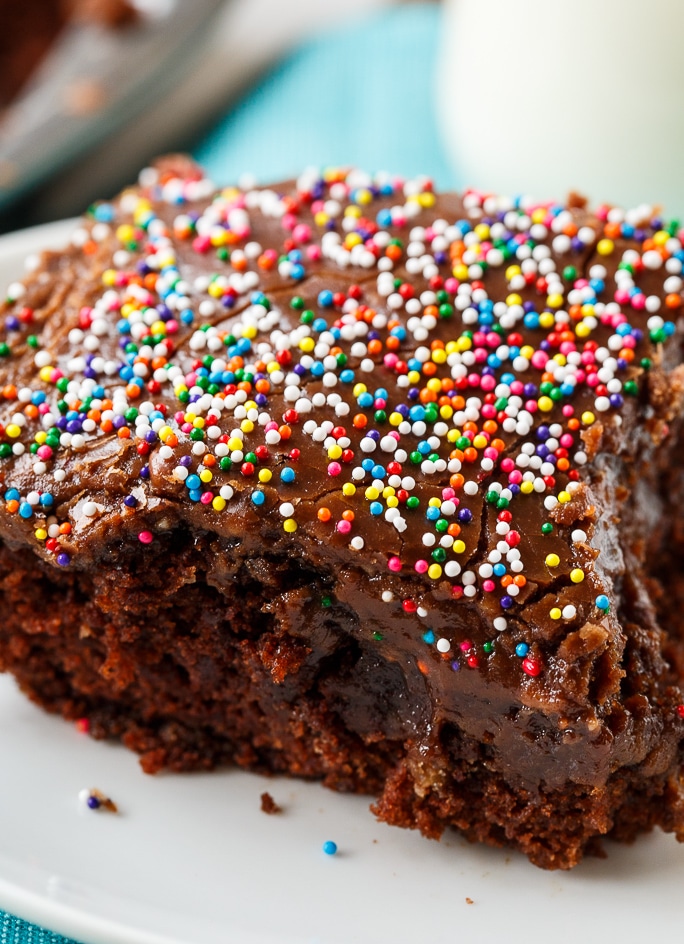 Chocolate Wacky Cake is so easy to make without any mess or clean-up, plus it is a really moist and exceptionally delicious cake that is perfect for snacking on. Everything is mixed together right in an 8×8-inch pan using only a fork.
First you combine all the dry ingredients in the pan and then you form 3 wells: one for the vinegar, one for vanilla extract and one for the oil. Pour 1 cup of water over it all and mix everything together with a fork.
Thirty minutes in the oven and you have a delicious and inexpensive dessert to satisfy your chocolate cravings.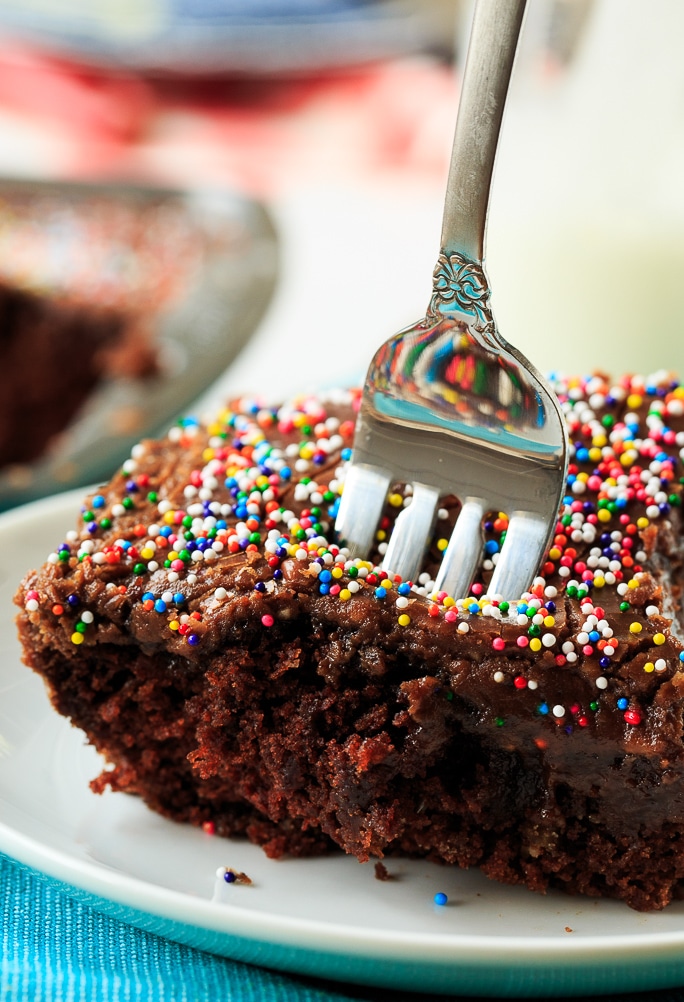 Never miss a recipe. Follow Spicy Southern Kitchen on Facebook and Pinterest.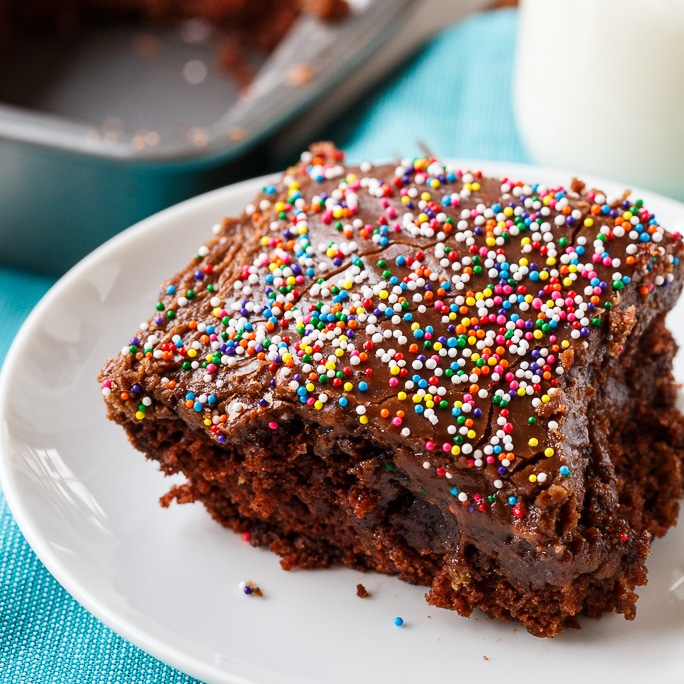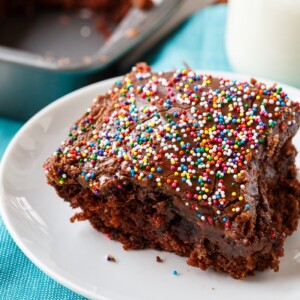 Wacky Cake (Depression Cake)
Ingredients
1 1/2

cups

all-purpose flour

1

teaspoon

baking soda

1/2

teaspoon

salt

1/2

cup

unsweetened cocoa powder

1

cup

sugar

1

tablespoon

cider vinegar

1

teaspoon

vanilla extract

5

tablespoons

vegetable oil

1

cup

water
Chocolate Icing (optional)
1/4

cup

milk

1/3

cup

butter

3

tablespoons

cocoa powder

1

teaspoon

vanilla extract

2 1/2

to 3 cups powdered sugar

sprinkles,

optional
Instructions
Preheat oven to 350 degrees.

Into an ungreased 8x8-inch baking pan, sift together flour, baking soda, salt, unsweetened cocoa powder and sugar. Spread mixture evenly in pan and make 2 small holes and 1 large hole in the mixture.

Pour the apple cider vinegar and vanilla extract into small holes and vegetable oil into large hole.

Pour the 1 cup of water over everything. Using a fork, mix everything together until blended.

Bake in oven for 30 minutes or until a toothpick inserted in the middle comes out clean.

To make icing, heat milk, butter, and cocoa powder in a small saucepan until it comes to a simmer. Remove from heat and stir in vanilla extract.

Stir powdered sugar in 1 cup at a time until smooth. Pour over cake.
Want to Save This Recipe?
For Chocolate Cake Lovers, This Samoa Bundt Cake is also a must try.