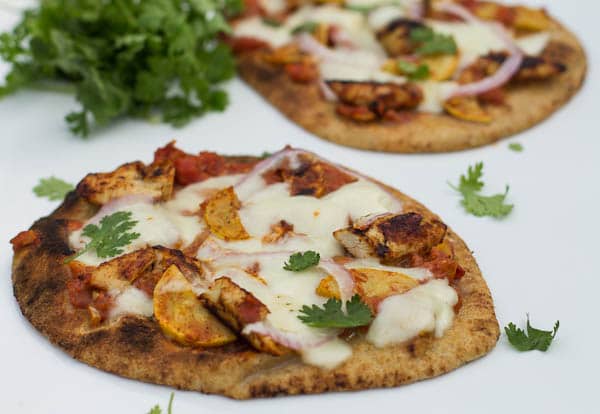 Spicy, spicy, spicy! You know we like it spicy. And this Indian-style pizza is perfect for spice lovers.
Chicken Tikka Pizza combines delicious pieces of broiled chicken spiced up with garam masala and sauteed yellow squash on top of a piece of naan coated in a deliciously spiced sauce made with diced tomatoes and a touch of whipping cream for richness. It's all finished of with some thinly sliced red onion and fresh cilantro.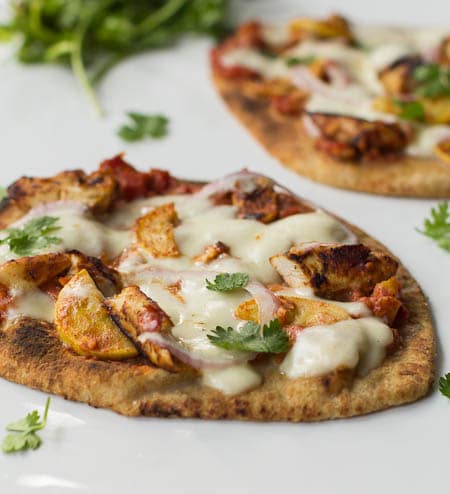 This is a recipe so good and easy, you'll want to add it to your regular dinner rotation.
I'm a huge fan of Indian food and especially Chicken Tikka Masala. Indian food is not something I cook much at home, mostly because I don't know that much about cooking Indian foods. If anyone has any recommendations on Indian Cookbooks, please do tell. I did have great success making a Slow Cooker Chicken Tikka Masala a while back.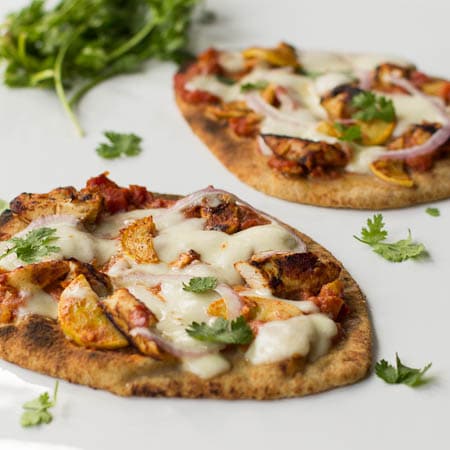 This was the first time I've used naan as a pizza crust. The original recipe (from Cooking Light) used whole wheat pita bread, but I thought naan would be more fun and much more in keeping with the Indian theme. Naan is just the perfect size for individual pizzas and it's something I will definitely be using as a pizza base again in the near future. I can usually find packaged naan at my local store near the pita bread. It is not as fresh and tasty as naan that is homemade or from an Indian restaurant, but it works well for pizza.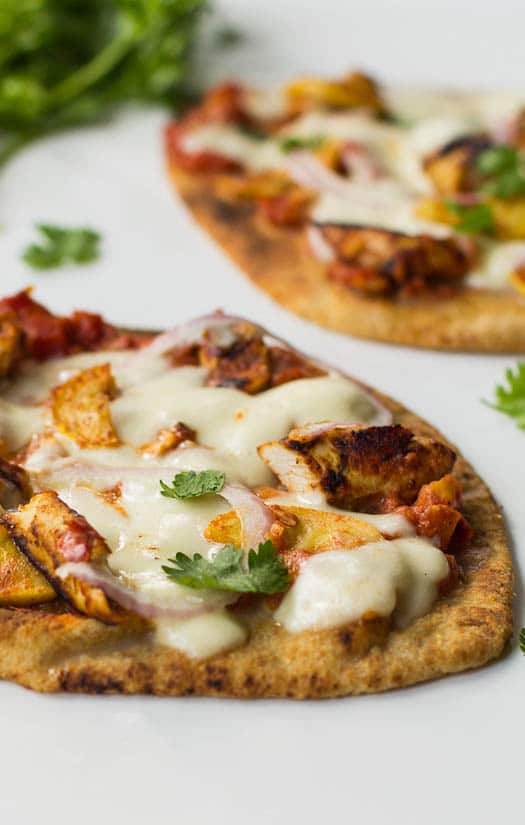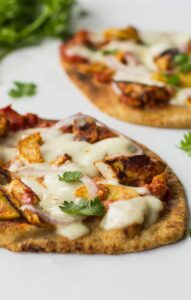 Chicken Tikka Pizzas
Ingredients
12

ounces

chicken tenderloins

¼

cup

plain low-fat yogurt

2

teaspoons

garam masala,

divided

cooking spray

¾

teaspoon

salt

1

(14.5-ounce)

can unsalted petite diced tomatoes,

drained of some of liquid, but not all

1

tablespoon

olive oil

1

small yellow squash,

cut in half horizontally and thinly sliced

1

teaspoon

grated fresh ginger

¼

teaspoon

ground coriander

¼

teaspoon

ground red pepper

2

large cloves garlic,

minced

2

tablespoons

heavy whipping cream

4

whole-wheat pieces of naan

1/3

cup

thinly sliced red onion

4

ounces

fresh part-skim mozzarella,

thinly sliced

2

tablespoons

fresh cilantro leaves.
Instructions
Preheat broiler to high. Combine chicken tenderloins, yogurt, and ½ teaspoon garam masala in a bowl. Line a baking sheet with foil and spray well with cooking spray. Spread chicken out on baking sheet and sprinkle with ¼ teaspoon salt. Place on top rack in oven and broil 2-3 minutes per side, or until cooked through.

Heat a nonstick skillet over medium-high heat. Add oil and sauté squash for 2 minutes. Add remaining garam masala, ginger, red pepper, and garlic and cook for 1 minute.

Stir in tomatoes and simmer 4 minutes, until much of the liquid has evaporated. Stir in ½ teaspoon salt and cream and cook 1 more minute.

Cut chicken into pieces and add to skillet. Toss to coat. Place naan on a baking sheet and broil 1 minute each side. Divide the chicken mixture between the pieces of naan and top with cheese and onion. Broil 2 minutes, or until cheese is fully melted. Sprinkle with cilantro and serve.
Want to Save This Recipe?
Recipe Source: adapted from Cooking Light