You'll love these Chicken Pot Pie Turnovers that you can eat with your hands. Several shortcuts make them super easy to make and they have a fabulously creamy filling.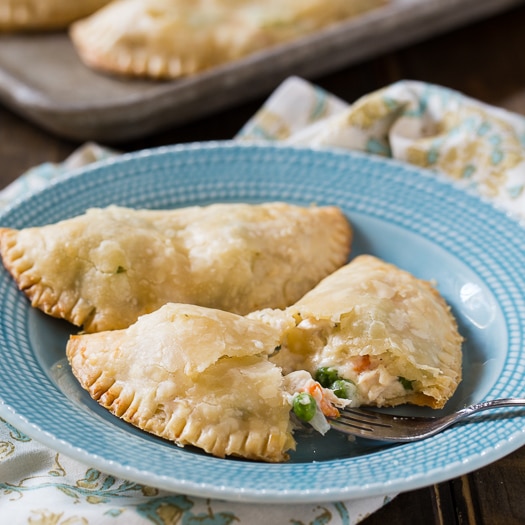 Chicken Pot Pie. It's one of my favorite southern comfort foods. A buttery pie crust covering a creamy chicken filling with peas, carrots, and maybe some potatoes. Food doesn't get much better than that. And if you can eat it with your hands, it REALLY doesn't get much better than that.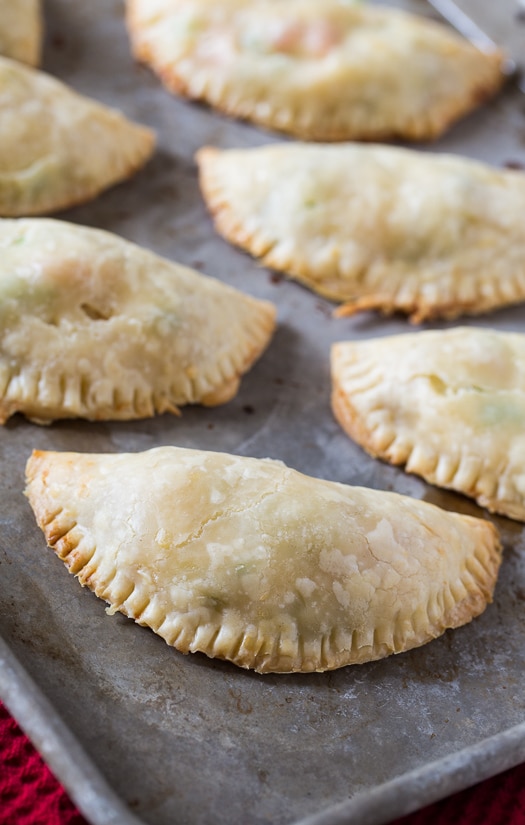 When you get right down to it though, it's all about the pie crust. Flakey, buttery, delicious pie crust. Who can resist the chance to eat such a scrumptious dessert component as a part of a main dish?
One of my favorite things about Chicken Pot Pie is that whether it's totally made from scratch, or multiple short cuts are taken –it's all good.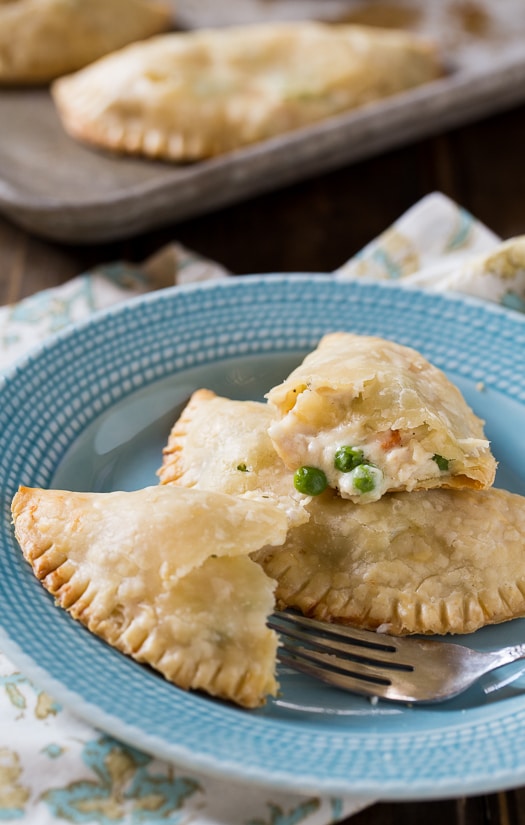 I've taken several shortcuts with these Chicken Pot Pie Turnovers to make them super easy to prepare. First, I used the meat off of a rotisserie chicken. This is a great recipe for using any leftover chicken, or even Thanksgiving turkey.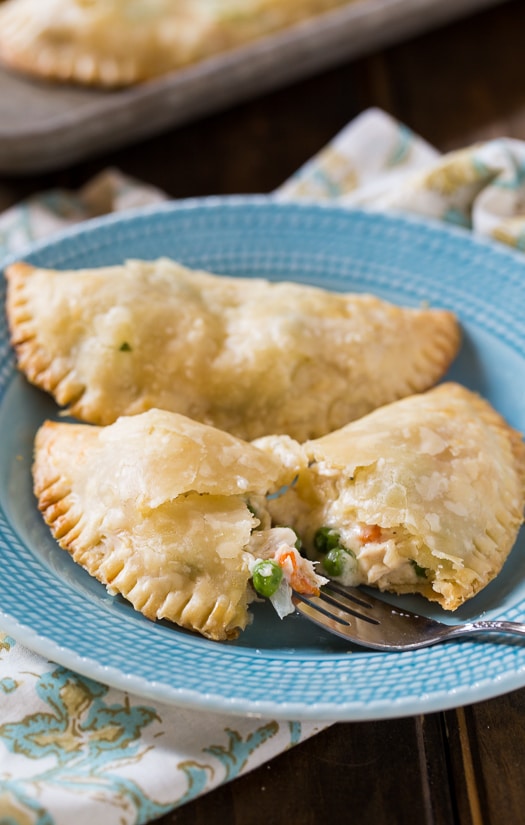 Secondly, I've used refrigerated pie crusts. If you have the time and inclination, you could certainly make your own pie crusts. You could also use frozen puff pastry. But I find the refrigerated ones work perfectly well when time is short.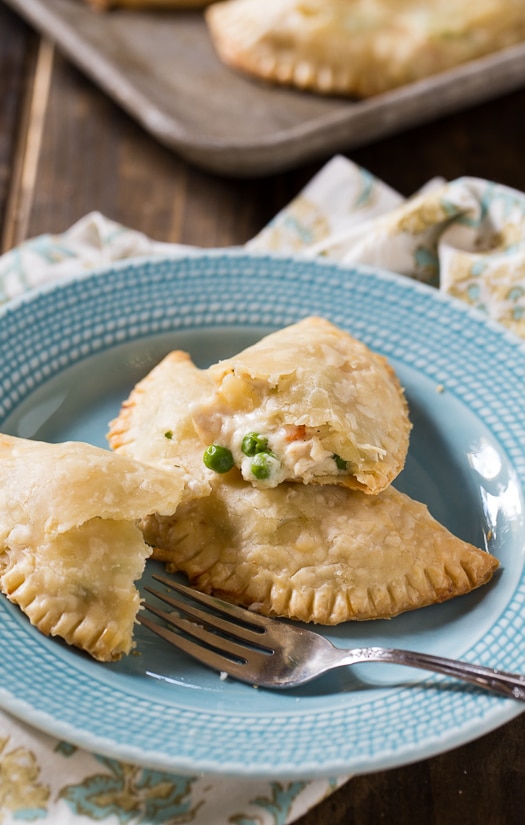 The filling is a combination of chicken, celery, peas, onion, carrot, a little thyme, and some cream cheese. I don't usually put cream cheese in chicken pot pie, but I thought these turnovers should have an extra creamy and thick filling.
The filling can be made a day in advance for a super easy weeknight meal. Pair these Chicken Pot Pie Turnovers with a green salad for a filling and delicious meal.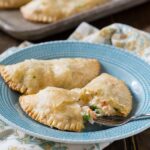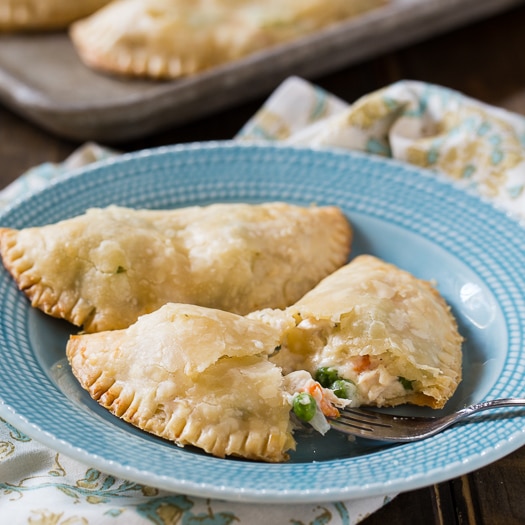 Chicken Pot Pie Turnovers
You'll love these Chicken Pot Pie Turnovers that you can eat with your hands. Several shortcuts make them super easy to make.
Ingredients
1/3

cup

butter

1

small yellow onion,

diced

1

stalk celery,

diced

1

carrot,

peeled, cut in half lengthwise and thinly sliced

1/3

cup

flour

3/4

cup

chicken broth

1

cup

half and half

2

ounces

cream cheese,

softened

1/2

teaspoon

salt

1/2

teaspoon

garlic powder

1/4

teaspoon

dried thyme

1/4

teaspoon

pepper

2

cups

diced or shredded cooked chicken or turkey

3/4

cup

frozen peas,

defrosted

1

package refrigerated pie crusts

1

egg white

1

tablespoon

milk
Instructions
In a large skillet melt butter over medium heat. Add onion, celery, and carrot and cook 4 to 5 minutes.

Sprinkle flour on top of onion mixture. Cook and stir for 1 minute.

Gradually whisk in chicken broth and half-and-half.

Add cream cheese, breaking it apart with a wooden spoon so that it melts and blends into the sauce. Cook until bubbling and thickened, about 1 to 2 minutes.

Stir in chicken and peas. Remove from heat.

Preheat oven to 400 degrees and spray a baking sheet with cooking spray.

Unroll piecrusts and use a rolling pin to roll them slightly thinner. You want to be able to cut 4 circles out of each pie crust.

Use a bowl that's approximately 5 inches across to cut a total of 8 circles. Roll the scraps together and cut 2 more circles.

Place filling(as much as you can and still be able to fold over the dough and seal it) on one side of a circle of dough.

In a small bowl, whisk together egg white and milk. Use your finger or a small pastry brush to wet the edges of the dough with egg wash so that they will stick together. Fold dough over, pressing to seal edges. Crimp around edges with a fork.

Repeat with remaining dough circles. Place on prepared baking sheet and brush tops with egg wash.

Place in oven and bake for 15 to 17 minutes.
Recipe Notes
Makes 10 Turnovers.
Sharing this recipe with The Weekend Potluck
More Chicken Pot Pie Recipes